Celebrate the day of love with this Valentine's day marbled art activity. Toddler, preschoolers, and kids alike will all love this process based Valentine's Day art for kids, featuring swirled paint, shaving cream, and clean-messy fun.
As a preschool art teacher, I have to say that I strongly favor process-based art for kids. The research all shows that the true benefit of art for kids comes from the process of making something- mixing colors, experimenting with lines and swirls, and getting hands-on experience with creative expression.
Your average Valentine's Day art for kids, with their prescribed colors and shapes and outcomes, are typically not in line with process-based activities.
But.
I'm also a mother. I want some art for my dang refrigerator, gosh darn it.
So I've created this fun, process based Valentine's day marbled art that will end with a product that you can display. By limiting the colors you present the kids with (pink, purple, and red for example), you can ensure that this process based Valentine's Day art for kids stays on theme- and the kids will be none the wiser.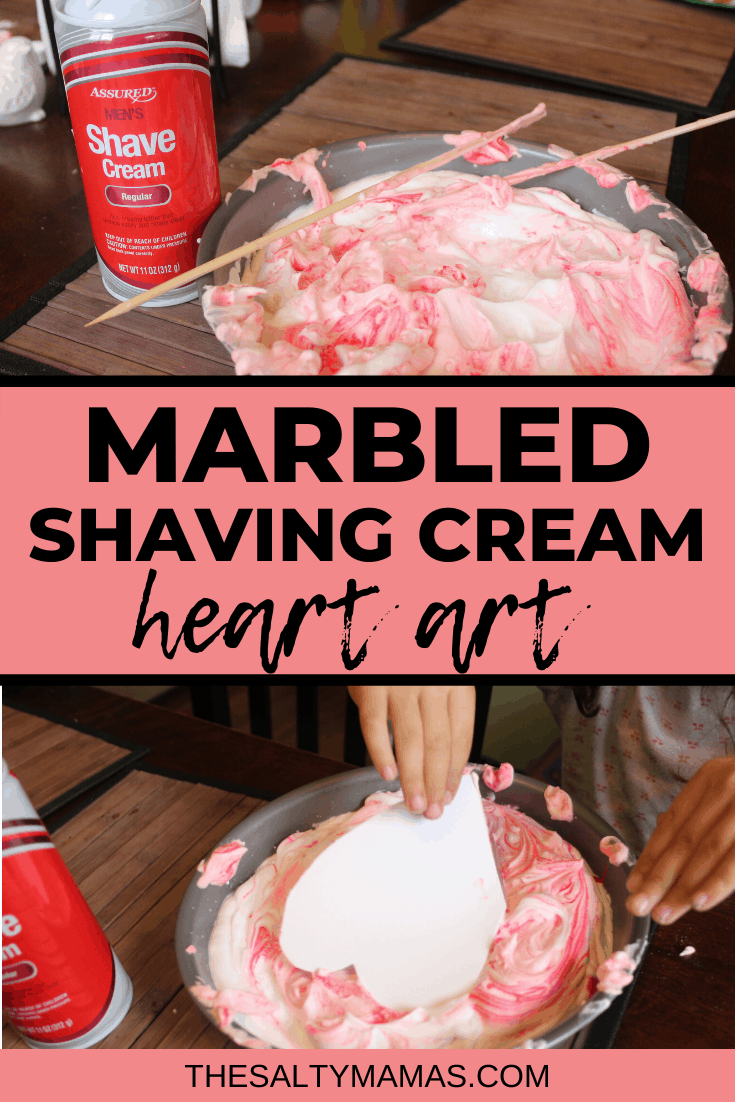 This post contains affiliate links. You can read more at our legal page. Thanks for supporting The Salty Mamas!
To Set Up Your Process Based Valentine's Day Art for Kids…
First choose a shallow pan. A pie pan will work perfectly. Fill the pan with shaving cream. (The kids looooove to do this part themselves.) Smooth it out a little.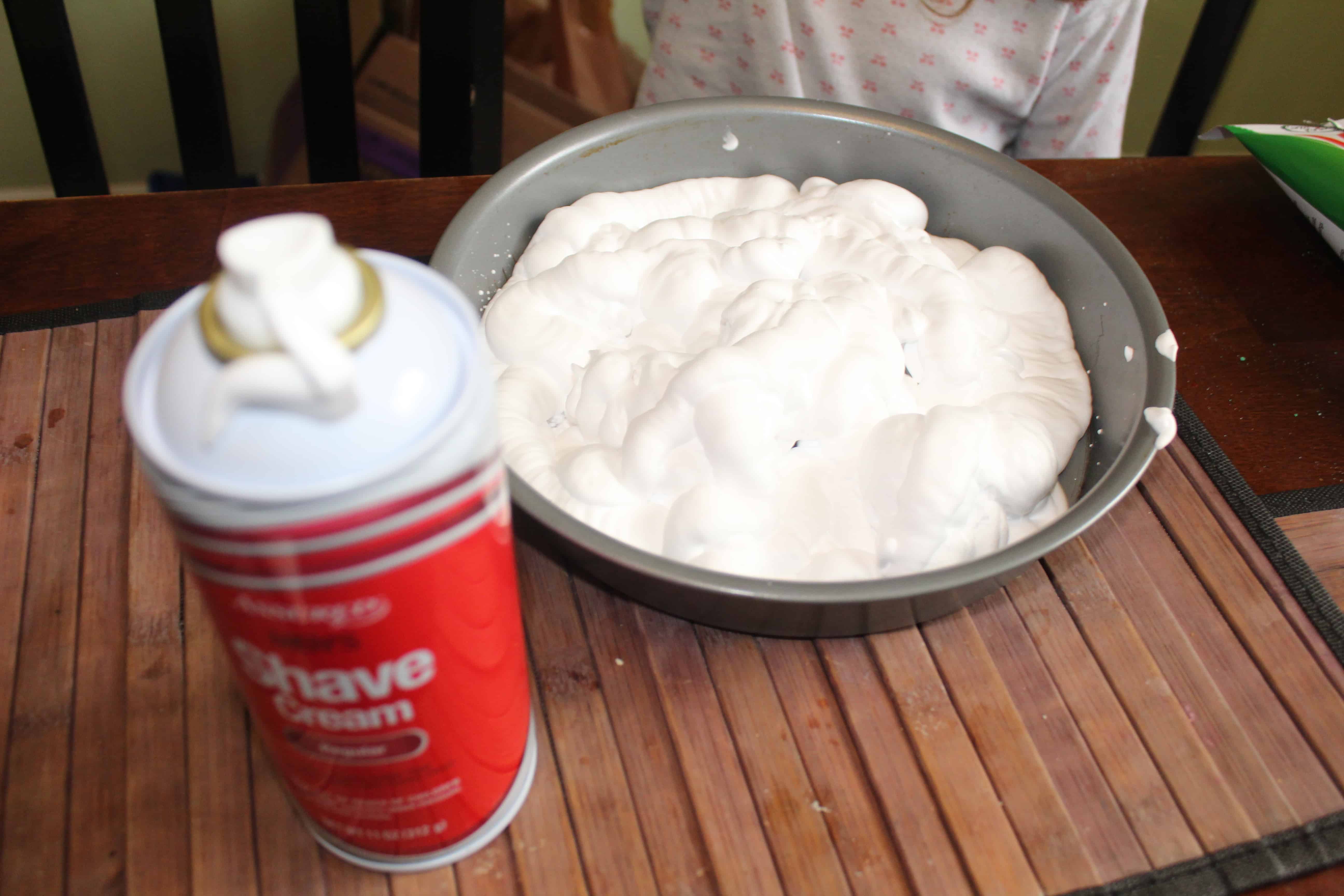 Add Color to Your Shaving Cream "Paint"
Once you've got your shaving cream added to the pan, it's time to turn it into shaving cream paint! You can use either food coloring or washable paints for this part. Food coloring mixes in a little easier, but I liked the different shades I could get by using paints. So for this project, I used Crayola Washable Paints.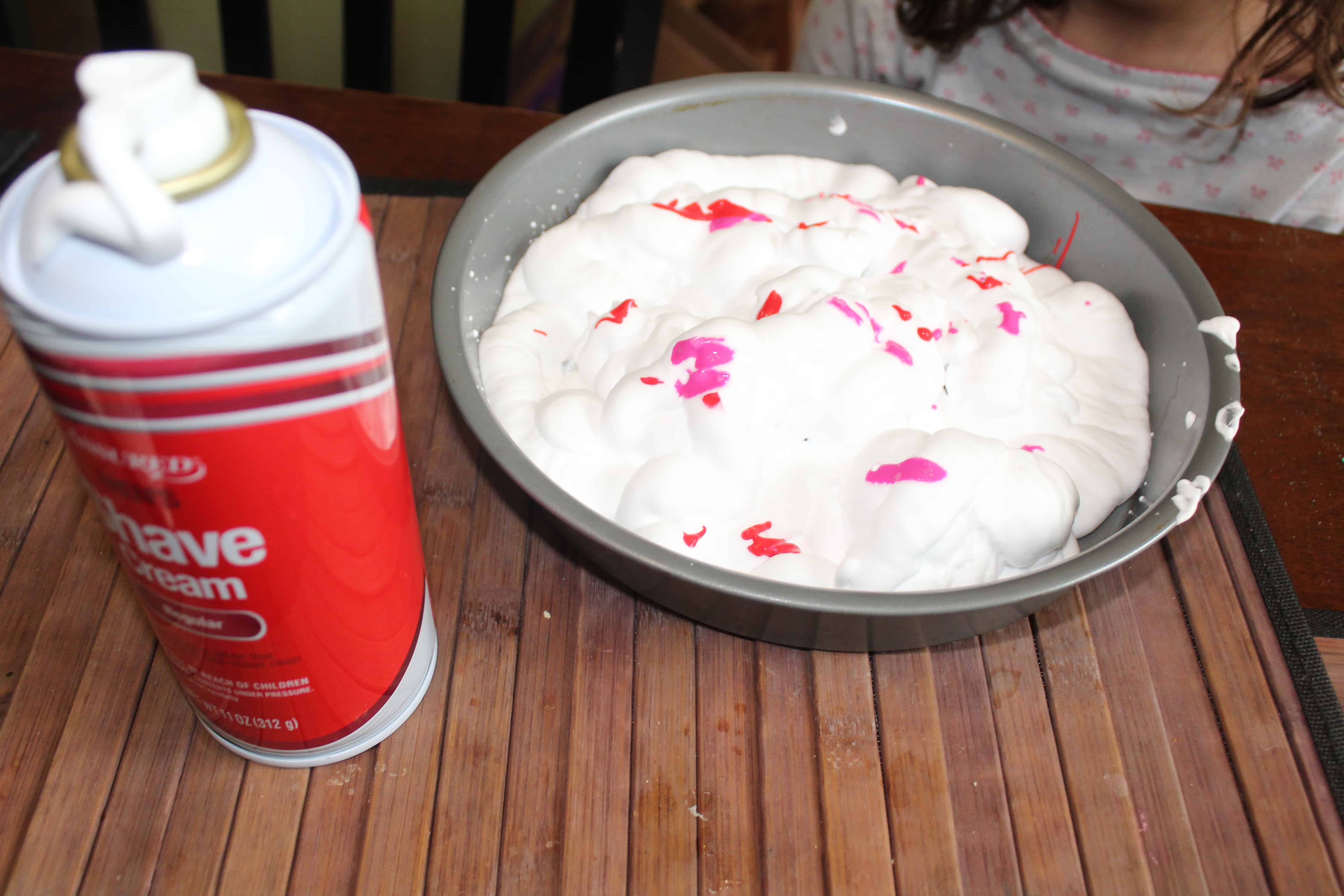 Mix Up Your Shaving Cream Paint
Kids LOVE to get hands on with this part. Using a skewer, chopstick, or paint brush, swirl the colors together. You'll want to stop before the colors become mixed up, as the variation in shades is what makes this process based Valentine's Day art SO dang pretty.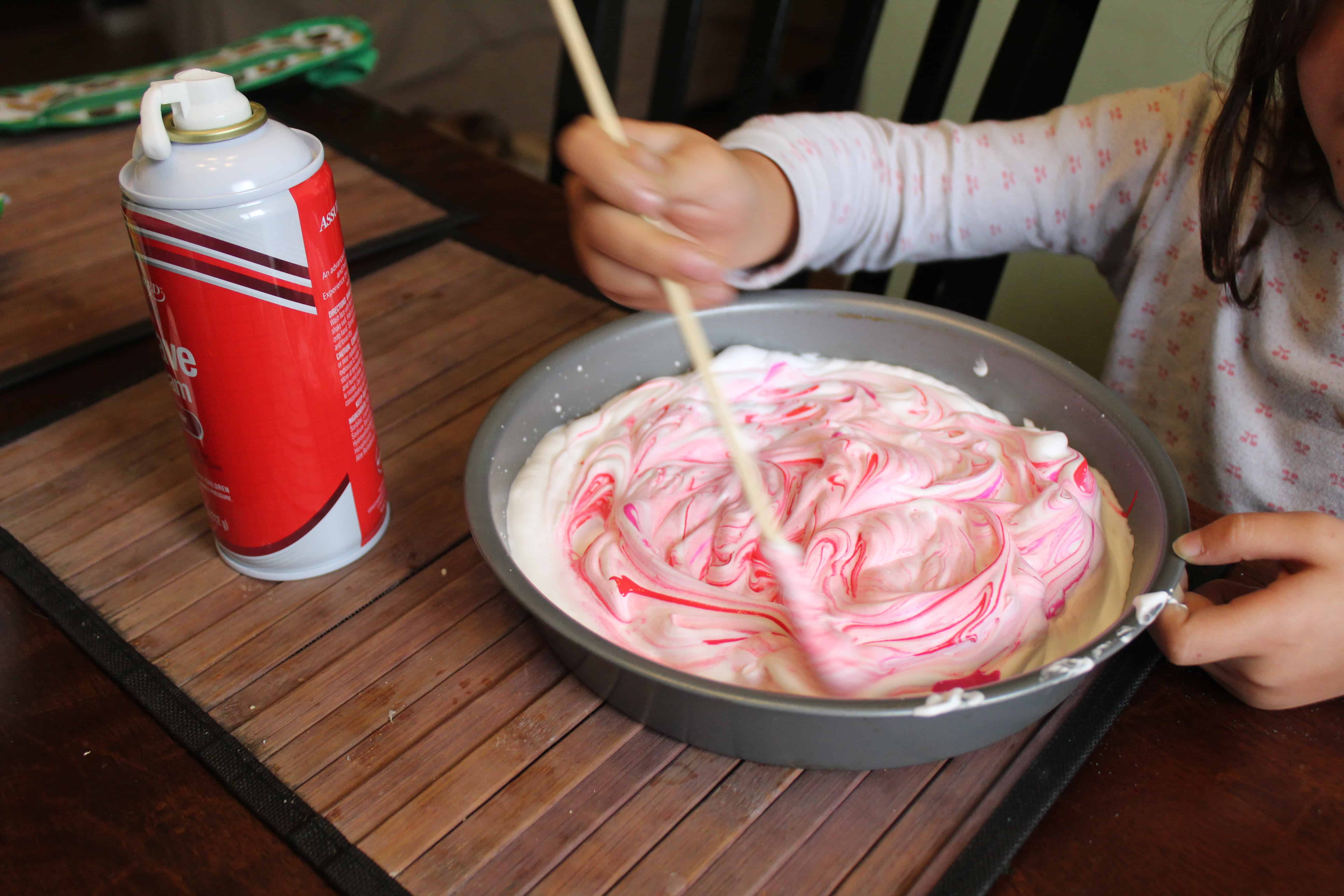 Making Heart Shaped Art
Cut a heart shape out of cardstock or watercolor paper. I like to cut a few larger hearts and a few smaller ones. If your kids are older, have them do this part on their own.
Lay the paper on top of the marble shaving cream. Let it set for a half minute or so.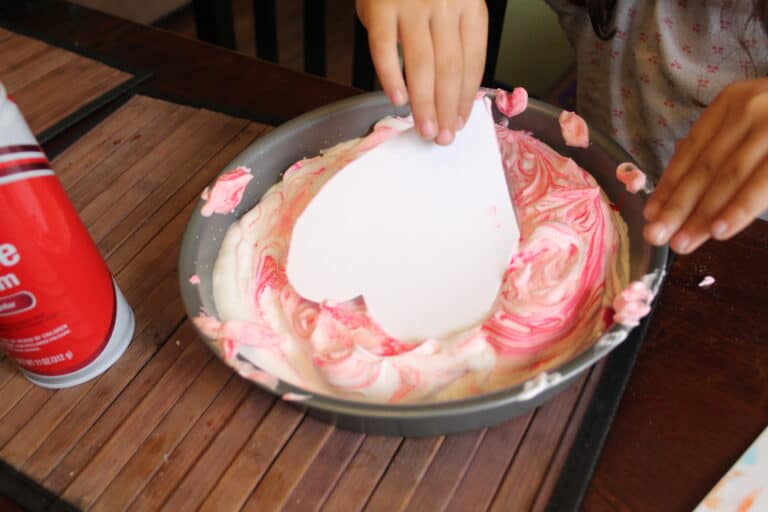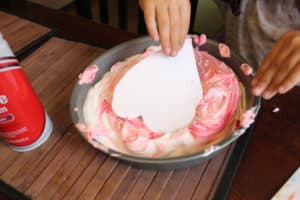 Finishing Your Valentine's Day Marbled Art Prints
Lift up gently. Using a flat object- like a ruler, or the chopstick you used earlier- scrape the shaving cream off of the paper in a long, smooth line (or as close to it as you can manage).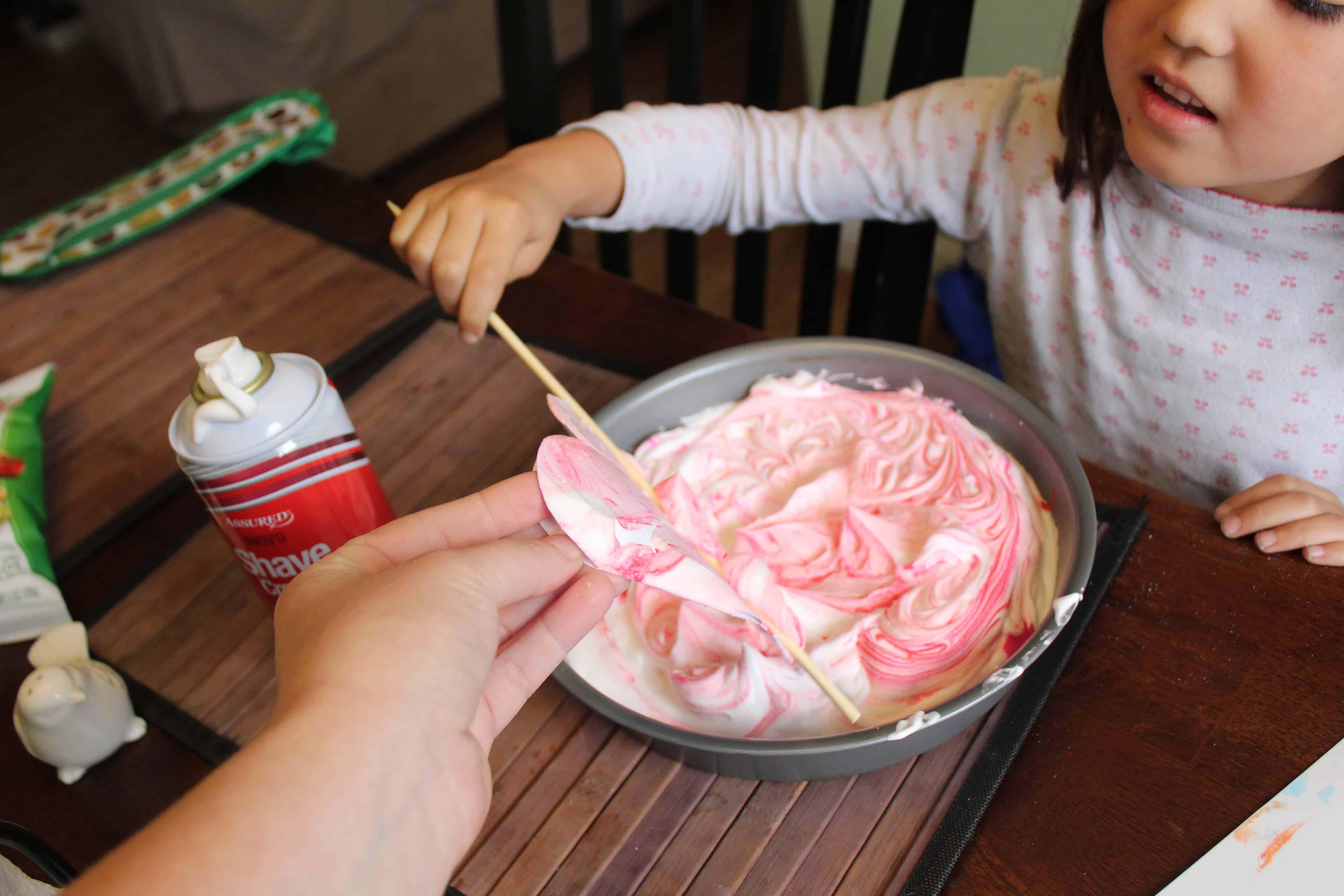 Allow them to dry, and you're done!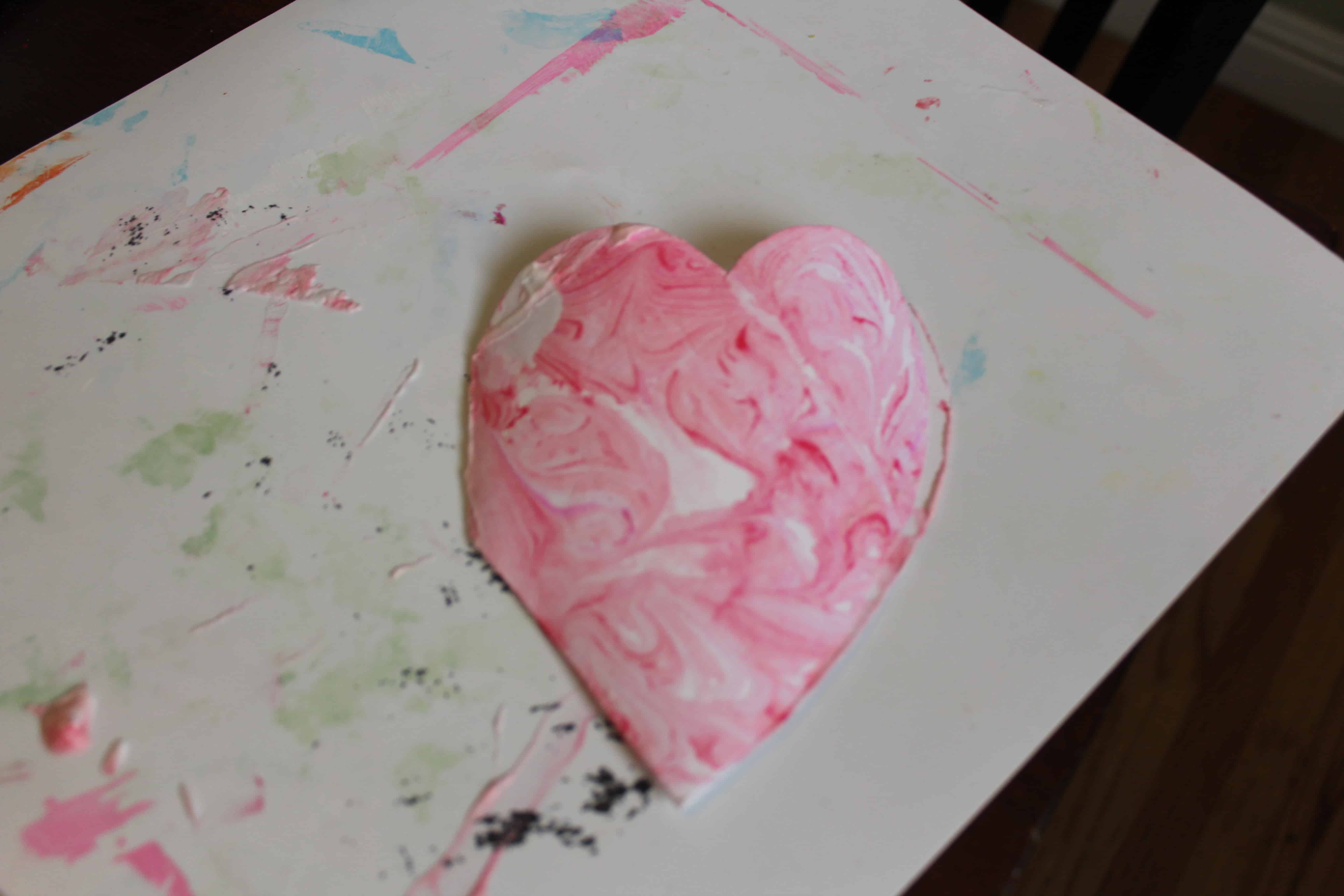 Turning Them Into Valentine's Day Cards Kids Can Make
Want to have this art project do double duty as your Valentine's day cards for classmates or family? Fold a piece of paper in half lengthwise, and cut out a heart against the fold. It'll make an easy heart-shaped card that kids can dip into the shaving cream.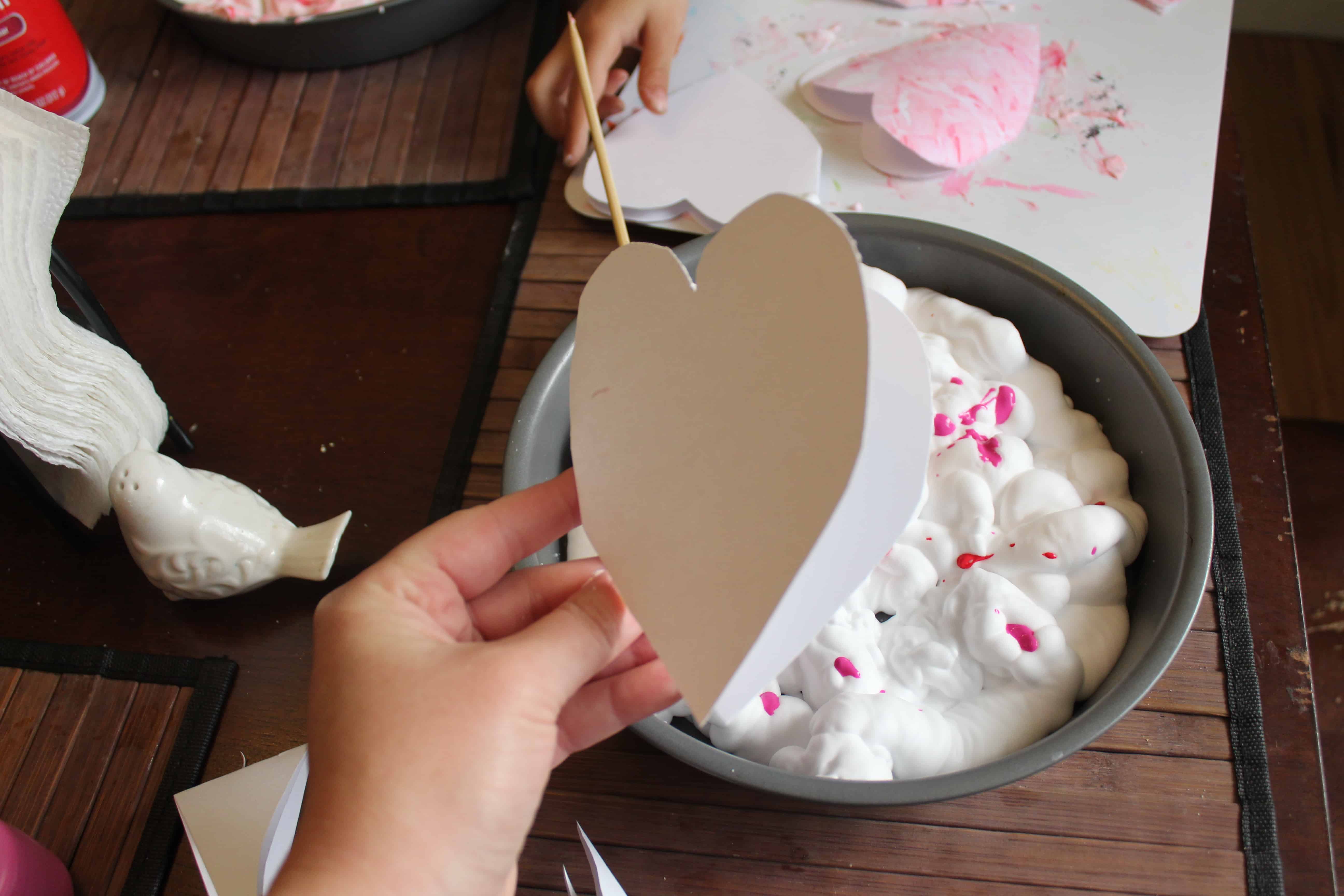 Once dry, you can write little notes or draw pictures on the inside.
Valentine's Day Sensory Play with Shaving Cream
When we were done, I set the pie tin in the bathroom for Abram to play with. He loved squishy the shaving cream between his fingers, and mixing the colors a little more on his own.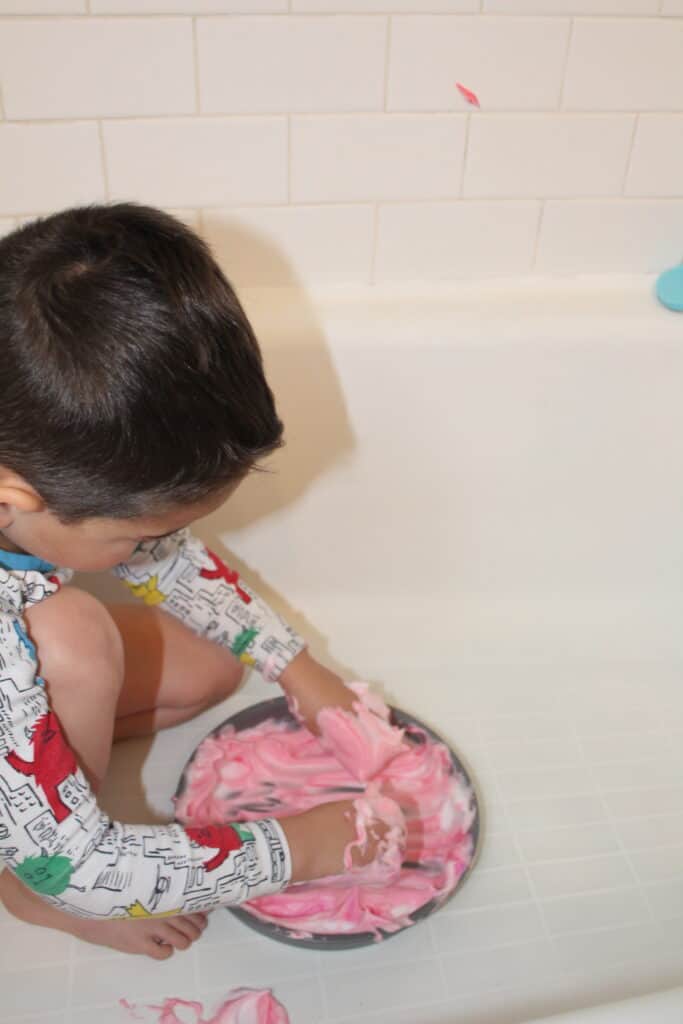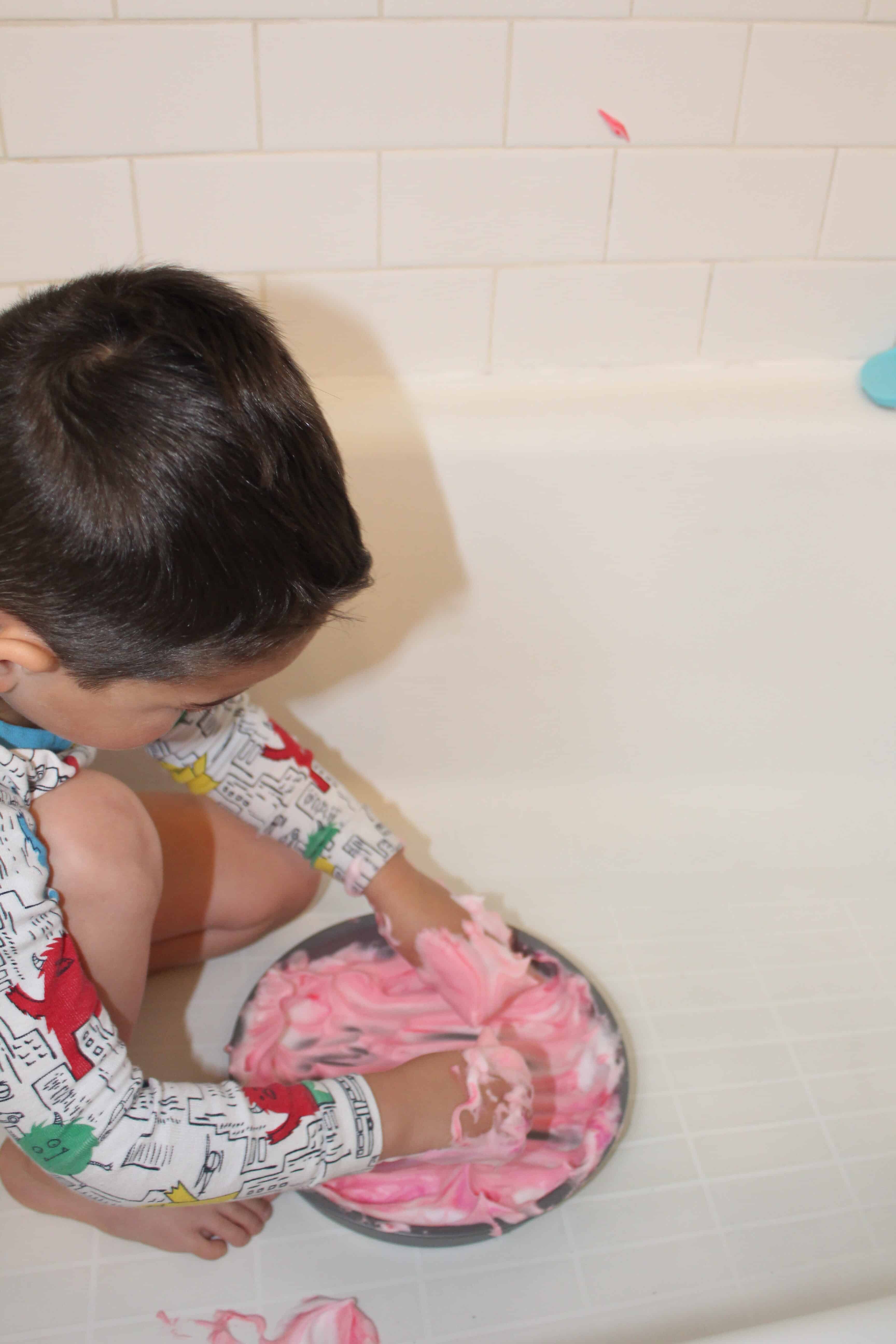 However, DON'T do what I did, and assume that your child is safe to play on their own for a couple of minutes while you get the art project cleaned up. I don't know how that child managed to do it, but he made an UNBELIEVABLE amount of mess in the 30 seconds to a minute I was gone.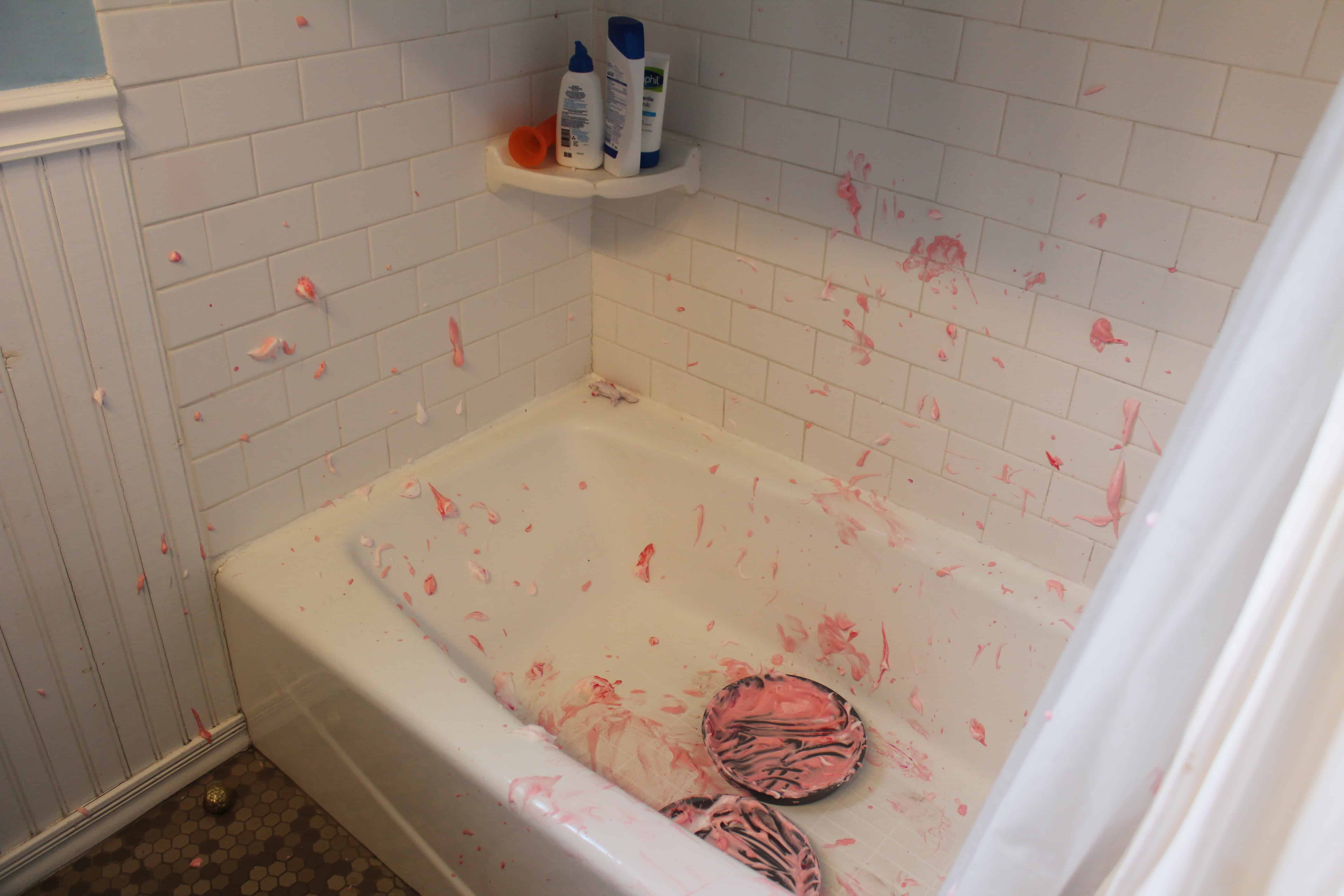 And that, ladies and gentlemen, is what I get for trying to be a fun mom.
Thank goodness thought that this was mostly shaving cream, and not paint. As bad as it was, I had the whole mess cleaned up in less than three minutes. Not terrible, as far as toddler messes go, that's for sure!
Valentine's Day Process Art Extensions
Experiment with different sizes of hearts, colors, and types of paper to allow your kids to use their creativity to the maximum. You could also provide paintbrushes to give them the option to paint directly on their paper if they choose to.
The variations are endless, and the end results? Valentine's Day art for kids that is truly priceless.
*******
With messy-clean fun, vibrant colors, and an adorable heart-shaped product, this Valentine's day art for kids in the perfect way for your kids to show their love. Turn them into a kid-made Valentine's day banner, attach them to cards, or just display them on your fridge.
Whatever you do with them, this Valentine's day marbled art is sure to scratch your kids' creative itch (and get you something adorable to display, too).
Looking for more art projects to do with your kid? Try these fun ideas-
Recommended for You: