Do you wanna build a snowman? Us too! One teensy little problem though- we live near Los Angeles, and snow is in short supply. So when my kids requested that we build a snowman without snow, I quickly put some supplies together to bring them this snowman art for kids to scratch the itch with some snowman painting.
My kids and I love doing process art projects together (well, let's be honest- I love setting up the project, and then drinking coffee in peace while they do said art project. Potato, Potahto.) I love the basics, but sometimes they get a little bored of doing the same projects over and over. So I try to keep it fresh by adding in some seasonal art prompts and materials, depending on the month we are in.
In this winter themed art project for kids, your children will use Shaving Cream Puffy Paint to create a snowman (or, if they're younger, a snow scene). They'll add some simple decorations to their creations, and, if you're lucky, repeat the process to take up even more time. As a bonus, you'll end up with some adorable little works of art in the process. Read on for the full instructions on this sweet snowman art for kids.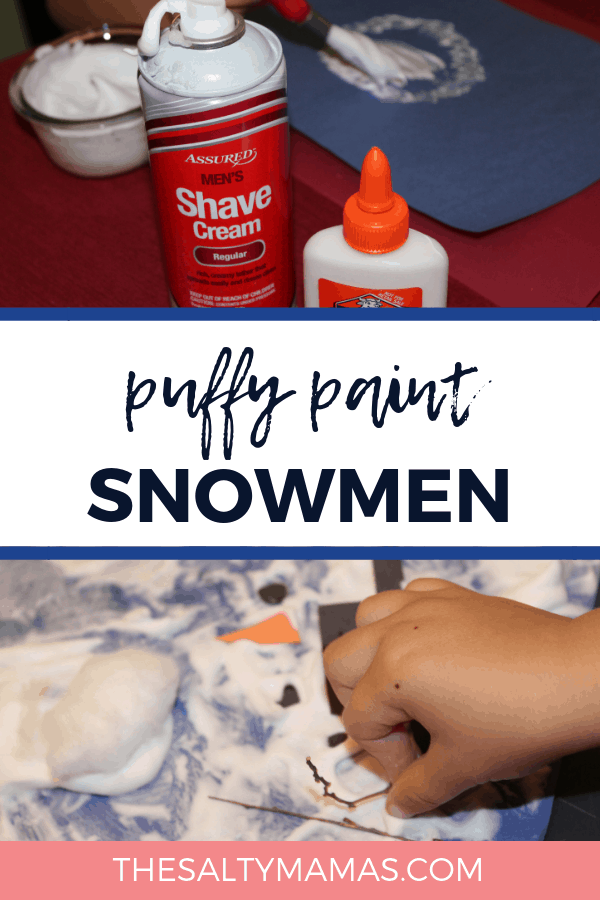 This post contains affiliate links. You can read more at our legal page. Thanks for supporting The Salty Mamas!
The Puffy Paint Recipe
The trick to making this activity special is putting a new twist on a familiar medium. My kids paint often, so I wanted to make this activity more exciting by changing the paint.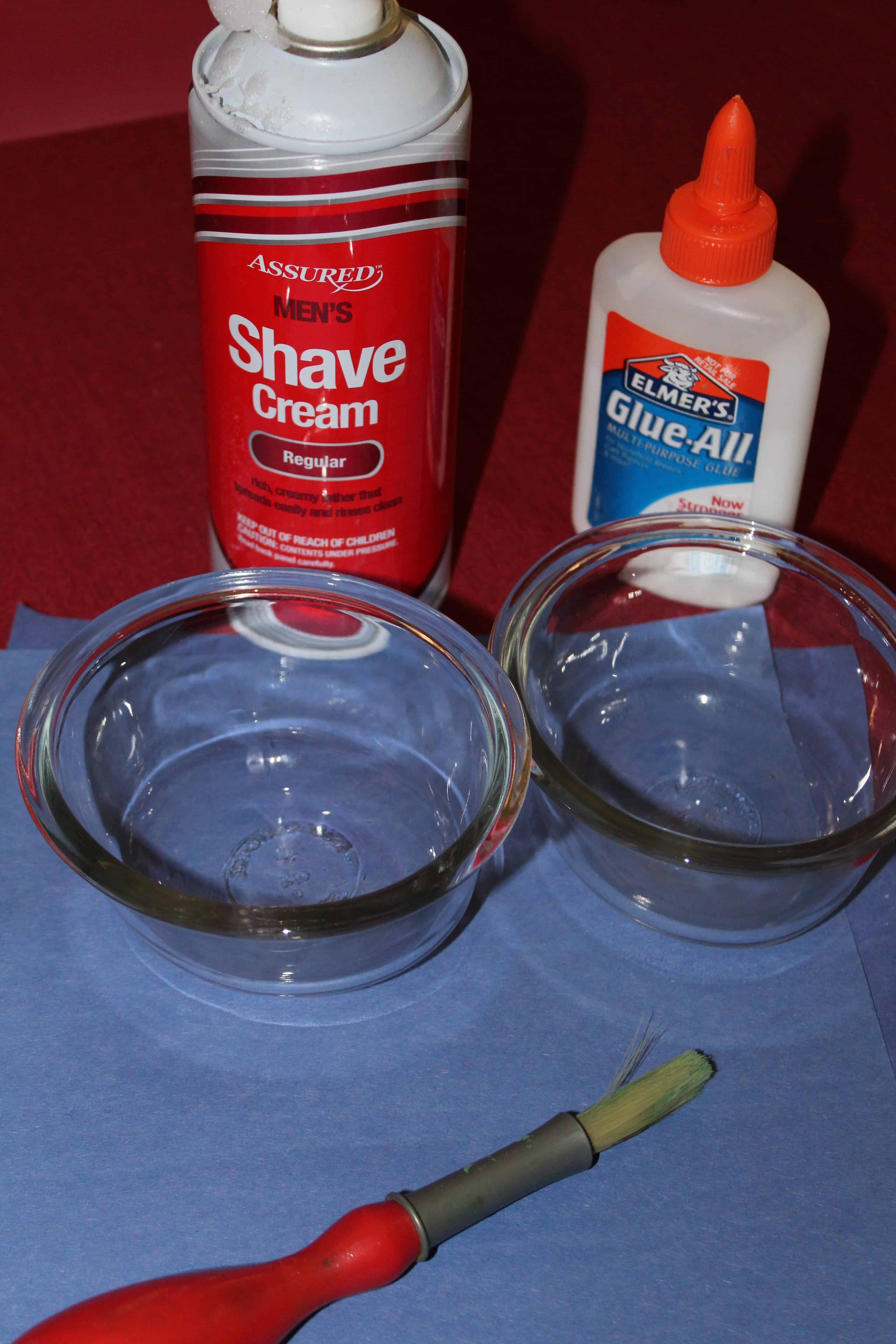 To make puffy snow paint, mix together a dollop of glue with a healthy squirt of shaving cream in a bowl and mix well.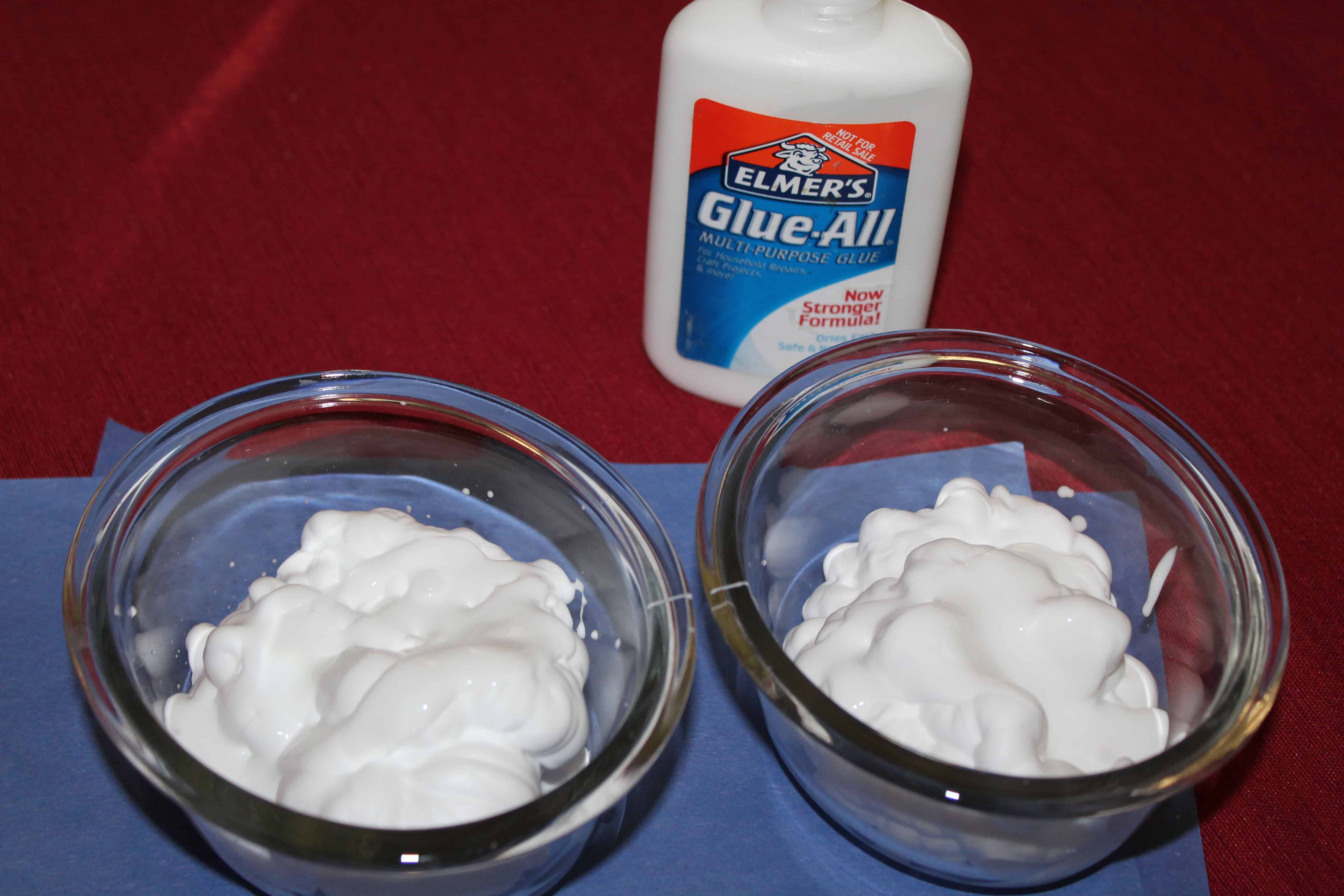 Seriously. That's it.
The result is fluffy, puffy snow paint- PERFECT for snowman painting. The best part about this paint is that it stays puffy even once it's dried, meaning that your kids' snowman art will look just as cute when it's finished as it did when they were making it. (So Lila's stayed adorable. And Abe's stayed…well… Abe's stayed the same anyways.)
Set Up Your Snowman Art for Kids
Since my kids had JUST been asking to do some snowman painting, I didn't really need to give them any prompts. Once I set down the puffy paint, they knew just what it was for and got to work.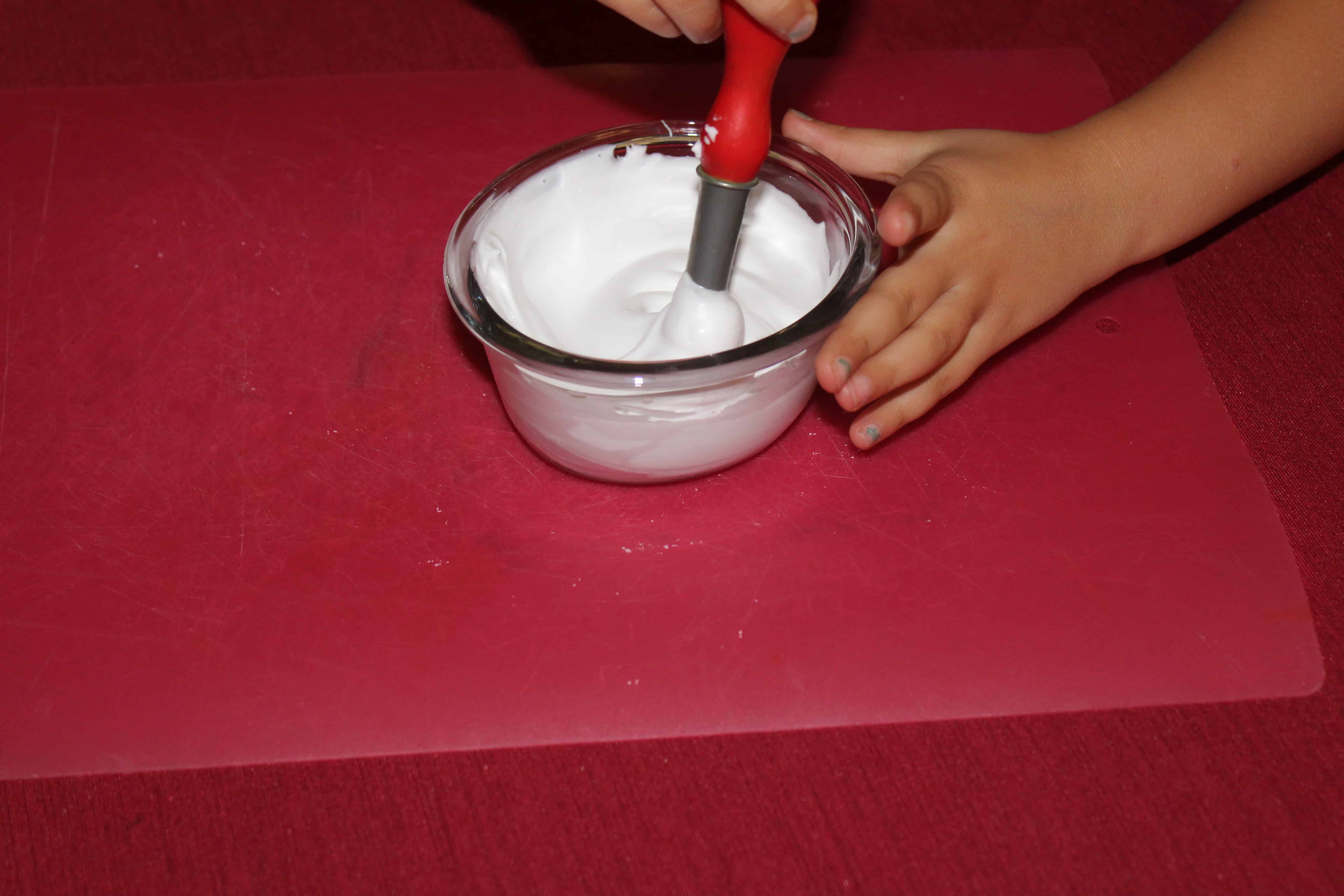 If you're presenting this to your kids, you have two choices. First, you can just give the paint and the paper and see what they come up with. Or you can show them the paint and ask them what it reminds them of. Tell them it reminds you of snow, and ask them if they can create snow day art projects with this new, puffy shaving cream paint.
Or just tell them to make a snowman. That'll work, too.
Gather Additional Materials for Your Snowman Art
You're going to want just a few other materials on hand to decorate your snowy scene. I set out construction paper, cotton balls, sequins, and pipe cleaners for my kids. At their request, I also went out and grabbed a couple of small twigs for them to use as arms.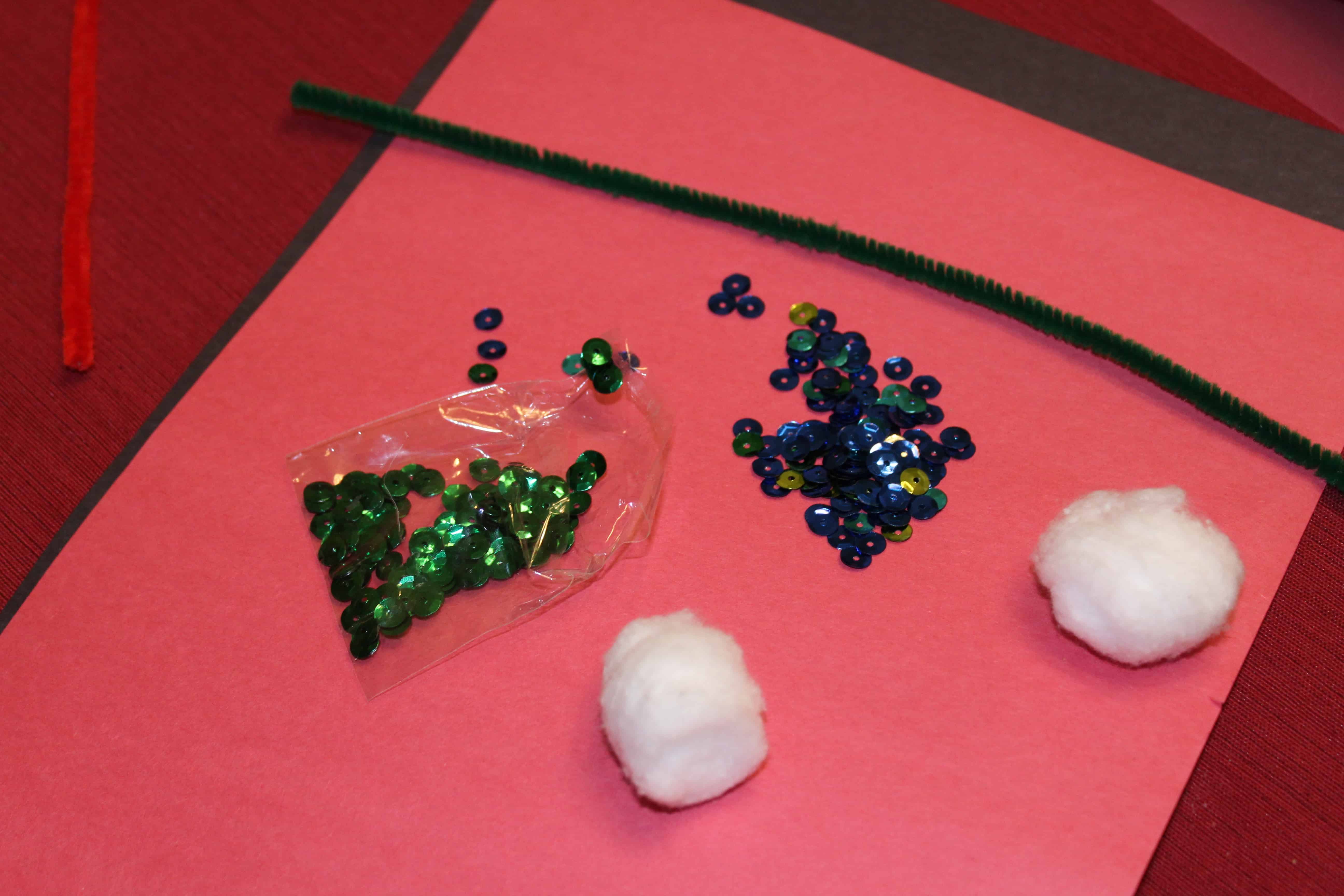 If you let your kids make their own accessories, your snowman will certainly turn out a little more unique. They'll get the chance to use their creativity and do some experimenting with new materials.
The accessories also might make your kids cry. (I'm looking at you, twisty pipe cleaner scarf Lila tried to make. You're kind of a jerk.)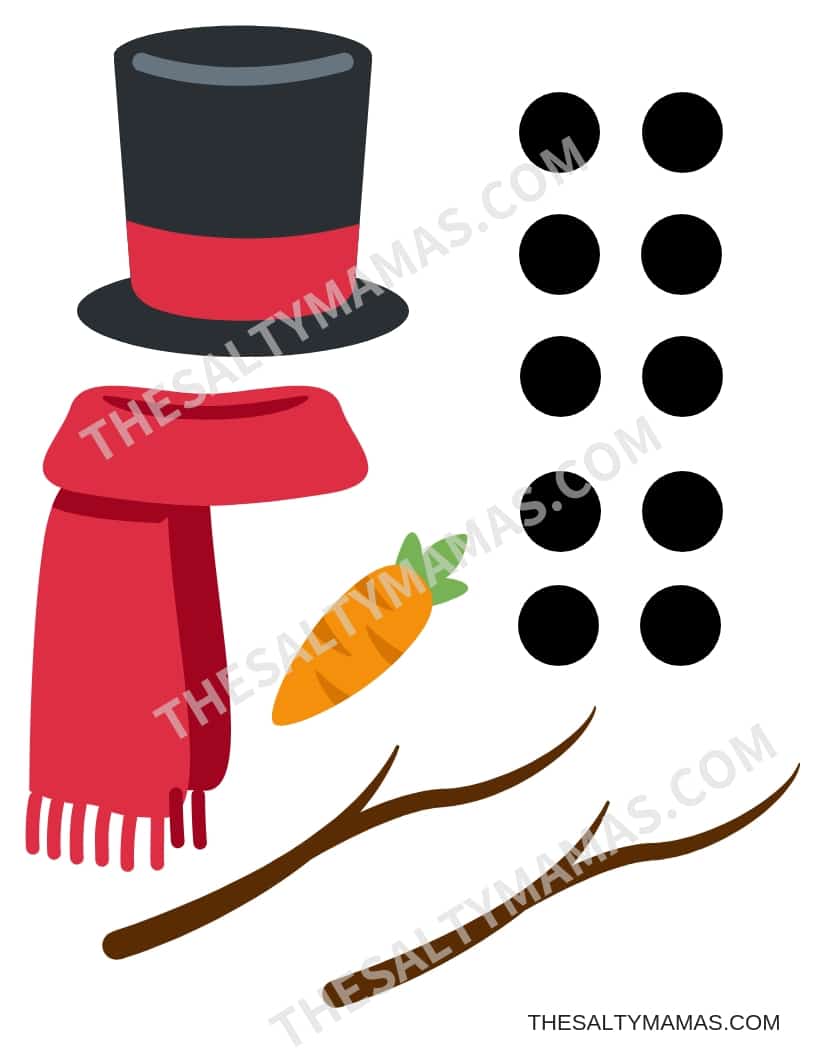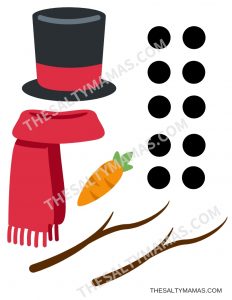 So if you'd rather, we've made this printable snowman accessories sheet for our subscribers. You can get your copy here, and spare yourself the experimentation process. If you've got little ones, you will want to cut out the items yourself. If your kids are older, they can probably do it on their own.
Snowman Painting
If you're kids are of an age where they can actually make art that looks like something (usually somewhere around the age of three or four), the snowman painting is super simple for them to make. It's a few circles- smaller on the bottom and bigger on the top- that kids usually find easy to master. If they need more guidance, you can always draw circles for them to fill in.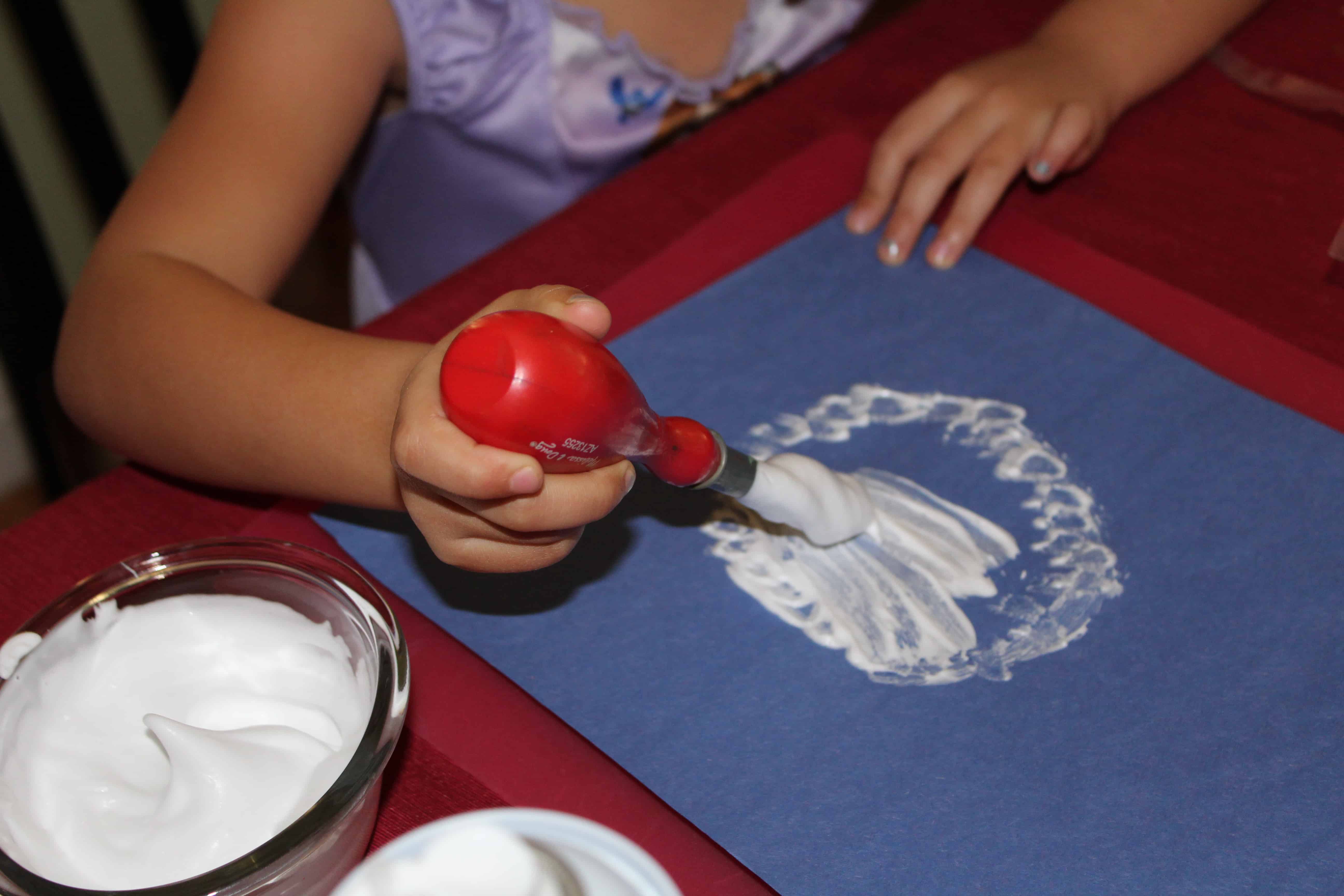 If you're kids are of an age where their art is more…um…Jackson Pollocky, you can try to offer some guidance (see above-mentioned drawn circles) but honestly? I'd just let your toddler paint the paper. I just gave Abe the puffy shaving cream paint and a brush, and he had SUCH a good time painting the entire paper white.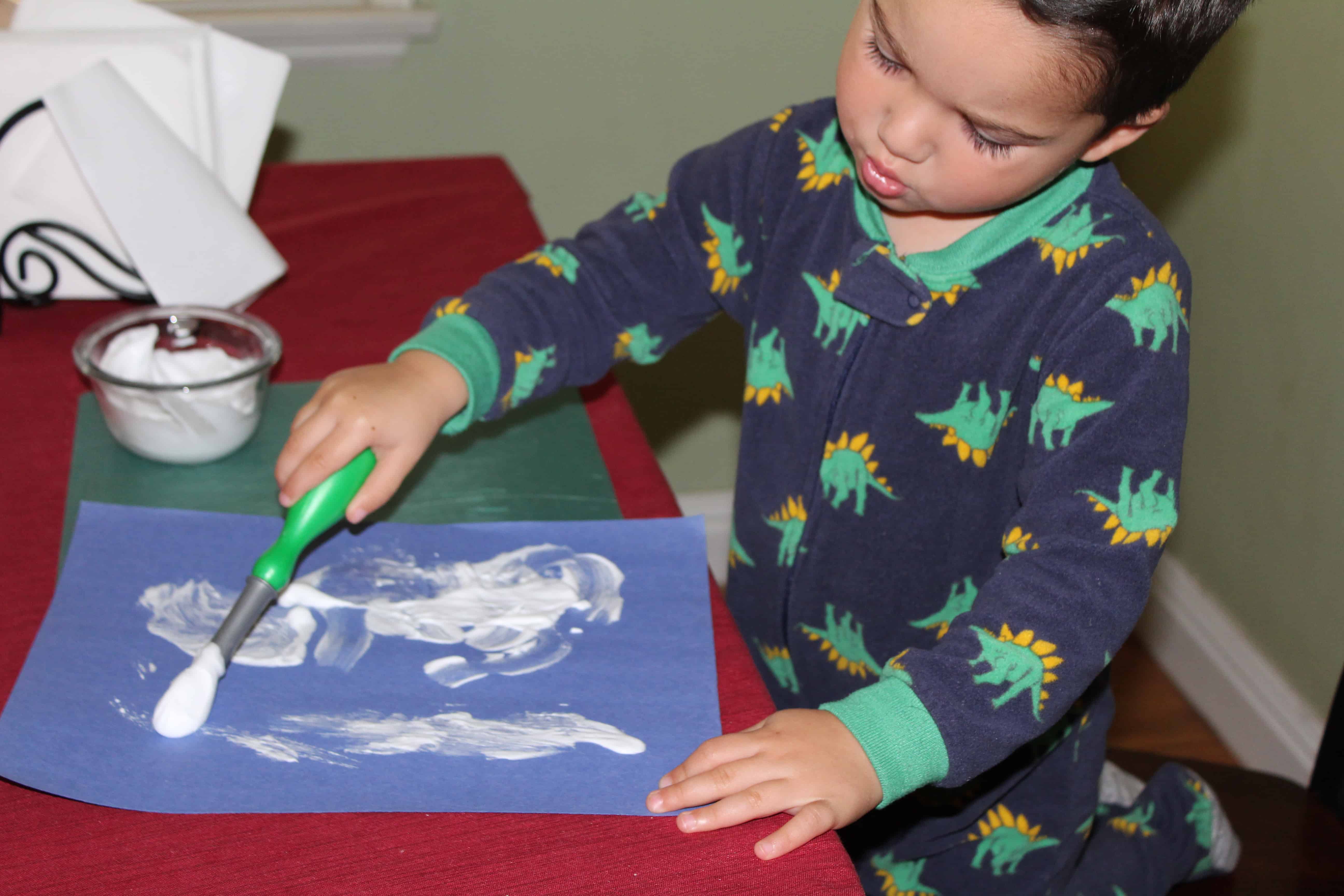 Which, actually, looked kind of cool. Sure, it wasn't a snowman. But it still looked like snow- a snowstorm maybe, or a melted snowman- and he was pretty pleased with his creation. Using some accessories, we turned it into that melted snowman craft that's so popular on Pinterest, and he was thrilled with the outcome.
Snowman Accessories
If your child is really committed to their snowman art project, they're going to want to add some of the details that bring ole Frosty to life. You know, the regulars- a hat, a scarf, a carrot nose, and the like. If you've used our printable snowman accessories sheet, now is a great time to bring it out.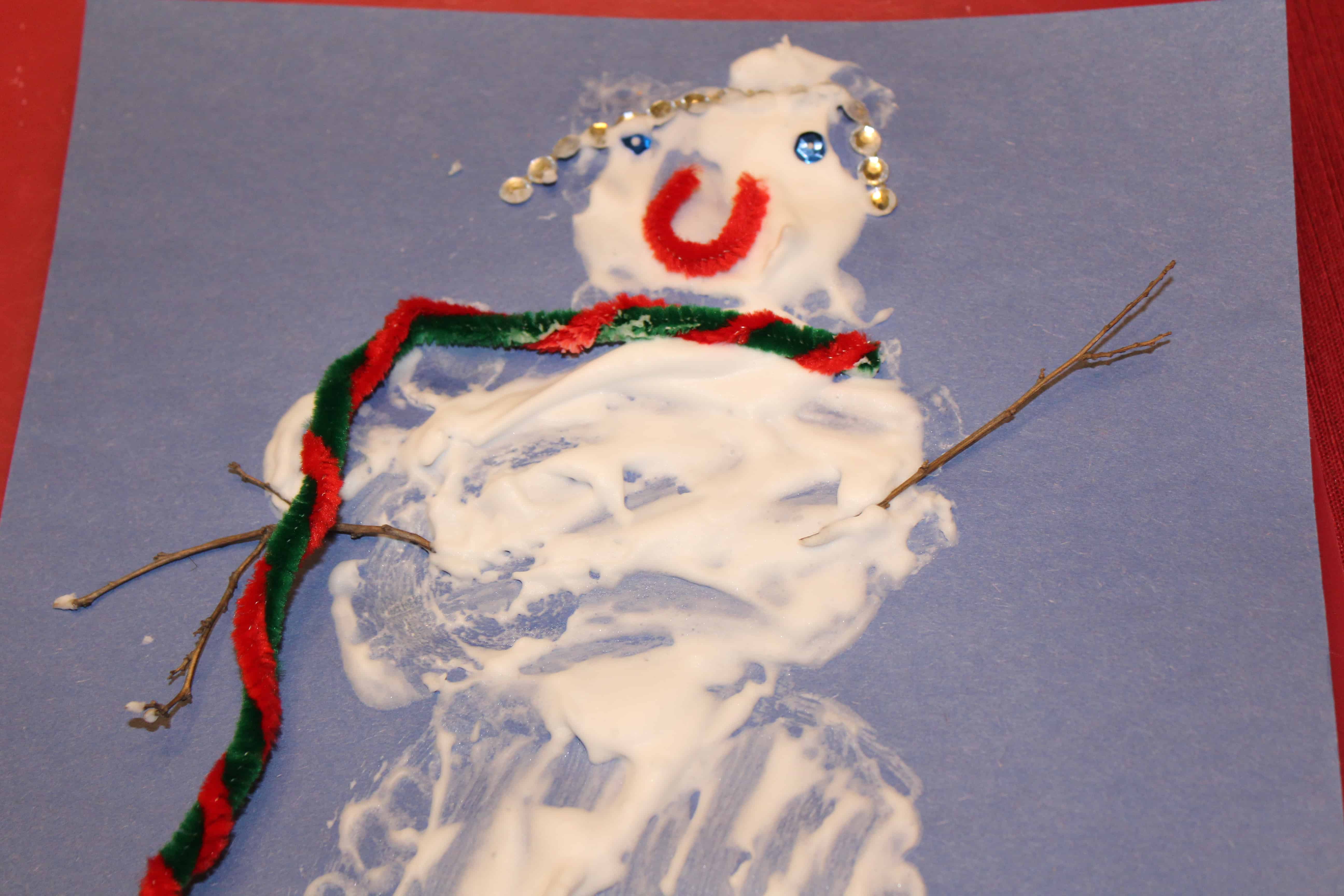 If not, go ahead and encourage your child to decorate their snowman painting with the supplies you brought out earlier. Depending on their age, they might need a little assistance. But try to let them do as much of the art themselves as possible.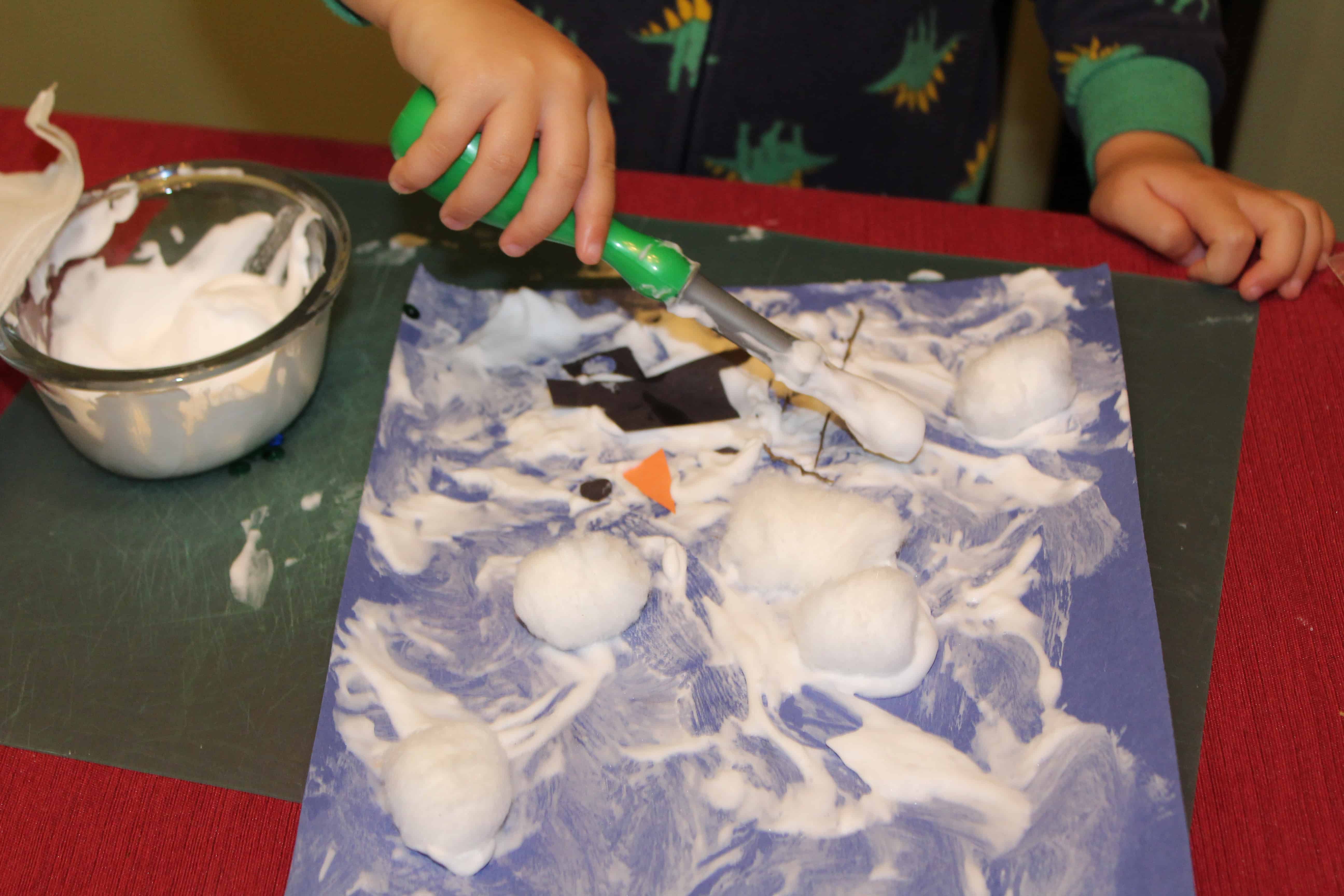 Also, if you're using paper on the wet snowman- you're running a bit of a gamble. The construction paper accessories I cut out for Abe held out well, as did the sequins and pipe cleaners Lila chose. The benefit of placing the accessories when they're wet is that you don't need any additional glue to apply them. However, if you're using the printable accessories, it's probably best to wait until your snowman is dry before adding extra details.
*******
Whether you're trying to bring a little winter to a sunshiney day like we are, or just trying to find a snow day activity for your kids, this puffy paint snowman art project is sure to be a hit with your kids. Did you try it? Tell us about it in the comments!
Looking for more art projects to do with your kids?
Recommended for You: