Is it as hot and sweaty where you are as it is here? Whether it's blazing hot or freezing cold, your kids will get a kick out of these exciting ways to play with ice in our list of ice activities for preschoolers (and beyond).
Mamas, it is too dang hot where we are and the kids and I are sweating it out. They're saying it's too hot to play outside, but we're running out of activities to do here at home. It's time to get creative.
As always, we set out to find some ways to entertain our kids. Bonus points if those ideas are low-cost, easy to prep, and use materials we have on hand.
Over the course of the summer, we have slowly but surely created a steady rotation of ice activities for preschoolers. These activities will keep your kids cool, keep them engaged, and get them learning with tons of fun science, mathematics, and art applications.
If you're looking for ice activities to do with kids when it's hot outside, you've come to the right place. Check out our 7 favorite ways to play with ice.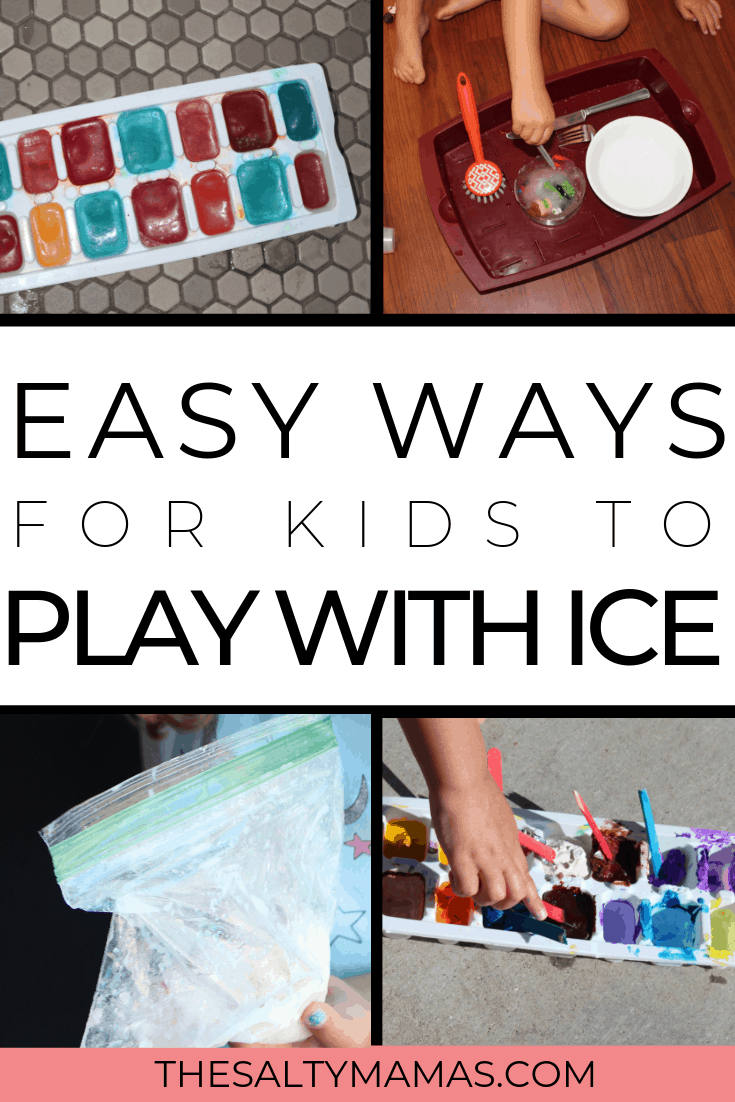 This post contains affiliate links. You can read more at our disclosures page. Thank you for supporting The Salty Mamas!
Painting Ice Activities for Preschoolers
Bizarrely enough, ice can make an incredible canvas for use with watercolor paint. Simply fill a bowl, tray, or water table (here's our favorite) with ice cubes and set out watercolors. If needed, you can show kids how to get the paintbrush wet by dipping into the melted ice first.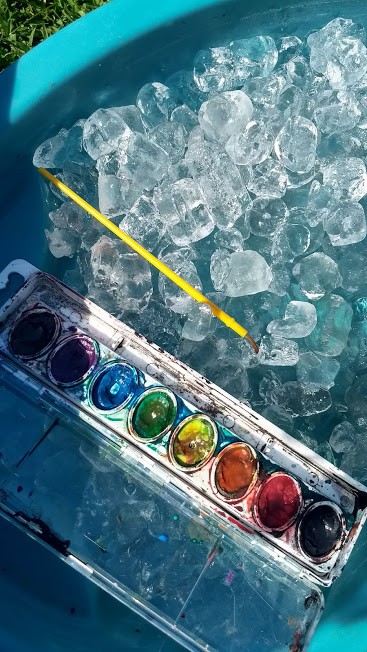 Kids will love to see how the colors swirl and mix while the ice melts, and watercolor paints are super easy to use with the wet ice. It makes for a great way to introduce watercolors to kids without juggling bowls of water at the same time.
Want to change it up a bit? Freeze a larger ice "canvas" for your kids to paint. Fill up any bowl with an inch or two of ice and freeze.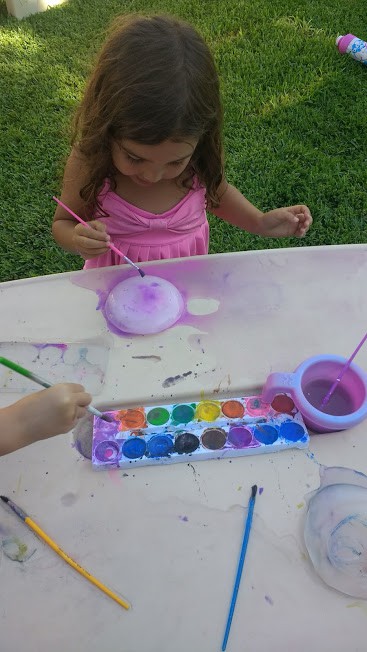 This will give your kids a larger space to paint on, and can be less messy than dealing with a bunch of small pieces of ice. Although, for what it's worth, we definitely use this as an outside or in-the-tub activity.
DIY Ice Paint Recipe
Need to use up some leftover paint? The tiny tubs of leftover paint that accumulate in my house make me INSANE. Whenever it's time for us to buy a new set, we pour the remnants of the last set into an ice cube tray to make our own DIY ice paint.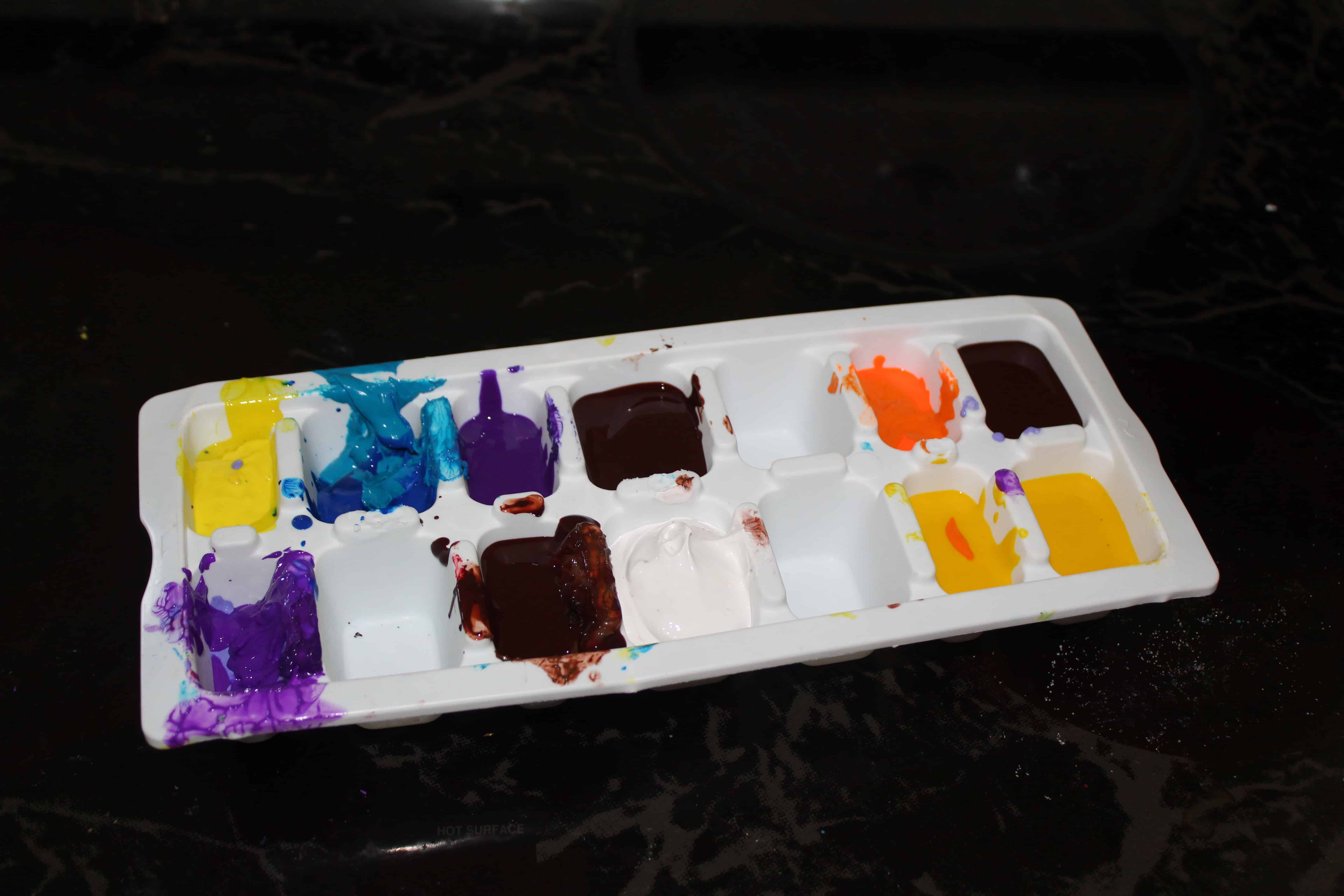 Fill an ice cube tray about half way with washable paint. Fill the remaining half of each cavity with water and mix using a toothpick.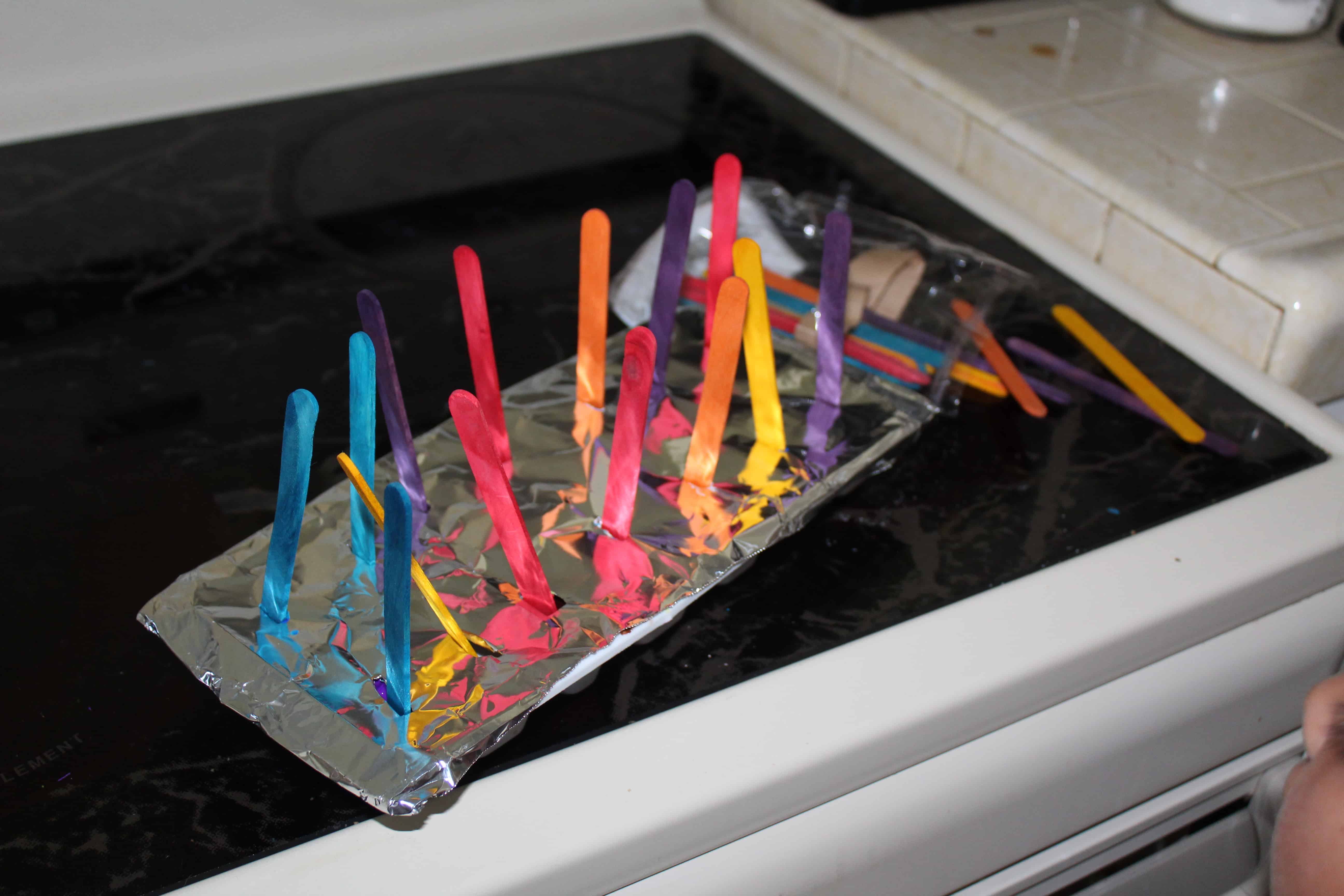 Place a piece of tin foil over the entire tray, and push a popsicle stick into each cavity. (Learn from my mistake and break each popsicle stick in half first. It'll make it easier to fit in your freezer, and for little hands to hold.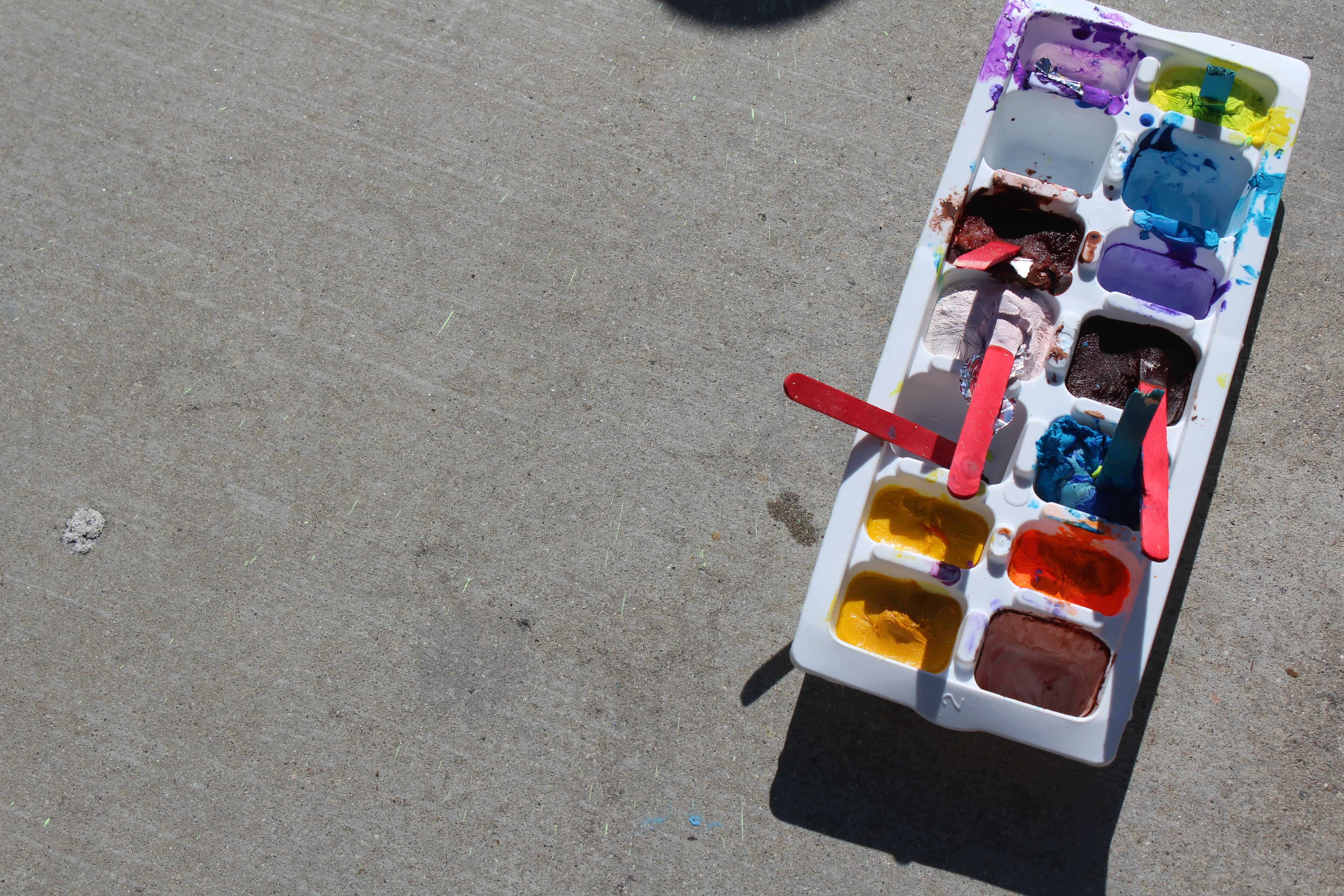 Use the paint ice cubes on your driveway or sidewalk as you would with chalk. Rinse off as soon as you're finished to avoid staining.
Ice Cube Color Mixing
Working on teaching your kids about colors? DIY colored ice cubes can go a long way in helping your littles learn about color mixing.
First, you'll fill an old-school ice cube tray with water. Add a drop or two of food coloring to each section, and stir (or have your kids help stir for a little more hands-on learning). This is a great opportunity for them to learn a little more about primary and secondary colors, if you feel like taking it there.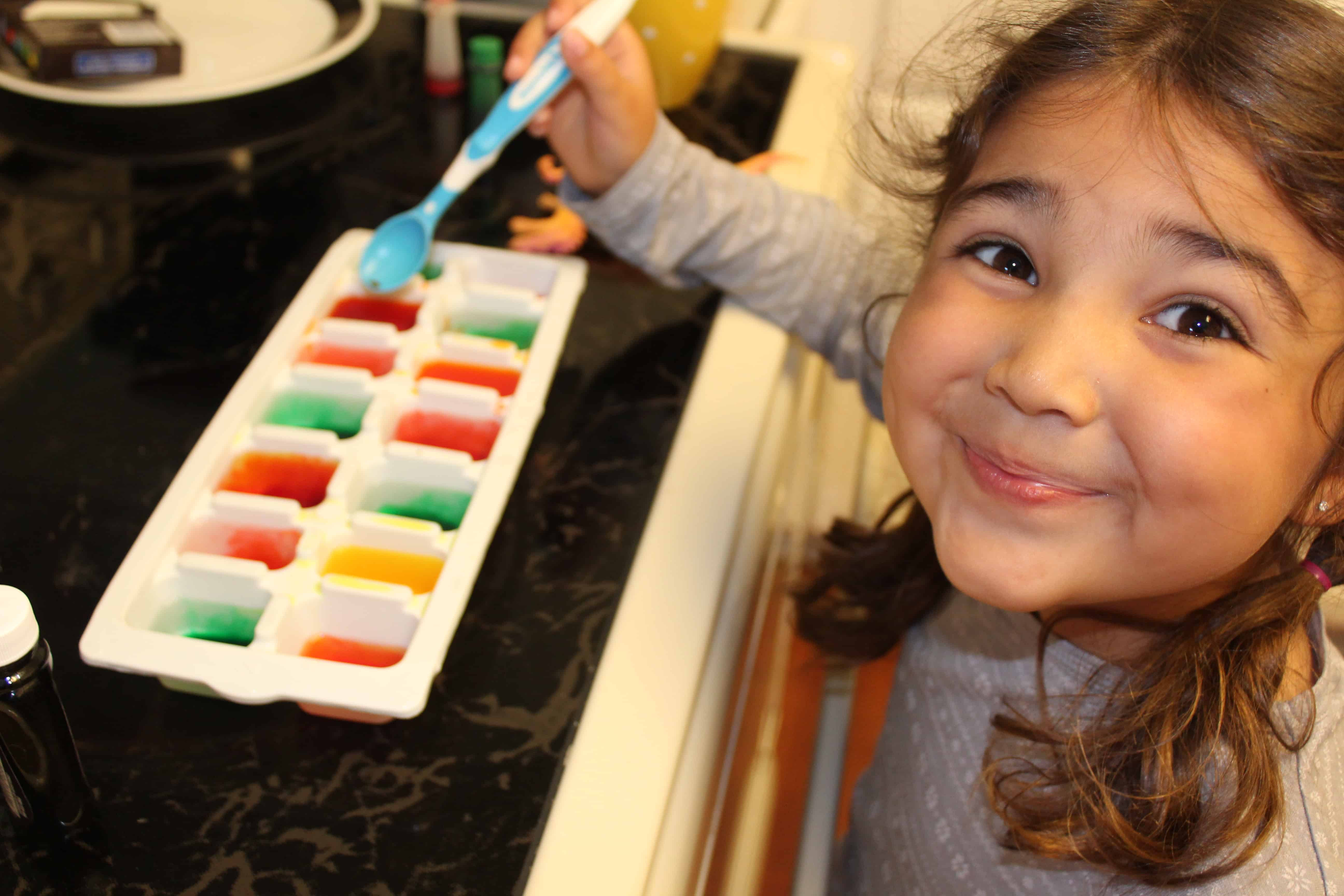 Once your colors are mixed well, put them in the freezer until solid, usually about an hour or two. (I ran out of blue, so we focused on yellow, red, and green. Let's pretend it was on purpose, and not just because I used all the blue on Abe's birthday cake.)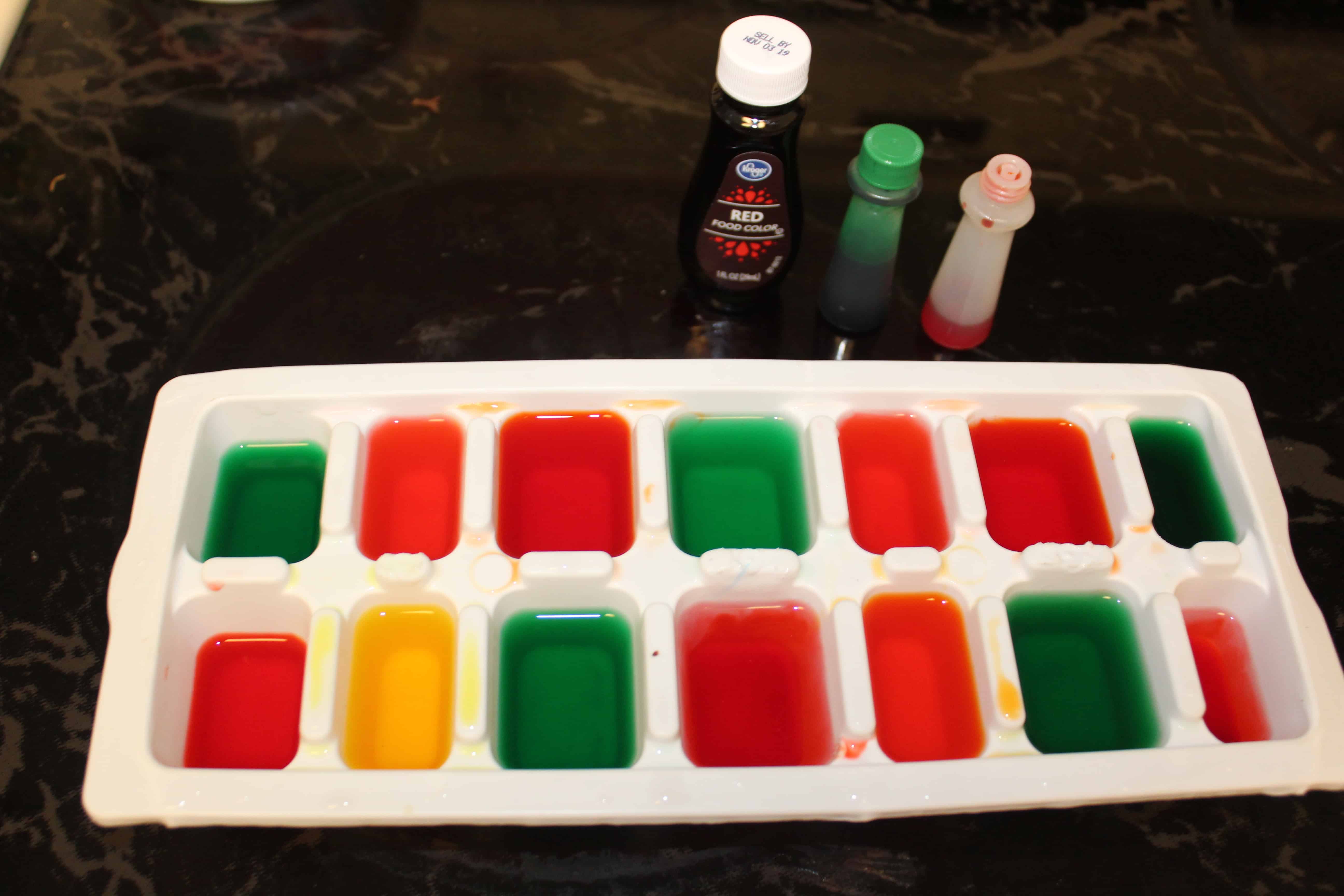 While you're killing time, consider reading a book about color mixing to help prep your kids for what they'll see once their ice starts mixing. Our kids love the silly fun of "Mix it Up" by Herve Tullet (grab your copy now).
Once your ice cubes are ready, you can add them to your water table. Or do what we did, and put them in the bathtub with your kids. They loved how quickly the ice melted in the warm bath water, and they got a kick out of watching the colors swirl together.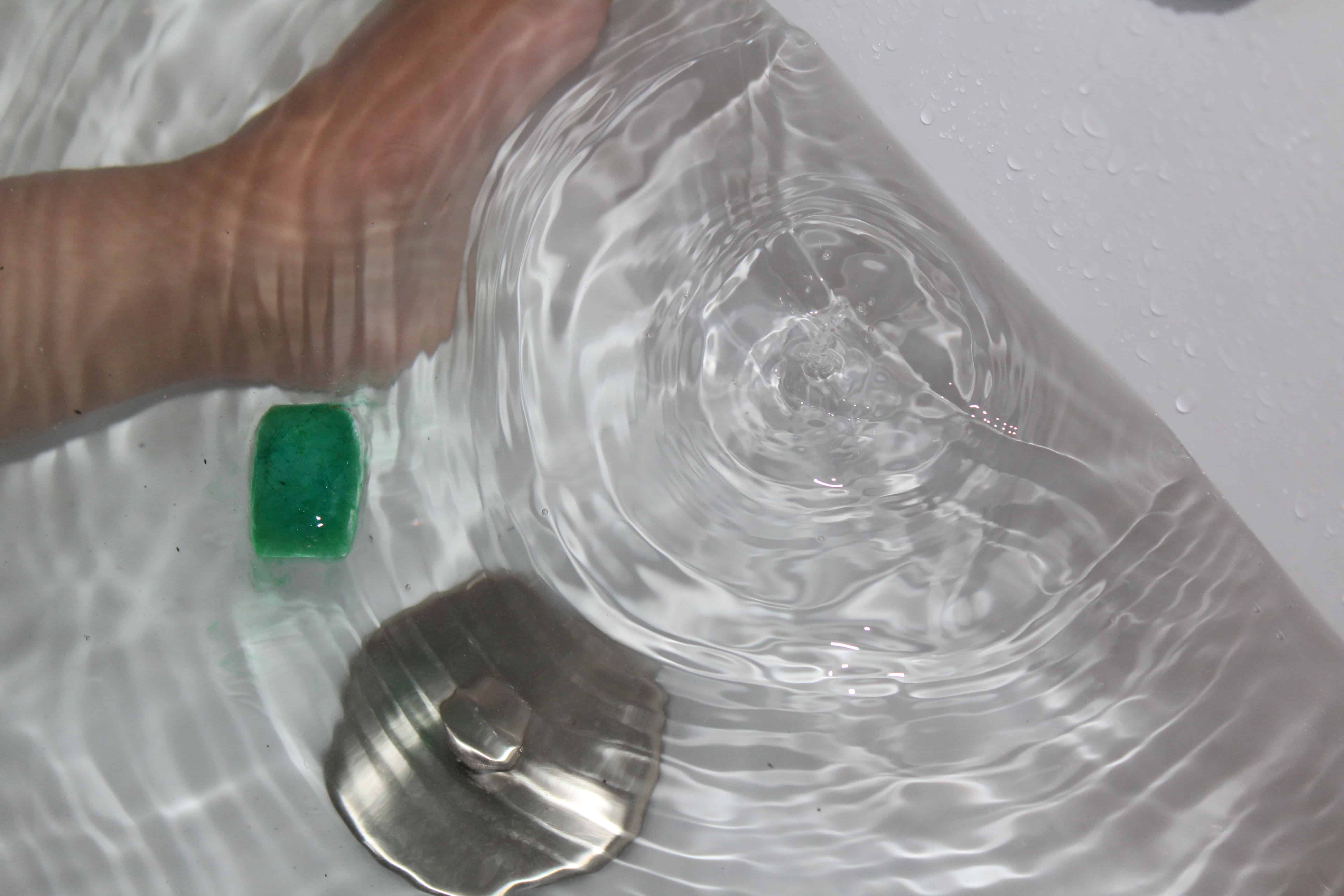 It's one of the simplest ice activities for preschoolers- and with a LOT of bang for your buck!
Rescuing Frozen Toys
One of my favorite ways to fill a stuck-at-home day is by freezing some of my kids' little figurines and action figures. This is the perfect way to get new life out of all those plastic toys you get at McDonald's, or to use your child's interests to get them interested in the scientific process.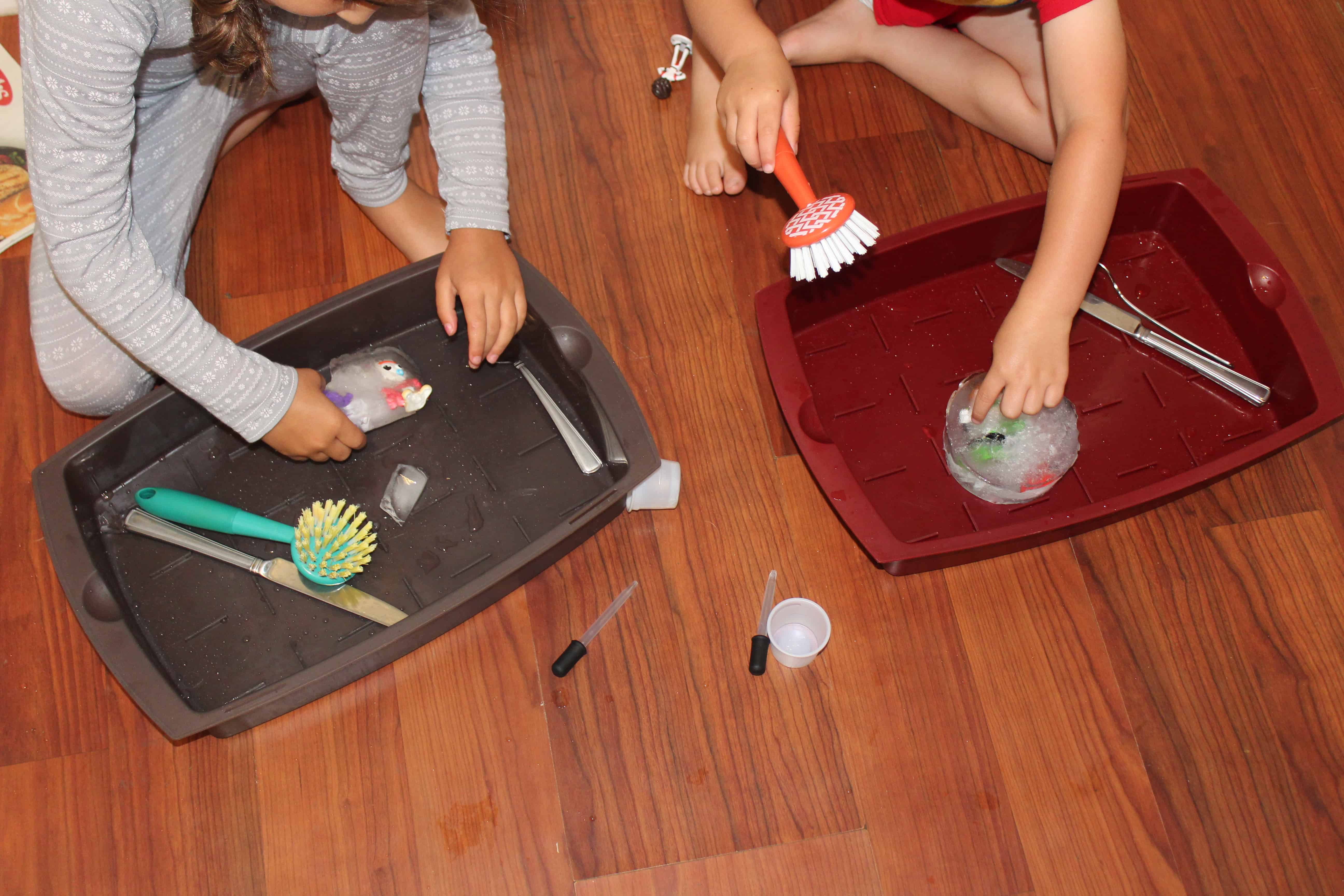 Set up is simple- place your child's toy(s) in a bowl or Tupperware container, and cover with water. Freeze until hardened. (Full disclosure-I usually leave them overnight for best results. As a result, I almost always have a frozen toy or two somewhere in my freezer. Weird, but USEFUL.)
I'll wait until the kids are getting antsy, and then break out these frozen toys. I give them various tools (click here to read about the best STEM tools to use for this project), which helps make this activity a little different every time we try it.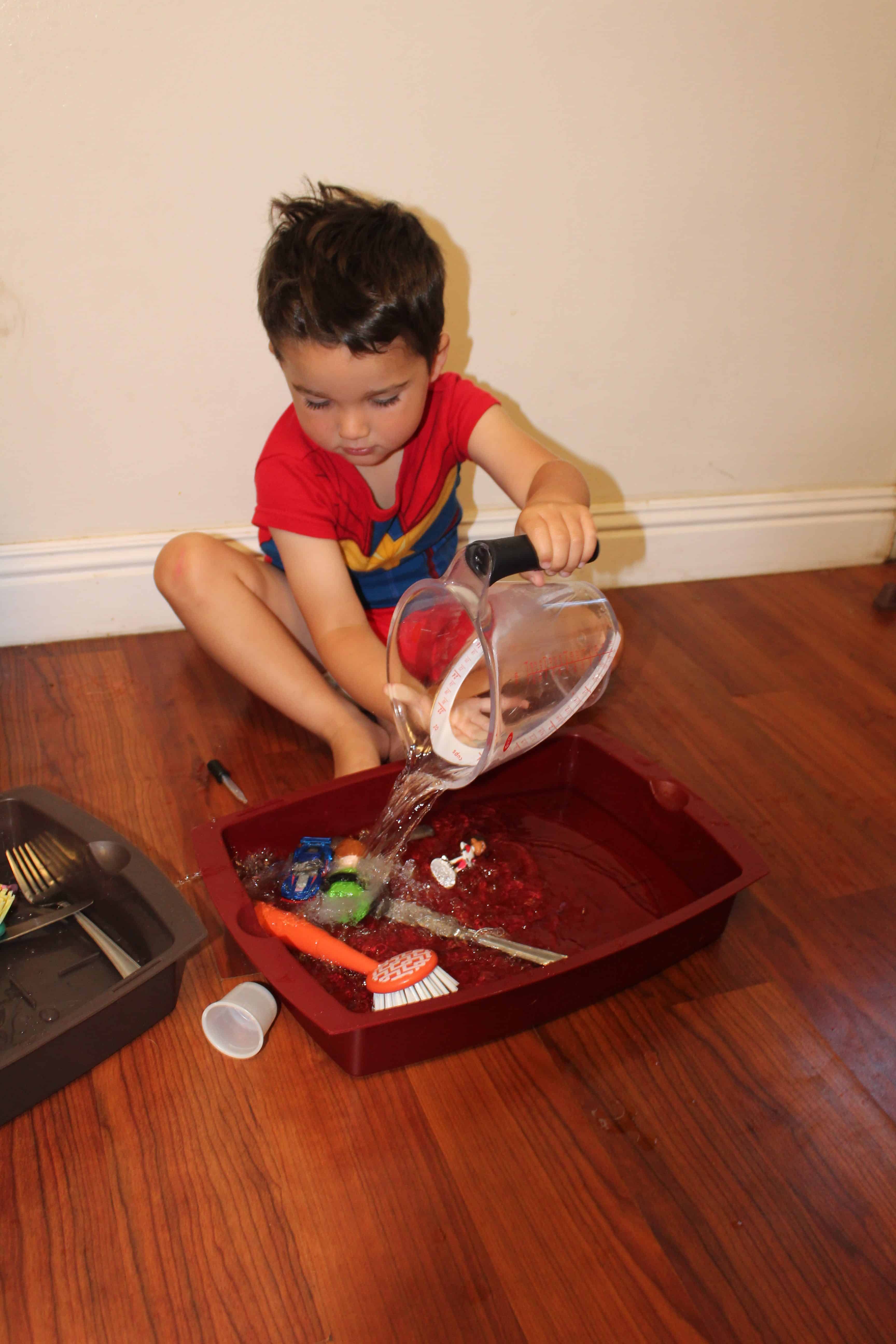 Making Homemade Ice Cream with Preschoolers
Why not experiment with ice in the most delicious way possible- by making ice cream? Our kids LOVE the opportunity to help out in the kitchen– even more so if they are pitching in to make a dessert.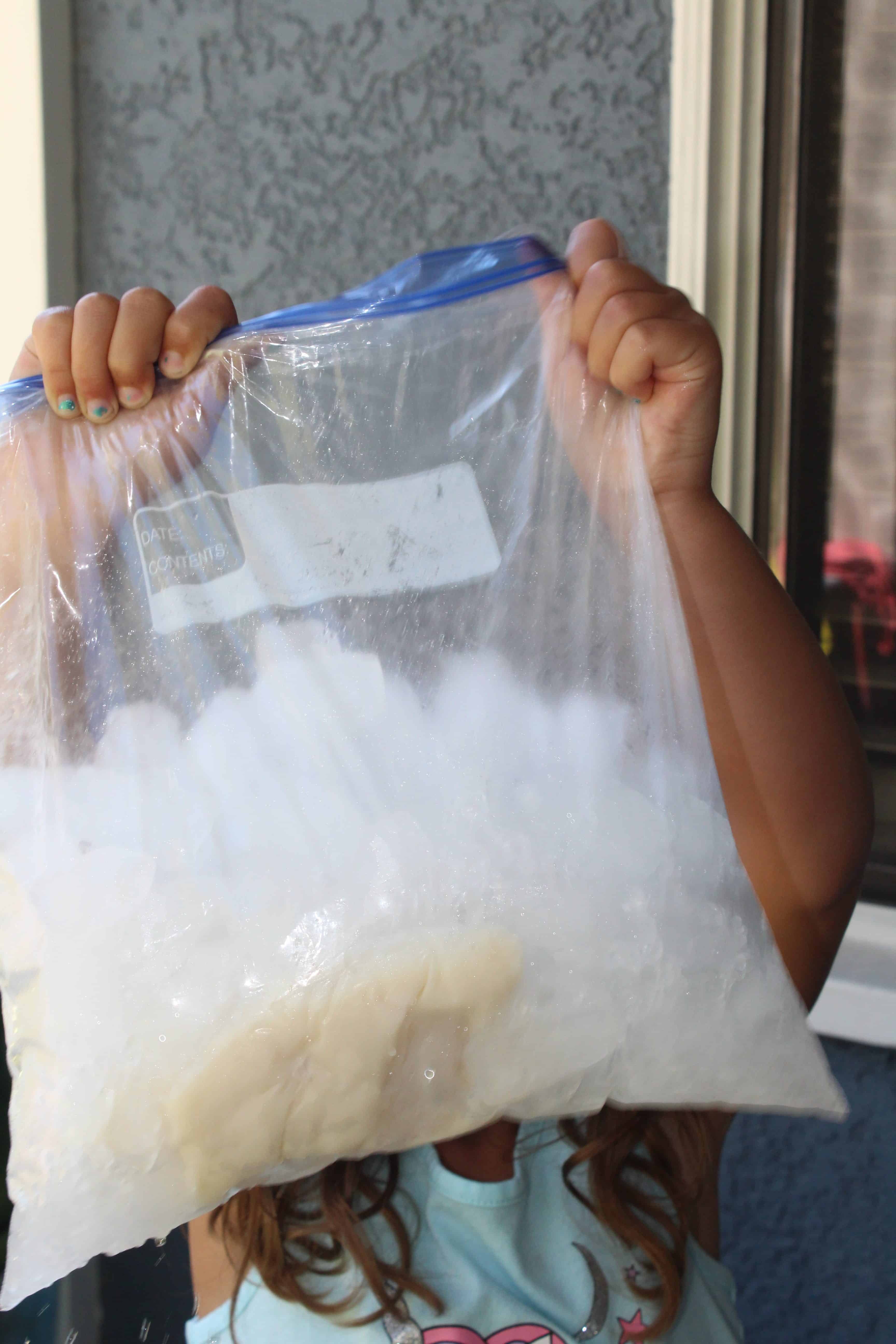 Using simple ingredients (and LOTS of ice), your kids can get hands on STEM experience while learning about temperature and matter changes. Click here for our ice cream in a bag recipe, a delicious ice activity for kids.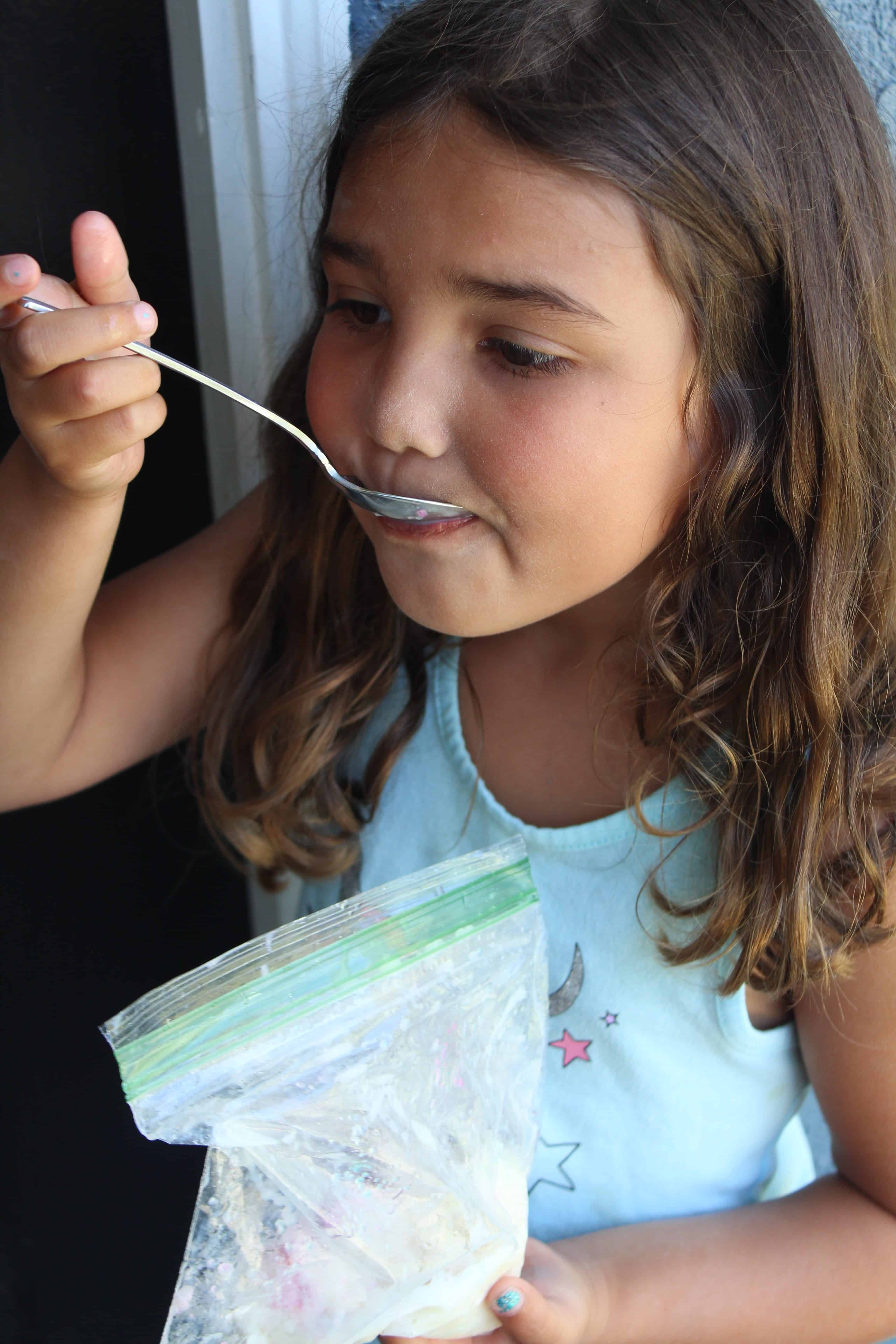 ******
These ice activities for preschoolers are the perfect way to kill some time on a hot afternoon (or even a cold one). Who knew something as simple as ice could be so educational, huh?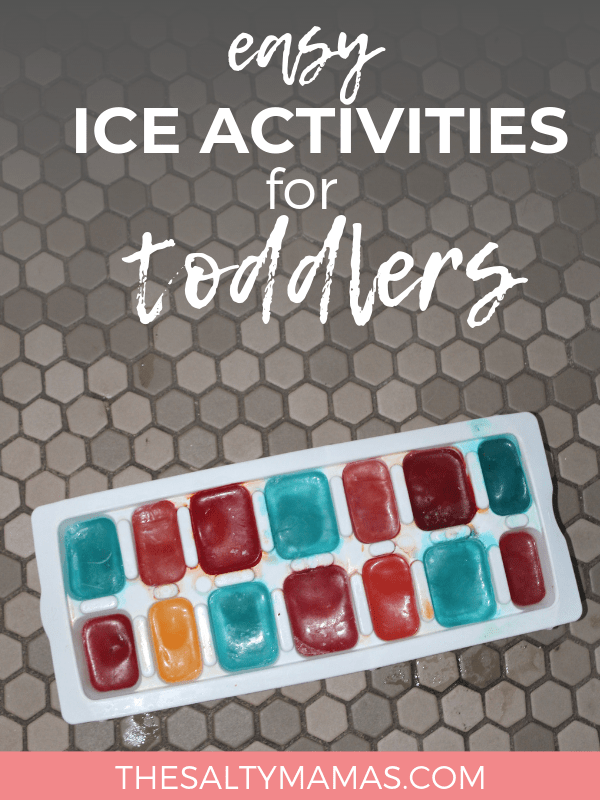 Looking for more ways to play with your kids? Check out these posts next-
Recommended for You: