We've got this weird, love-hate relationship with playdough. The thing is that our kids love it, but the mamas? Well, we kind of hate it. But since there's a ton of developmental benefits to playing with playdough (sensory experience, fine motor skill practice, hand strength, creativity, imaginative play)? The tie is gonna have to go to the kids on this one.
Because I personally get tired the squishy stuff, I try to step up my playdough game once in a while. I've found that homemade playdough keeps longer, for example, and that if I only make one color at a time my kids can't drive me crazy by mixing colors together.
I change up our playdough activities regularly to keep things fresh, and this is so much easier to do around the holidays. From delicious scents to learning opportunities, there's lots of  holiday playdough activities for toddlers your kids are sure to love.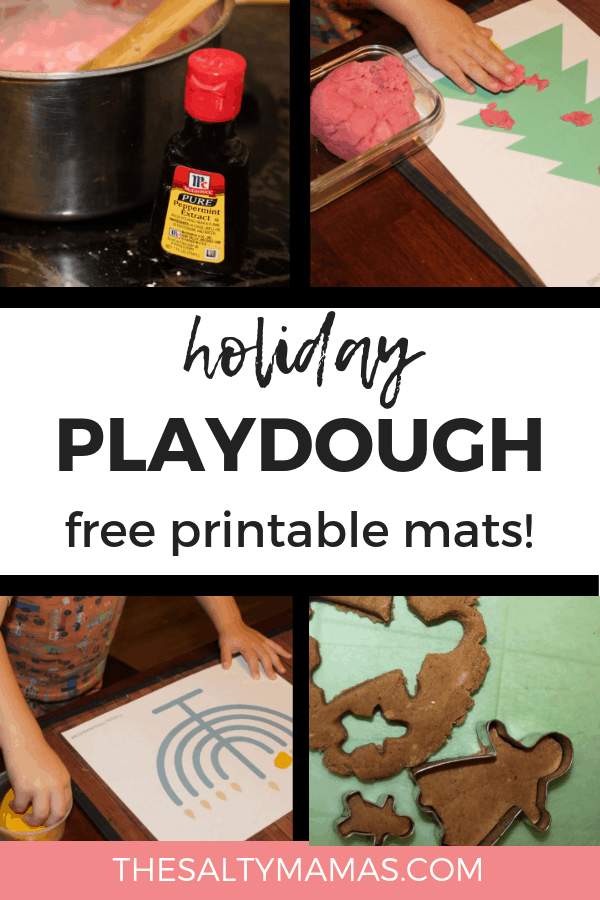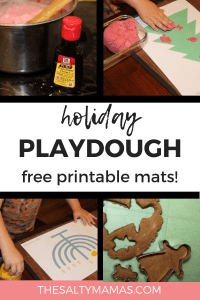 This post contains affiliate links. You can read more at our legal page. Thanks for supporting The Salty Mamas!
The BEST Homemade Playdough Recipe for Toddlers
There are a lot of homemade playdough recipes floating around, but this is by far the best we've found. It's soft, lasts for MONTHS, and is easy to make.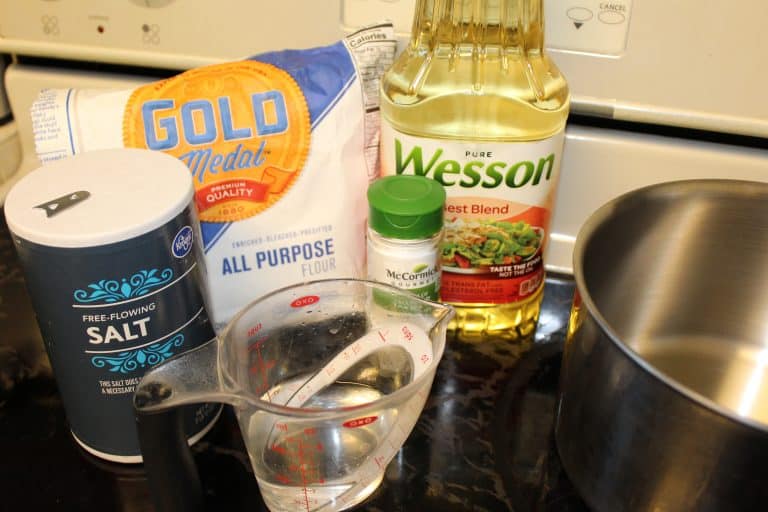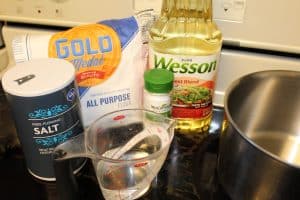 As a bonus, it's taste safe (but disgusting), so kids can safely eat it but absolutely will not want to do it again.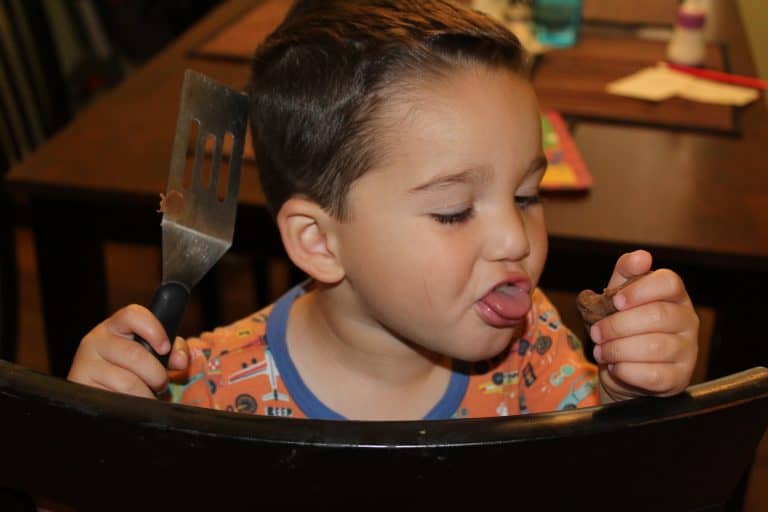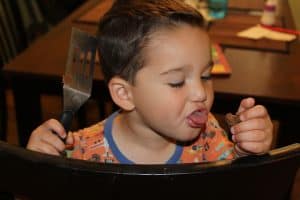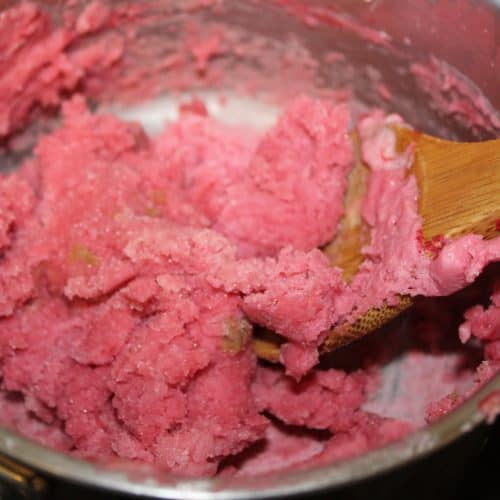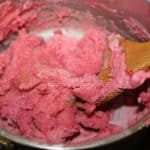 Best Homemade Playdough for Toddlers
Ingredients
1

cup

flour

1

cup

water

1/2

cup

salt

2

tbsp

Cream of Tartar

1

tbsp

vegetable oil

10-15

drops

food coloring
Instructions
Combine all ingredients in a medium saucepan.

Food coloring is optional at this stage, but it's MUCH easier to achieve consistent coloring if you add it in at the same time as the water.

Over medium high heat, stir all ingredients continuously. After a few minutes, the playdough will start to thicken and become hard to stir. Try to keep stirring (or flipping) the playdough to achieve even heat.

Remove from heat when no longer sticky. Set aside to cool.

When the playdough is cool enough to touch, knead for 1-2 minutes until your playdough is soft and pliant.
Homemade Gingerbread Playdough Recipe
Want to add a little imagination to your holiday playdough activities? You can create this homemade Gingerbread playdough recipe with a few simple modifications.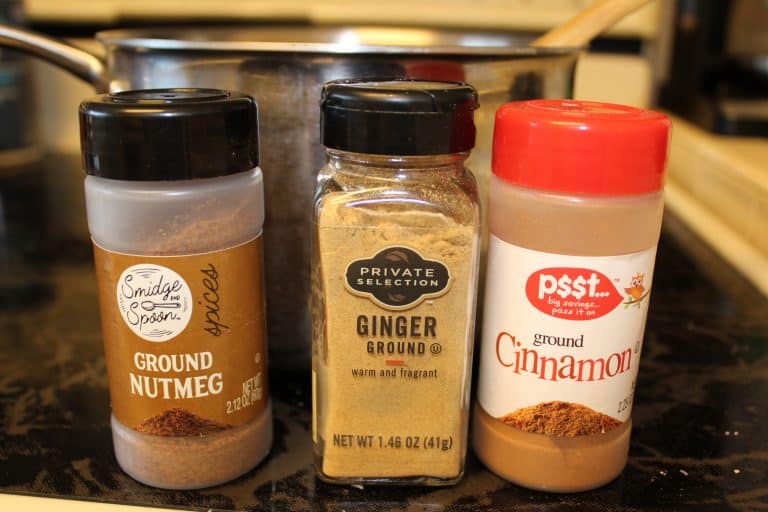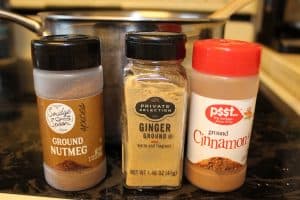 Using the above recipe, add 1 teaspoon each of cinnamon, ground ginger, and nutmeg.  Wondering how to make brown playdough with food coloring? It's not as simple as it might seem!
For food coloring, you'll want to add yellow, red, and blue playdough at a ratio of 2:1:1. I used 10 drops of yellow, 5 drops of red, and 5 drops of blue to make brown playdough with food coloring.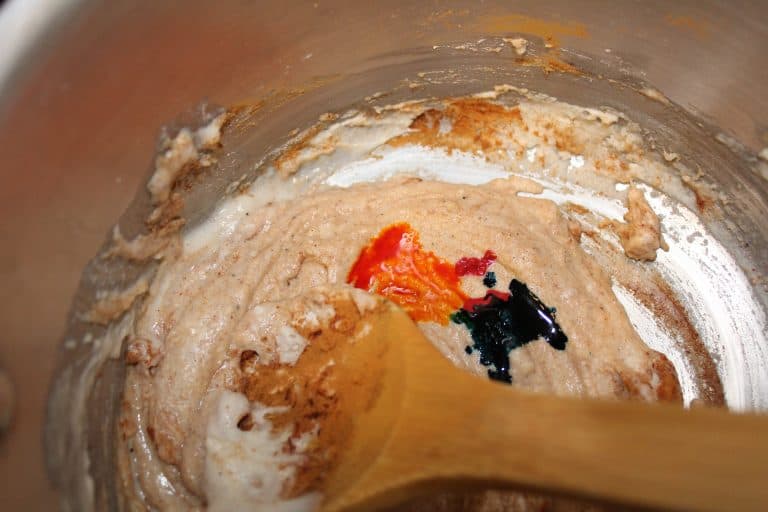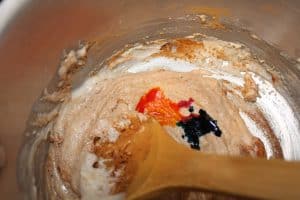 Your brown playdough coloring will appear lighter before it is cooked. Don't panic! It'll darken up as it cooks. If the color is still too light after cooking, you can add color during the kneading process.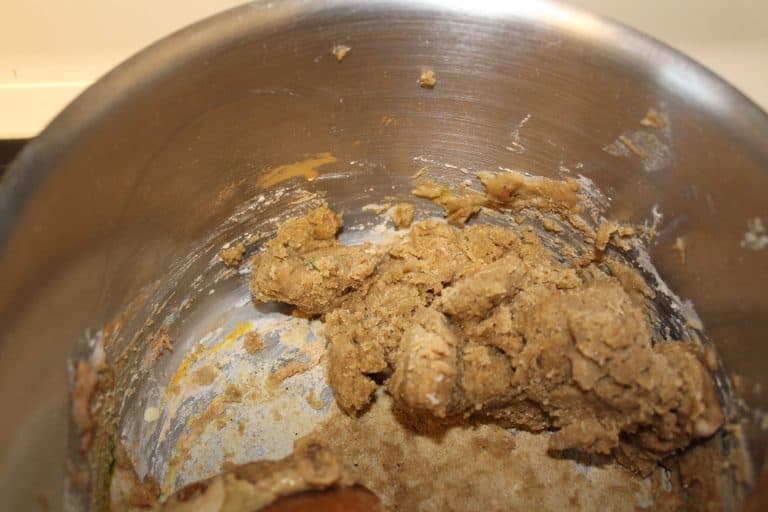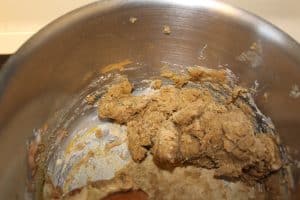 Homemade Pumpkin Spice Playdough Recipe
This simple modification creates a delicious smelling homemade pumpkin spice playdough recipe that your toddlers will love (and that will make your house smell AMAZING).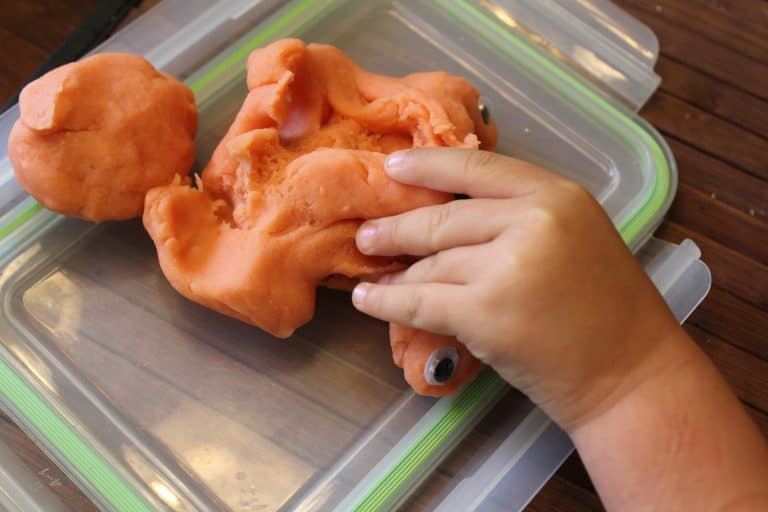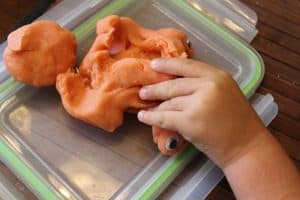 During your initial mixing, add 1 tablespoon of Pumpkin Spice seasoning to your other ingredients. I like to use orange food coloring for my pumpkin spice playdough, but feel free to use whatever colors your kids will like best. (Yellow or blue would also make fun additions to our playdough mat activities.)
Homemade Peppermint Playdough Recipe
Be careful with this one- a little peppermint extract goes a long way! To make peppermint playdough, add 2-3 drops of peppermint to your other playdough ingredients. You'll be able to tell with a whiff or two whether you've added enough- it's strong!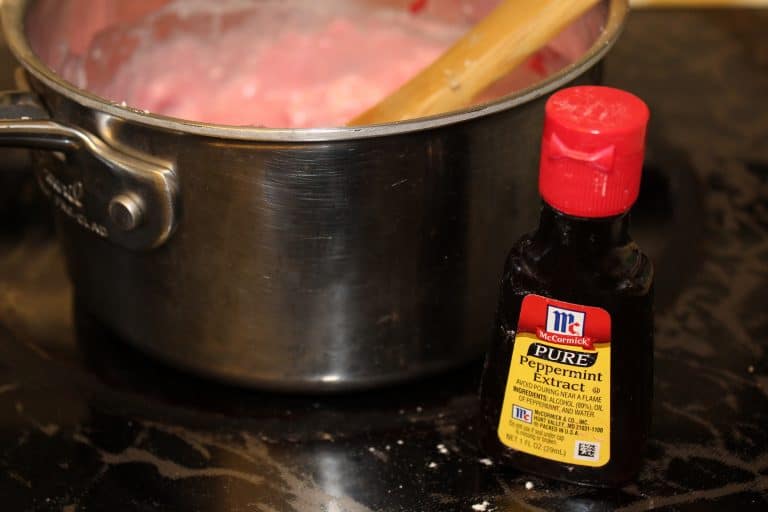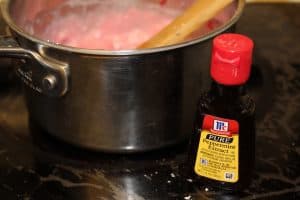 We like to color half of this recipe white and half red so that kids can make candy canes, but as usual, feel free to use a color that your kids will like best.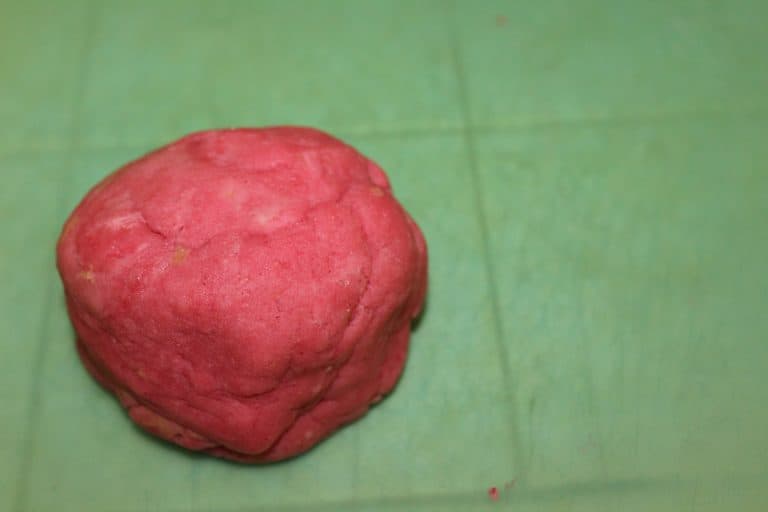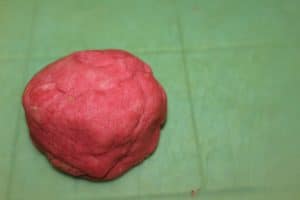 Holiday Playdough Activities for Toddlers
One of the simplest ways to play with playdough is to introduce cookie cutters. Any Christmas cutters would work. If you've made Gingerbread playdough, it of course lends itself well to Gingerbread men or women cutters.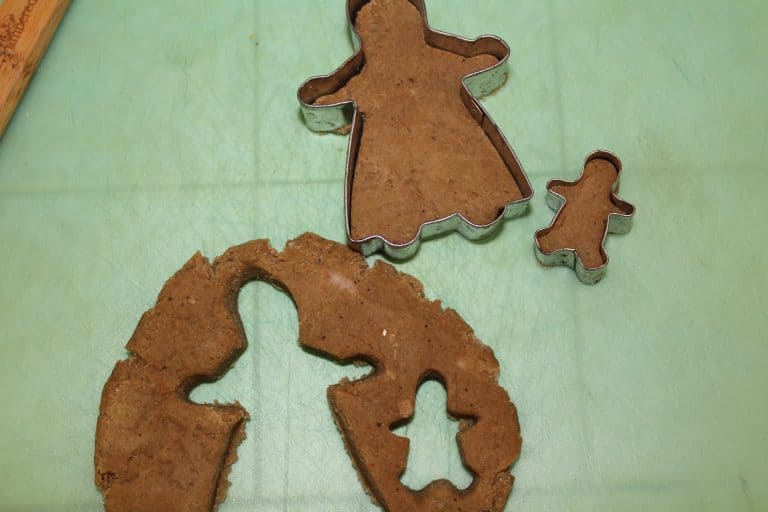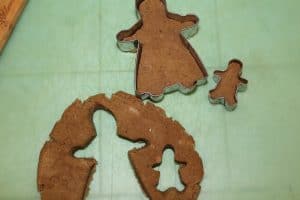 I like to go all out with this holiday playdough pretend play center. I give the kids real cookie sheets, rolling pins, and the real cookie cutters. They make the "cookies," lay them out on the tray, and then smush them together and start again.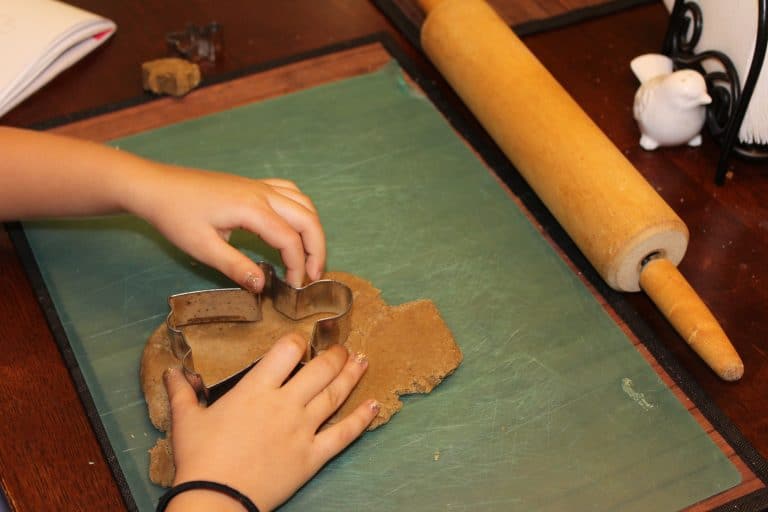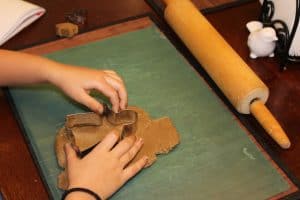 If you'd rather go a little less hardcore, we've also created a printable cookie "tray" playdough mat that will give your kids the fun of making playdough cookies (without the drama when they look realistic enough to eat).
Christmas and Hannukah Playdough Mats
Our Hannukah and Christmas playdough mats are a crazy-simple addition to your holiday playdough center. Kids can put ornaments on a tree, "light" the menorah, create snowflakes, and make cookies (with both a cookie sheet and "cookies for santa" plate printable).
And the best part? They are free for our subscribers! Sign up here to gain access to our Printables Library.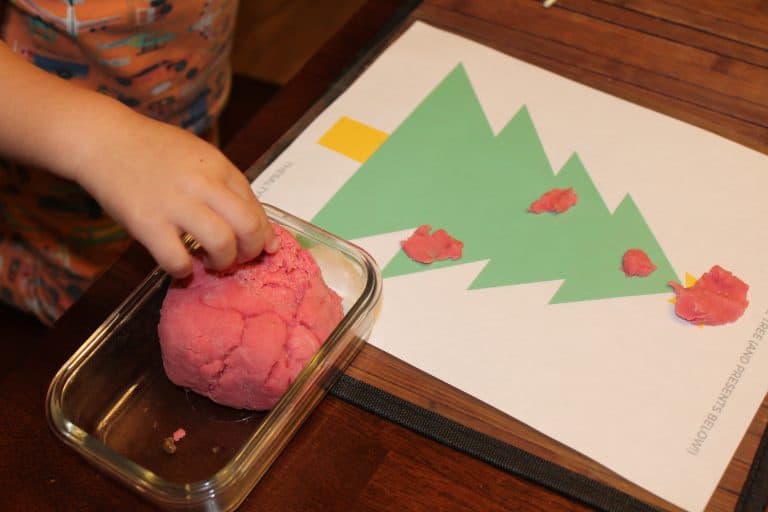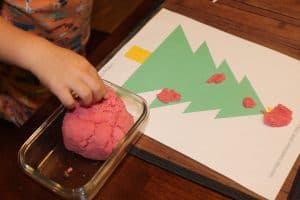 To make your Christmas and Hannukah playdough mats for toddlers a little sturdier, we recommend printing onto cardstock and then laminating. If this isn't an option for you, regular paper slipped inside of a page protector will work just fine!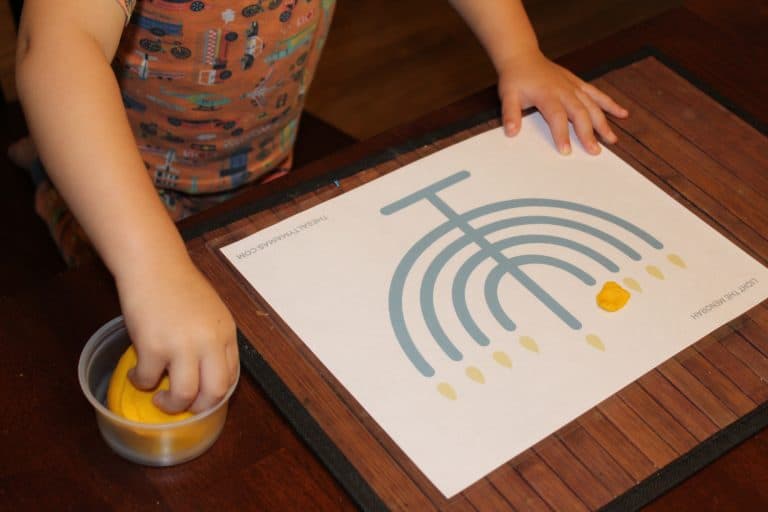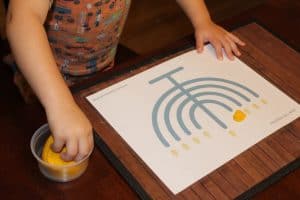 Your kids will work with whatever's on hand, but these mats work best with a batch of our homemade Gingerbread playdough recipe, as well as red, yellow, and blue playdough.

If the thought of making multiple batches doesn't appeal to you, pick up a pack of canned playdough here or just print the mats that work with the colors you're giving them.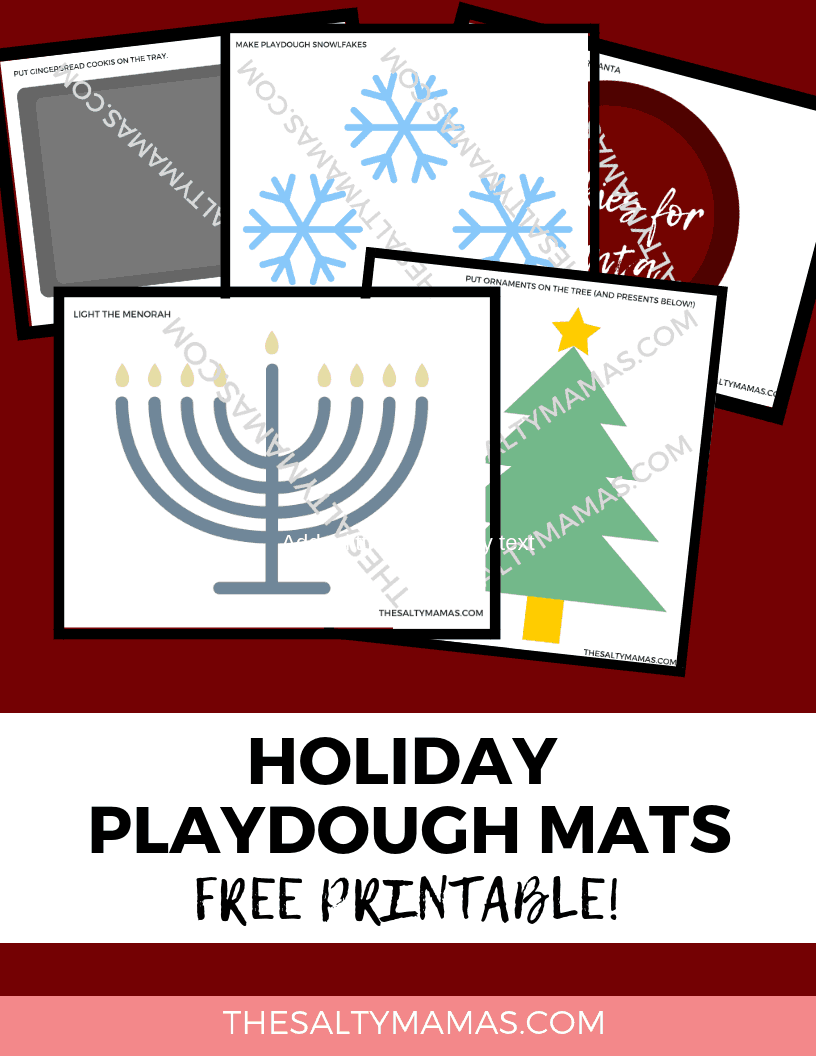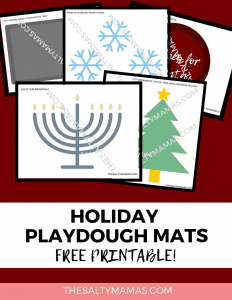 It doesn't take much to turn something a daily activity like playdough into fun holiday playdough activities for toddlers. With the right scents and the right prompts, your kids will be able to celebrate the season with sensory play that is tailored just for them.
Looking for more ways to play with your toddlers this year? Check out these posts.