Christmas can be dangerous for little ones – from fragile ornaments to open flames on candles. So how can you make sure you still have a festive holiday season AND keep your toddler safe this Christmas? We'll help you answer your burning questions like, "how can I keep my tree safe from toddlers?" and "are my Christmas stockings a safety hazard?" With these Christmas safety tips for toddlers you can focus on all the fun, and stop worrying. 
The holiday season is upon us, and before you know it we'll be bringing in trees, stringing up lights, and hanging stockings and garlands from mantles and bookshelves. It'll look beautiful, and so festive- and it will be oh-so-tempting for the little hands around you.
Those curious toddler fingers (and let's be honest-climbing little legs) will be thrilled to discover all the newfound decorations in your homes. They'll zero in on the tree first, of course – those ornaments DO look an awful lot like their ball pit balls, you know- but they won't stop there.
Before you know it, your garland will be down, your stockings will be unhung by the chimney, and the little baby Jesus will be scooped right out of his manger and placed into your preschooler's doll house.
So how DO you keep your toddler away from the Christmas tree? And-most importantly- what Christmas safety tips for toddlers do you need to check out? After five toddlers and LOTS of trial and error, we've got a foolproof plan to keep your little sugar plums out of the ER this holiday season.
This post contains affiliate links. You can read more at our legal page. As always, the thoughts and opinions expressed here are our own. Please monitor your children closely around all holiday decorations, as no system is fool proof and kids are VERY creative when it comes to getting into mischief.
How Do You Keep a Toddler Away from the Christmas Tree?
This is the big one. Not only do you want a beautiful tree for yourself, but you also want to keep your kids safe. The typical Christmas tree features electric cords, glass ornaments, and electric wires- so yeah, keeping your kids out of it is kind of a big deal.
You've got a couple of options as we see it.
A.) You can skip the tree this year (maybe get a miniature one for your table top).
B.) You can try to give toddlers another alternative to redirect them to, like this super popular felt Christmas tree.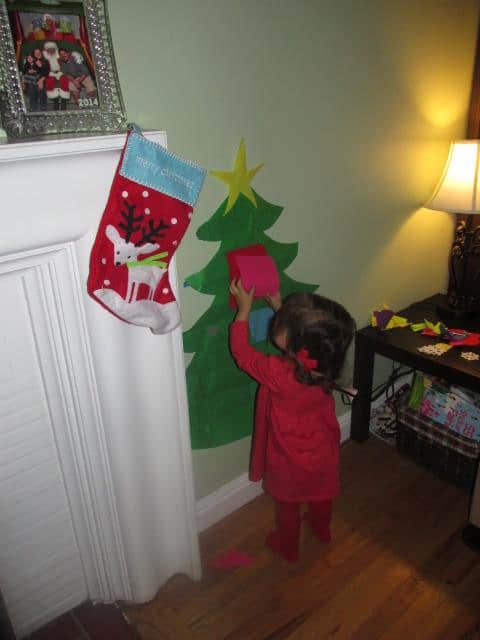 Or C.) You can cage that tree in (and cage those toddlers out).

We absolutely LOVE this collapsible, hexagonal "play yard" (we put that in quotes because we've had it for four years and we call it the "baby jail" more often than not). We bust it out at backyard parties (it's a pretty handy ball pit), take it with us camping, and use it to corral our just-learning-to-crawl niece when she comes over.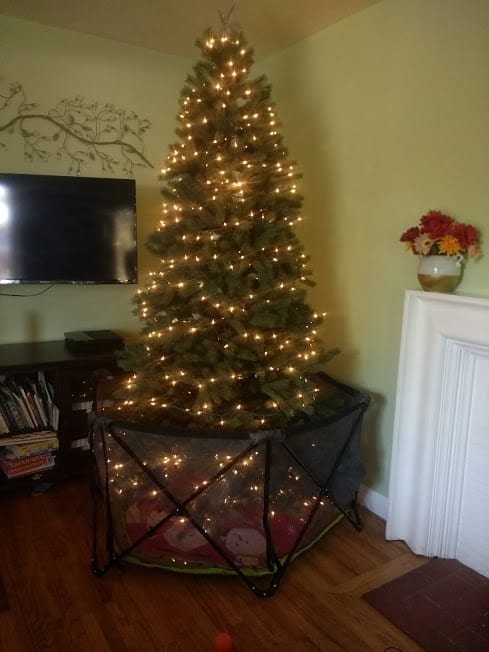 You'll use this play yard all year long, but our favorite use for it is to guard the Christmas tree.  It's large enough to hold (most) trees and tall enough to keep little ones from toppling the tree onto themselves. And it's pretty difficult to climb– trust us, our kids have tried- so your tree is likely to be safe from your toddlers (and vice versa).
Ornament Safety
We know, those ornaments are BEAUTFIUL. But you are going to be pretty darn angry when your vintage glass ornament becomes a mess of shards of glass in the hands of your toddler. And you're also going to need a ton of bandaids. You don't want to mess with that.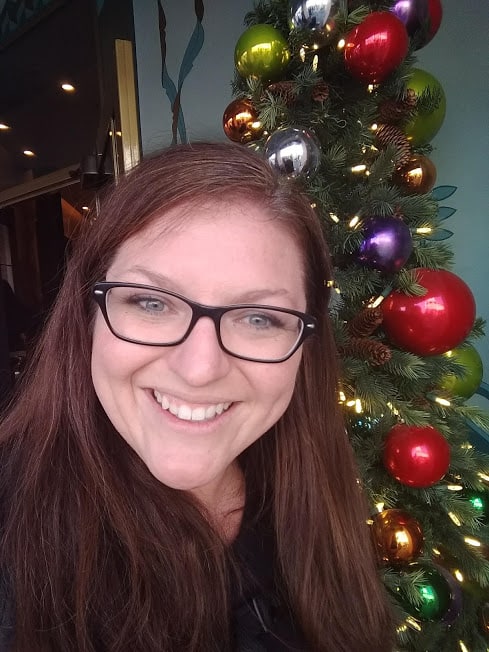 For this year only, consider swapping out your glass ornaments for plastic or wood. We know you'll miss your beautiful ornament collection, but we assure you- you won't miss the drama that will come with them.
And speaking of ornaments, toss out those little metal hooks you use to hang your ornaments. Kids have been known to swallow them, with bad results as you might imagine.
To safely hang ornaments, you can tie a piece of ribbon or fishing line in a loop around the ornament instead. Or, switch to these plastic hangers with rounded ends, which are a safer alternative to the classic metal hangers.
Try to redirect your kids from the tree by having some fun holiday activities for them! Check out our EASY No-Prep Holiday Activity Pack to help keep your littles ones busy – and safe – this holiday season!

Nativity Set Safety
If your kids are anything like mine, they'll want to treat your nativity like it's part of their dollhouse collection. Nothing says Christmas Sacrilege quite like seeing your expensive, Willow Tree Nativity Mother Mary wearing Barbie's cocktail dress, or the camel being used to transport a Catboy around the house.
Nah, you're going to want to throw some money at this problem and make it go away. Give your kids their own Little People Nativity Set to play with and they'll (hopefully) leave yours alone.
Are Your Stocking Hangers a Safety Hazard?
A month before Lila was born, I upgraded our adorable stocking hanger set from the three-hanger "JOY" to the four-hanger "NOEL." I so looked forward to the next Christmas, when a sweet pink stocking would join ours at the mantle.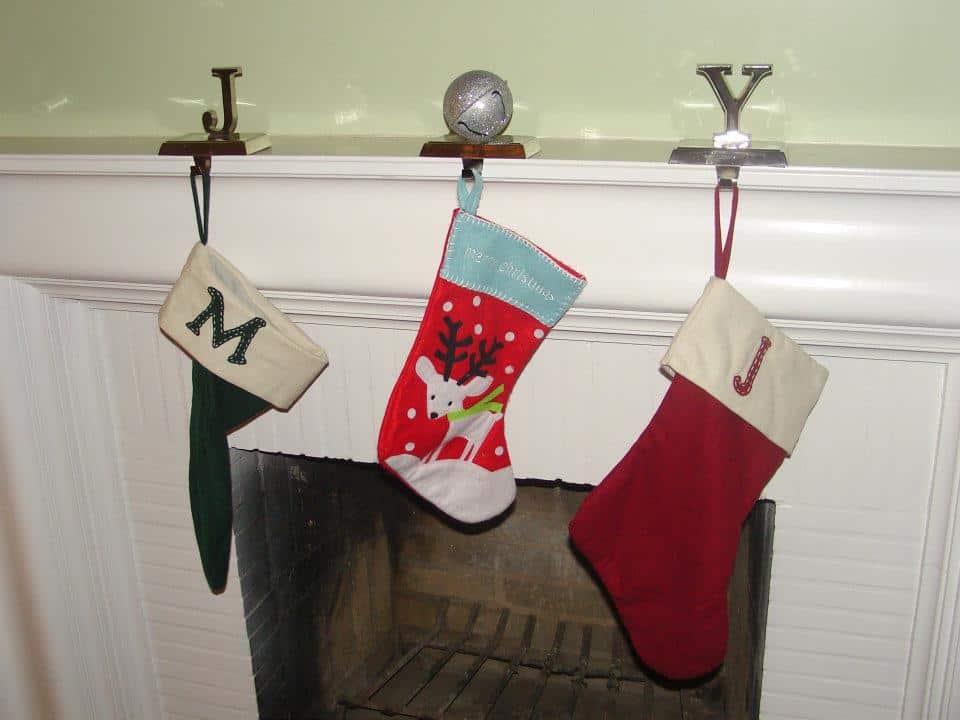 But when the next Christmas rolled around, I had an eleven month old who was pulling to standing and trying to see EVERYTHING. I just knew that she would try to pull the stocking down to get a closer look, and that the stocking hanger would come with it. Likely onto her cute little head.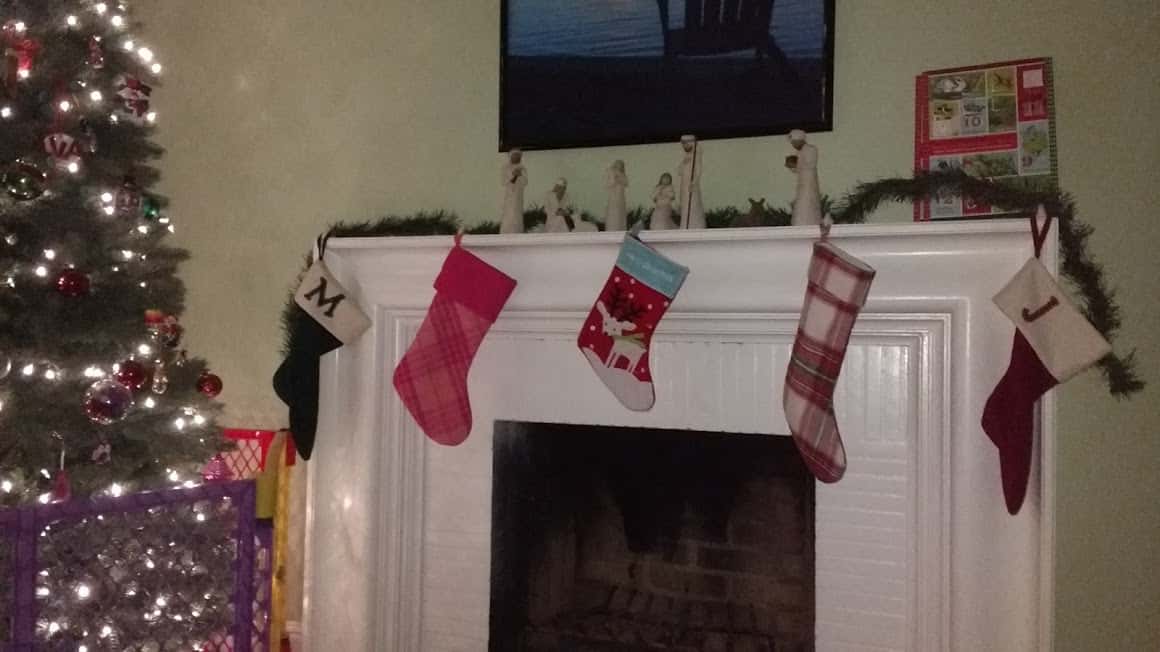 So let's avoid a trip to the ER this season, yeah? (I mean, at the VERY least, who's got TIME for that?) Hang your stockings with a  piece of tape or a command hook. It's not as cute, but it can save a life so…yeah, no brainer.
Electrical Cords and Outlets
You may or may not have already secured the outlets and plugs in your house, but sometimes Christmas electrical needs can change your set up. Whereas we usually have a light plugged in to one of our outlets (and have a box for it), we change it out for a full strip in the winter to accommodate all of our lights.
Keep your surge protectors contained in these clever little boxes to make sure your littles don't fuss with the outlets or unplug all the décor. It'll ease one worry for you, and help to keep your littles a little safer.
Also watch out for any hanging cords– if there's something to be pulled, odds are that kids are going to pull it.
We have lighted snowflakes hanging from the top of one window. The cord dangling from the window to the outlet used to be no big deal, but Abram was OBSESSED with it. We rerouted it along the ceiling and then behind a book shelf, and the problem was solved.
*******
Holiday decorating can feel a little overwhelming with toddlers in the house, but keep two things in mind. First, these Christmas safety tips for toddlers will avoid many potential pitfalls. Second, this is likely to be a LOT easier to manage next year.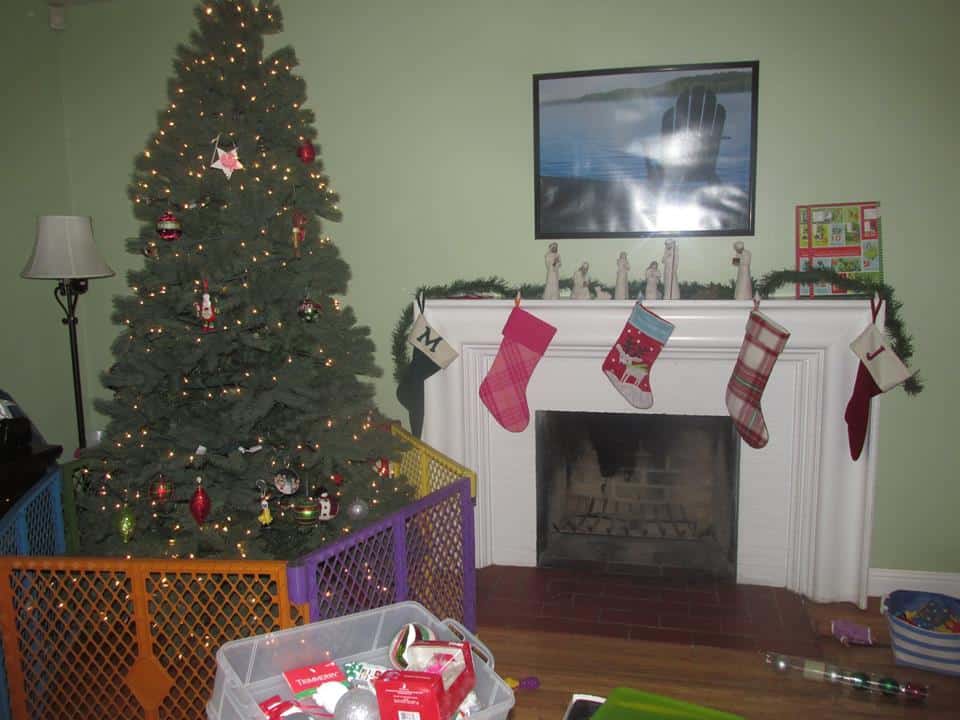 Need more Christmas spirit? Check out these fun holiday posts:
You Might Like: