Life is busy, and while we totally believe in prioritizing date nights, sometimes getting out of the house is just not that easy. From trouble getting a sitter to being stuck at home because of a global pandemic we have been through it ALL. Just because we're home doesn't mean we still don't need to prioritize our relationships. So we're bringing you our favorite stay at home date ideas!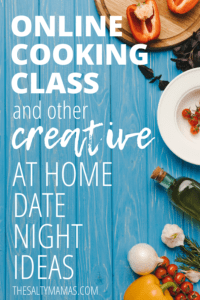 This is a sponsored post. We received compensation from Local Bites in exchange for an honest review. You can read more about what that means at our disclosures page. Thanks for supporting The Salty Mamas!
Take an In-Home Cooking Class
Our neighborhood has an awesome little cooking school. But between coordinating my schedule with my husband's schedule with the babysitters schedule and the class schedule….well, it's been on our "to-do list" for years. And it's never happened.
Which is why I was thrilled to learn about Local Bites. LocalBites is a platform for taking home cooking classes in your spare time – and they can even accommodate your schedule! Pick a class that interests you – from bread baking to amazing dishes like paella – and sign up! If you don't see a time that works for you, you can request one from the teacher!
Once your date and time is set, you'll receive login information and everything you need to prepare for your class. Then you will learn to cook online through a Zoom class from an amazing chef! You can ask questions and have an interactive participation experience all from the comfort and ease of your own home. And, of course, you get to enjoy a delicious meal – that you and your partner made – to celebrate!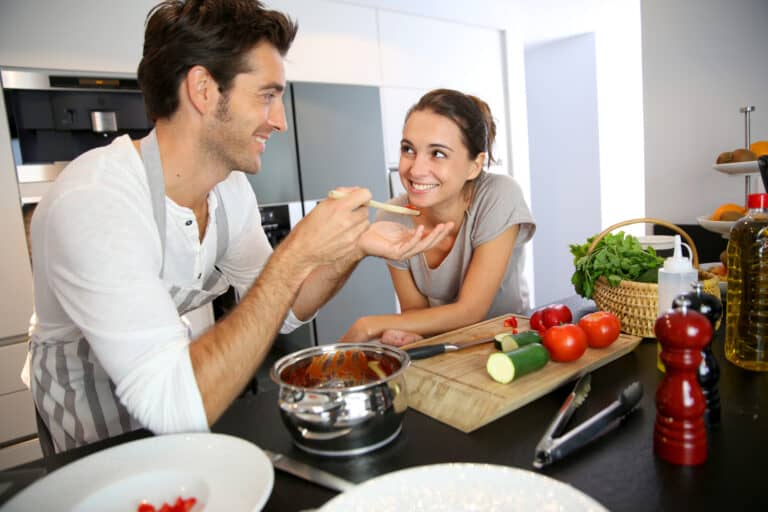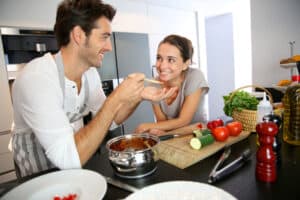 Sign up and try a class today using code THESALTYMAMAS to save 5% off your class fee!
Virtual Couples Game Night with Houseparty
Finding one babysitter can be hard enough. Coordinating schedules with another couple with kids might be impossible. So put the little ones to bed and login to Houseparty to get started! Houseparty is a social networking app that allows up to eight people to video chat at once in a "room."
You can utilitze Houseparty as a social app to just enjoy your virtual happy hour or you can up the ante with some of their most popular games. From different versions of the popular game Heads Up to Trivia, Quick Draw and Chips & Guac (think Cards Against Humanity style game play) there's something for everyone to play!
Laugh, get competitive and have such a great time you can forget for a while that you're trapped at home. It may be a bit different than your usual double dates, but we promise you will have a blast!
Boxed Locks Puzzle Box
When we are able to go out, we love to head to an escape room with friends. My husband especially loves to solve the puzzles so Boxed Locks was the perfect subscription box to try to him! Each box contains a mixture of clues and props for you to navigate and discover the final code to unlock a chest. Each month's chest is beautiful and opening it is always a fun challenge.
Strengthen your communication skills with your partner while you work together to open the box. And since it's a date night, make sure you have a celebratory bottle of wine or a yummy dessert on hand to enjoy when you crack the code!
Movie Night with all the Fixins
Movie night at home used to be a really depressing date night. We would spend an hour scrolling through Netflix rolling eyes at each other's selections before picking one that neither of us was thrilled about. I'd probably fall asleep halfway through because life is so exhausting and it's just a movie at home. So what's the big deal?
Problem is, we weren't making it a big deal. We didn't do the date things. To have a successful movie date at home, pick a movie ahead of time. Like a week ahead of time. Rent something special or at least get in your mind what the film will be. Pick a start time – and stick too it. Don't let life and all the little responsibilities of the house stall the showtime. And do NOT under any circumstances forget the concessions! Pop some popcorn, grab some candy, heck – be one of those fancy theaters that serves alcohol! But do everything you would for a real movie.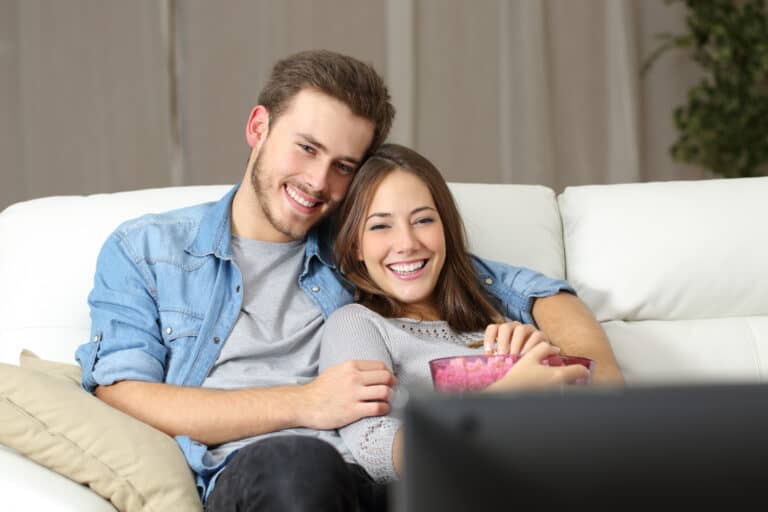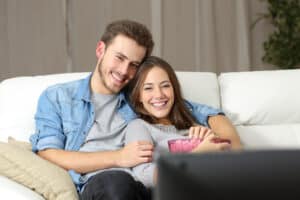 Hunt a Killer
I'm a sucker for all the crime dramas and get excited every time Netflix drops a new true crime documentary. So getting to unlock a cold case with my husband? Well, that's the perfect date night at home for me!
Hunt a Killer is an immersive murder mystery game told over the course of six "episodes" or boxes. Since one of the KEYS to date nights is being consistent and keeping them up, Hunt a Killer is an amazing way to make sure that you've got a set of date nights on the books. Each month you receive your box of clues and by the end of the six boxes you will have everything you need to identify the killer.
Between boxes, use all our tips for movie nights and watch those crime docs, favorite series and old murder mystery movies. That's half a year of amazing date nights from the comfort of your own home!
***********
With these five stay at home date night ideas you'll be set. No matter what date night you choose, you'll have a wonderful night with your partner – all without having to leave your home. Better yet – all without having to pay for a sitter! So grab a movie, pick your favorite subscription box, or learn to cook an amazing new meal, and invest in your relationship tonight!