Summer is here and we are looking for all the fun and creative ways to cool down. For our kids, that usually means lots of water play. Which led us on an epic search for backyard water fun without a pool.
Thankfully, we found a ton of options for every budget. If you want to find the best water toys on a budget, look no further! We've got you covered!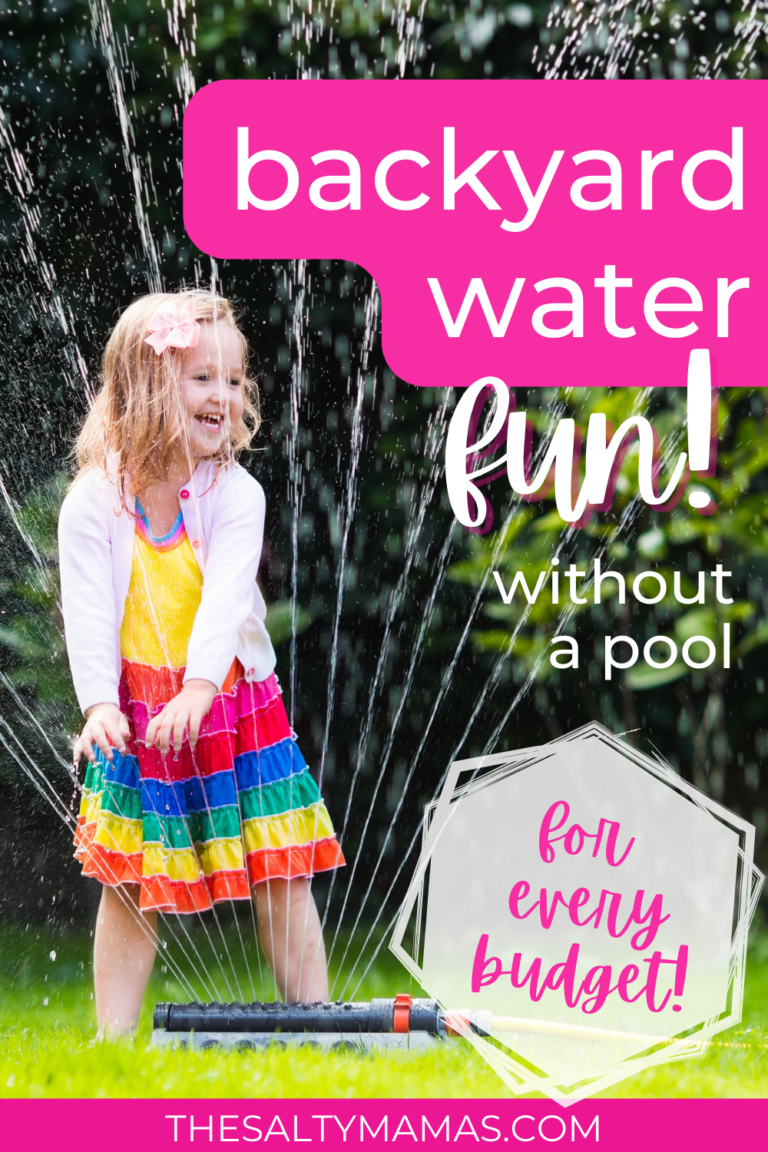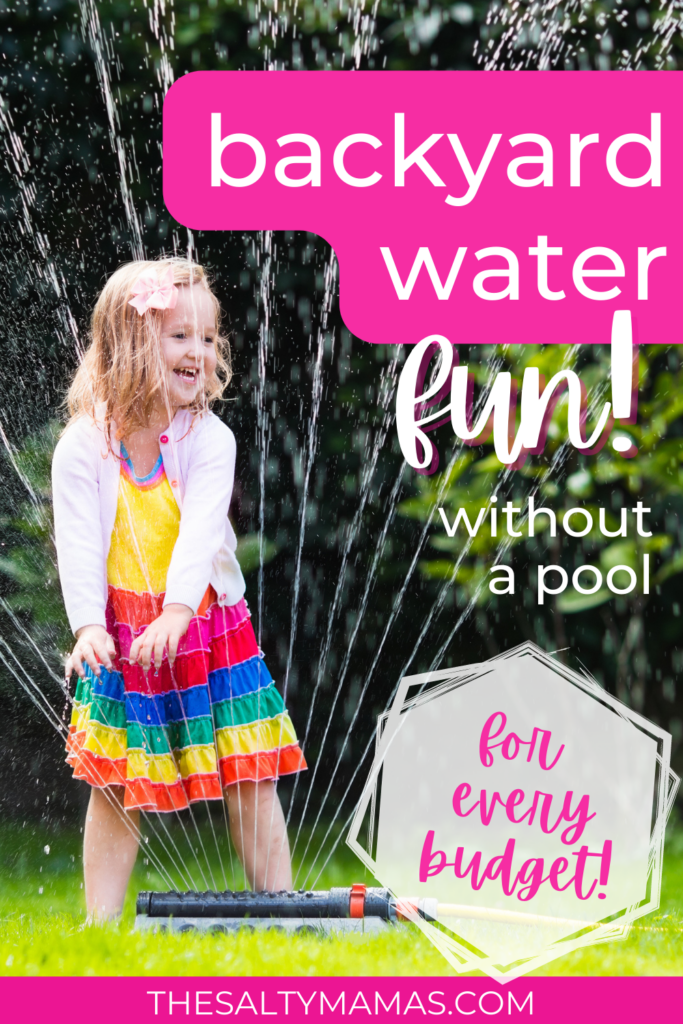 This post contains affiliate links. As Amazon affiliate, we may earn from qualifying purchases. You can read more at our disclosures page. Thanks!
Free
Sometimes basic is best, and there's nothing more basic than a bucket of water and some recycled materials to be used as water toys. Check out our full list of fun ways to repurpose things around the house for hours of water play fun!
Garden Hose and Sprinkler
When I think back to the summers of my childhood, I think of popsicles in the yard after a day of splashing in our oscillating sprinkler. It didn't take some special lawn toy to give us a thrill.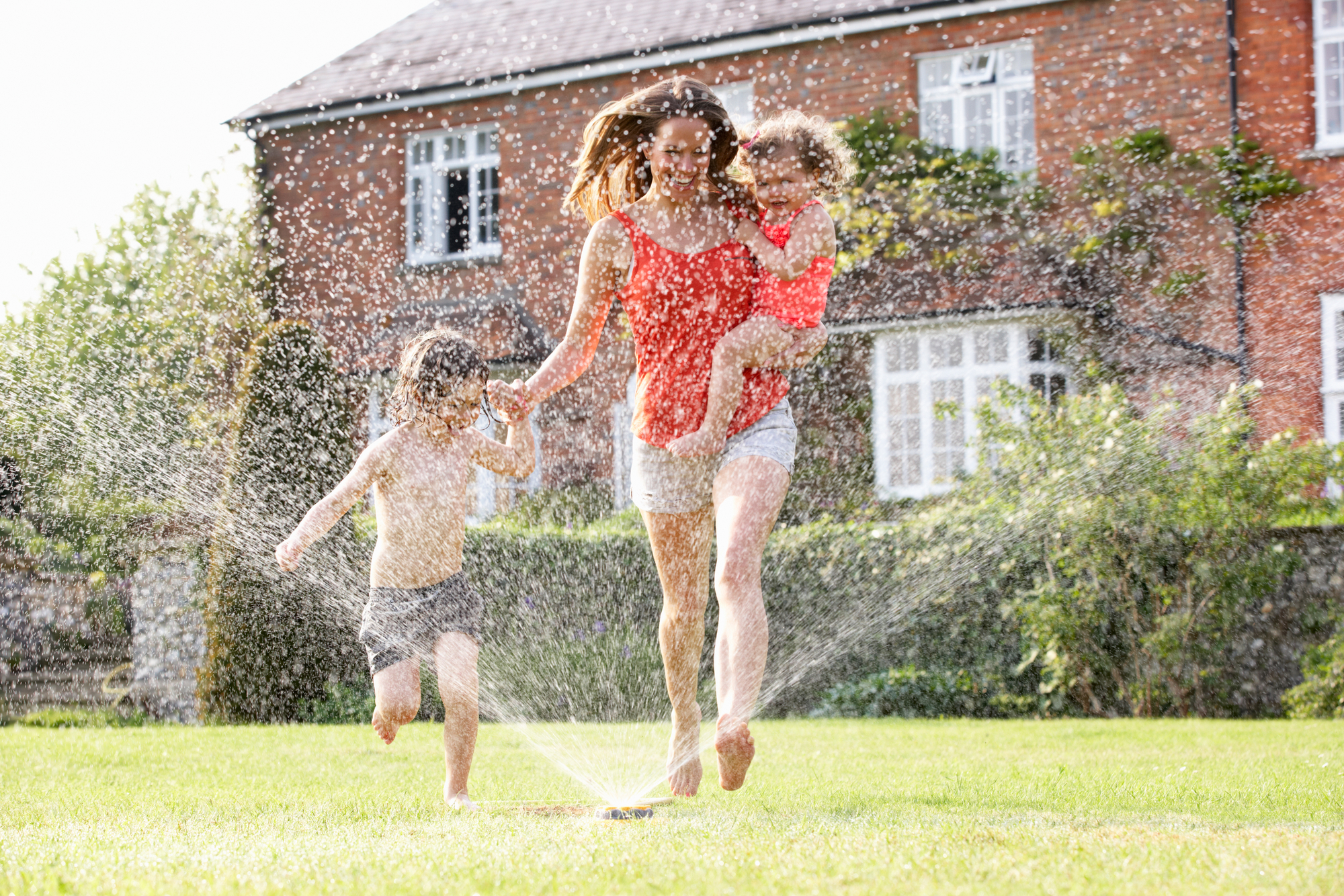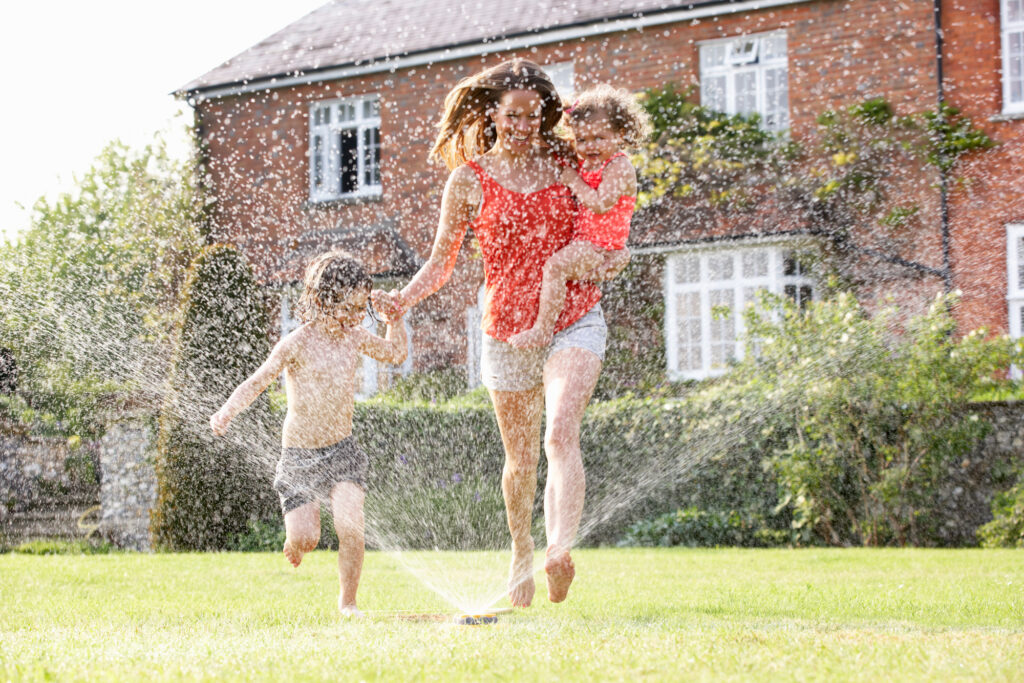 While our kids might be coveting some flashy new toy they see in the commercials, they surely won't turn down this throwback summer activity. I've never met a kid that didn't squeal with delight running through a sprinkler and am willing to bet your kids will love it too!
Ice Play
If you're looking to cool down, nothing gets you chilled faster than some ice. Bonus points: it's free! Wondering how to have fun with ice this summer? Check out our roundup of 5 fun ways to play with ice!
Under $10
Target Dollar Spot
Some of our favorite water toys on a budget have been impulse purchases from Target. Every year, the "dollar" spot does not disappoint! They usually have some slide water guns (that are actually a dollar!), sprinklers and water balloons.
These items may not hold up to a full summer of fun, so I like to stock up at the beginning of the summer and hide my finds! Then, on a day where the kids are "bored" or some friends stop by to play, I bring out some of these cheap, new, items for some backyard water fun without a pool!
$10 to $20
Foam Squirt Guns
Our kids love any kind of water gun, but let's face it, filling a traditional water gun is a major pain in the butt. And Mommy likes to sit and relax when the kids are playing, not spend the day constantly filling water guns.
So these foam squirt guns are our favorite pick! Leave out a bucket of water and even your toddlers will be able to pull back the plunger and fill them on their own!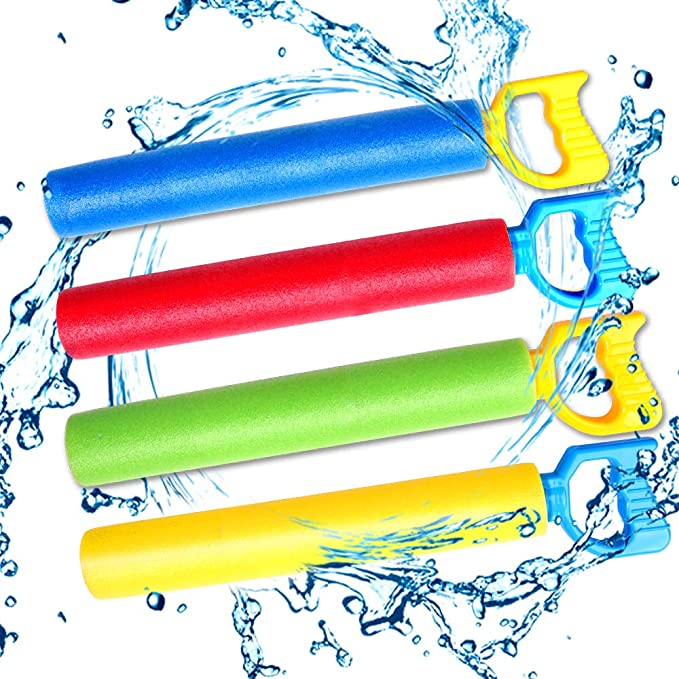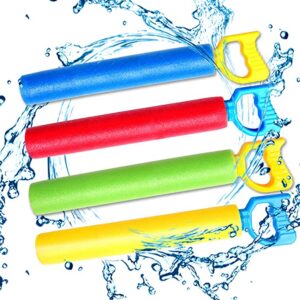 Plus, you can grab these sets of 4 squirt guns for about $15, making them a great choice if you have multiple kids or love having enough for neighborhood kids during an impromptu play date!
If you're looking to go a little bit beyond your standard home sprinkler, you might want to consider a sprinkler designed for kids! This cute Melissa and Doug flower sprinkler hooks up to your hose and spins sending water everywhere!
Kids will love jumping over and through the water, and you'll love all the fun they're having for under $15!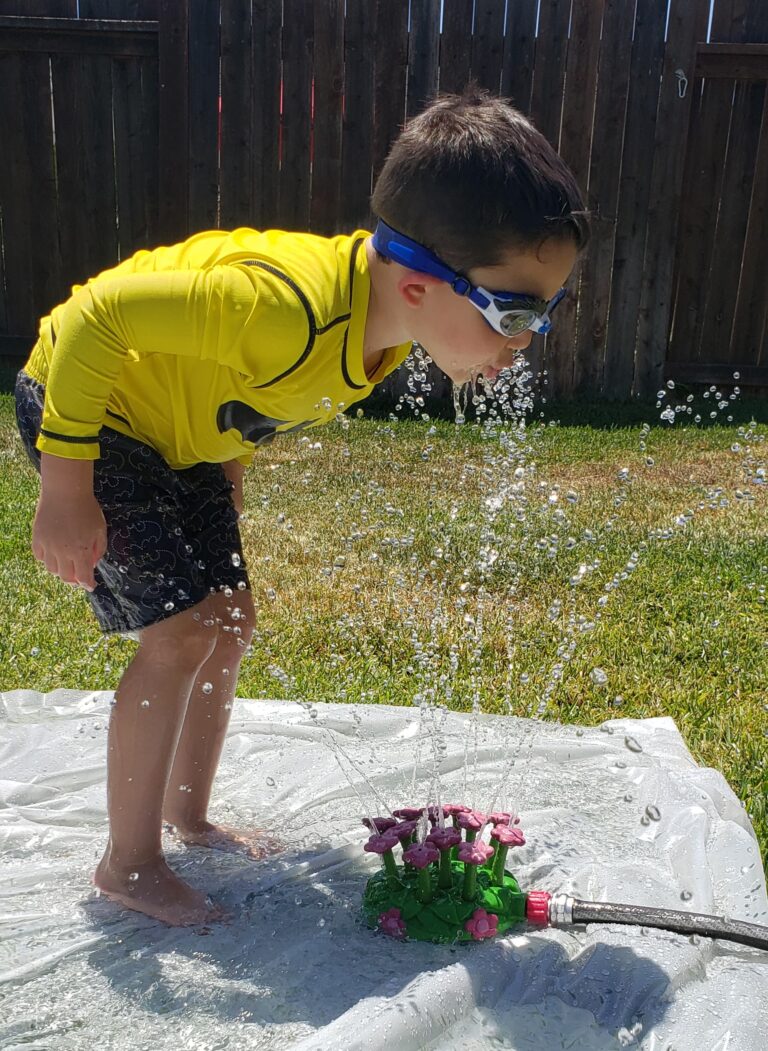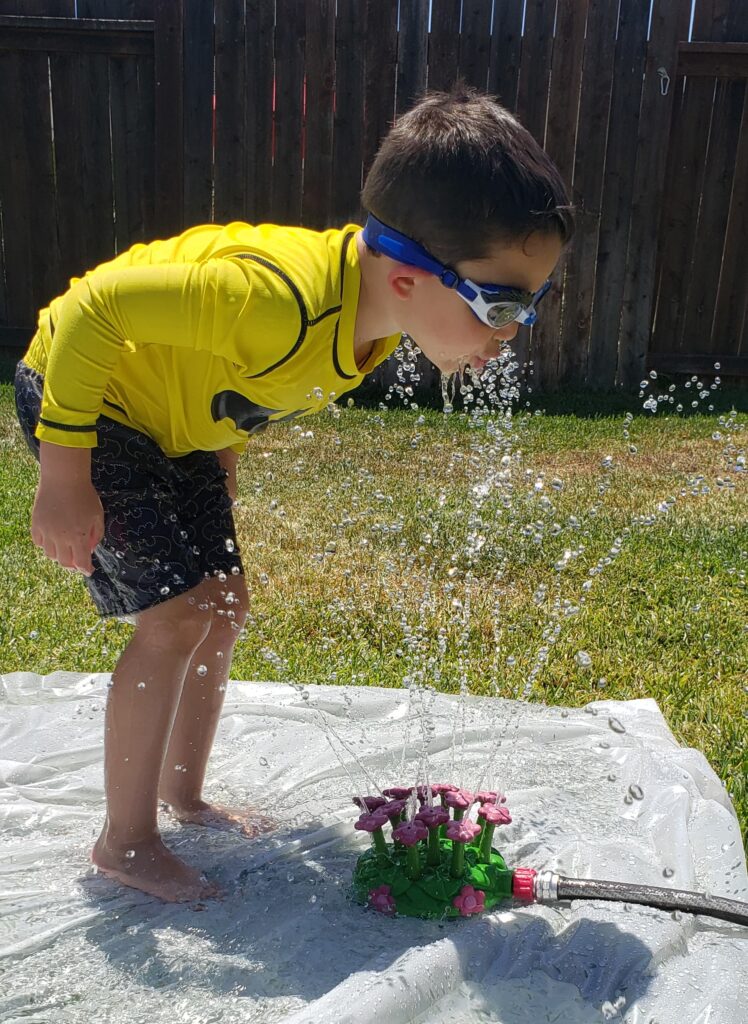 Splash Pad
One of our best water toys on a budget has got to be this splash pad. We love it because it lasts forever and grows with our kids.
When they were very small, we turned the hose on gently and plopped our water babies down right in the middle of the splash pad. Now that they're big, they run, splash, slide and make up all sorts of games to play on the splash pad.
$20 to $50
Slip and Slide
When you think of backyard water fun without a pool, you undoubtedly think of a Slip and Slide. While Slip and Slide remains the quintessential backyard water toy, they've have had quite a glow up since we were kids! There are a ton of different versions from ones that are similar to the classic single lane slide we grew up with to three lane racing slides (which are perfect for larger families).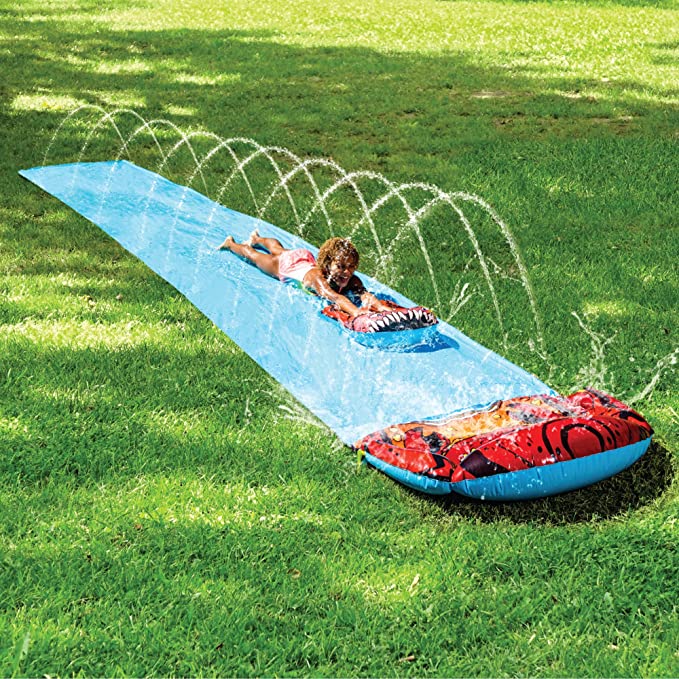 Bunch O Balloons
Water balloons are great, but filling them up the old fashioned way is the worst! So we love to grab a package of Bunch O Balloons at the beginning of the summer and using a bunch or two whenever we need an extra fun day!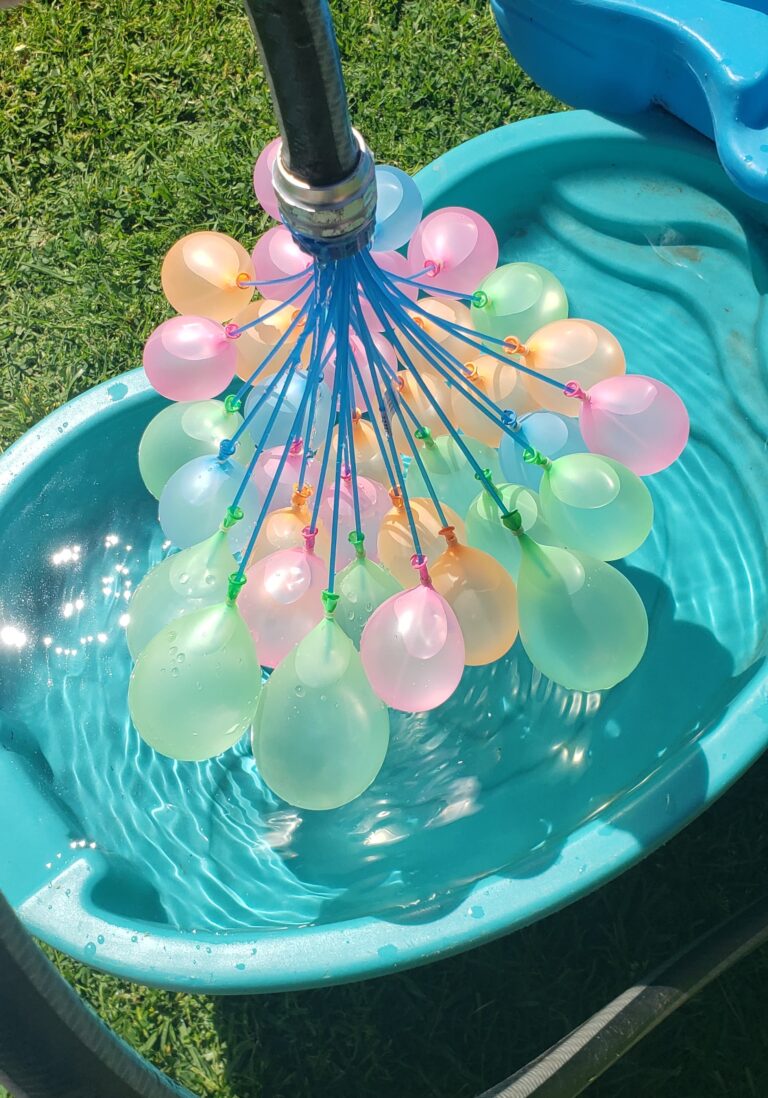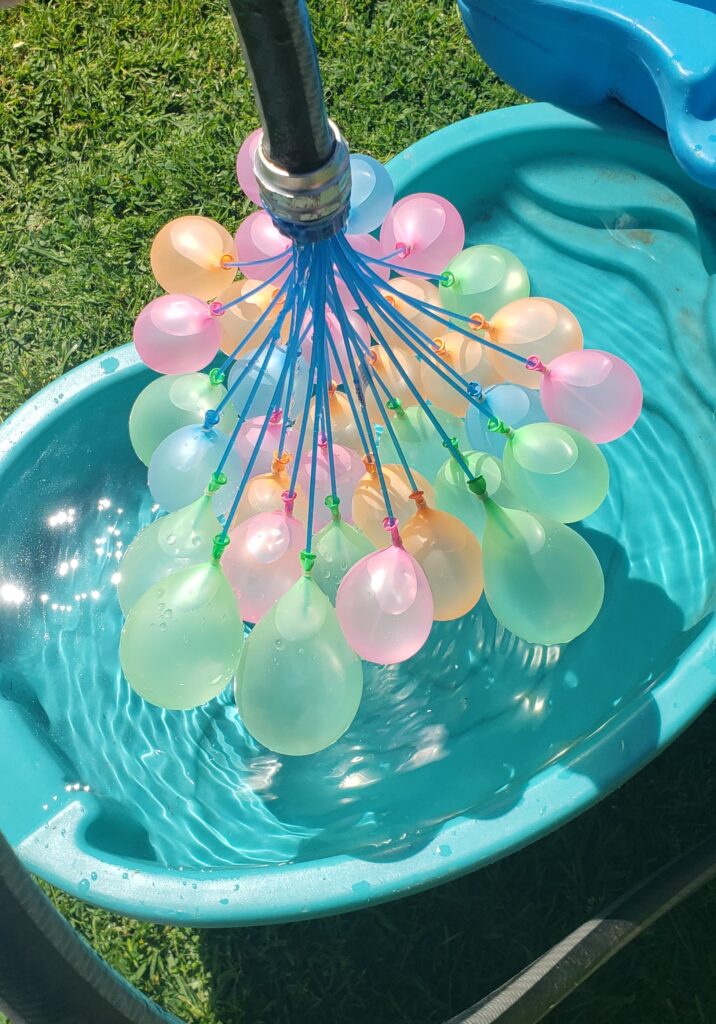 As much as we love the water balloons, we do cringe at the plastic waste they provide. So to make a little more use out of our Bunch O Balloons, we reuse the plastic filler tubes for a fun recycled materials art project.
$50 to $100
Inflatable Wading Pool
If you need to give your kids a full splish splash experience, but don't want to go HUGE, consider grabbing an inflatable wading pool. Your kids will love playing in the water, and you can have extra fun by bringing out your favorite bath toys.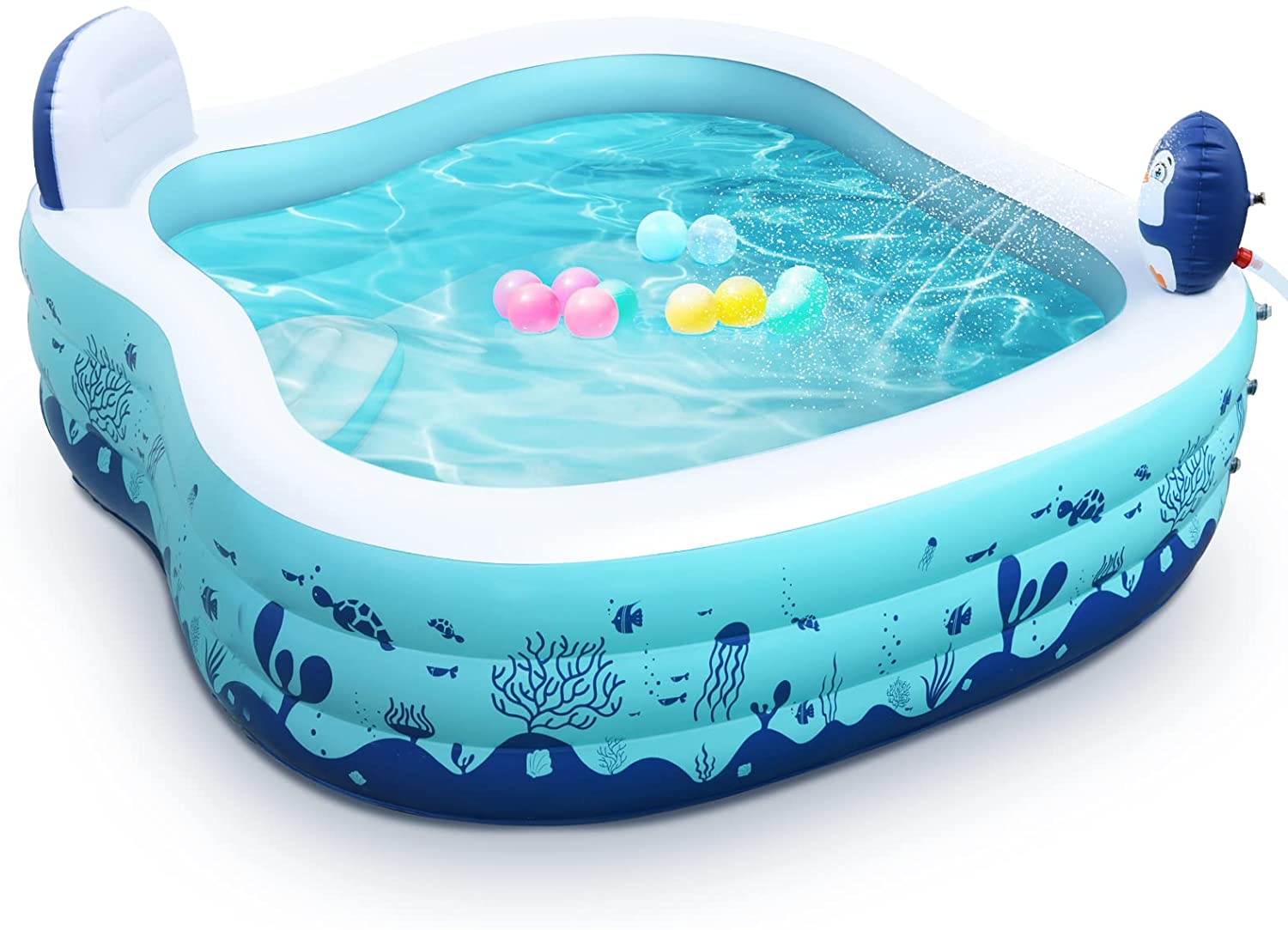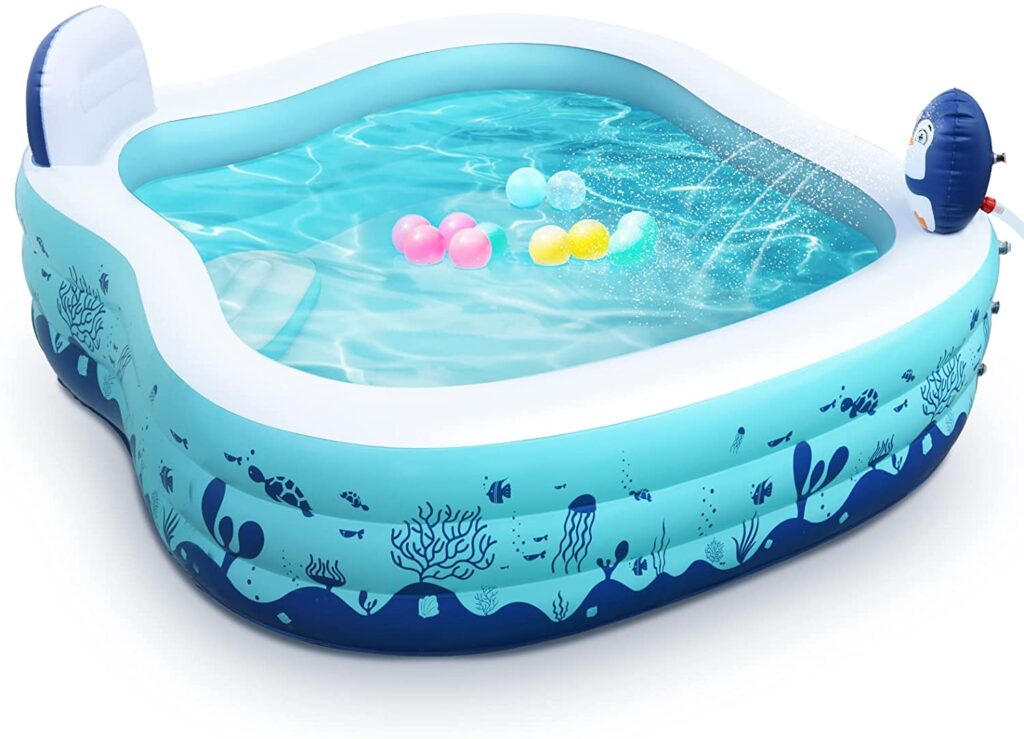 Water Table
Younger kids will spend hours playing at a water table this summer! Fill with cold water for a fun (and more contained) way for kids to get wet! You can also add ice, shaving cream, water beads, or sand, to mix up this play for lots of summer sensory fun.
There are so many different styles of water tables, so shop around for one that's right for you and your kids! For an option that's super fun (and in our budget) we love this water table from Step 2. With lots of accessories and ways to play with water, it is sure to be one of your kids' favorite backyard water toys.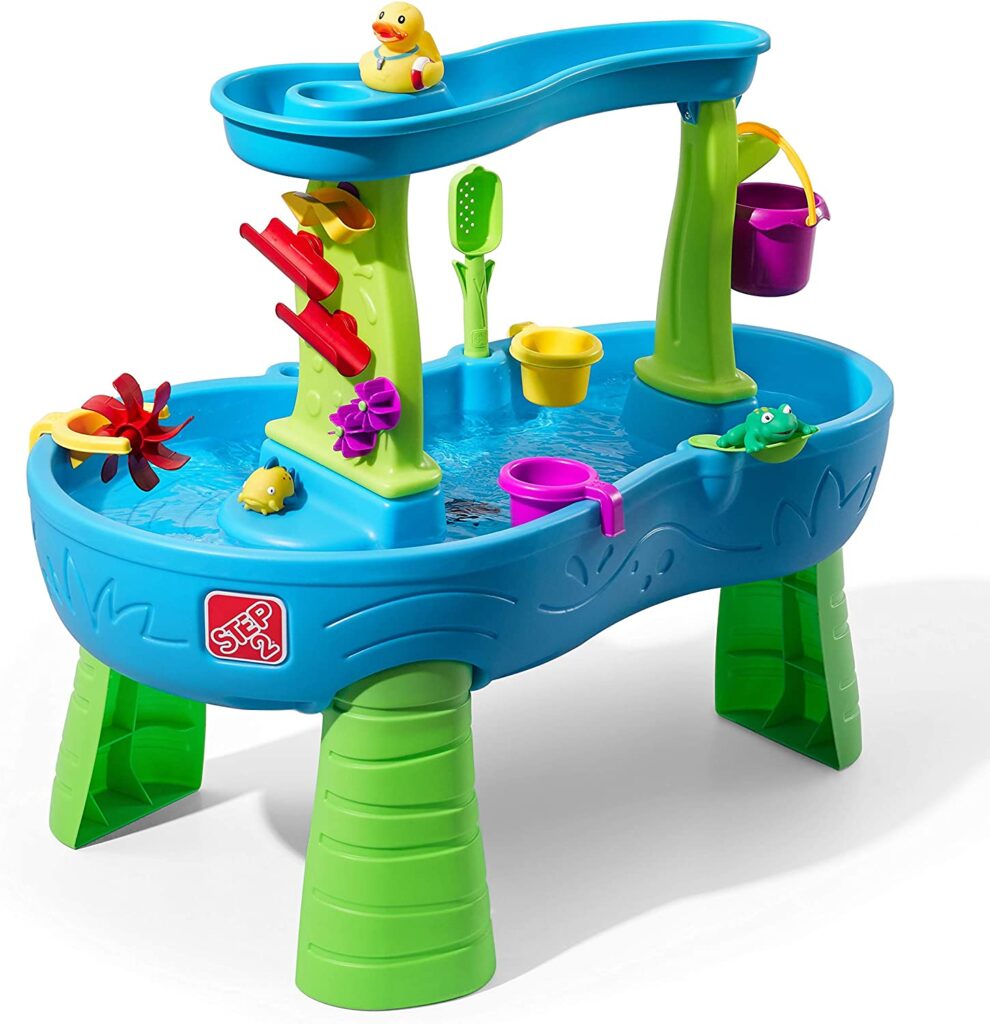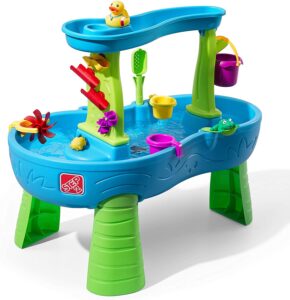 Over $100
Sometimes, it's go big or go home. And since we spent most of last couple summers at home, we went BIG! Our kids LOVED our summer spent splashing in our own yard, this year we're staying home a little bit more – on purpose!
If your budget allows, one big ticket item can make your whole summer a breeze.
Large Slide
A large water slide like this one can make your house the most popular one on the block! Since we love hosting play dates, this seemed like the perfect investment for a fun summer at home.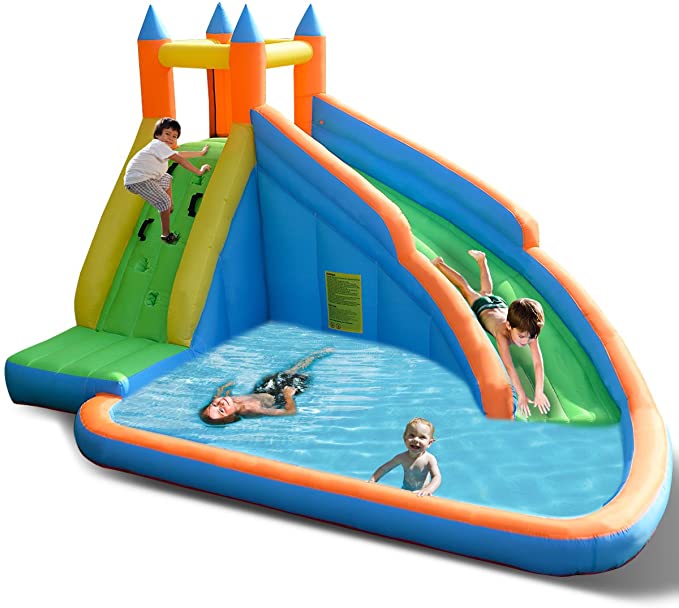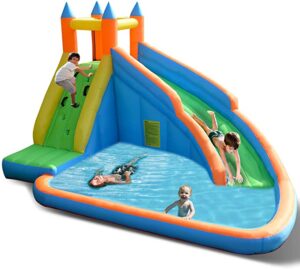 How to Save Money on Summer Essentials
Every June when the weather starts to turn, we start thinking about how we're going to entertain our kids this summer. And we've noticed that things are really expensive when you buy them once the days get longer and hotter.
So when you're looking for cheap water toys for all ages, remember to look off-season. We love to grab water toys on a budget at the end of summer. You can often find some great backyard water toys for kids on clearance at Target, Walmart, and even on Amazon.
Whether you're gearing up for this summer or already looking ahead to next summer, we know your kids will love these toys for backyard water fun without a pool!
Looking for more summer fun? Head here next!