As soon as the holidays roll around – or my kids' birthdays – everyone starts asking the same question: What can I get your son for a gift? Often, I answer "nothing." Because the truth is, he doesn't need anything. Which is hard for me too – because despite not wanting any more stuff around the house, I do want to find the perfect gift that is special and memorable for my kids. So for my art obsessed boy, Budsies was the perfect fit!
Check out this Budsies review to see if it would be the perfect gift for your child too!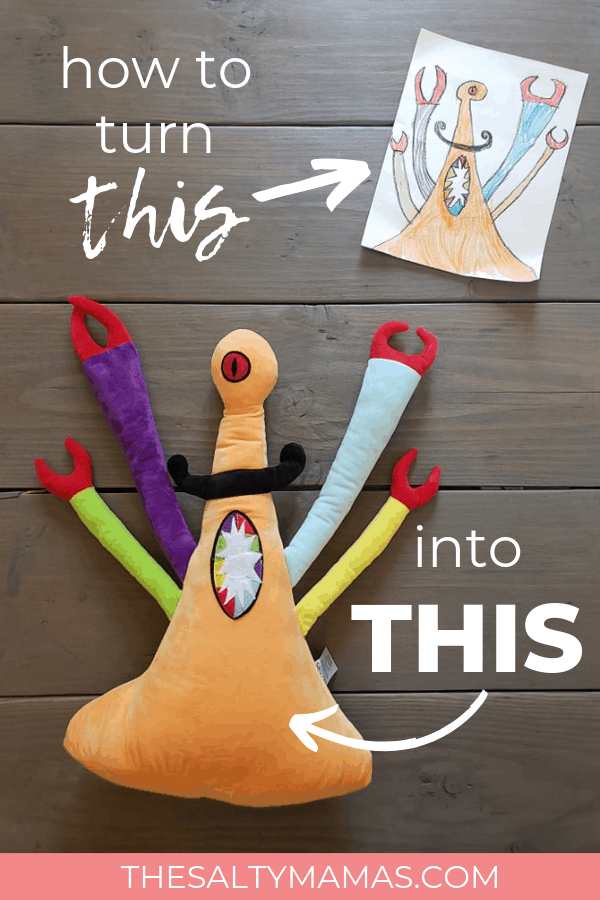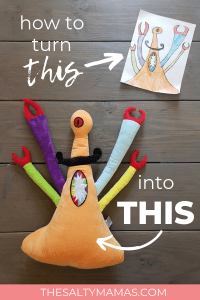 This is a sponsored post. We received free product in exchange for an honest review. You can read more about what that means at our disclosures page. Thanks for supporting The Salty Mamas!
Is Budsies The Perfect Gift for Your Child?
My son loves to draw. Like, LOVES to draw. Our house is a collection of blank papers, crayons, markers, pencils, chalk, and scattered papers with his drawings all over them. His specialty? Monsters. He's the kid in class that turns all the drawings on his schoolwork into monsters. Each monster he draws has unique features and aren't like anything you would find in your local toy store.
He also happens to love stuffed animals. His bunk bed is home to him, his sister, and about 30 stuffed animals he's acquired over the years. Each one is special to him and never seems to make it into the donation bin when we collect things to retire.
Then I came across Budsies – a company that makes custom stuffed animals out of your childs' drawings. I was thrilled that it brought together some of Cole's favorite things. I also knew I had to try it out!
How Budsies Works
The first – and hardest – part of making your Budsies creation is picking one drawing! At least, that was the hardest part for me. I wanted to surprise my son with this gift, so I didn't clue him in on the purpose of this special project. He usually just draws in one color, or just outlines his drawings, so I asked him to make me a special monster using all the colors. I told him to picture what he would want it to look like if it came to life.
I gotta say, he nailed it.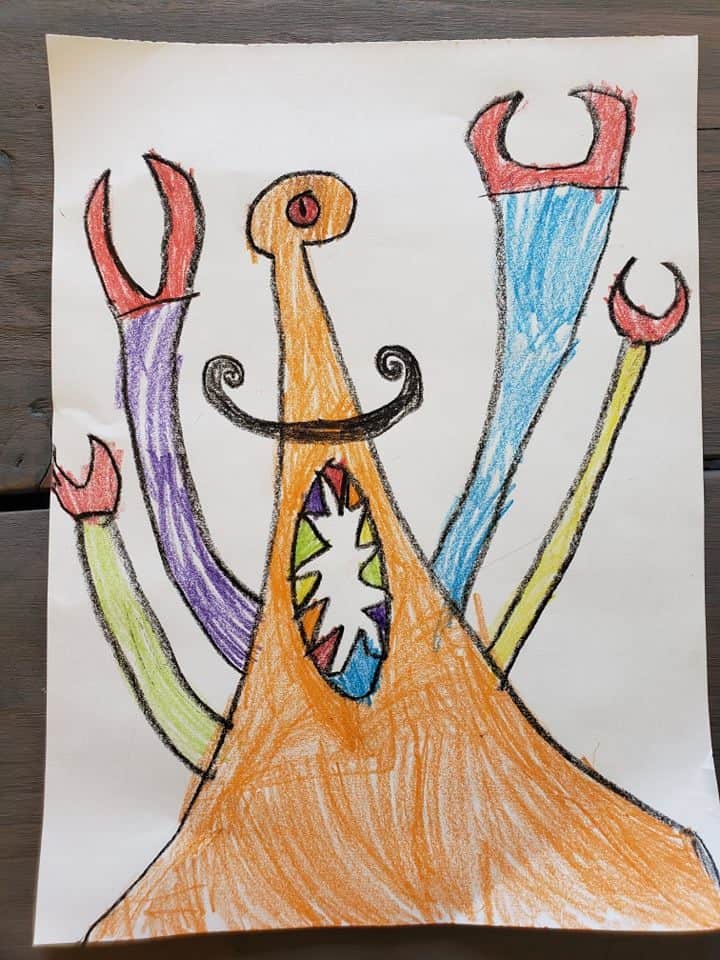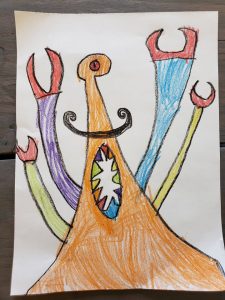 Submitting Your Artwork
Sending in your artwork and getting started is easy. I took a picture of Cole's masterpiece, went to their website, and uploaded the image. I was also asked to describe the drawing and let them know the name. To stay true to my son's creation, I asked him to describe his monster. He told me all about "Snappy" and how the really important parts were his "rainbow teeth," his "crab-like claws," his "red laser eye," and – of course his "curlique mustache."
I loved this part of the process because you can add in any extra information that the drawing just doesn't capture. Every piece of information is taken into account during the next stage – the design phase!
Waiting for Your Proof!
Then, the wait begins. I was so excited to see Cole's creation, but I knew that it takes time to create a custom plush! Budsies does a fantastic job of keeping in contact with you throughout the process and letting you know what they're working on. From drawing their design to picking out fabrics, they are so thoughtful both in making the stuffed animal and in communicating the process to you.
And then, one day, I opened my email to find that it was ready! I excitedly downloaded the sample and was thrilled! They got the claws just right – each one a slightly different shape and size. The curly mustache curled to perfection. Even the rainbow teeth. I quickly approved the sample and waited for my next communication.
Receiving Your Budsies Stuffed Animal
Shortly after I approved our stuffed animal, I got an email that he was on his way! When the box arrived on my porch, I snuck away to see his creation and I could not have been more pleased. I knew it was going to look great, but I had no idea it would be so soft and huggable. The amount of stuffing was perfect and it is by far the softest stuffed animal in our house!
I could not have been more excited to see the look on my son's face when he opened the box for his birthday. Budsies provides a print out of the picture you submitted in the box, so I placed that on top of the tissue paper when I wrapped it. When my son opened the box, he was excited just to see a print out of his art.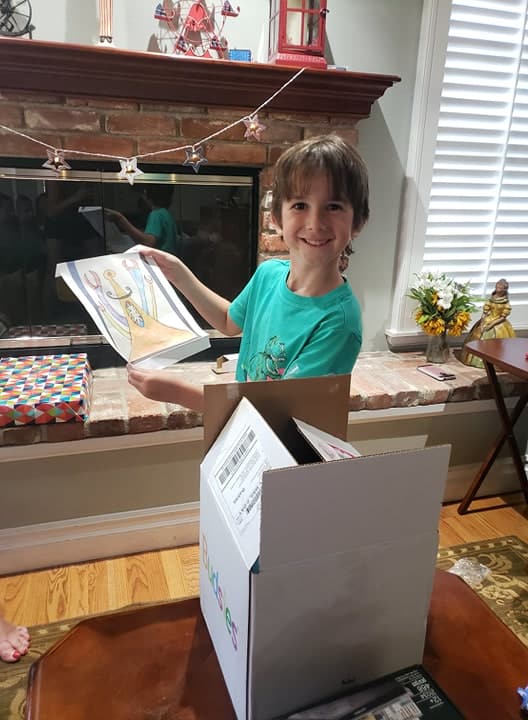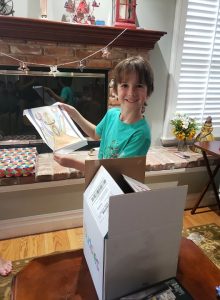 I prompted him to keep going, which is when he understood the real surprise!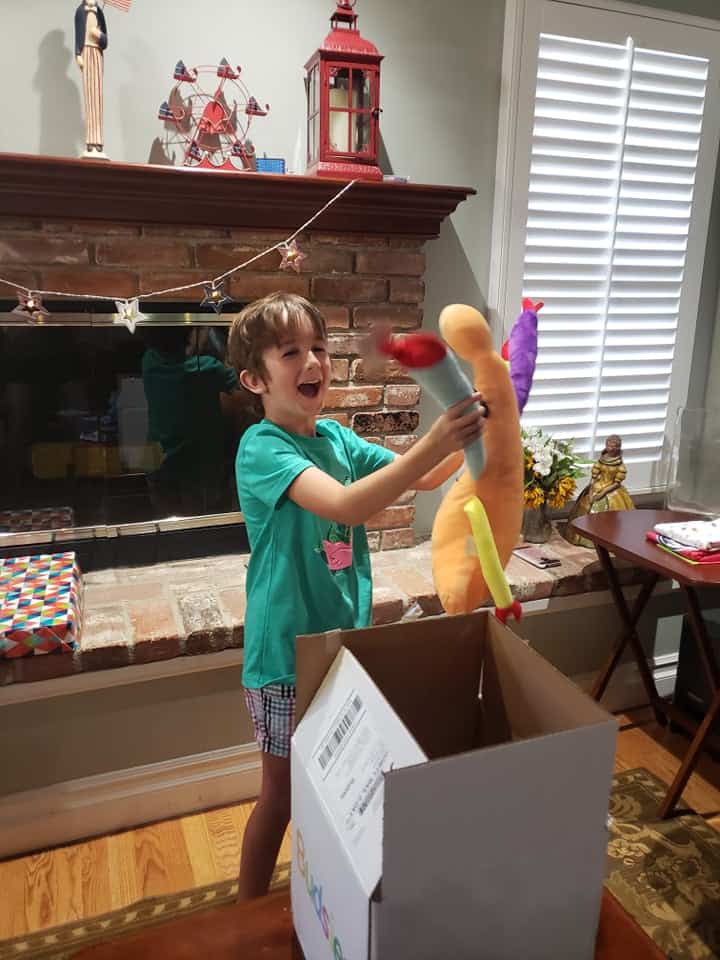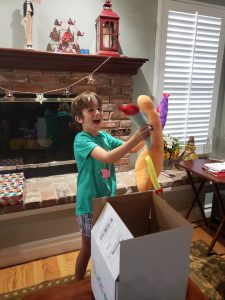 To say he was surprised and excited was an understatement! He could not have been more thrilled or impressed. It was amazing to him that someone could turn something he had created into a real live stuffed animal. He loved that the arms were so huggable, that the laser eye was so red and perfect, and yes, that they had gotten the curly mustache just right. I don't know how many times he exclaimed, "how did they DO that!?!"
On a birthday of wonderful moments, this definitely took the cake. He sleeps with Snappy every night now, and is often asking when he can make another. Budsies definitely made this little boy have one memorable 6th birthday!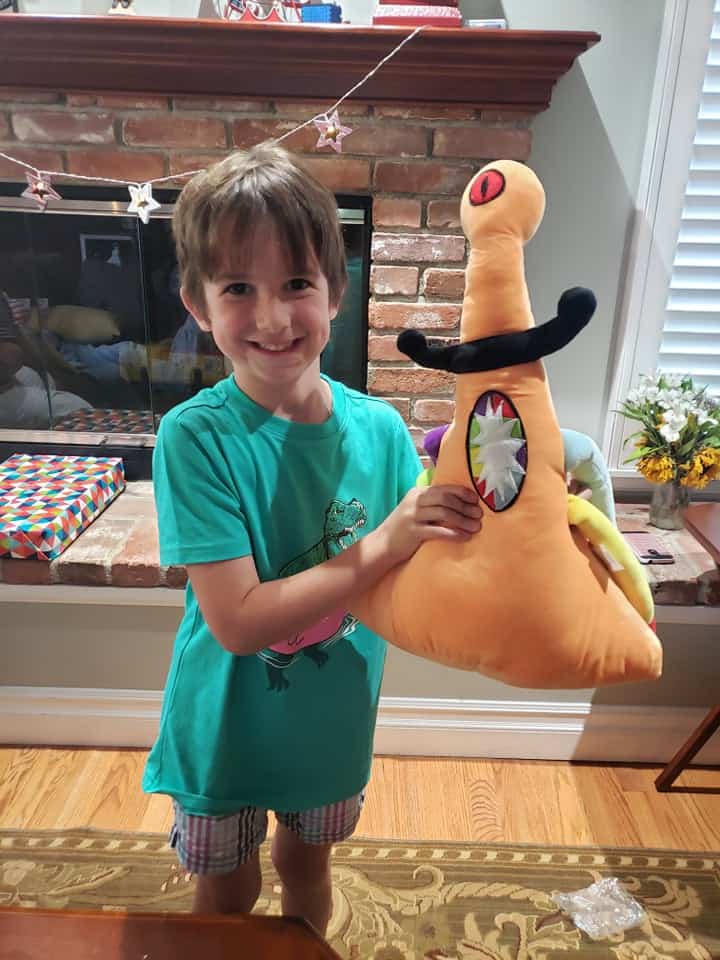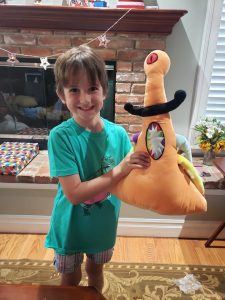 Overall Budsies Review?
We could not have been more pleased with our experience with Budsies. From the design process, to the submission, and especially with the finished product – every step of the process was fantastic! Frequent communication with Budsies staff made the time fly by. The execution of Cole's unique design was absolutely perfect. And seeing as how my son sleeps with it in his bed every night? I'd say he approves!
Thank you Budsies!
Loved our Budsies Review and interested in grabbing your own? Get more information here!
***********
Looking for more gift ideas? Check out these other gift guides from The Salty Mamas!