If the last year has taught us anything, it's how much teachers have helped us celebrate the holidays (big and small!) If you find yourself celebrating Read Across America day at home this year, don't worry. We've got lots of ways to help celebrate Dr. Seuss' Birthday, 2021 style.
Last year, my daughter was on day three of a low grade fever on Read Across America day. I don't know how your elementary school does it, but our school makes a BIG deal of celebrating Dr. Seuss' birthday. There are read alouds, crafts, games, and book exchanges.
And one grumpy little lady who was VERY upset to be home sick, missing all the fun.
So we got a head start on what would be a whole year of at-home fun, and celebrated Read Across America Day right here at home.
So you're if you're trying to wring a little fun and excitement out of Dr. Seuss birthday at home with your kids this year, we've got some ways to help make it a fulfilling, low stress day.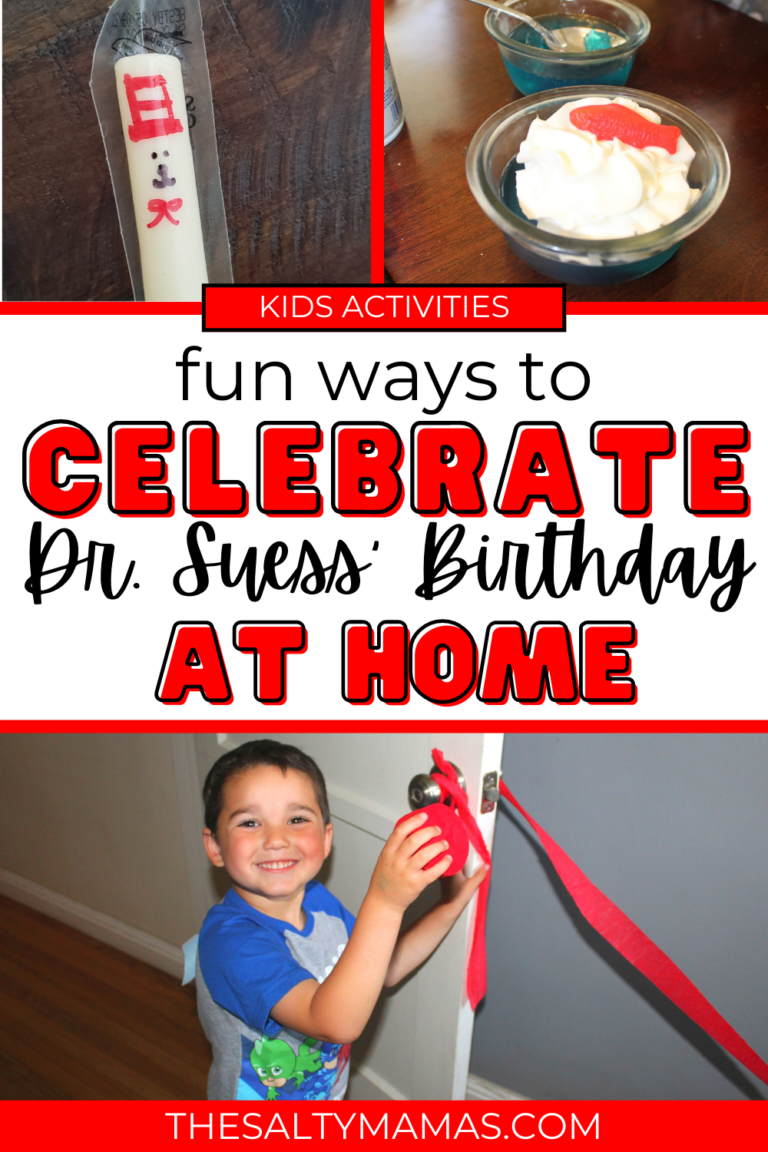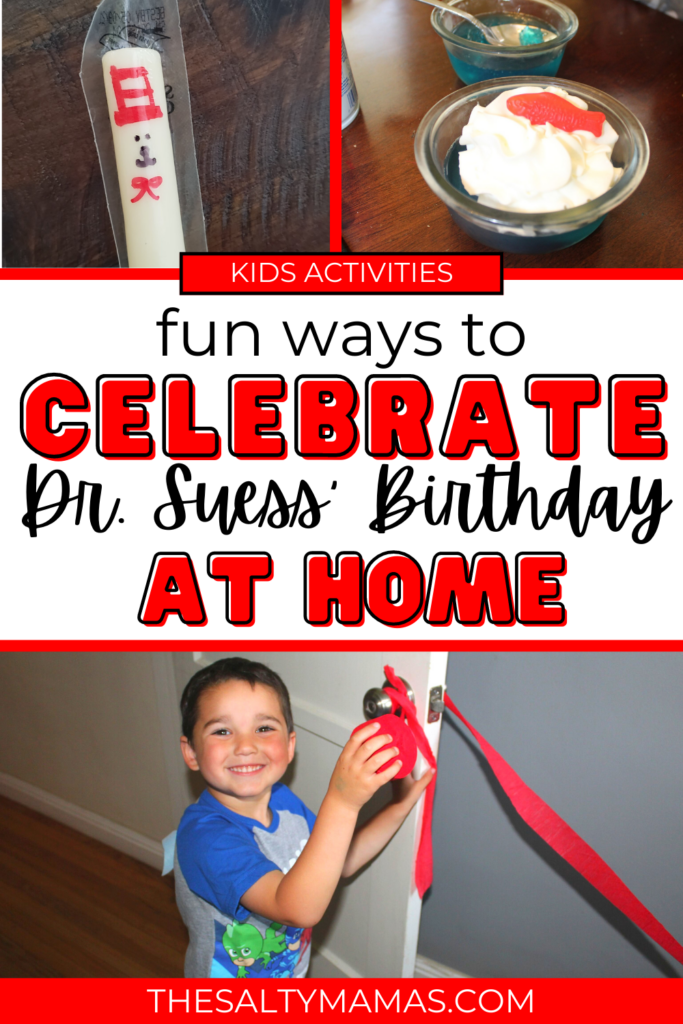 This post contains affiliate links. You can read more at our disclosures page. Thanks for supporting The Salty Mamas!
Some Advice for Celebrating Read Across America Day at Home
First off, we're going to give you some real mom advice- don't go crazy celebrating Read Across America Day at home. You don't have anything to prove, and you don't have to "make up" for anything.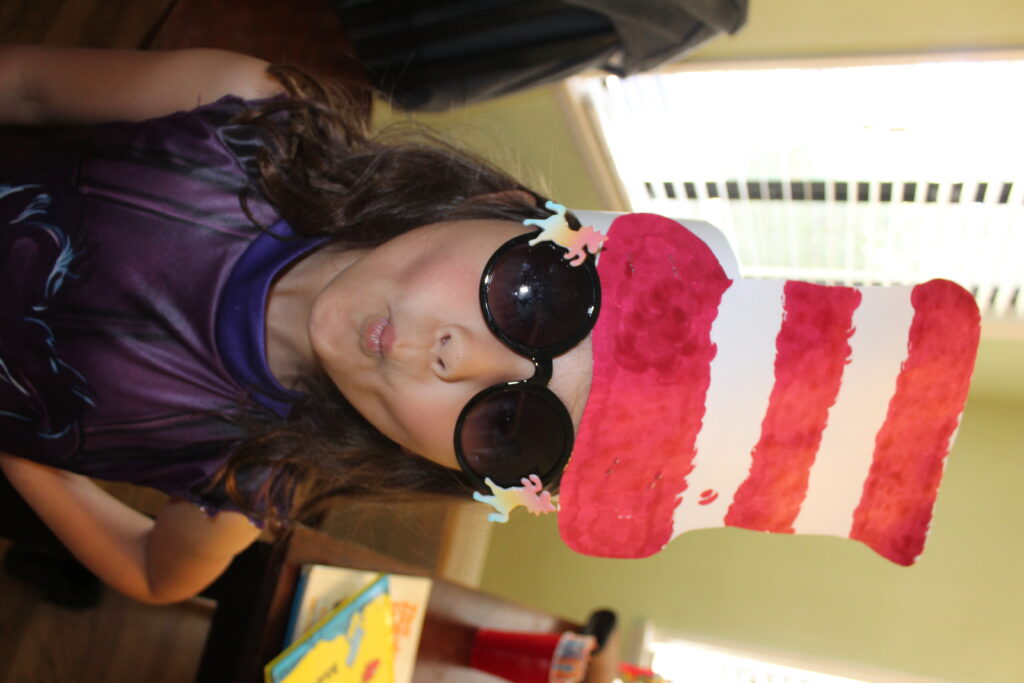 Keep this day nice and low key. Do activities that are low prep, and feel fun to you. We don't want this turning into a big chore (or worse, a tradition that you have to replicate every year!)
Start By Reading Some Dr. Seuss Books (of Course!)
Odds are, you have some Dr. Seuss books hanging around your house somewhere (we think they're some of the worst books to read to our kids, if we're honest, but our kids love them so we let them stay). Gather up a stack, and cozy in for an at-home read-a-thon with your kids.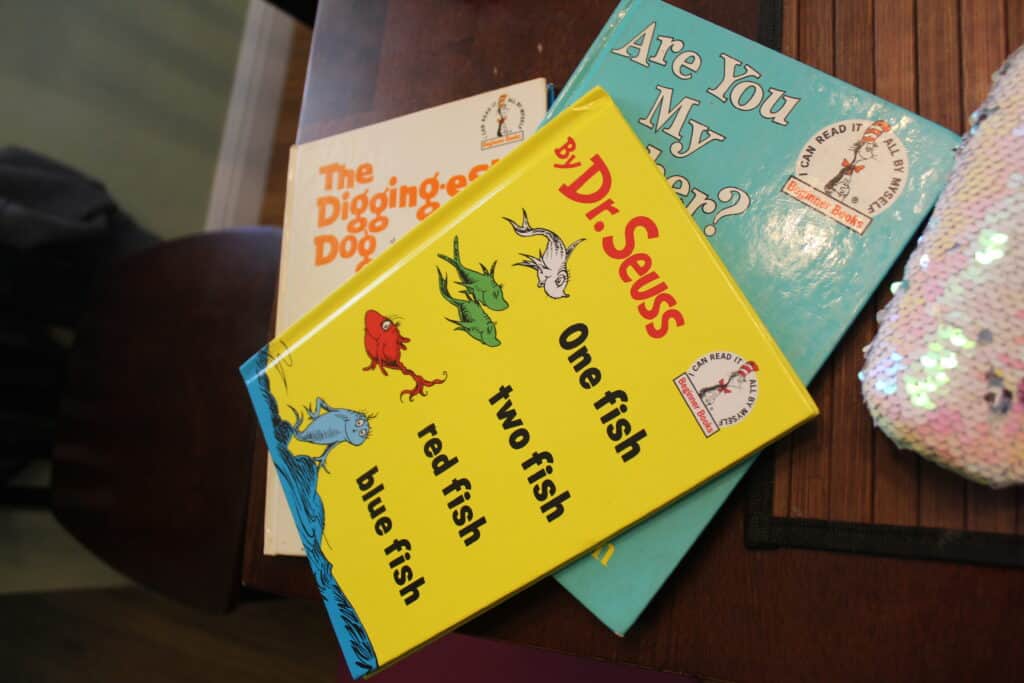 Don't have any books? Check at the local library, or grab a boxed set of Dr. Seuss books to add to your library.
Watch Dr. Seuss Movies and Shows
After we read The Cat in the Hat (and followed it up with The Cat in the Hat Comes Back), watching the PBS Kids show seemed like the logical next step!
There are also full length versions of The Cat in the Hat on Prime Video (start with a free trial if you don't have Prime Video yet!) or watch The Lorax on Netflix.
We went big with our viewings, making popcorn and homemade snow cones, to turn it into a proper event. If nothing else, it's a festive (and very low prep!) way to celebrate Dr. Seuss' birthday at home.
Make a Cat in the Hat Hat!
What is it about festive headwear that makes kids get so riled up about an activity? We kept it simple by drawing a Cat in the Hat shape on cardstock, having the kids make DIY stripes with Kwik Stix, and stapling it to a construction paper headband.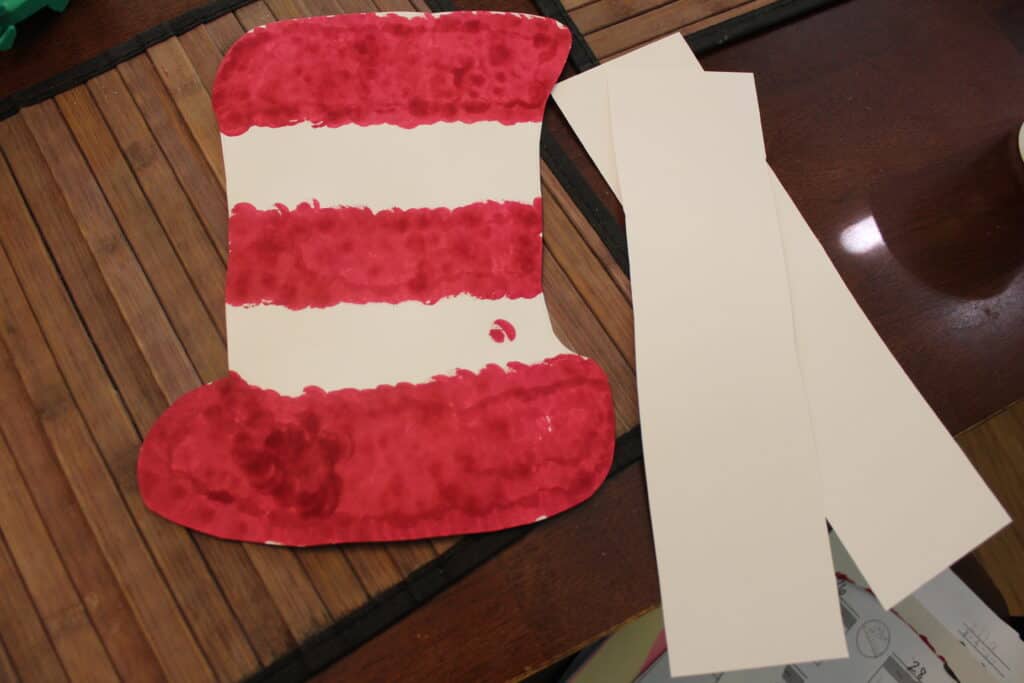 You can also find printable Dr. Seuss hats, or you can buy a real live hat on Amazon.
Make Some Mischief
This was one of my favorite, on the fly ideas to help my kids celebrate Read Across America day at home. You know the Cat in the Hat is known for his mischief, right? So I decided to let my kids have some not-so-messy, messy fun.
I gave each kid a roll of crepe paper (2/$1 at the Dollar Tree, or grab some online!) and let them…well, they basically TPd the house with it. Ha!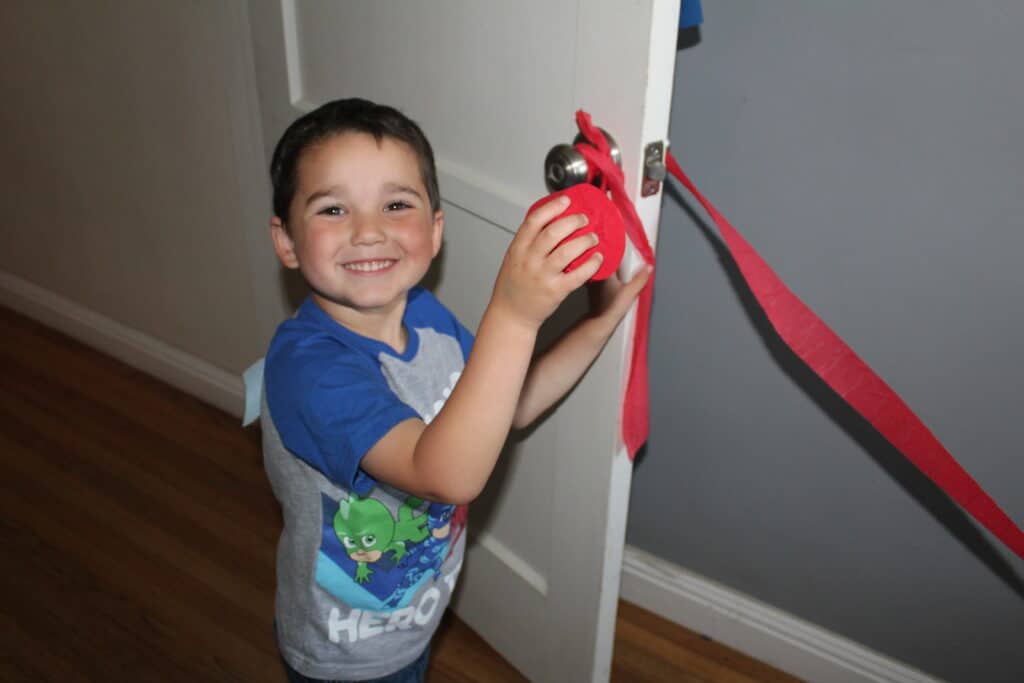 They thought it was incredibly fun to "make mischief" like the Cat in the Hat, tying up the fridge and draping crepe paper across every light fixture.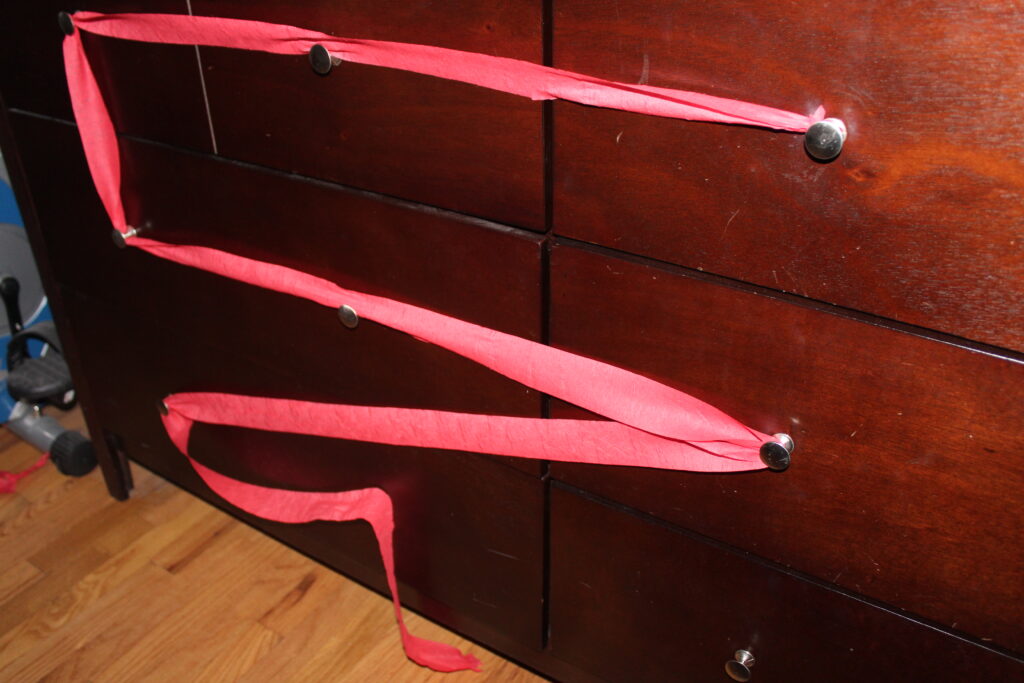 And they were even good sports about cleaning up their mischief in the end, just like the kids did at the end of the book.
Make a Truffula Tree
I wanted to get some art into the day, but my daughter was still slightly under the weather so it needed to be on the chill side.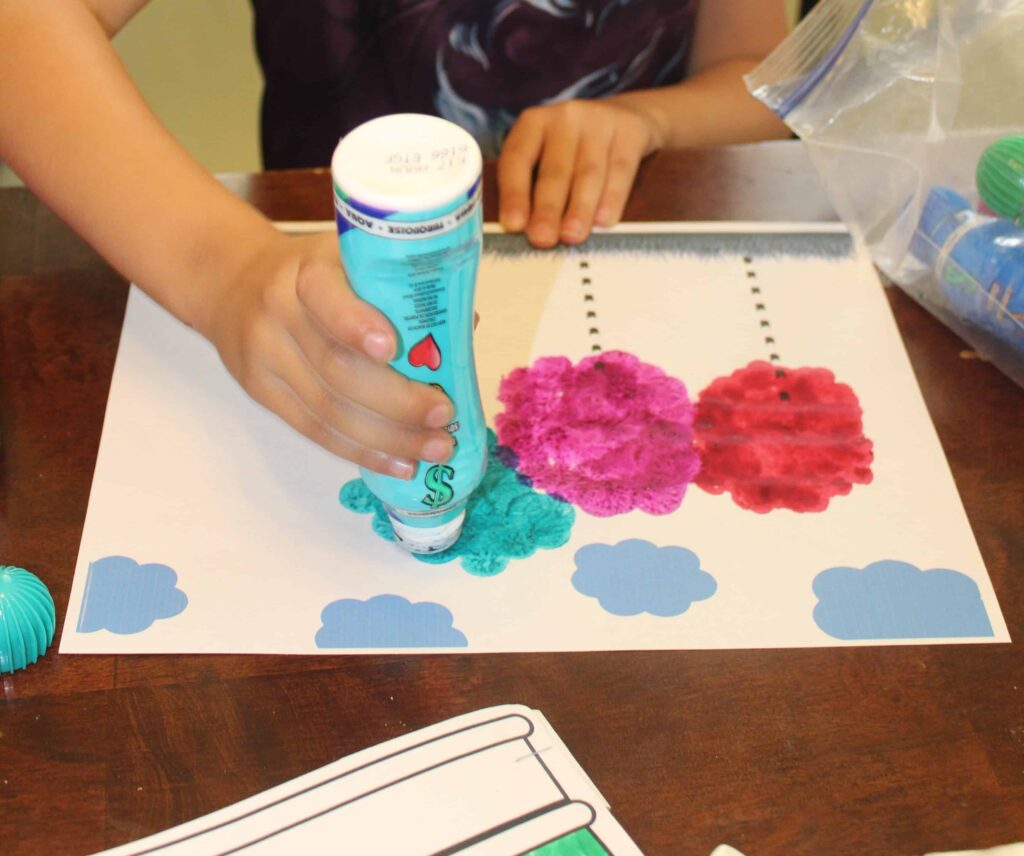 I whipped up this Truffula Tree art project printable so the kids could make Truffula Trees in a low stress way. They loved it so much, they actually made two sets each! When they were dry, we hung them up as decorations for our Read Across America day celebration.
Cat in the Hat Solo Cup Stem Challenge
I had a stack of Solo Cups from the Dollar Store (also available on Amazon), and so I put the kids to the test making the largest Cat in the Hat the could. They alternated layers of white cardstock and red cups to make a very tall, striped "hat."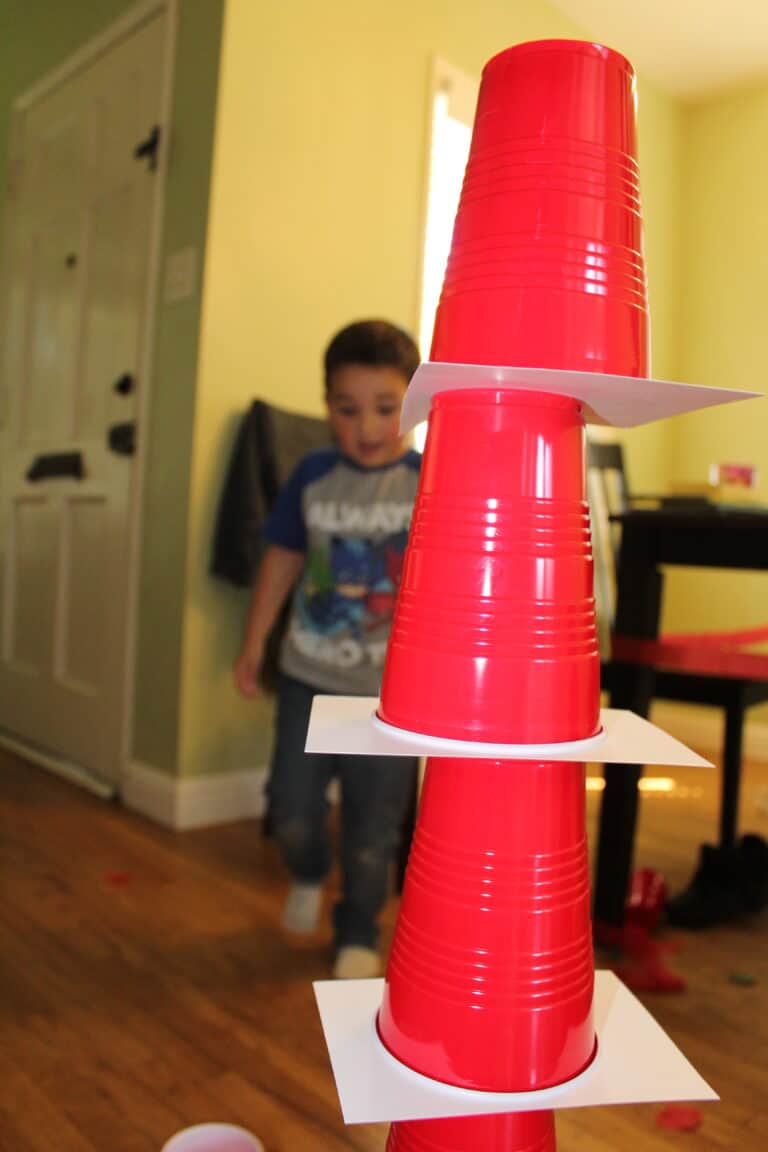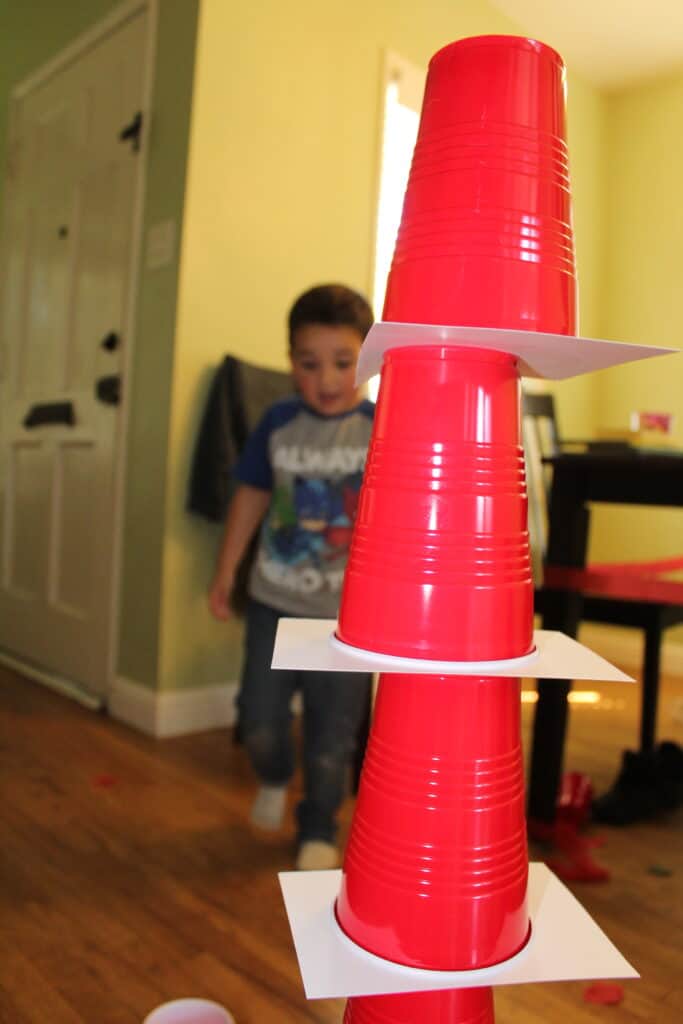 I also offered a few more prompts to extend the Solo Cup STEM Challenge (read the full post for directions), and so this activity ended up creating a full hour of fun for us.
Eat Dr. Seuss Themed Snacks
No Read Across Amercia Celebration is complete without some themed snacks, and our day at home was no exception!
Start the day with green eggs and ham (just add a few drops of food coloring to your scrambled eggs before cooking,a nd make some bacon). For snack time, decorate your string cheese with a sharpie-drawn Cat and the Hat before unwrapping.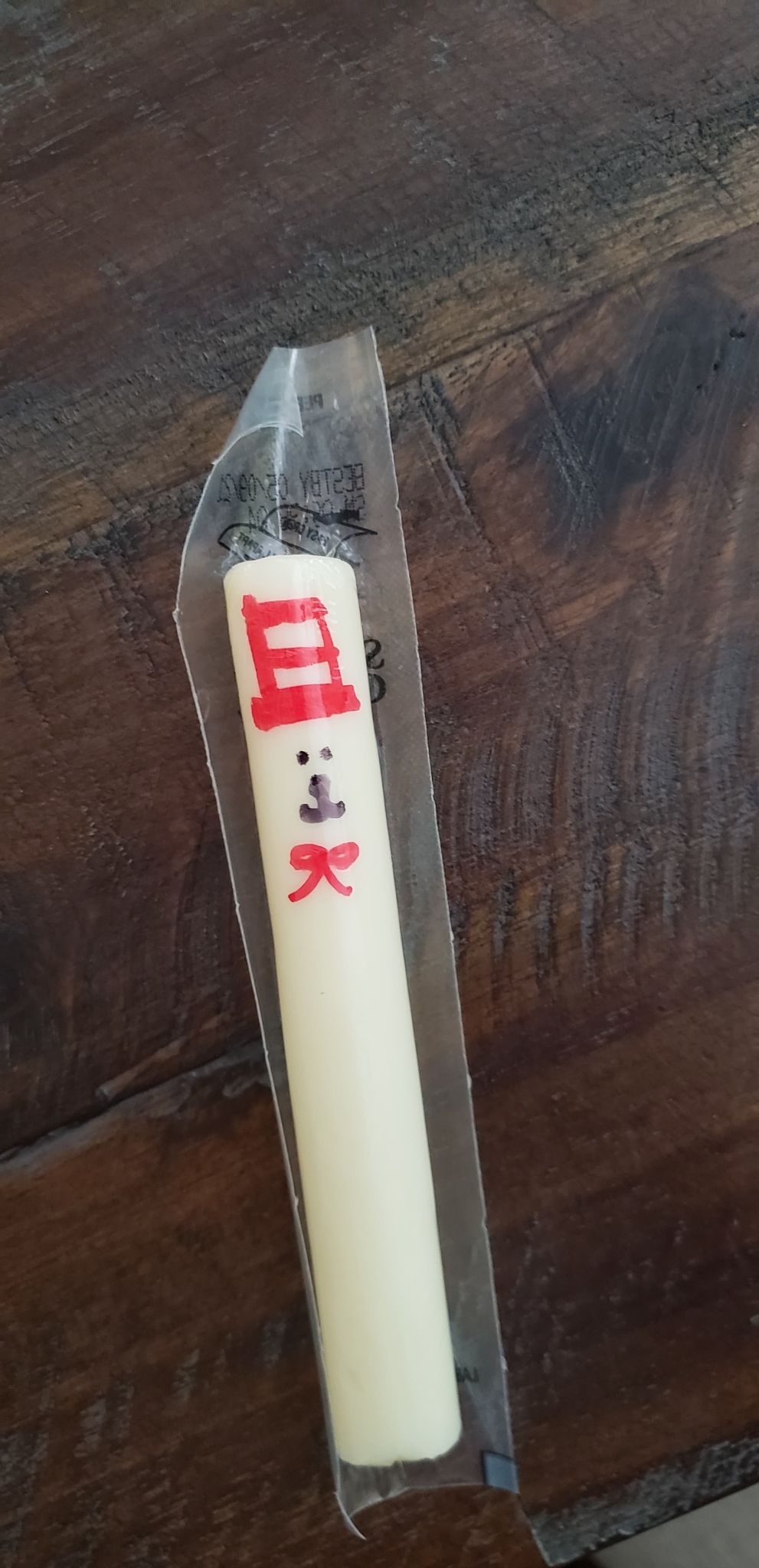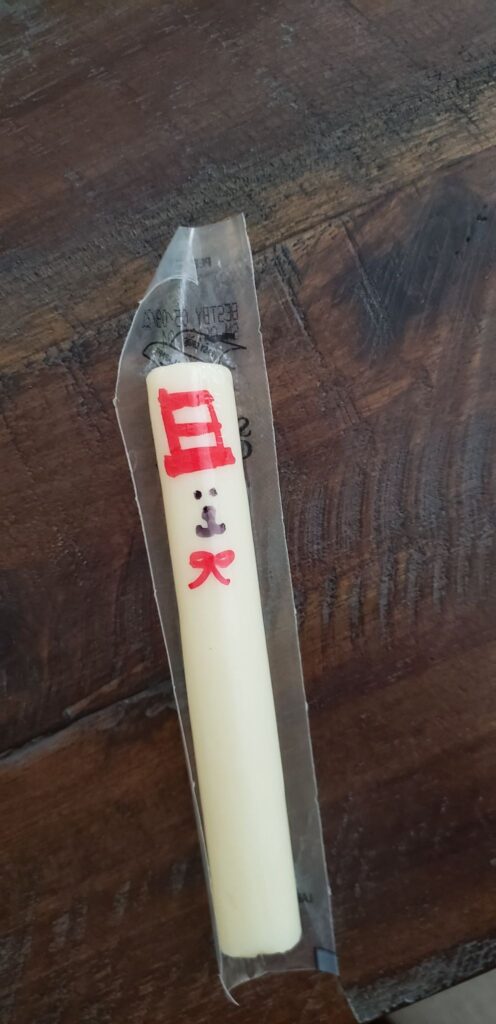 End your Dr. Seuss themed snacks by making some dessert! You can assemble One Fish, Two Fish Jello Cups using blue Jello and Swedish Fish.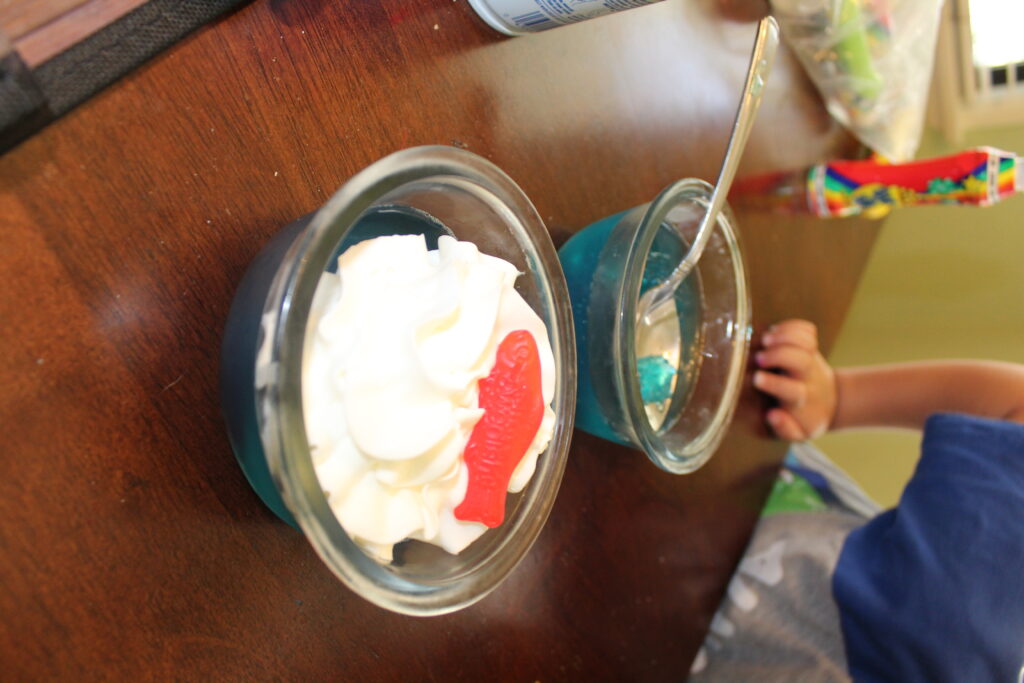 *******
Dr. Seuss' Birthday may not be exactly what we're used to in 2021, but with a few fun (low stress) activities, you'll be celebrating Read Across America Day at home in style.
Looking for more fun activities to do at home with your kids? Head here next-