Ahh. It's the weekend. Everybody's home, there are activities galore, and it's time for a well-deserved respite from the day-to-day. The kids feel the difference in the air, and they start putting in requests. After all, there are no limits today- you want a popsicle? Sure. 76 hours of Peppa Pig? No problem. You want to ride your bike allll the way to park? Do. Your. Thing.
But… first you're gonna have to let mom and dad do a little logisticking. Cause we got stuff to do, too.
I'm not sure this is a popular thing to say, but around here our weekends are not necessarily for togetherness. I mean, it creeps in plenty. There are meals together, and trips to the park. But for us, that's not the point of the weekend. The weekend is for getting stuff done, and everyone getting a chance to do what they want to do. We divide, and we conquer.
At our house, weekends mean that it's time for the grown-ups to have their dreams come true, too. You want to binge watch Netflix? Let's make it happen. Mama wants to sit at Starbucks for an hour ALL BY HERSELF? Go for it! The cars need washed/you have to go clothes shopping/you have to do any task that sucks when the kids are along for the ride? Oh, it's going down.
Which is why, right this minute, I am writing this from the lobby of a McDonald's fine dining establishment, enjoying a Diet Coke and French fries, both the size of my head, and both deliciously, gloriously, mine-all-mine. There are no children poking me, I've got my creative pursuits spread out across a booth that belongs just to me, and I am getting the full use of their free wifi on all three of my devices, which no one is begging to use to watch toy videos. It's not always McDonalds, and it's not always just quiet time. Mostly, it's just my chance to get out of the house, do some grown-up stuff, and pursue my own interests for a minute. And if you think about it, an hour and a half a week is definitely not too much to ask. So why shouldn't we be focused on making it happen? And this quality time with little old me is just one piece of the pie.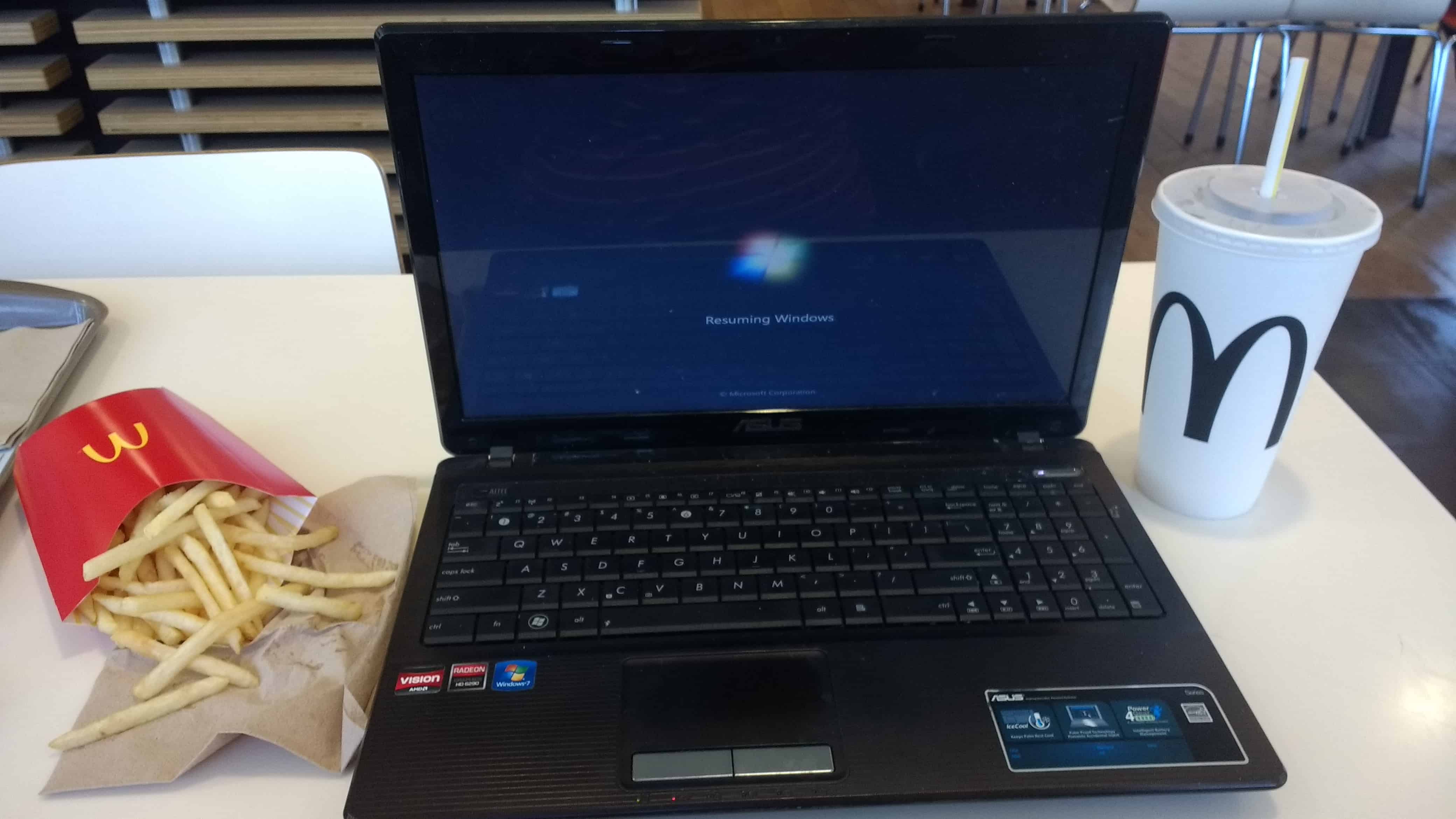 Maybe later today I'll take the kids to the gym for an hour or two so he can watch his movie, and tomorrow he'll take the kids while I duck out for a quick haircut. I'll take my turn with the kids and so will he, and together we'll engage in a delicate dance where the kids get fun time with each parent, without them even knowing that the other one is getting a much deserved break. So we spend a little time apart, and when we get back together, we are refreshed and rejuvenated. We are ready to change the diapers, and read the same book 74 times, and push the kids on the swings for a hundred years, and make three complete dinners because little miss decided that tonight she is EXTRA hungry.
But none of that is gonna happen yet. Right now I'm gonna put on my headphones, drink a few Diet Cokes, and bust out the blogs I've been trying to get finished since last Wednesday. I'll read a few chapters of the RBG book I've been wanting to get through, spend a few minutes catching up on texts and Facebook messages, and then I'll close up shop and head home to my family, where, if I'm being honest, I'm gonna be much less grouchy and a lot more relaxed than I was a few hours ago. I'll probably get a warm welcome, like I'm a soldier returning from battle, instead of someone who spent just shy of 90 minutes in a fast food joint. There will hopefully be a few hugs and kisses, and then we'll leash up the dog and head out en masse to go conquer the park. And this time, we'll be ready to take that one on, together.