I don't know why, but when it comes to kids' Halloween costumes, my daughter can never choose something simple. I love her originality, but DANG does it create a lot of work for me.
While all the other girls were busy being Sofia, she wanted to be Totoro. When Aurora was all the rage, she requested to be a "pink bakery chef." And while I could easily have gotten a Moana costume off the rack last year, she insisted that I get her a kids' Candyland costume.
And, as luck would have it, I DID find it on the rack. But it was more like Sexy Candyland Fairy, and she's four, so that was never gonna fly with me.
Which means that, yet again, it was up to me to make it happen in the DIY toddler Halloween costume department. I typically sew her costumes (like Totoro), keeping it as simple as possible. But as (bad) luck would have it, my sewing machine broke down just before it was time to assemble her Candyland Halloween costume.
The good news is that this was actually a HUGE blessing in disguise. It forced me to get a little more creative with the costume (and, frankly, a little less crafty). Which means that anyone with a hot glue gun, puffy paint, some felt, and an Amazon Prime membership could make a kids' Candyland Fairy Halloween costume, too. Follow along below for the instructions!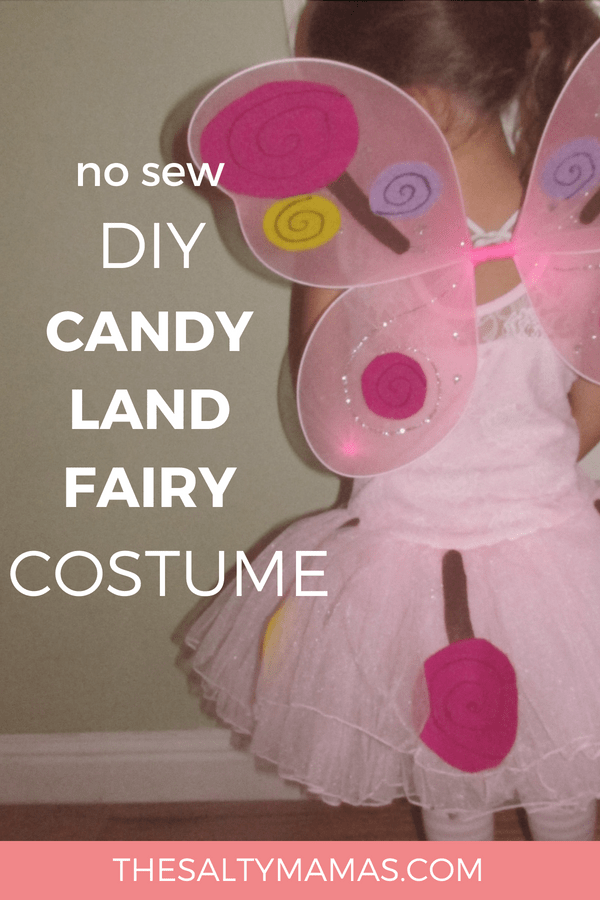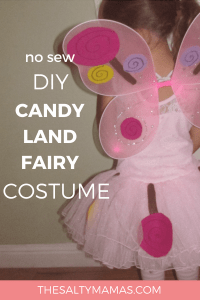 This post contains affiliate links. You can read more at our legal page. Thanks for supporting The Salty Mamas!
Materials:
Wings
9 Sheets of Felt for the Lollipops- I used 3 Purple, 3 yellow, and Three Pink.
2 Sheets of Felt for the Lollipop Sticks
Tacky or Hot Glue
Step One: Find a Tutu and Leotard
If your little one is into ballet, you've probably got a spare leotard floating around. Since it's just for one day's use, feel free to use one that's nearing the end of it's lifespan. You can also get one on the cheap at Walmart.
The next part of this- finding a Tutu- is a little more complicated. I usually make my own Tutus for costumes, which you are still welcome to do, but the tie-on method I usually use meant that I wouldn't have a flat surface to decorate.
So in lieu of buying a leotard ($10) and tulle ($6) and elastic ($3), I opted to splurge and get this adorable lace leotard and tutu combo. It was seriously SO adorable, and my daughter felt like a princess in it alone. If I hadn't added another thing to it, I bet she'd have been happy.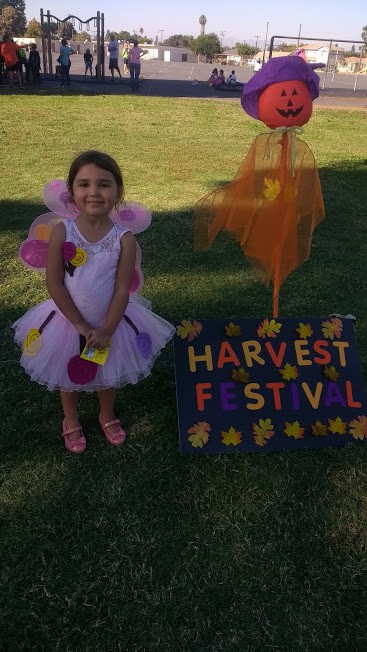 But you know how it works with us crafty moms- we've always gotta add AT LEAST one more thing. Usually eight more things, if I'm being honest.
Find Some Wings
Around Halloween, the Dollar Tree steps up their game in the dress-up clothes department. I found a pair of pink wings for- you guessed it!- a dollar. I will say that the elastic used to keep them on tends to lose its, well, elasticity after a while. But if/when that happens, you can always tie the two elastics together in the middle to make them tighter.
If you are still worried about the quality, you can spring for a better version. Just keep in mind that these are likely to be used on Halloween only, and plan your budget accordingly.
Cut Out the Lollipop Shapes
This is the fun part, since it really brings your kids' Candyland costume to life. And it's shockingly not hard at all! I used felt sheets to make cutting easier, but you can buy it by the yard at a fabric store as well. You'll need to equivalent of 11 sheets of felt- Three different colors for the lollipops (3 each) and 2 brown for the sticks.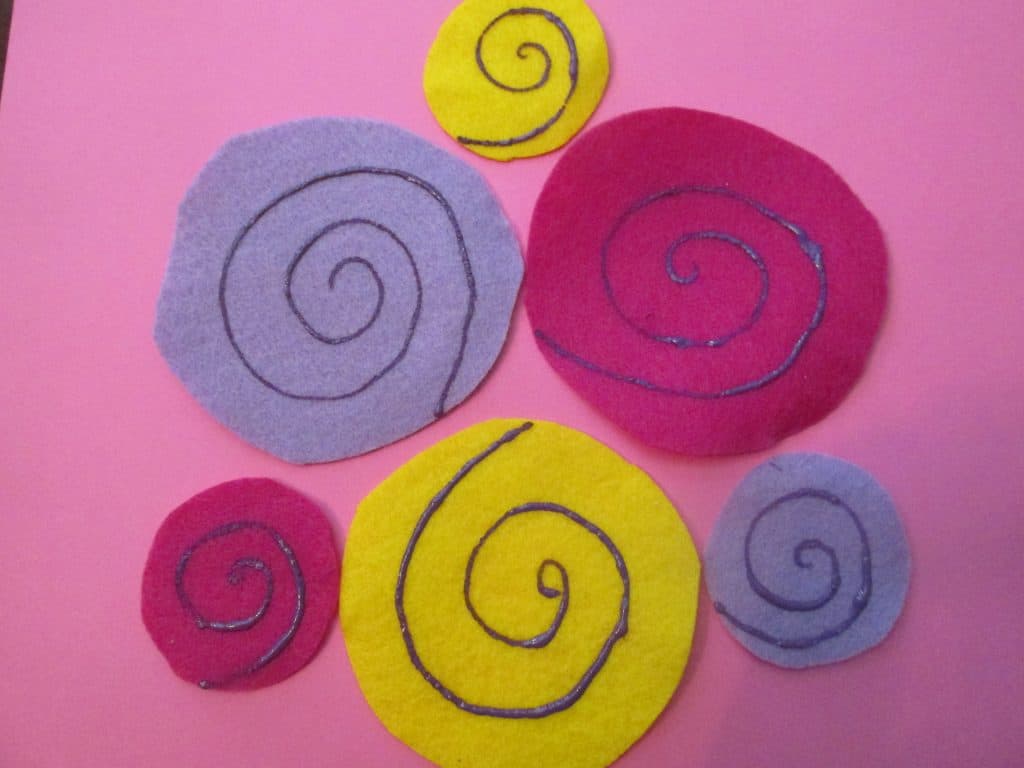 You are going to need to cut out the lollipop shapes first, in three sizes. The largest will go on the skirt, the medium will go on the wings, and the small will go on the bodice. I cut patterns out of paper first to make sure I had the sizing right, and then lay them against your costume to make sure they fit. When you've got the sizing down, cut two large circles in each color felt (except the brown) for the lollipops, two medium, and three small.
Cut appropriately sized sticks for each lollipop shape. I liked a curved edge on the bottom, but if it's easier to cut the bottom straight, of course that works, too.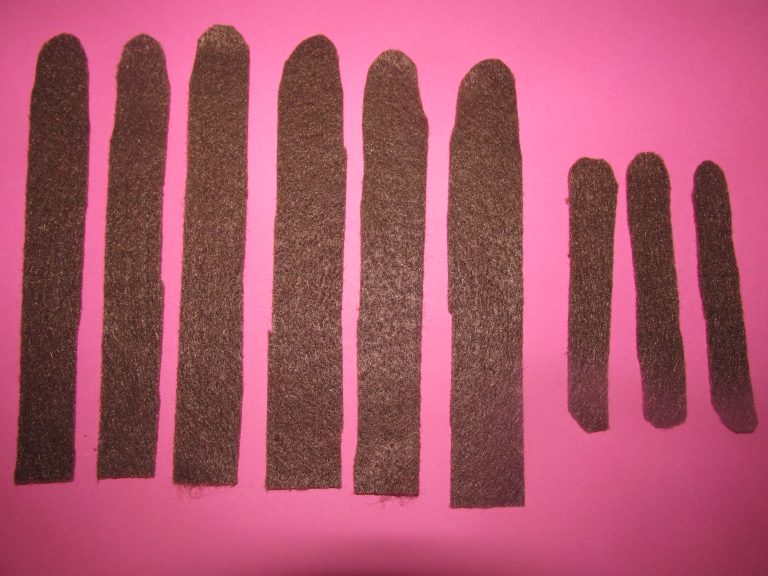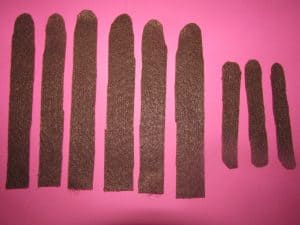 Add Details to Your Candyland Fairy Halloween Costume
Using puffy paint, add some details to your lollipops. I chose to use purple puffy paint across the board, but you could also use another color, or do each one differently. It's up to you!
I free-handed a swirl onto each lollipop with the puffy paint. Allow them to dry. Do not attach the sticks yet!
Attach the Lollipops to the Candyland Costume
This part probably takes the longest. Go slowly to make sure it goes right.
First, lay out your lollipops against the tutu. You'll want to arrange three on the front of the skirt, and three on the back. You may add the sticks now, but I prefer to wait until later (see below). When you're sure of the positions, glue the circles to the tutu with tacky or hot glue (I prefer hot glue, as it dries faster).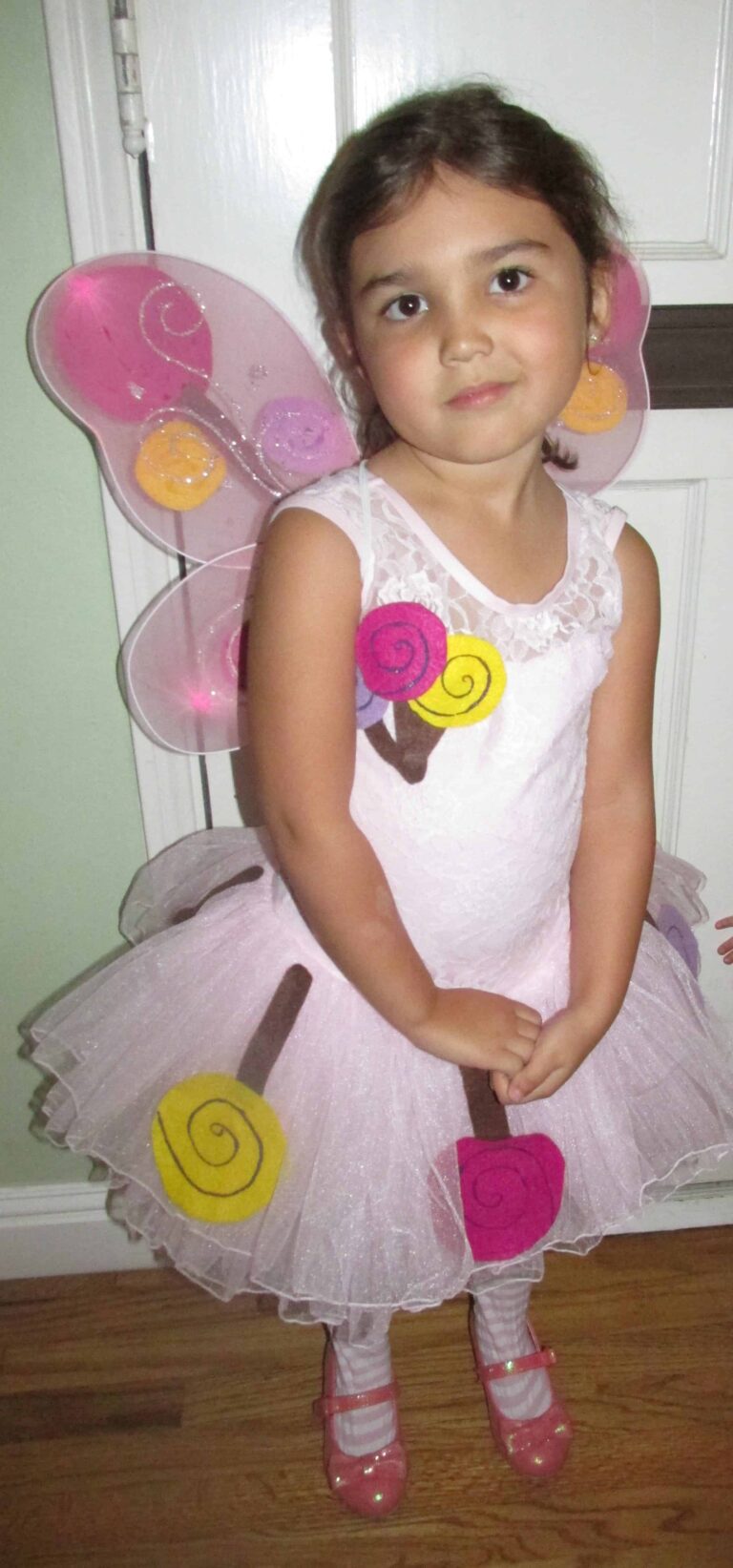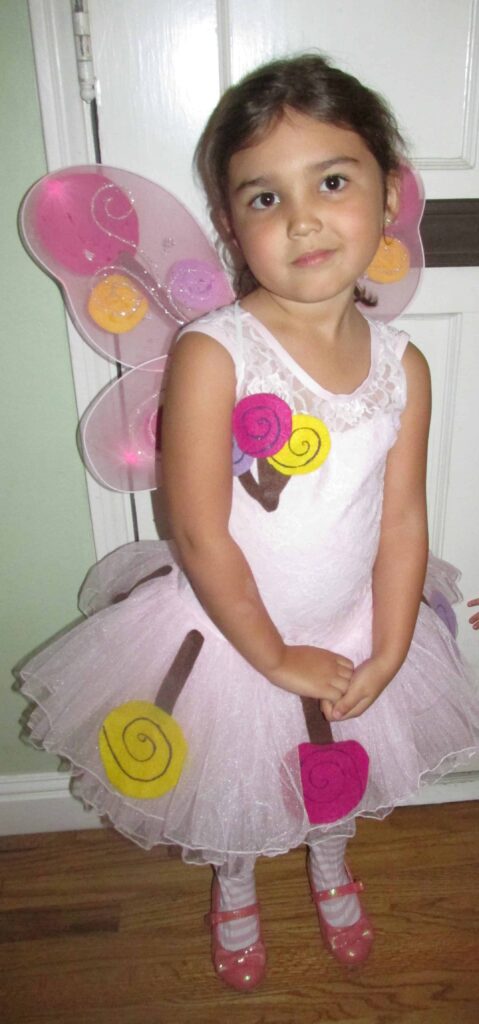 Layout the lollipops on the bodice- you're aiming for a lollipop-boquet effect. Get them where you want them, then glue them down. Repeat these steps with the wings.
Once this layer has dried, go back in and add your lollipop sticks. You can do this at the same time as the circles, but I find it's easier in a separate step. That way, you can cut down the sticks to size from the flat edge, and not have to recut the curve.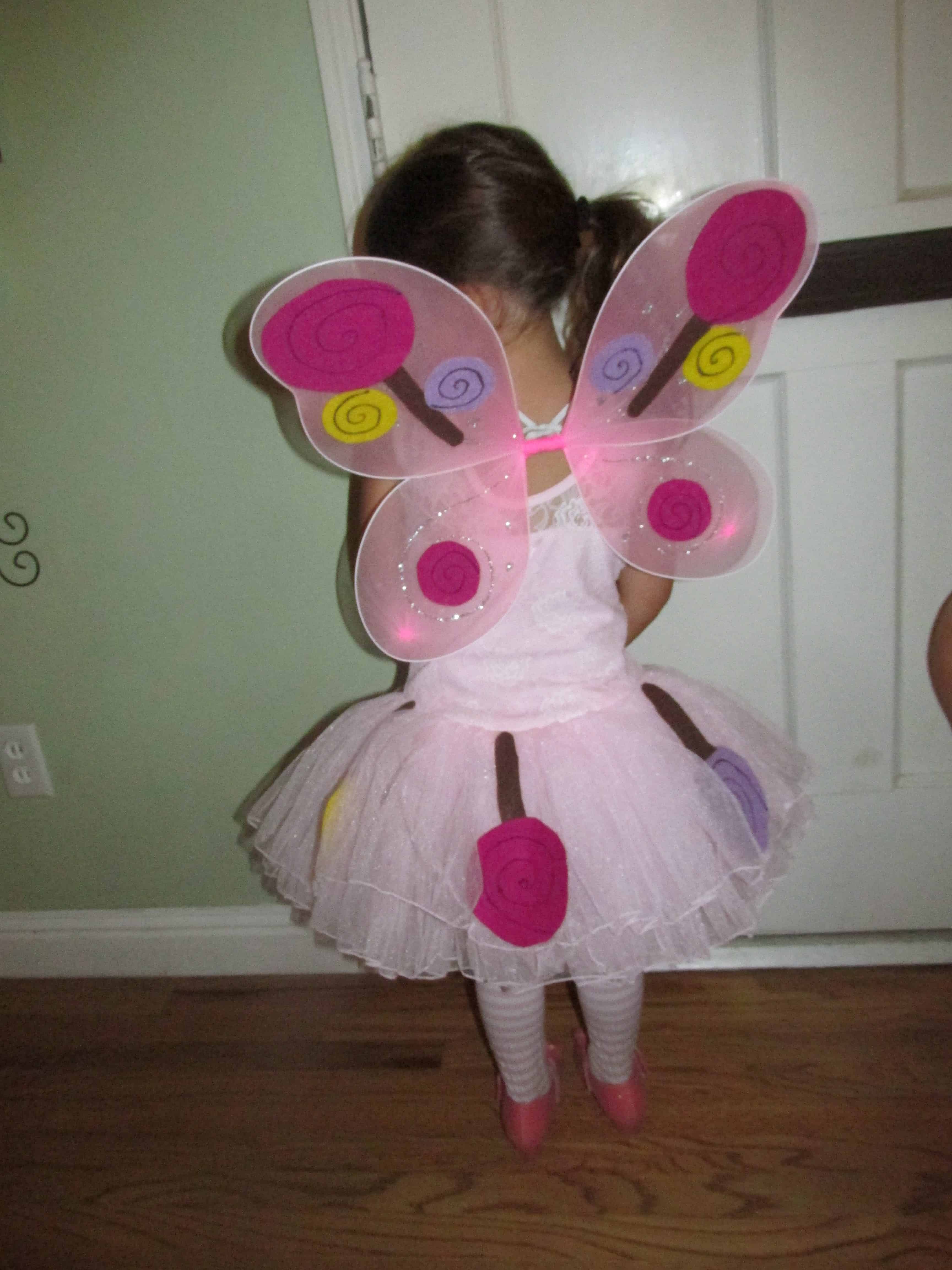 Go through and add sticks where appropriate. As you can see in the pictures, I didn't add sticks to all of the circles. You've got to eyeball this step to see what looks right in your own DIY Candyland Costume.
Add Some Final Touches
My daughter was really serious about looking EXACLTY like the Candyland fairy- including the pink hair. I found this wig on Amazon that was adorable and actually worked really well. However, as you can see in the picture, it comes with kind of widow's peak. I simply trimmed that off, and made the bangs into a blunt cut. Super easy (and way cheaper than buying the one with normal bangs).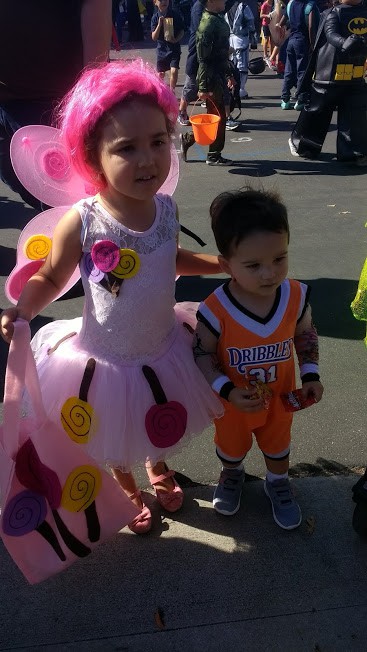 For what it's worth- my daughter ended up hating the wig, and only wore it for a few minutes before ditching it. Keep that in mind when you're deciding whether or not to spring for one!
We also wanted tights to go with the outfit, in case it was cold. I passed over some more expensive examples that looked more like the real Candyland Fairy's, and went with these for our kids' Candyland Fairy costume. She didn't notice any difference, and let's be honest- neither did anyone else.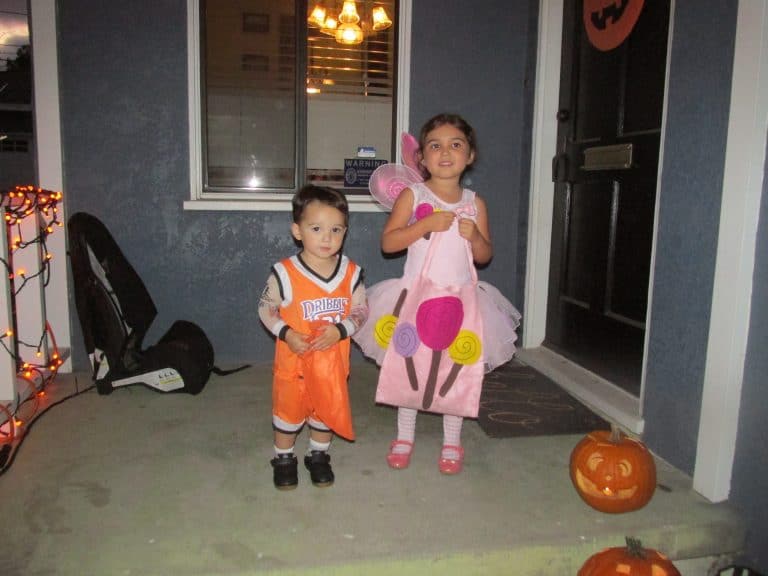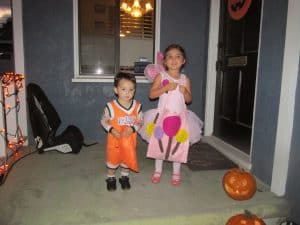 As you can see in the picture, I also threw together a candy bag by folding a long rectangle in half and gluing the sides. I glued in a long strap, and added some leftover lollipops for decoration.
Try on Your Kids' Candyland Fairy Costume
After all that work, I bet your little one is just DYING to try on that beautiful DIY Candyland Fairy costume. Help her step into it a give a good twirl. If she's anything like my daughter, she's going to love it.
*******
And in case you're wondering- because OF COURSE you're wondering- Abram wanted to be a basketball player. So I got him a Tatted Up Basketball Player costume, direct shipped from Amazon. Apparently he's taking the "easiest kid in the family" competition very seriously.
What are your kids going to be for Halloween this year? Let us know in the comments below!
Looking for more Halloween fun? Head here next-