I love some good Halloween crafts as much as the next person, but you know what happens at our house? I spend about an hour prepping materials for the craft, the kids spend about three minutes doing the craft, and then I spend the next twenty minutes cleaning it up. It's MUCH easier to set up some process-based Halloween Art for Toddlers instead.
Process art varies from regular arts and crafts in that it's focused on the art creation and not upon the product, or outcome, of the activity. Luckily, the products often come out pretty darn cute, too.
As an added bonus- they usually don't take much time to set up, which makes you a LOT less cranky if you're kids aren't into them. (Sidenote: my kids usually spend MUCH more time on a project if it's process based, which makes the prep feel SO much more worth it!)
So if you're looking for some fun Halloween art for toddlers (or your big kids, too!) keep reading for three fun Halloween activities for toddlers you can try today.

This post contains affiliate links. You can read more at our legal page. Thanks for supporting The Salty Mamas!
Paint Monsters
In this fun activity, kids will create creepy, free-form monsters using watered-down washable paint, drinking straws, and googly eyes. I love the variety on this one- kids can create little ghost-looking figures, or create giant ten-armed creatures. And either way, they'll be satisfied that they look like a "monster."
First, you'll need to water down your washable paint. Add equal parts paint and water (here, I used about a tablespoon of each). It doesn't take much! If you have liquid watercolors, you can use those, too.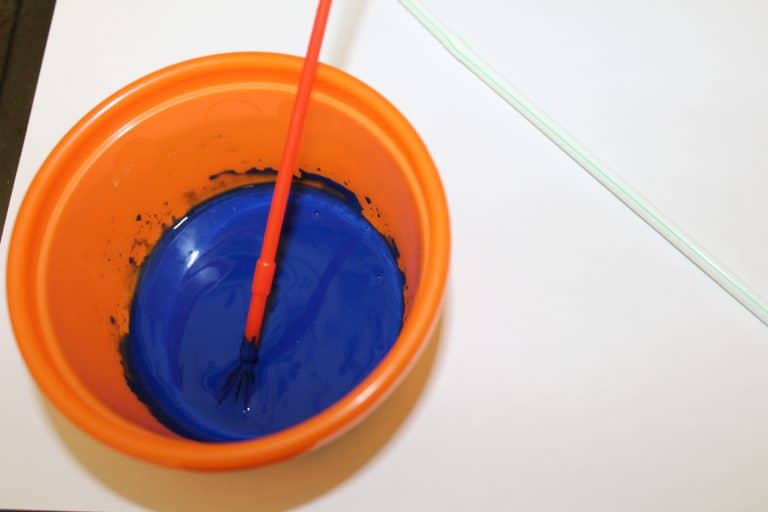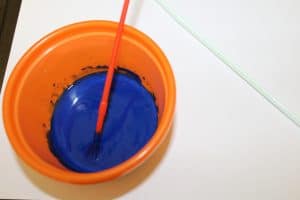 To add a little extra fine motor fun, I had the kids create small "puddles" of watery paint on their paper using an eye dropper (totally worth adding to your process art toolkit). It took a bit of time for them to figure out how to make the eyedroppers work, which added a little extra fun.
When they had the number of ghosts they wanted, I handed them a straw.
At first, they attempted to paint with the straws. Then Lila remembered that she had blown bubbles using a straw just like this at school the day before, and used her breath to blow air through the straw into the paint.
I like to let kids figure this out themselves, but if your kids haven't done something like this before, they may need a little prompting.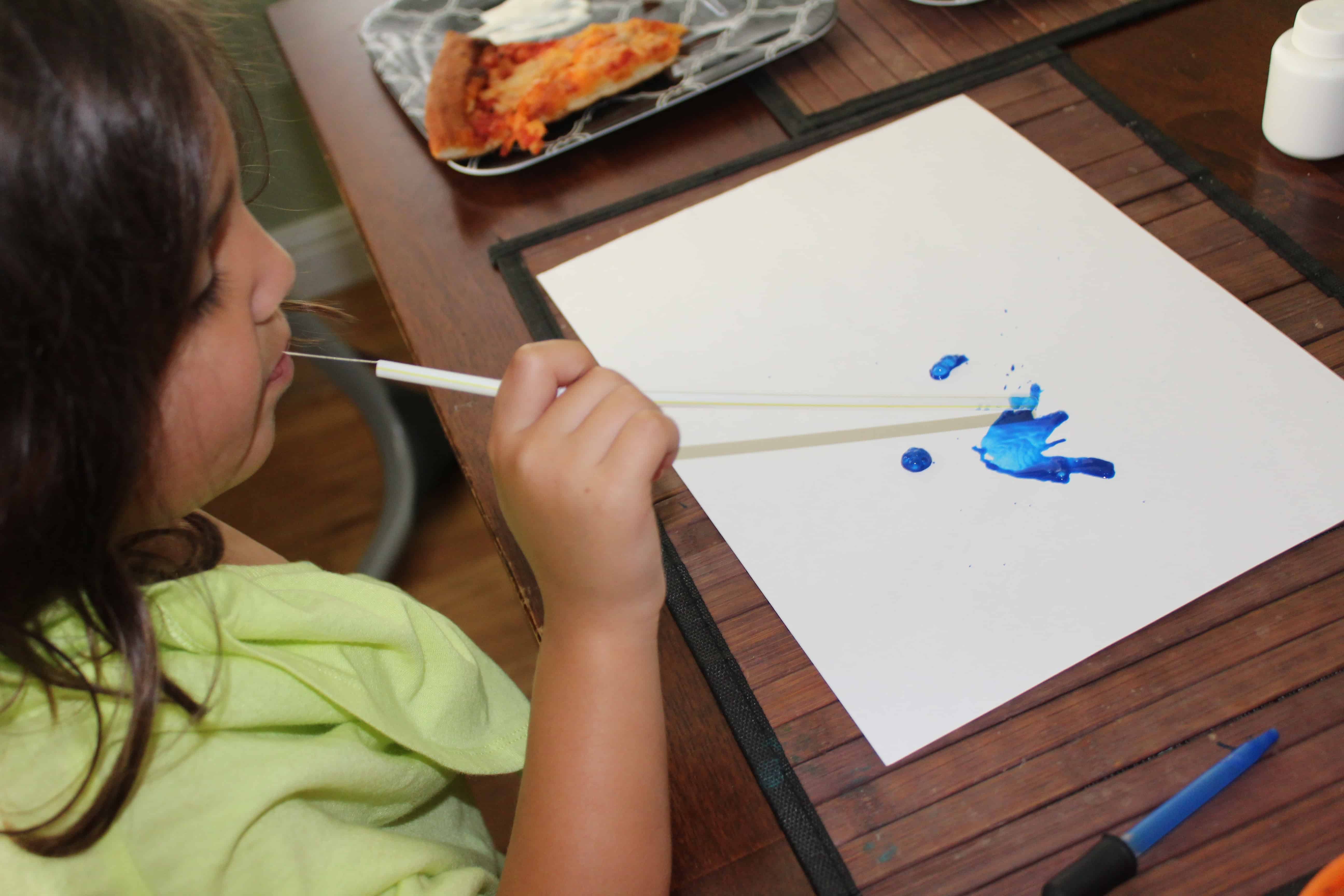 As they blew, the paint spread. They didn't have much control over where the paint went, but honestly, that was part of the fun.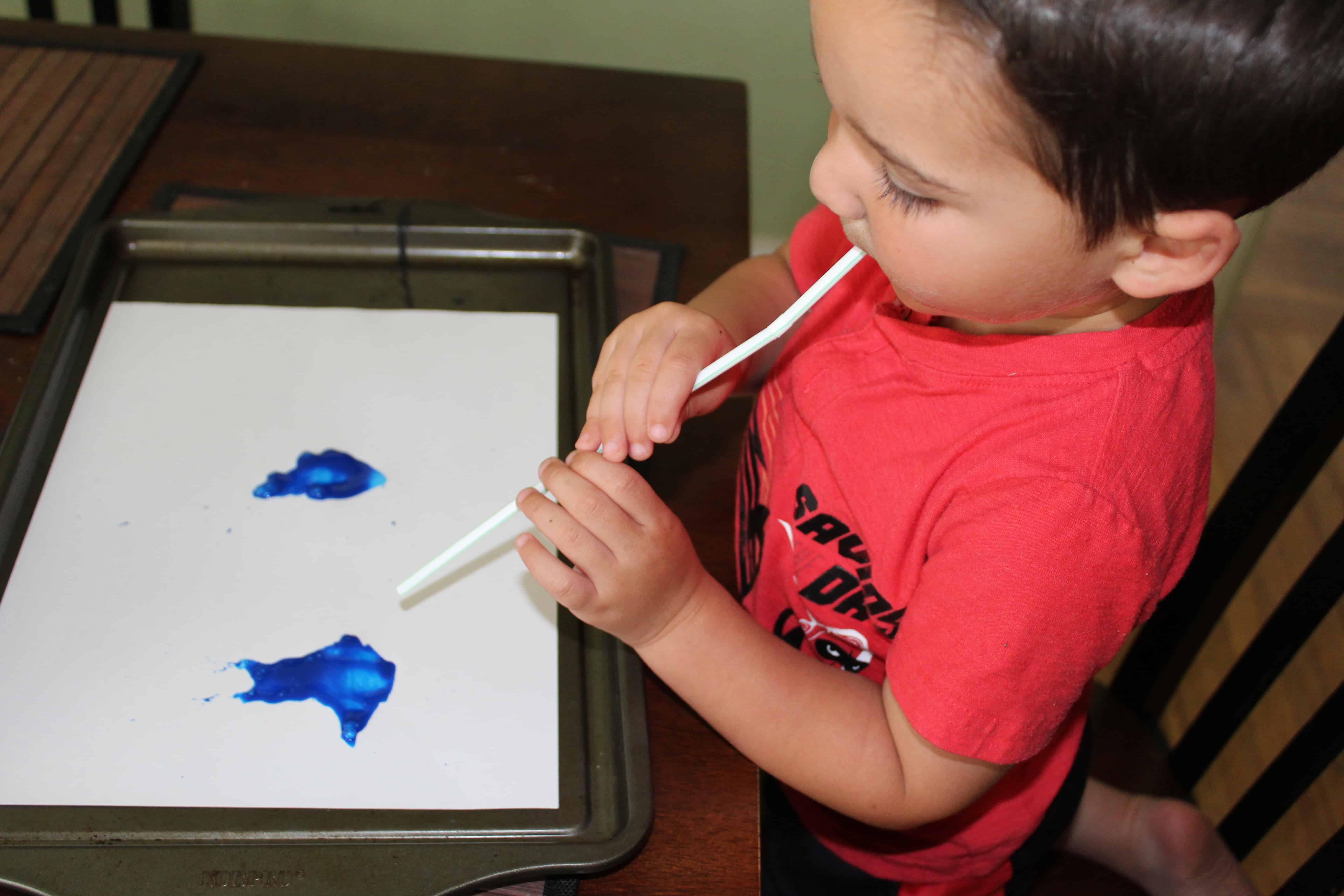 When they had created all the monsters they wanted, they wanted to add googly eyes.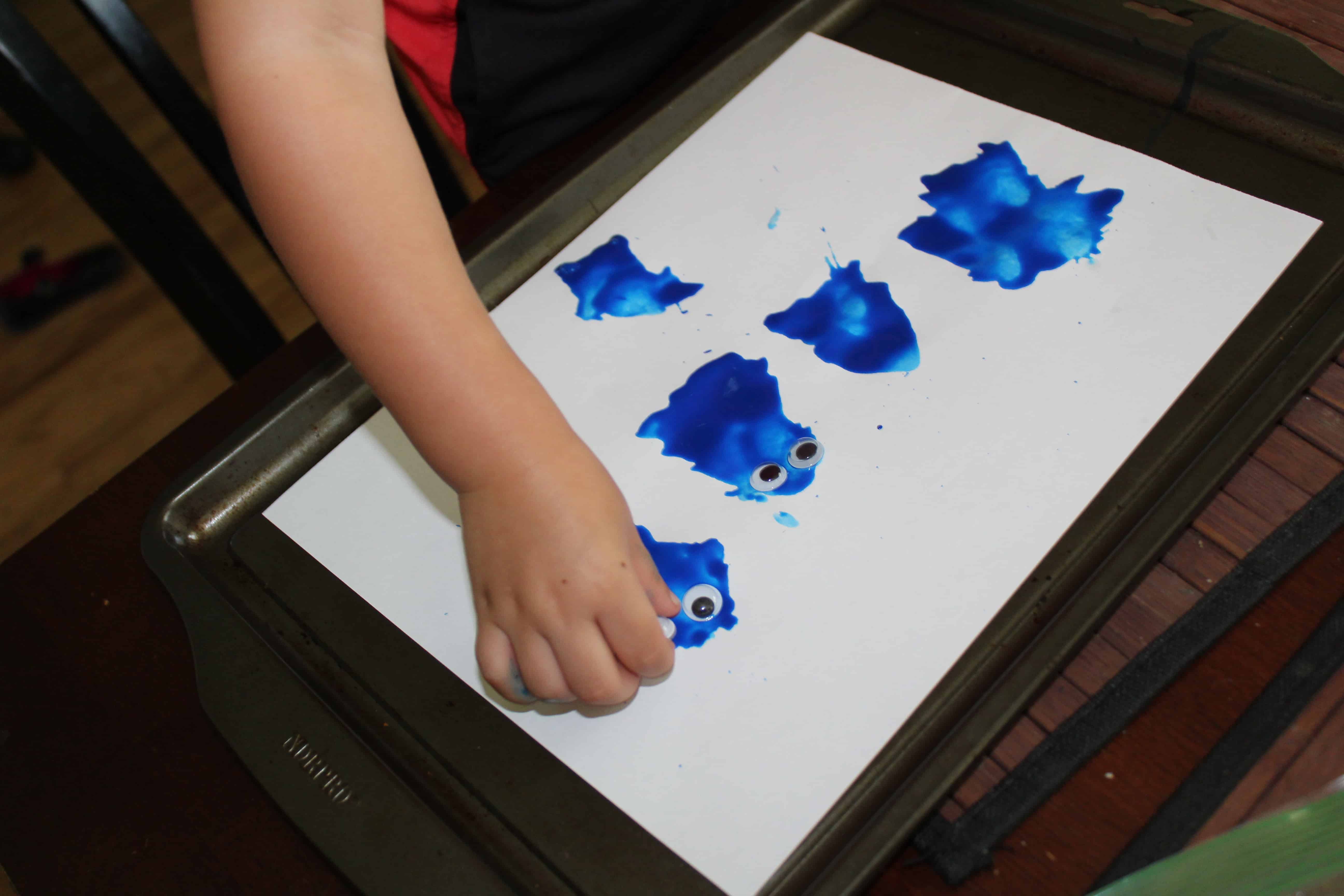 Abram was incredibly proud of his "monster party." We actually repeated it again with monsters of different colors, and Lila is asking to use this method again to make ghosts later in the week.
Pumpkin Playdough Jack O'Lanterns
Oh, this one can go SO many ways. We first started out with this homemade pumpkin spice playdough recipe. The spice adds a little extra Halloween sensory play. But you can also use the canned version. It'll work just as well!
Now remember, this is a PROCESS ART ACTIVITY. You're gonna have expectations. You're going to picture something adorable like this.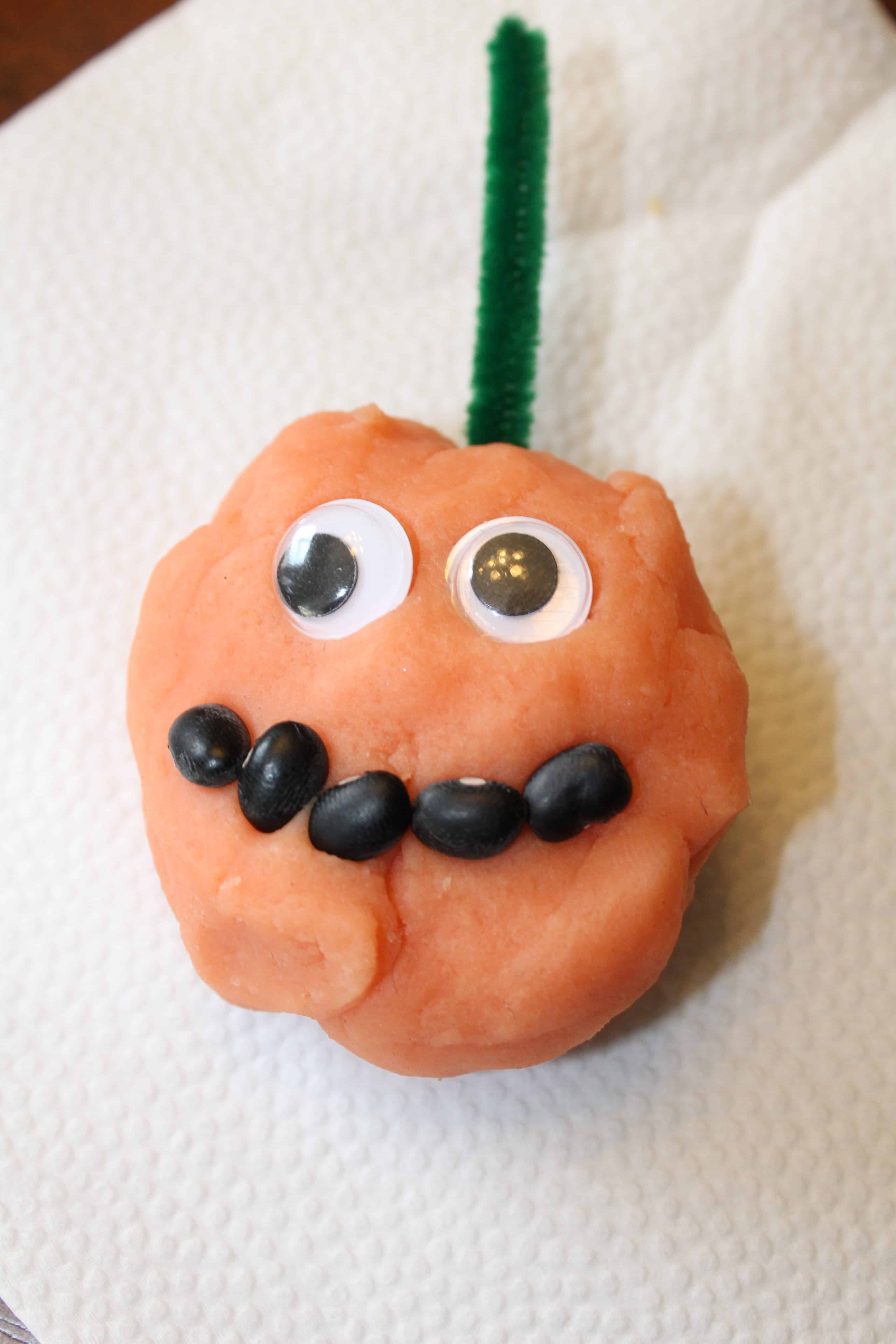 At least I did, anyways.
You're going to need to let that go.
I presented Abe with a little pallete filled with objects he could use with his playdough (we got a six pack and use them ALL THE TIME- some for paint, some holding sprinkles for cookie decorating- they come in super handy). This time, it included dry black beans, chenille pipe cleaner pieces, and googly eyes. I saw the items and thought, "jack o'lantern."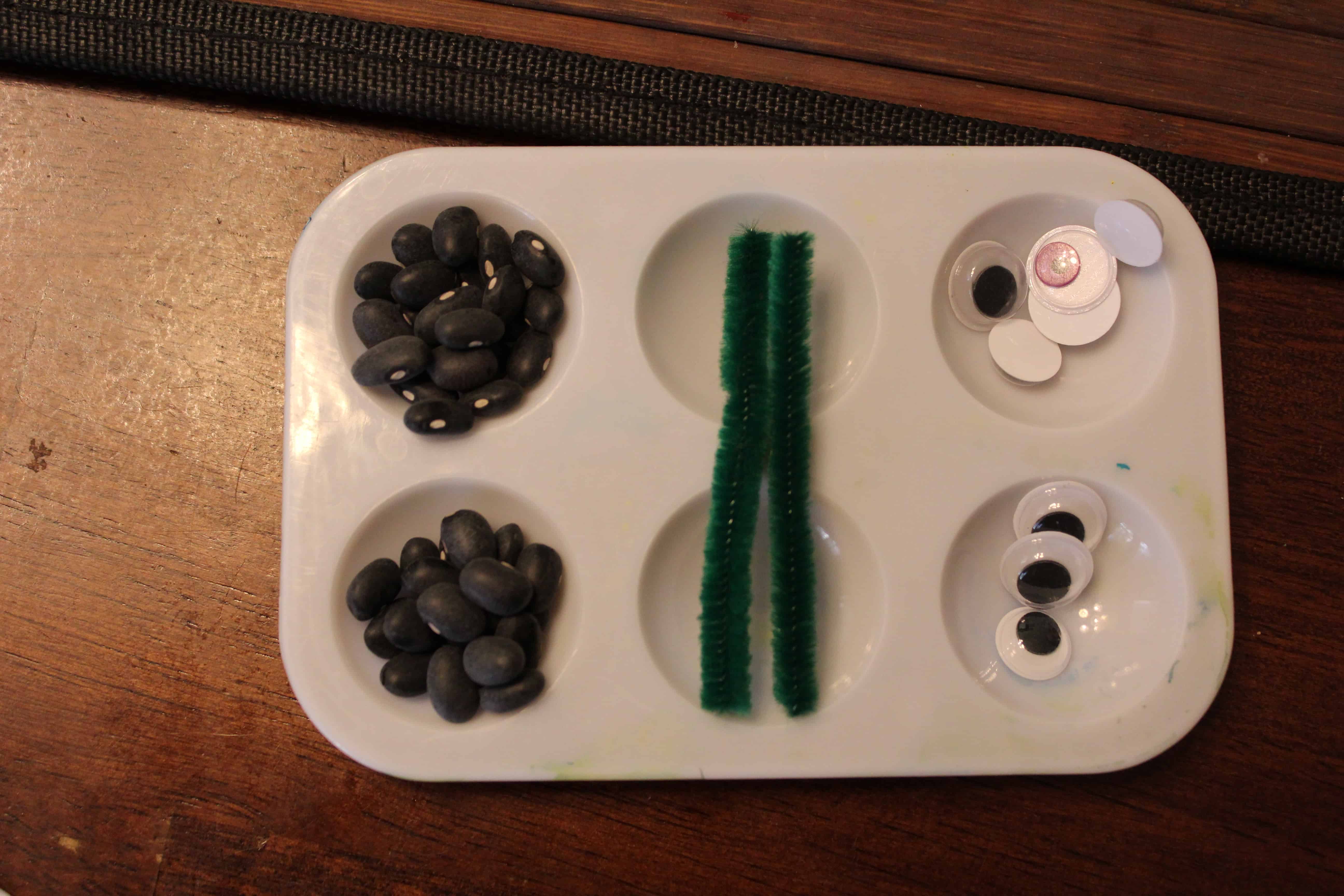 He saw them and thought the same. Except in his world, Jack O'Lanterns look like this…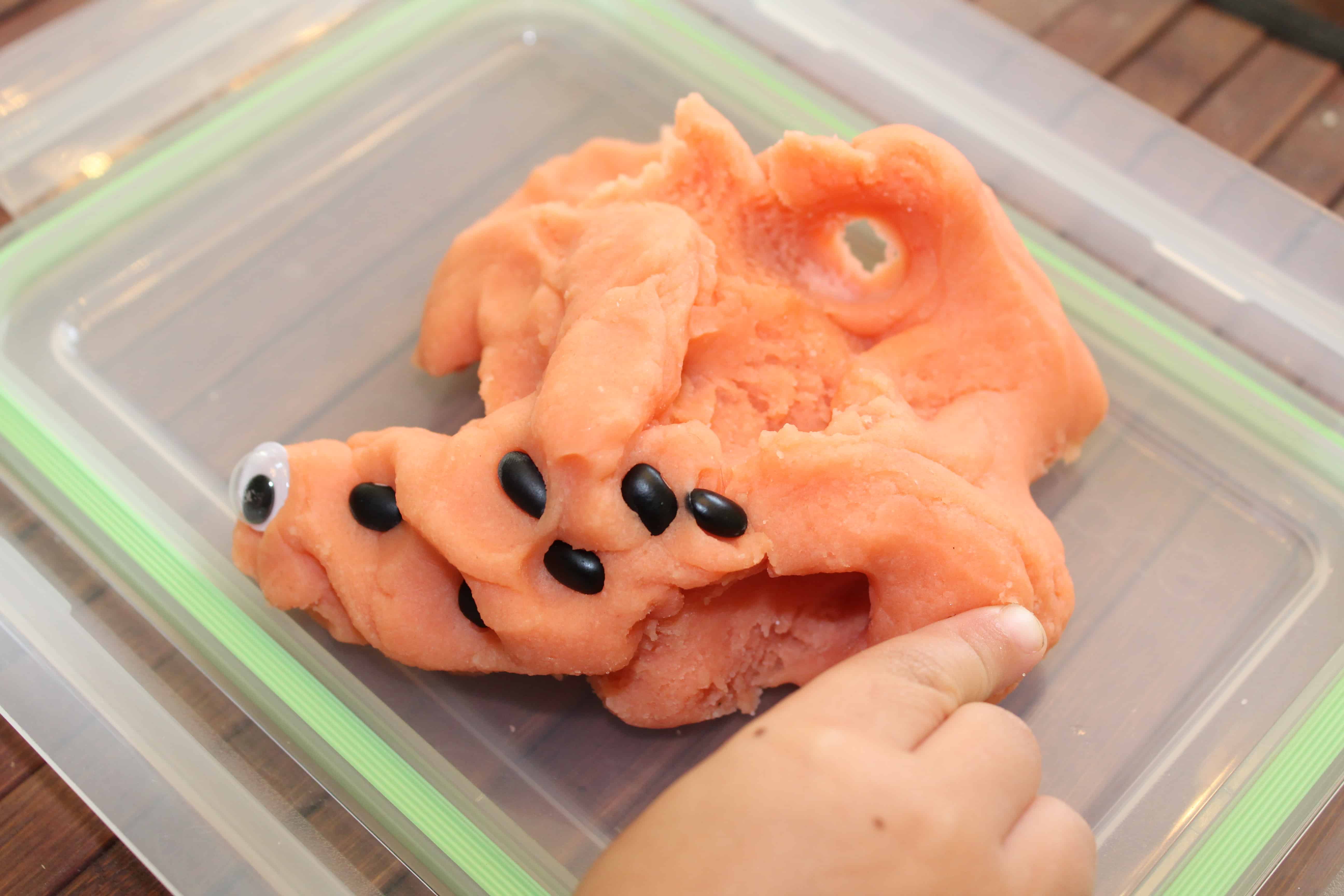 AND THAT'S OKAY. He was so stinking proud of his "jagger wagger" (for real though, I hope he NEVER stops saying it like that). And at the end of the day, he created something that was all his. And I couldn't love it more.
It's also worth noting: this kept him busy for a full thirty minutes. SCORE!
Spider Web Painting
This simple, no-prep Halloween activity for toddlers requires only white paper and black paint (or black paper with white paint!) and a playdough pizza-cutter. I recommend you get a simple set of playdough tools to keep on hand (both for playdough and lots of other fun activities!). If you don't have a playdough pizza-cutter, you can achieve similar results with a plastic knife.
Pour a bit of black or white paint onto a plate or in a shallow bowl.  Place a piece of paper on a rimmed cookie sheet (trust me, this will save you a TON of mess), and put the playdough tool near the paint.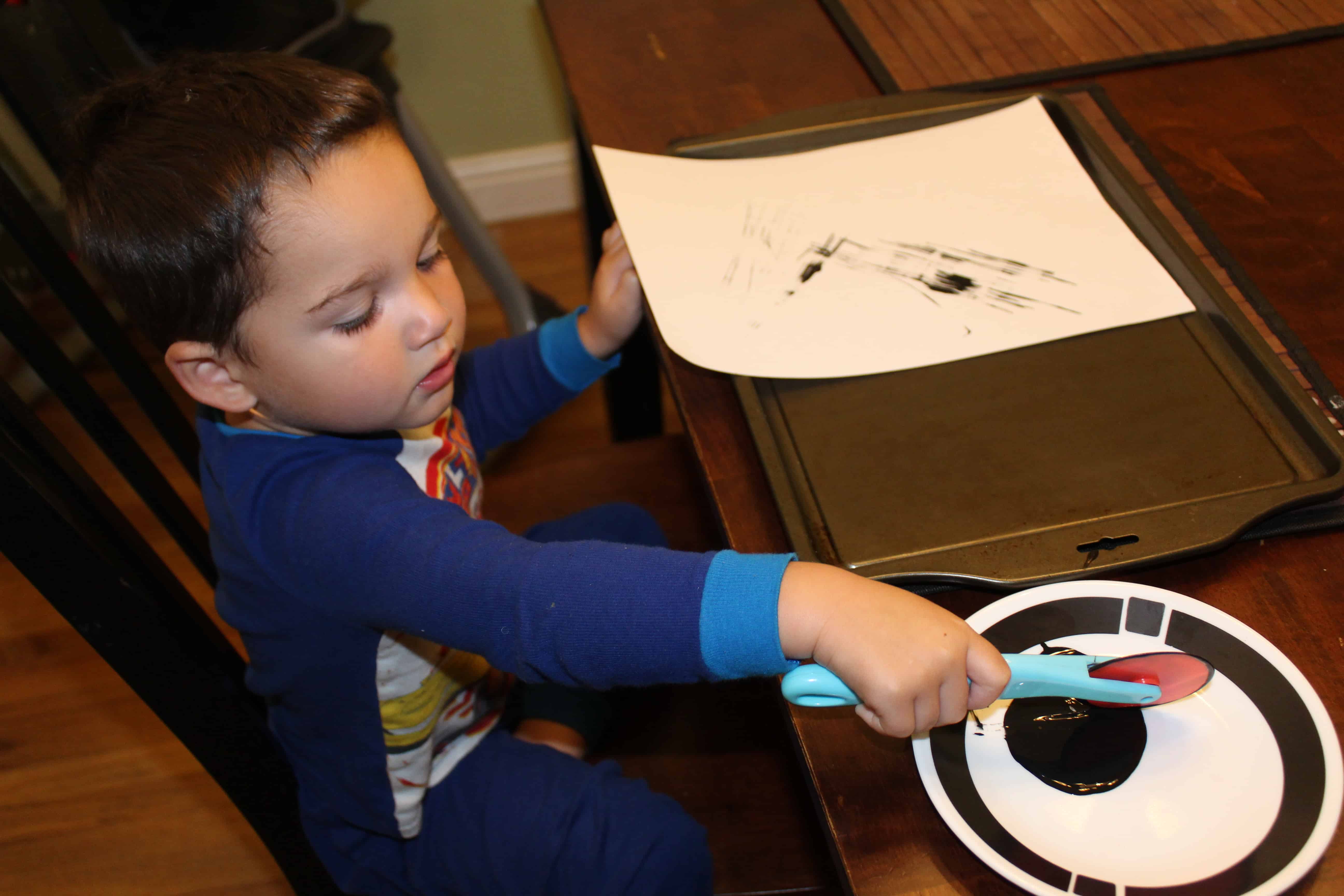 Abe knew right away that he wanted to paint with the playdough tool, but he needed some help "loading" the tool with paint. I helped him spin it all the way around with his finger to get it fully coated.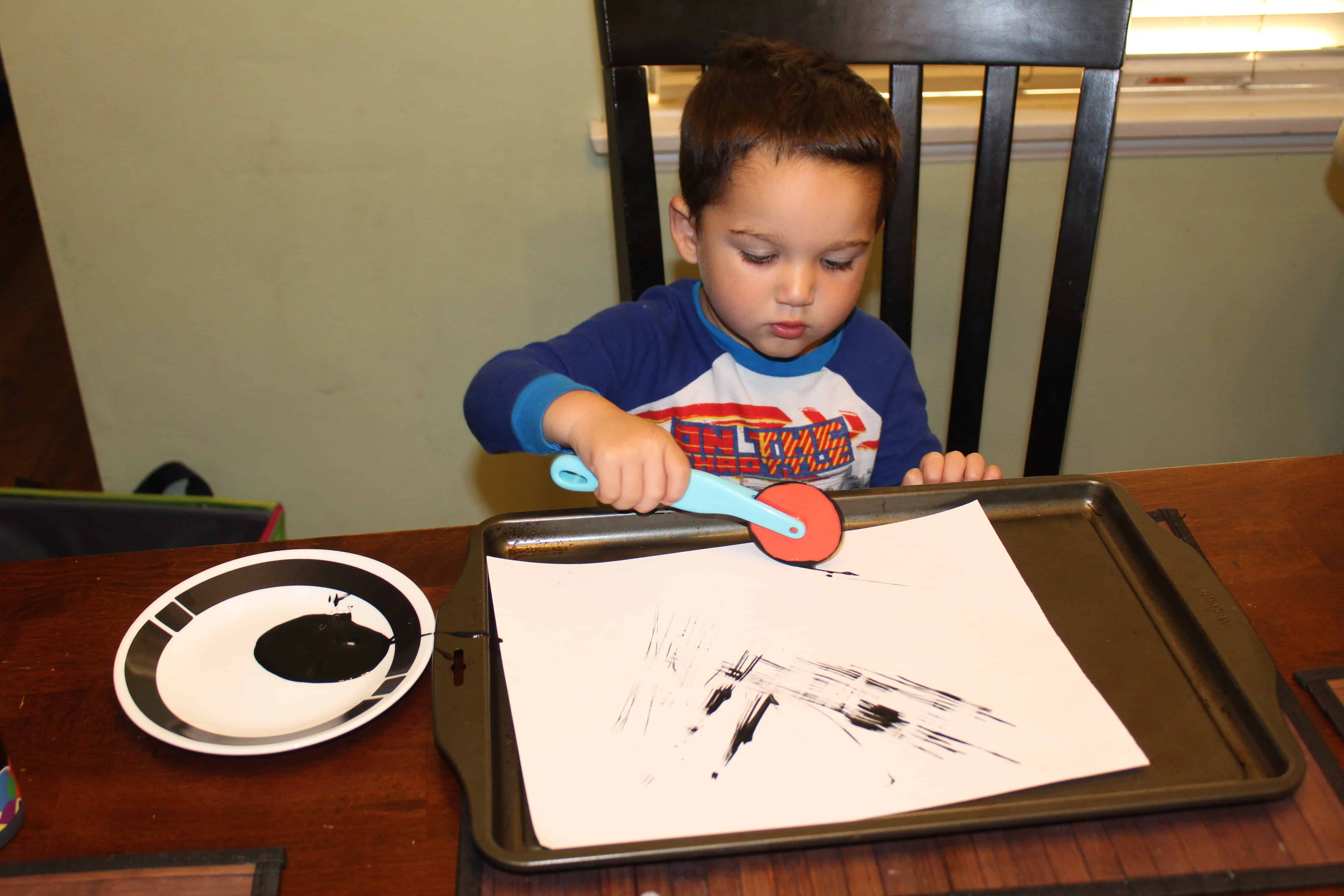 And he was off! He really enjoyed the big movements of creating lines back and forth across the paper. Don't worry if it's not looking as much like a "web" as you would like.  It's about the creating, not the outcome!
And once you add a spider (we found a plastic Halloween ring, but you can also use these Halloween stickers), it will certainly look a lot more like a web.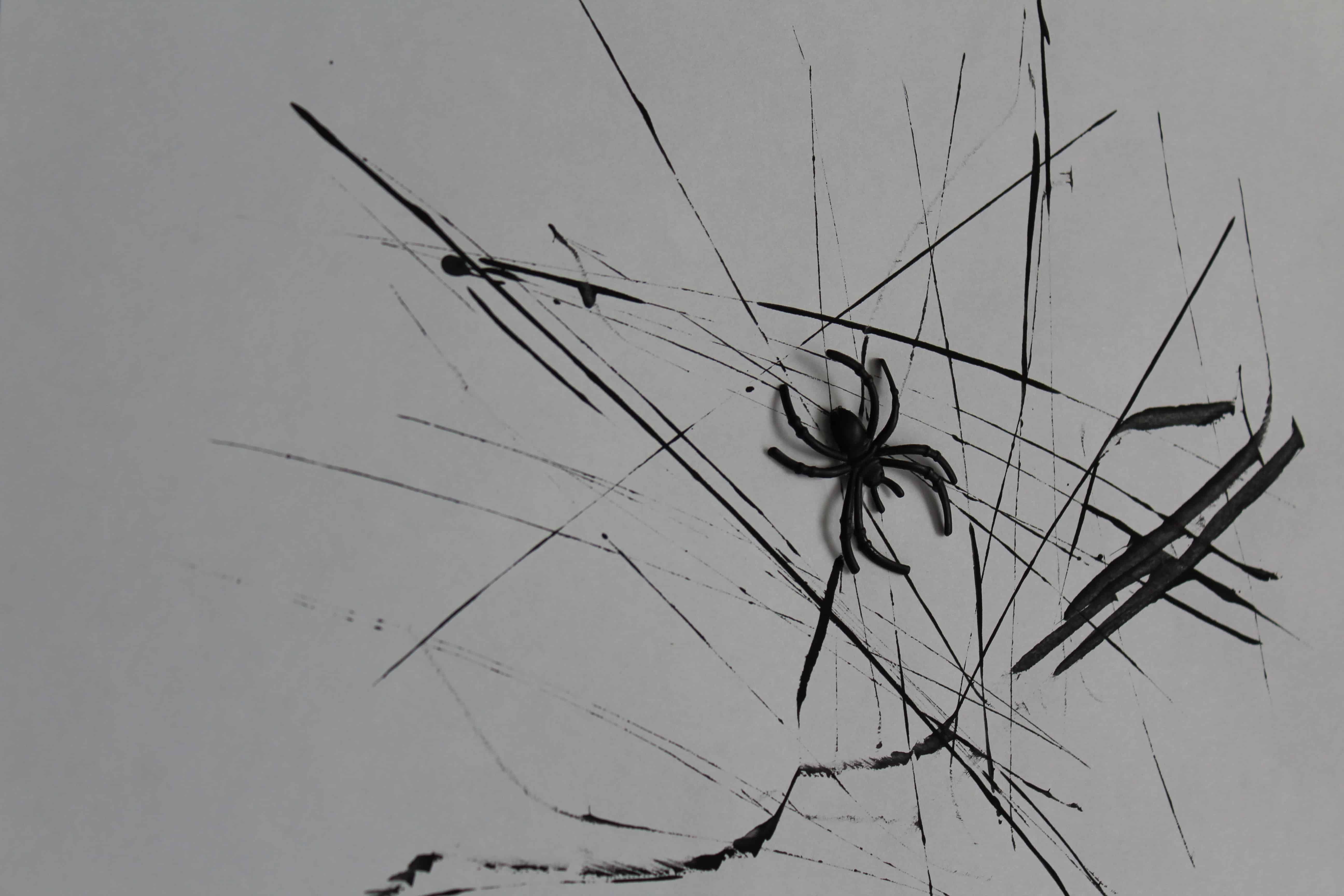 *******
You don't have to give up cute products for the sake of process art, and we hope this collection of Halloween art for toddlers has showed you just that. Which one would you be most likely to try?
Looking for more Halloween fun? Check out these posts:
Recommended for You: