Have you tried GIGIL's STEM Kits yet? These at home STEM subscription boxes for kids will have your kids learning, experimenting, and turning into Jr. Scientists before you know it! Read on to find out why we love GIGIL STEM Kits for kids (and snag a code for 10% off!).
This GIGIL STEM Kit was provided to us at no cost in exchange for an honest review, at our request. All thoughts and opinions are our own (and we really do LOVE GIGIL!)
With an engineer for a dad and a teacher for a mom, science is a HUGE priority in our house. But with the unstable school situation this past year and a half, schools have been focused on the basics.
Which, as a teacher, I totally understand.
But the result is that my 8 year old has had virtually no science instruction for the last year. We needed a way to fill in the gaps, and that's where GIGIL STEM kits came in to save the day.
With a focus on actual, real live science standards and ALL the materials you need to complete the activities, this science kit for kids delivers a big punch in a format kids can really get into.
Let's bust into that box, so you can see what you'd be getting (and why you're gonna love it!) in this honest GIGIL STEM Kit review.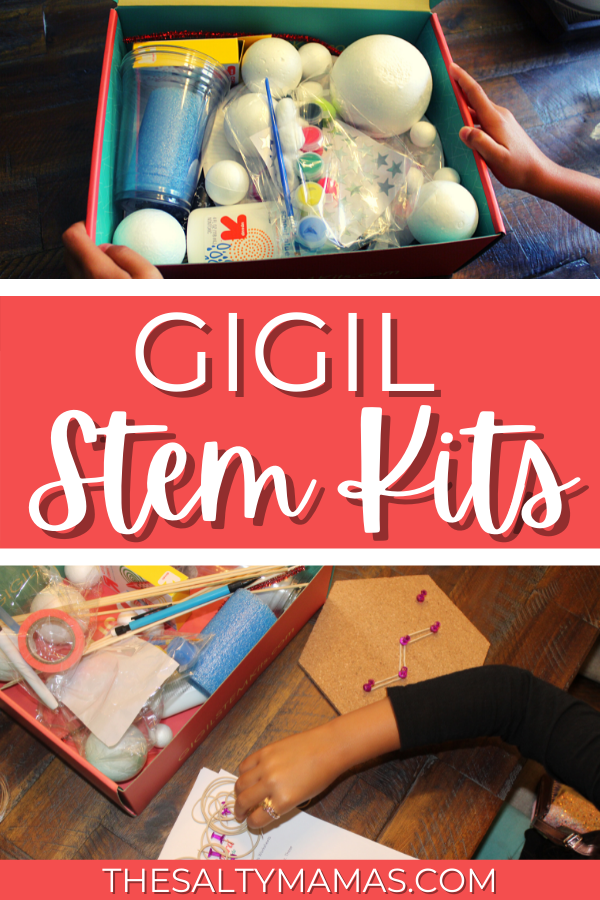 This post contains affiliate links. We may earn a commission on qualifying purchases. You can read more at our disclosures page. Thanks!
What Is Different About GIGIL STEM Kits for Kids?
There's more than one STEM subscription kit on the market, but we truly are partial to GIGIL's. Why?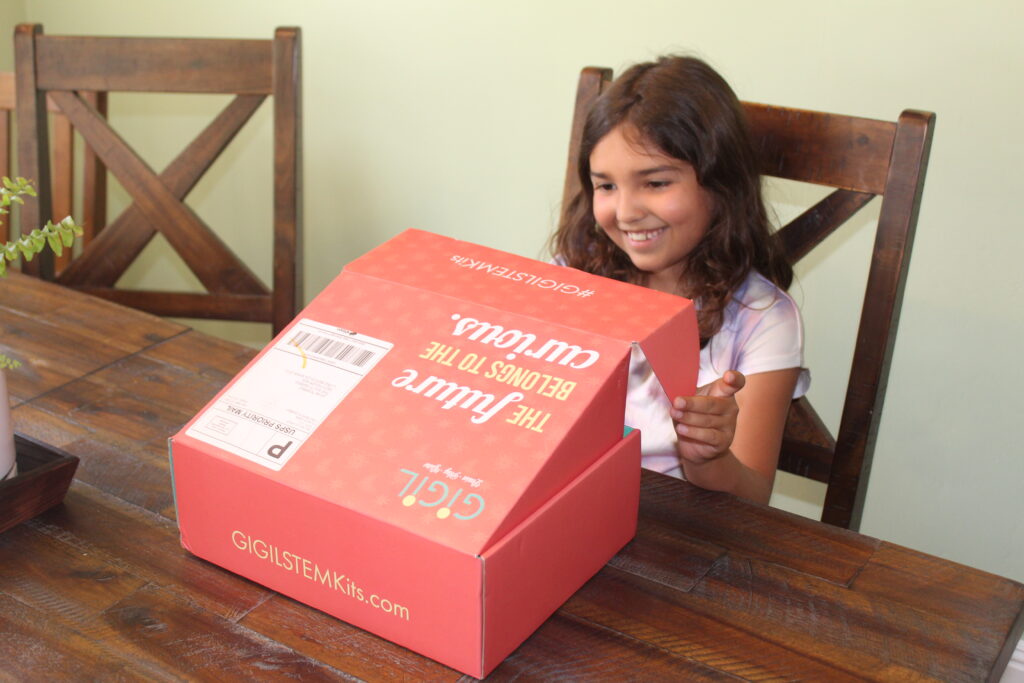 GIGIL's STEM kits are designed by a team made of a credentialed teacher and a homeschooling mom. They are full of the scientific content and activities that students should be doing in the classroom (but often don't).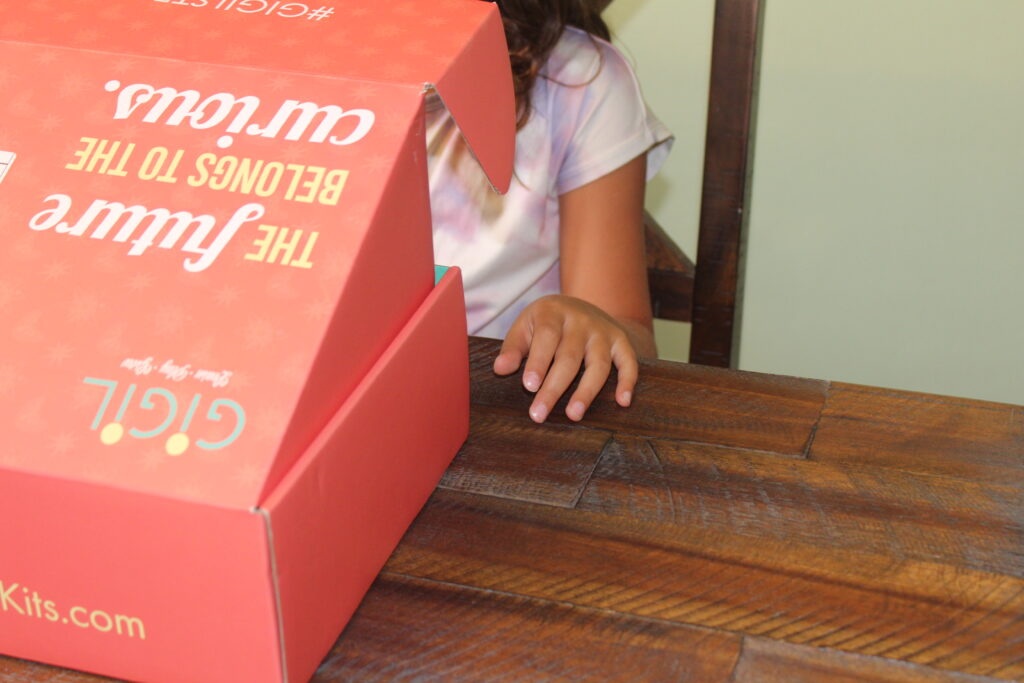 With a focus on learning, exploring, and hands-on activities, your kids are really going to enjoy deep diving into various topics in a meaningful (and fun!) way.
What Ages Are GIGIL STEM Kits Good For?
GIGIL's STEM Kits are divided into age ranges. There are different versions for kids in grades TK (Preschool) to 1st Grade, and a kit for kids in grades 2nd through 5th.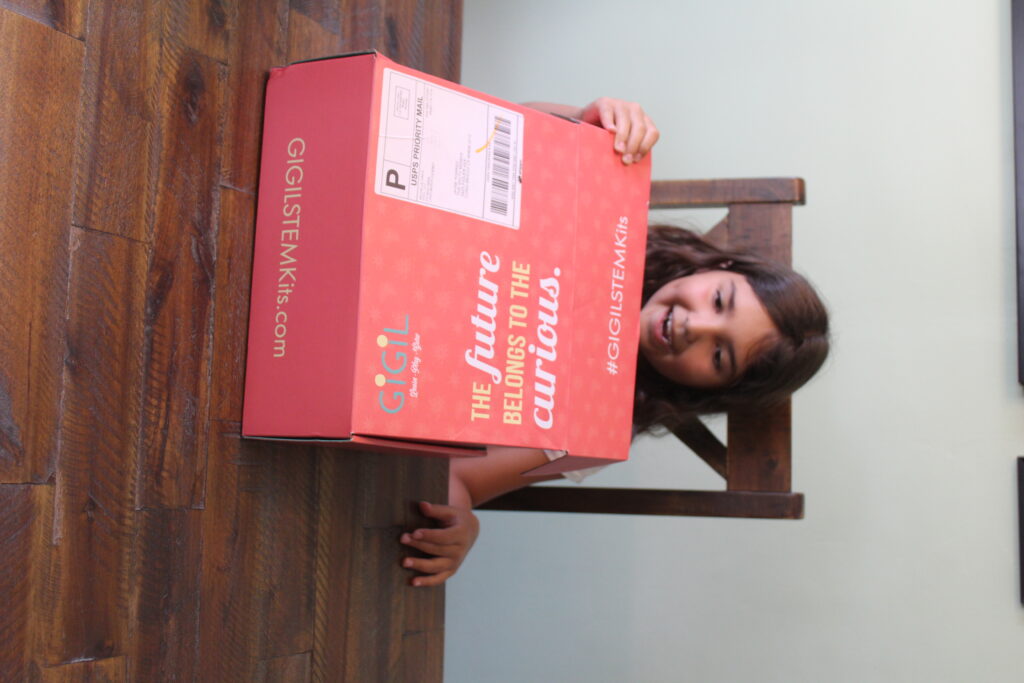 There are even boxes for middle schoolers! Kids in grades 6th through 8th will love the unique content in the Out of This World Box, and the real life STEM challenges in the "Bridges" Kit.
What Comes in a GIGIL STEM Kit?
What you get really depends on which kit you purchase.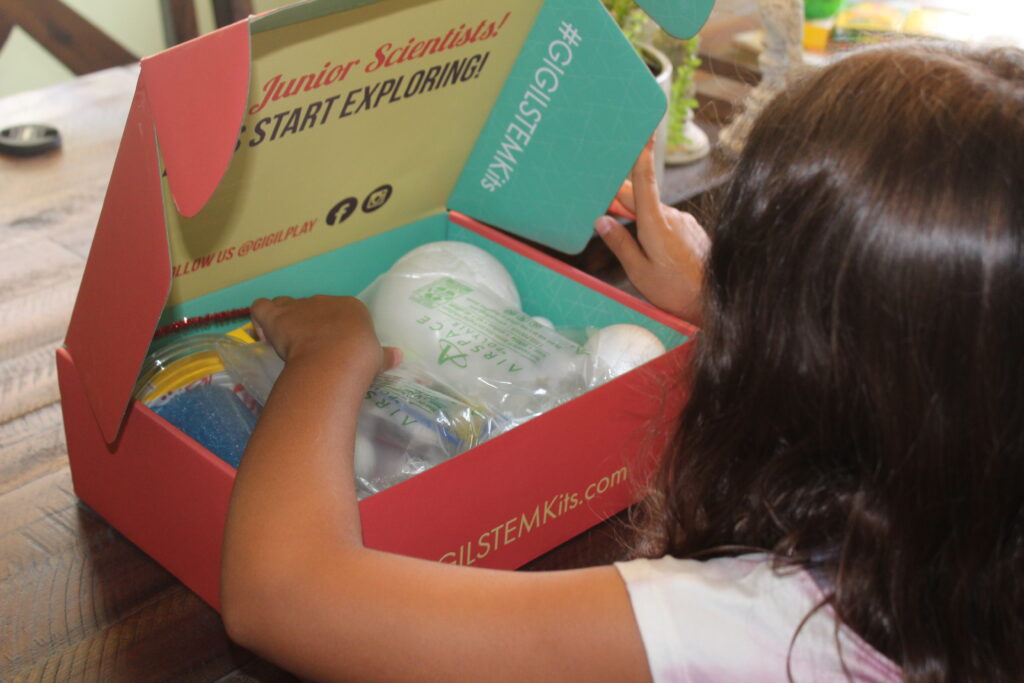 Boxes are available as subscriptions, for which you'll get a box delivered monthly on a different STEM topic (recent themes included "Reach for the Stars," which is featured here, and "Jr. Archaeologist.").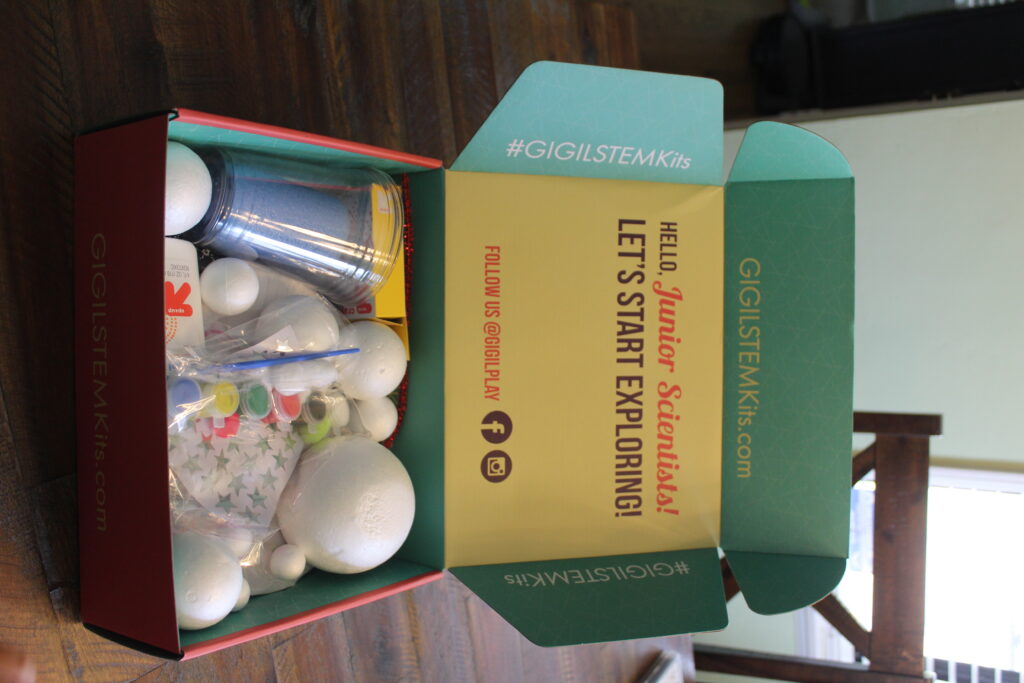 Standard boxes include a link to a video lesson taught by a teacher, five activities, and ALL (like, including scissors and glue "all") the materials you need to complete the activities (you might have to supply some items, like water or the like, but only if it's stuff you're sure to have).
You can also snag Mini versions of these kits, which come with three activities instead of the usual 5.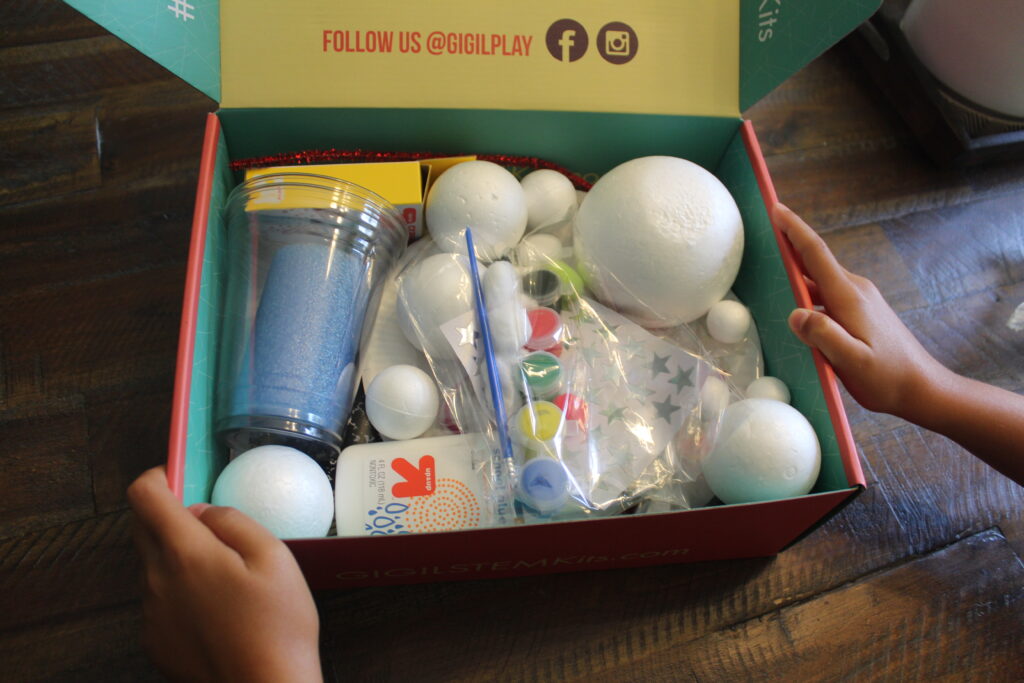 You can also purchase single boxes on the theme of your choice. These elite kits come with 5 video lessons in addition to the materials, so kids can be more independent with these. (They also align beautifully with sience standards)
Would GIGIL STEM Kits Make a Good Gift?
GIGIL's STEM Kits would make a fantastic gift for the little scientist in your life. I love that they come with EVERYTHING the kids need, so you won't be causing a lot of stress for the parents like some kit boxes do.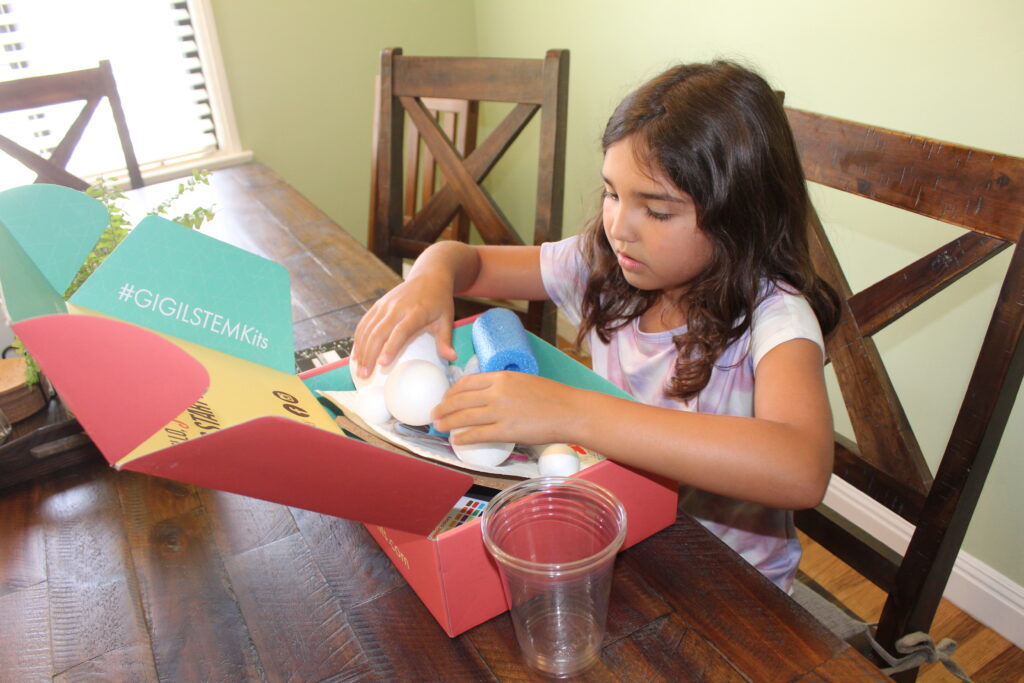 They also come in a super fun box of goodies. Kids will love to unbox them, choose an experiment, and then go back for more later.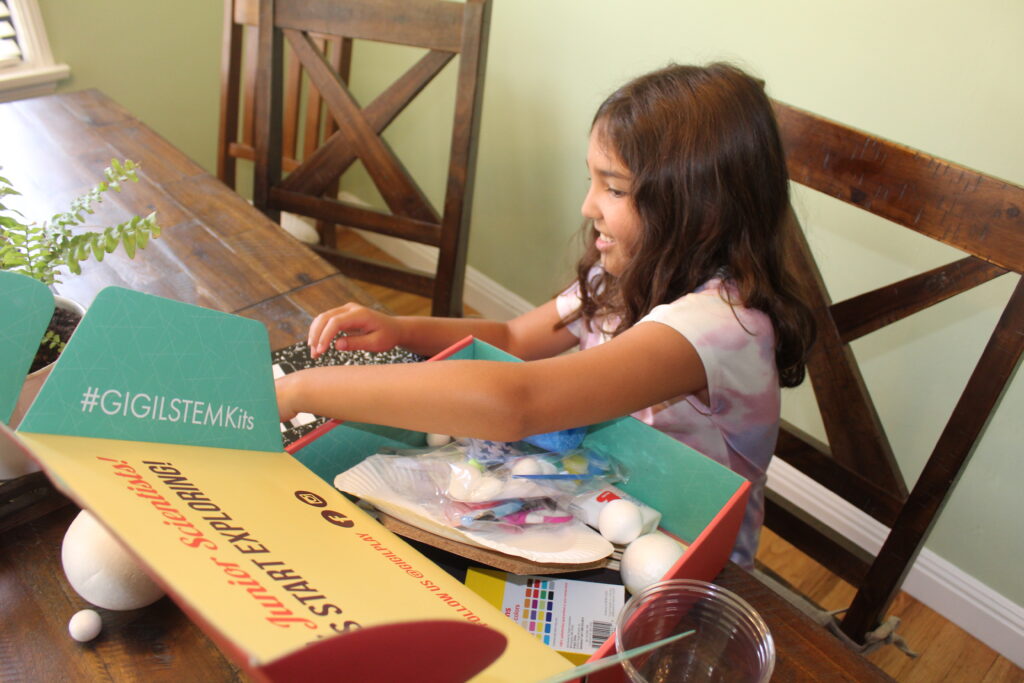 You can choose to send just one box, or send a subscription (what kid doesn't love to receive mail?) (AND you can get 10% off a subscription using code SALTYMAMAS)
Our Honest GIGIL STEM Kit Review
My daughter was SO.DANG.EXCITED. to get this gorgeous box in the mail. Even more exciting? When she opened it up and saw that it was positively packed full of goodies for her to use.
"They even gave me CRAYONS mom!"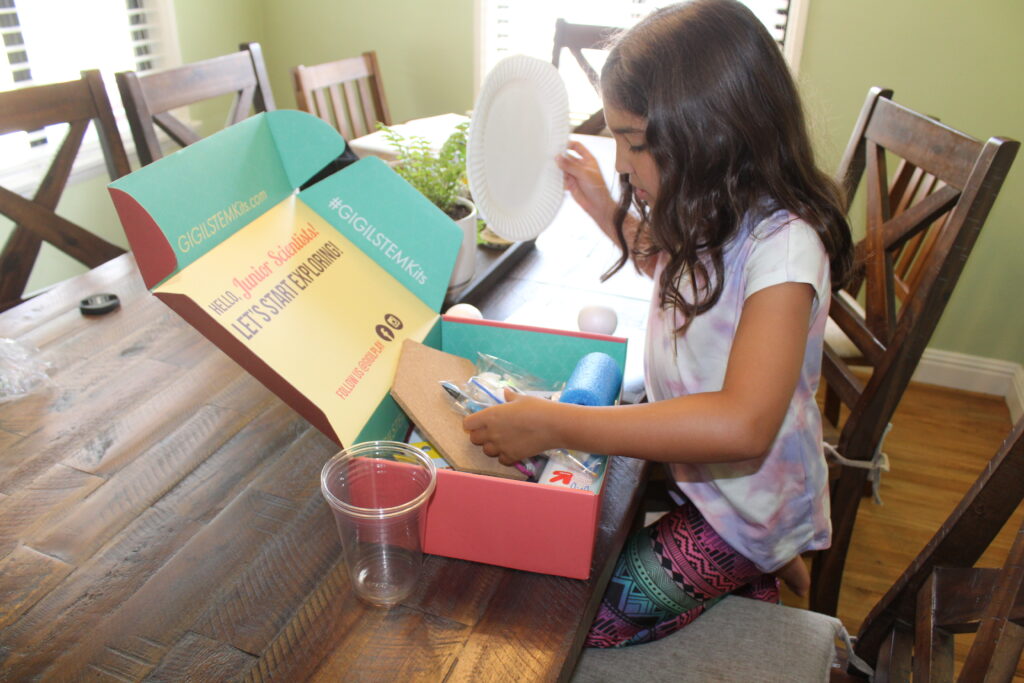 I'll be honest with you- I had avoided snagging a GIGIL kit on our own for a while. I had seen them online, and since I'm a credentialed teacher, my first thought was, "oh, I could probably do that with the kids on my own."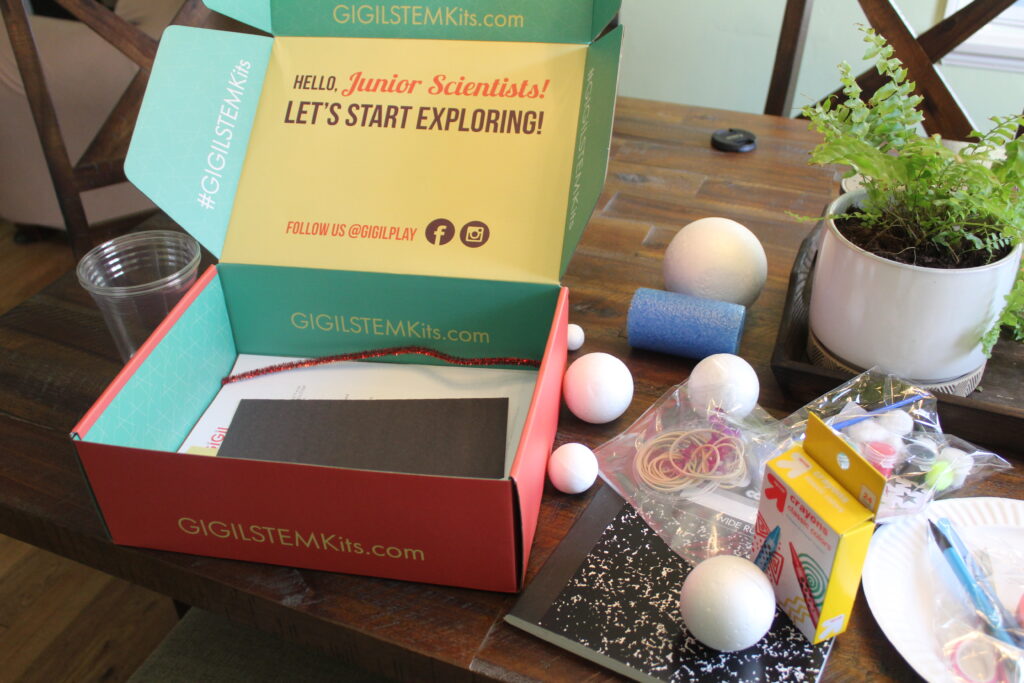 But guess what? I had the best intentions, but I didn't do a single science lesson with my kids, despite me saying "I could do that myself." After a full year, I realized that I WASN'T doing it on my own, and needed some help to get it done.
GIGIL's STEM kit took away all the procrastination. I didn't have to print anything, or track down the scissors, or remember to order a part or piece from Michael's. It was all there and ready to use.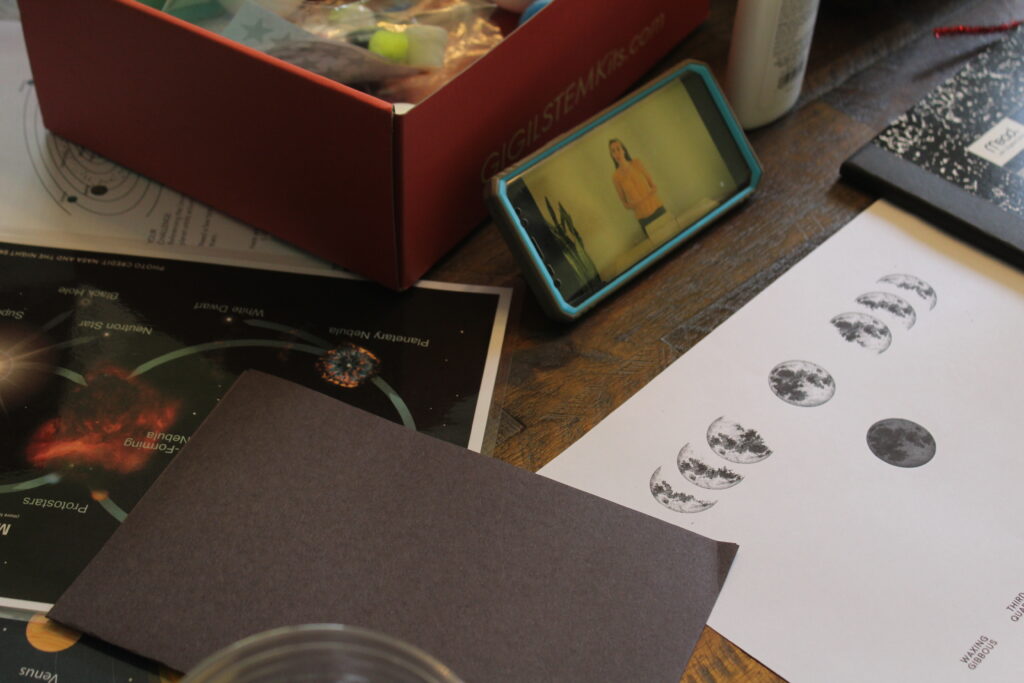 In two days, my daughter tackled an entire 2nd grade science unit, giving her more science activities than she had literally had in a year.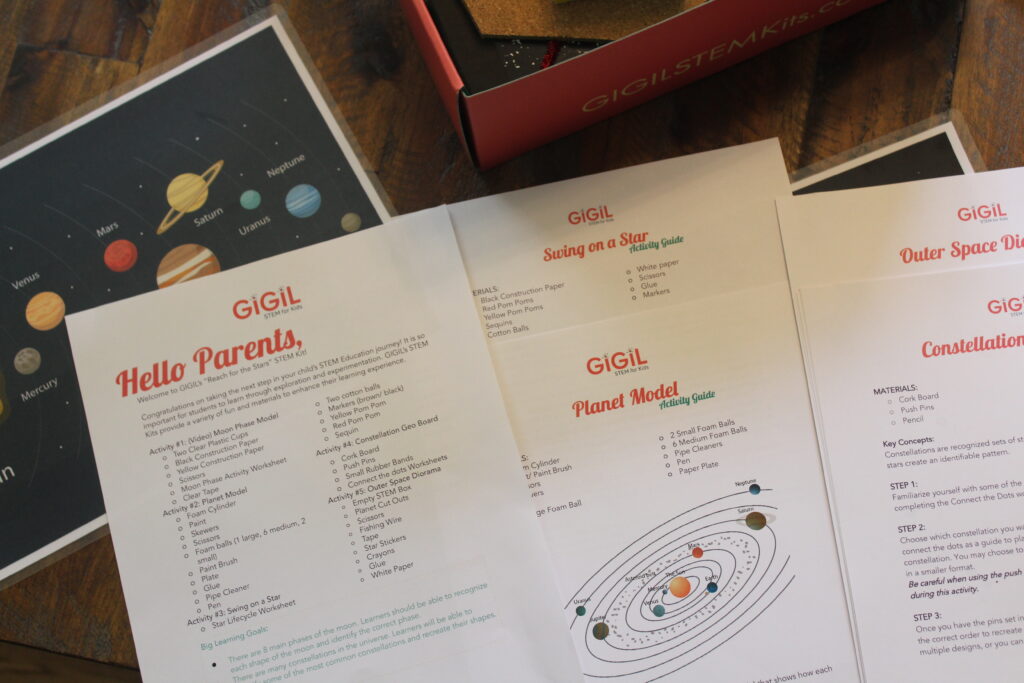 So could you do this on your own? Maybe. But the real question is will you. And the answer for me, anyways, is that I needed GIGIL's help to stop thinking about doing science with the kids and actually START doing science with the kids.
The Best Part of the STEM Kits?
The kit itself, as you've already seen, is fabulous. But my favorite part is how the kit encouraged my kids to think scientifically, and to branch out each activity into something new.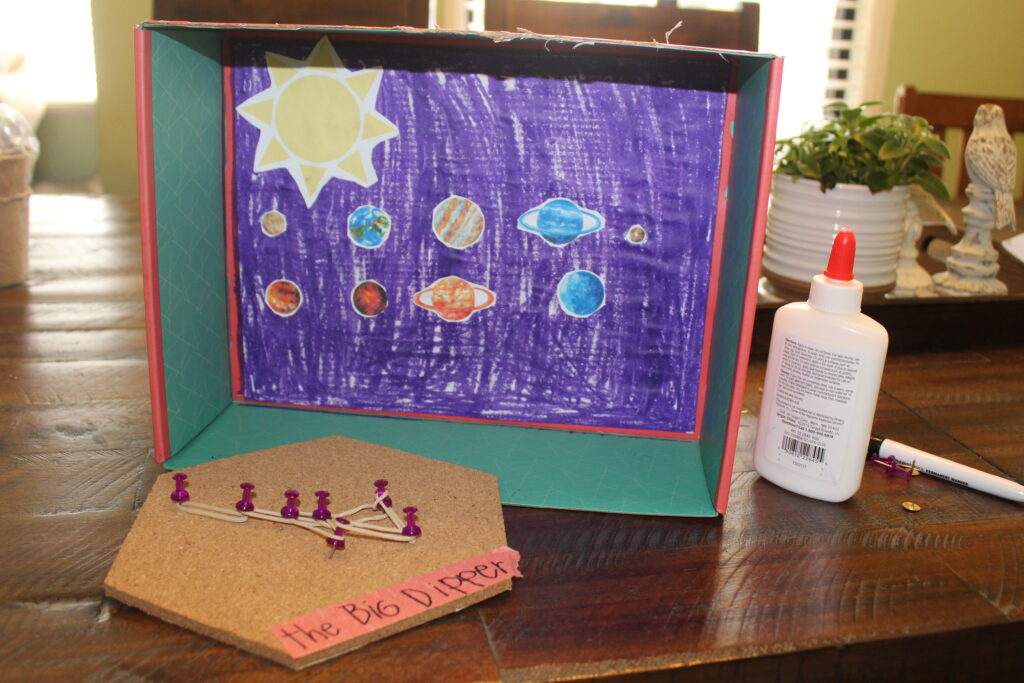 For example, in the constellation activity, they first did a connect the dots activity to make the constellation, then designed it on cork board using pins and rubber bands.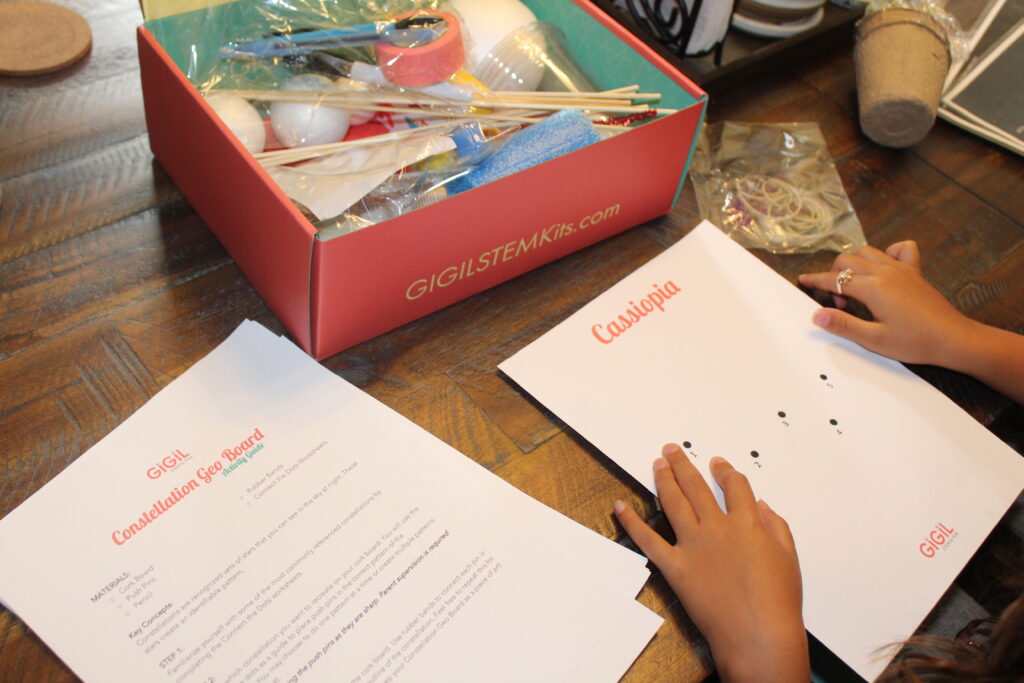 But it didn't stop there. They wanted to research the stories of how the constellations got their names. They wanted to draw pictures around the stark dots and lines to help them see the figures the constellations were named after.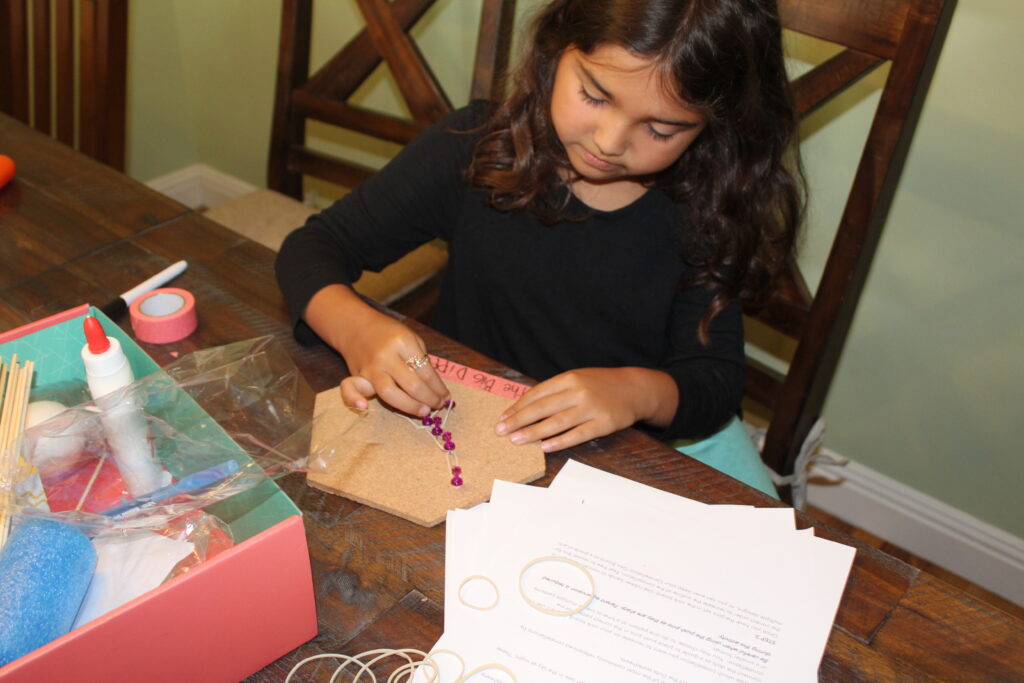 They wanted to hear the legends of each constellation.They wanted to make their own constellations, and keep exploring geometric shapes made with push pins and rubber bands.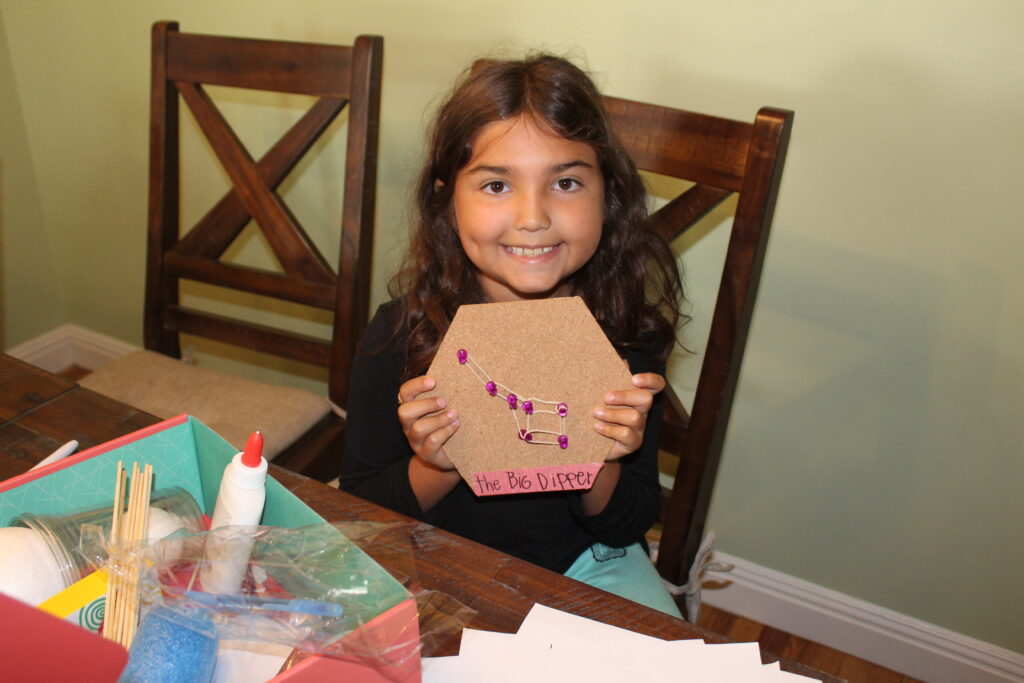 So yes, the activities are fabulous. Yes, my kids learned a ton. But the curiosity the crates inspired? The encouragement the kit gave my kids to explore?
By far, the spirit of a scientist is the best thing that came out of our GIGIL Stem Kit.
How You Can Get Your Own GIGIL STEM Kit
There are a couple of different ways to get a GIGIL STEM Kit of your own: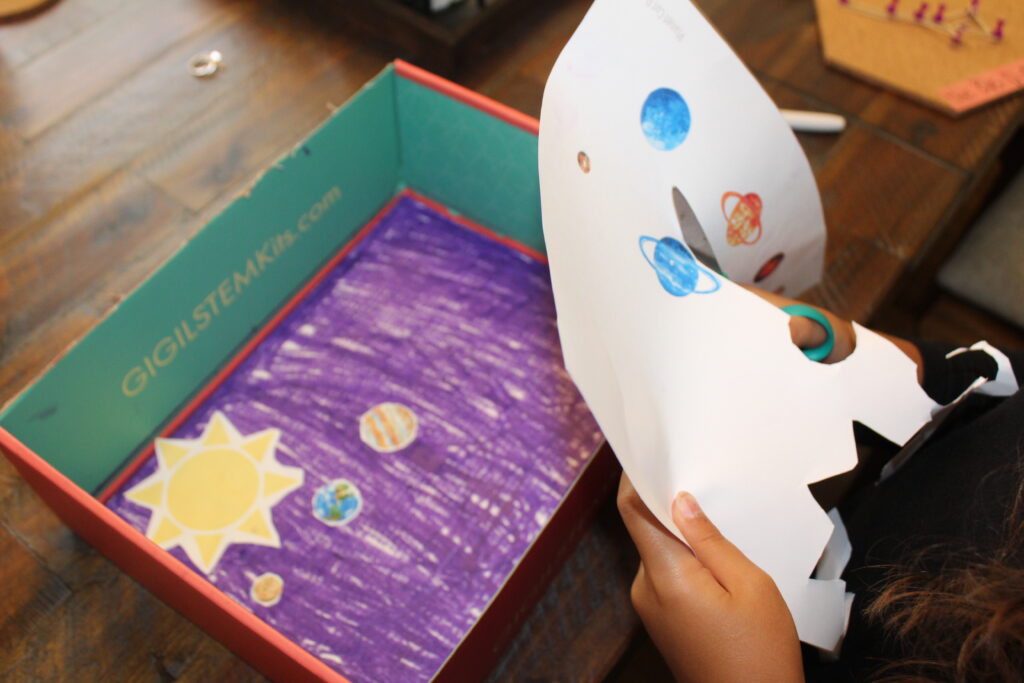 Use Charter School Funds! GIGIL is an approved distributor for many charter schools. Check their Charter Schools tab to see if your school is an approved partner (or request it if they're not!)
Make Use of Free Homeschool resources first! Michele, GIGIL's owner, is a homeschooler herself! Make use of the free resources on the site to see if GIGIL would be a good fit for your homeschool curriculum.
Grab a Kit for Yourself! There are options for every budget at the GIGIL Shop. Grab a mini kit, an elite kit, or sign up for a subscription. We have a code for you too- use SALTYMAMAS to save 10% on any product (even subscriptions)!
*******
Don't just take it from us though- experience the easy to use, easy to love goodness of a GIGIL STEM Kit for yourself! You can snag a kit at 10% off using code SALTYMAMAS (or grab a couple to stock your gift closet for all those parties that are popping up!)
Looking for more STEM fun? Head here next-