Tired of fighting with your son or daughter about taming that hair? We've got some hairbrushing tips for kids that will help you figure out how to brush your child's hair (without all the pain, fuss, and fighting!)
I used to LOVE styling my daughter Lila's hair. It took just a minute to brush, and then we'd spend some quality time putting it in the cutest little updos. I'd section it off, put it in cascading ponytails, or braid it. At the very least, she had sweet little pigtails (with matching bows, obvi).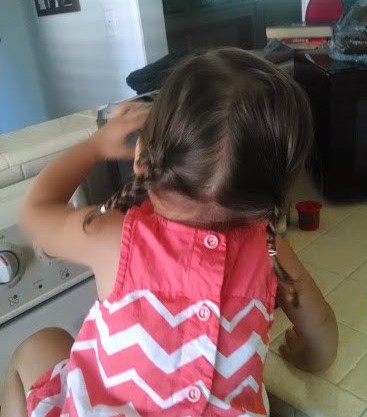 I was pretty sure I would be that mom- you know, the one whose daughter always has perfect hairstyles, the mom who doles out hair brushing tips for kids to all the other moms. I was going to NAIL this kids' hairstyles thing.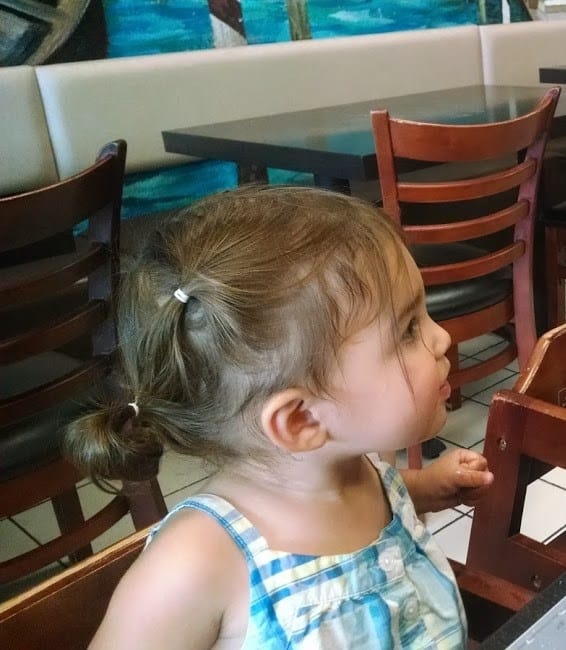 Then her hair got longer. And wavier. And drier. And more tangled. All those sweet memories of styling? They were replaced with a fight equivalent to trying to wrestle an angry baby possum. And at the end of it, her hair still looked like this.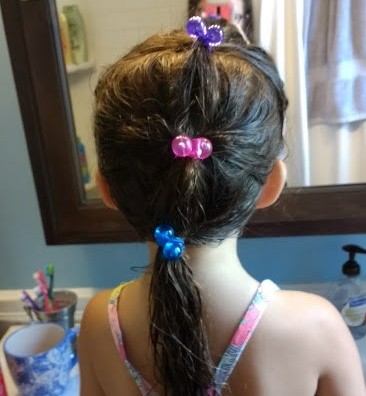 I just couldn't take fighting with her every.single.morning. She would cry when I brushed her hair, and I had no idea how to get tangles out of fine hair. She would cry, and I would cry, and it started the morning off on a terrible foot. I found myself with no choice but to up my game.
So if you find yourself in the same position, we've got some amazing hairbrushing tips for you that will make removing tangles SO much easier. Read on to discover how to brush your child's hair without tears- and all that drama!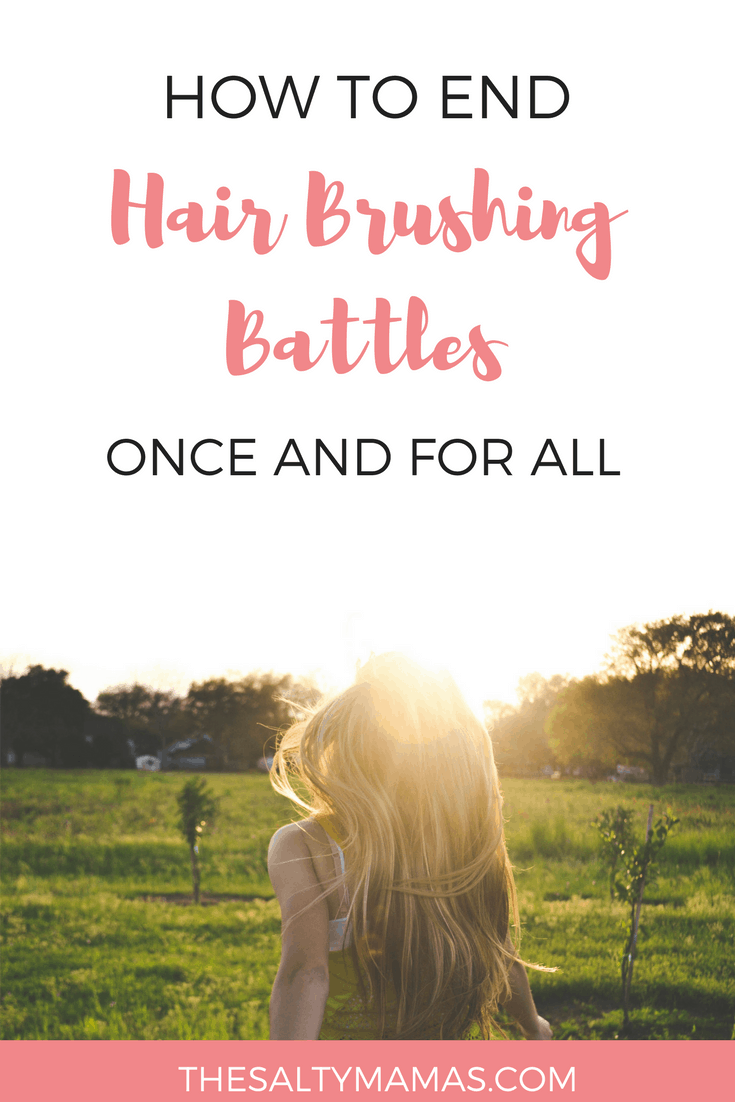 This post contains affiliate links. You can read more at our Legal Page. Thanks for your support!
Step One- Wash with Rock Your Hair Shampoo
First things first- we've got to get all the sand and sticks and stones out of this hard-playing little girl's locks. We use the Rock Your Hair Shampoo to get Lila's hair squeaky clean first (have you heard of this brand yet? It's beyond amazing.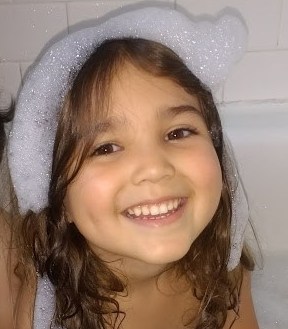 And I think Lila tolerates this step better because the shampoo happens to come in a super-pink, super sparkly bottle! Rub it into the hair and scalp gently to make sure that you're not adding extra tangles during this step.
Step Two- Apply a Cream Hair Mask
For a while, I was using the classic two-in-one kids' shampoo and conditioner sets. As Lila got older and her hair got drier, it just wasn't cutting it anymore. I used adult conditioner for a while, but I wasn't pleased with the weight it added- her hair began to look greasier as time went on. Finally, we found a solution- hair masks.
These deep conditioning treatments are best used about once a week (or more if you find it's needed and your child's hair responds to it). We love two- the Moi Moi Hair Masque, which is on the pricier side, and Garnier Whole Blends Nourishing Hair Care with Avocado Oil & Shea Butter Extracts, which is much more affordable.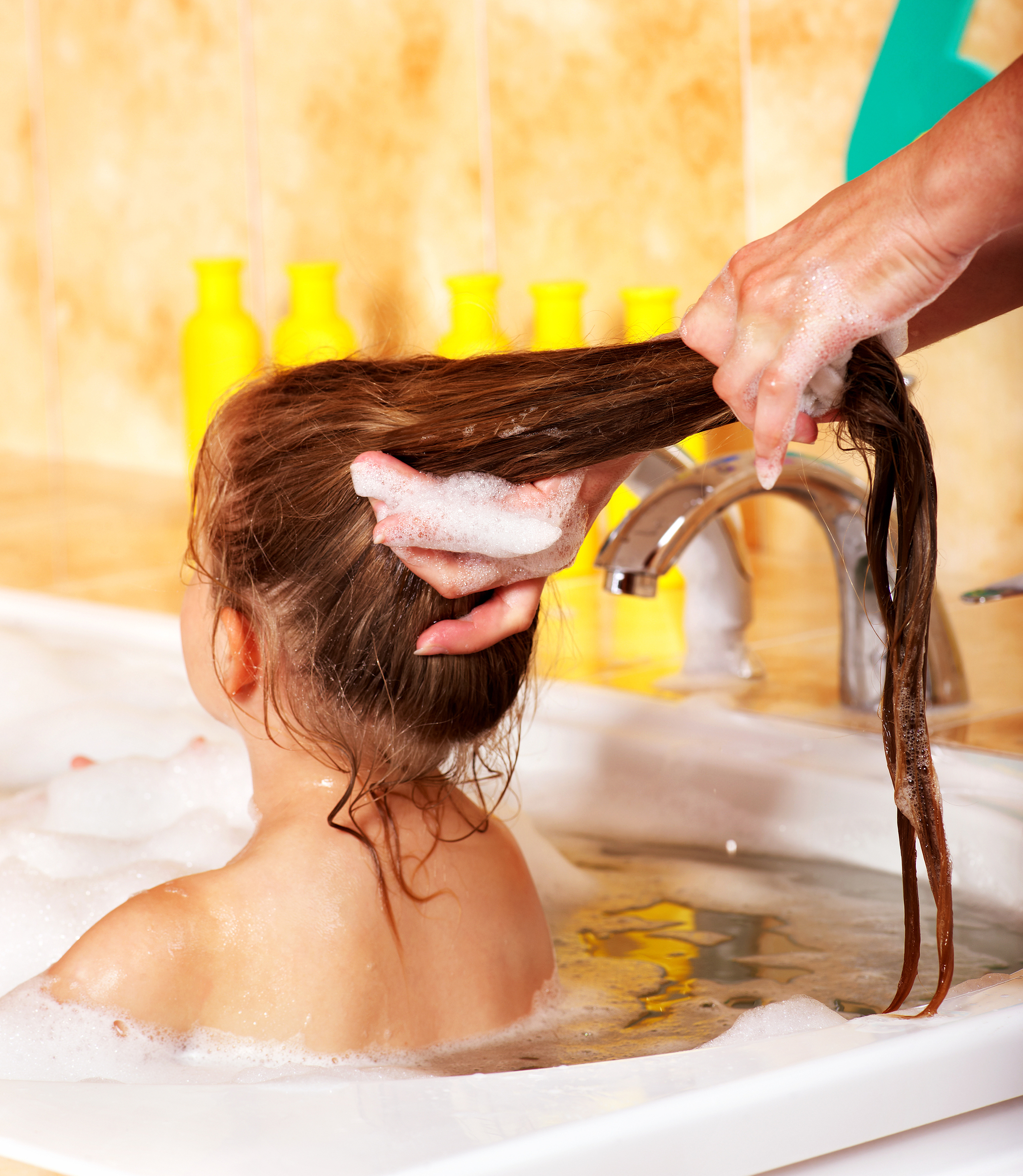 I apply it when she is in the bathtub, let her play for a few minutes (these bath tub crayons work wonders to keep them busy!), and rinse it out. Be cautious, though- these are adult products and are not certified Tear Free.
After trying a MILLION detanglers, we finally happened upon the BEST.ONE.EVER. We were lucky enough to receive an up-do from Rock Your Hair's creator, Michael O'Rourke (the genius behind the Big Sexy Hair brand). He's turned his attention to younger clients now, and we could NOT be more pleased with the products.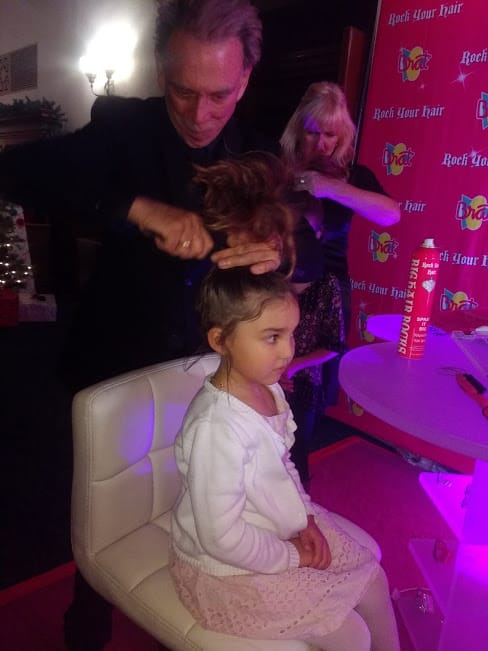 The detangler in particular is light, fresh, and smells delicious. It doesn't add any weight to the hair, and it makes combing it out about a million times easier than it was before.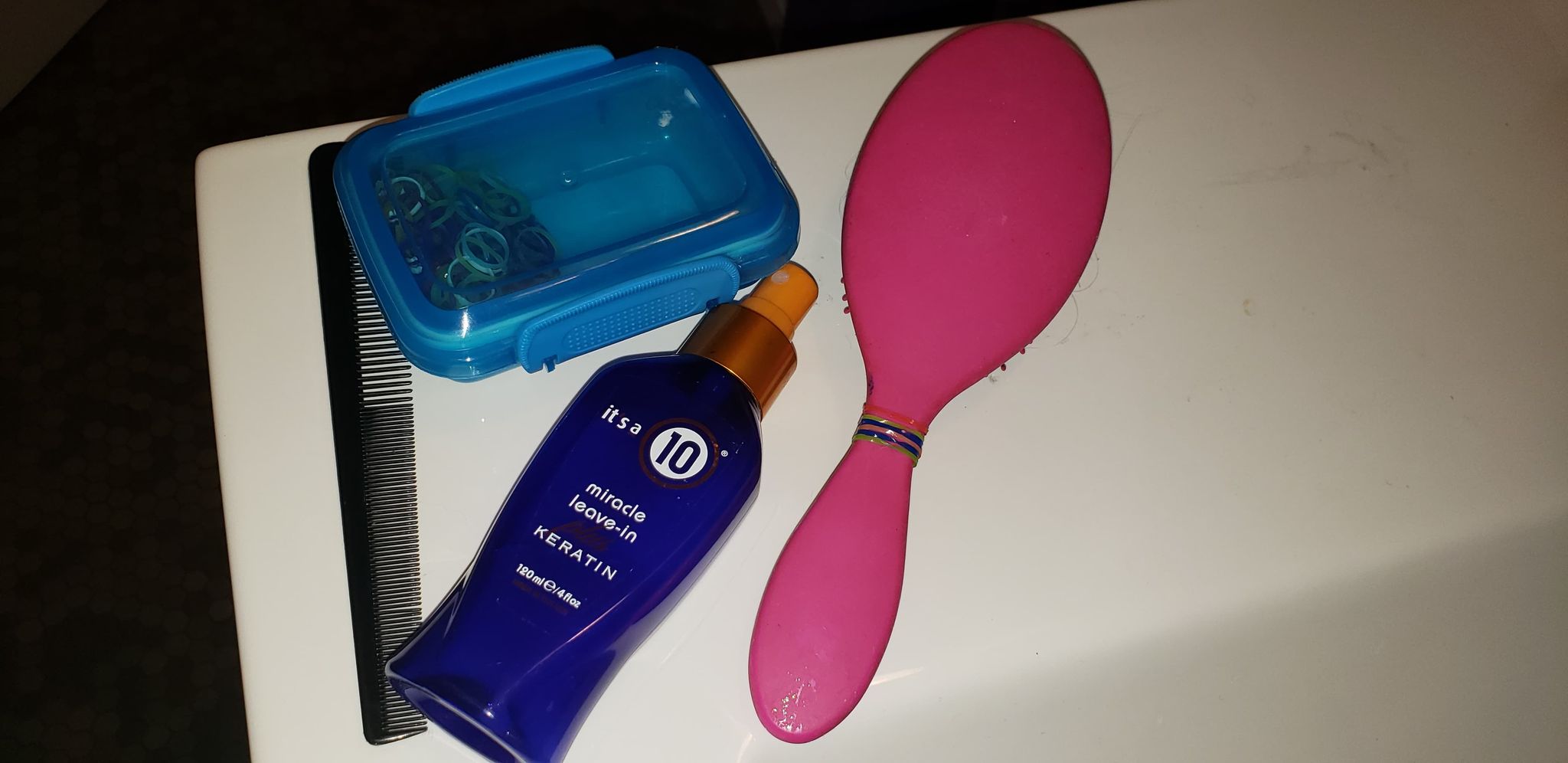 If you need hairbrushing tips for kids with dryer, thicker, or more damaged hair, we recommend this Keratin leave in conditioner from It's A 10. Now that Lila is older, it seems to work better at getting the tangles out of the bottom of her hair.
Step Four- Use a Wet Brush
I'm gonna cut to the chase- the Wet Brush is a miracle. The design doesn't appear to be any different than a typical brush when you first look at it, but it is able to get through the finest (or thickest!) hair without pulling or snagging.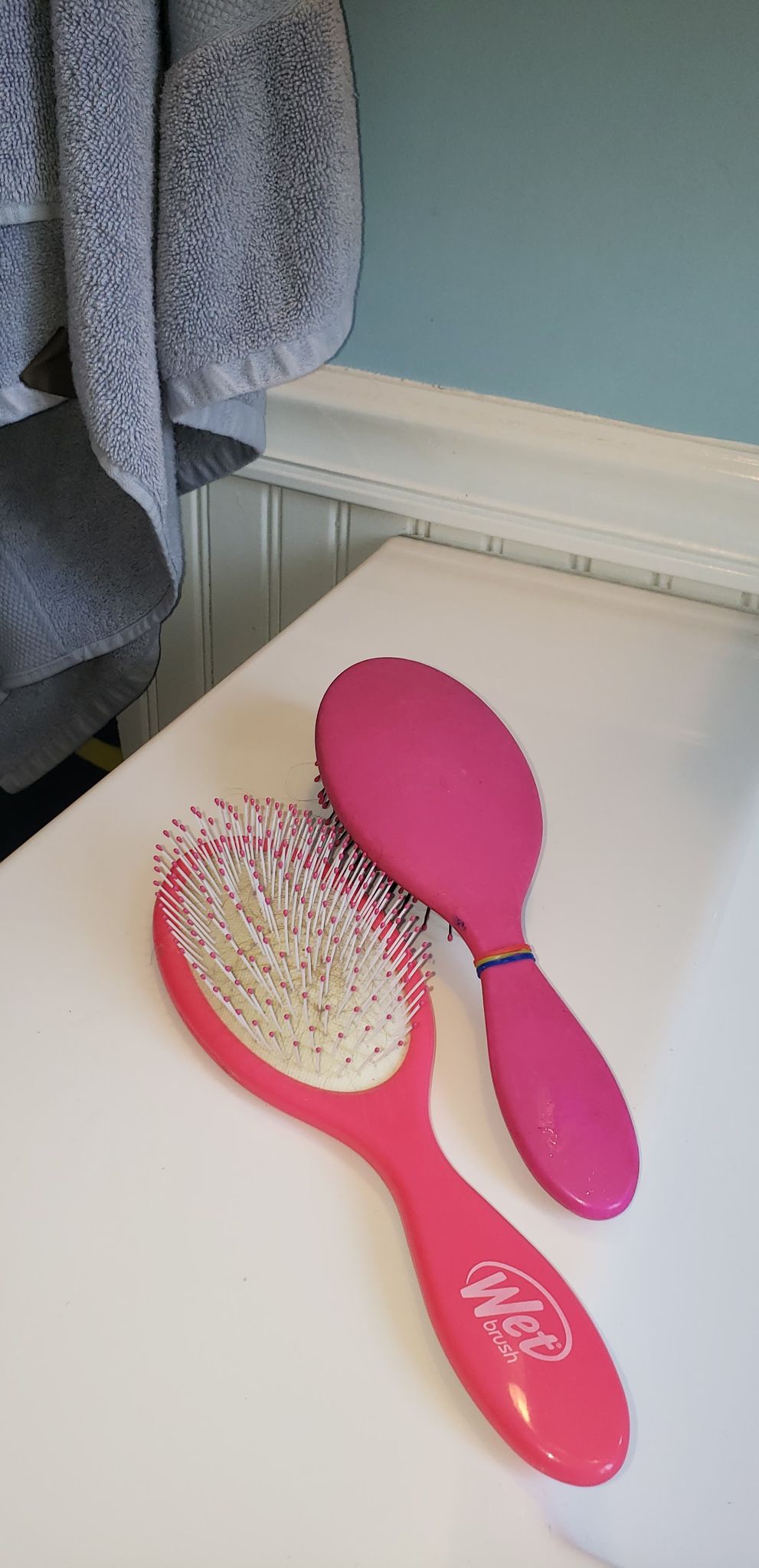 It smoothes out the hair like magic, and can decimate a rats' nest in just a minute or two. If you only follow one of our hair brushing tips for kids- let this one be it.
Step 5- Comb it Out
Now we do love the Wet Brush, but if you are trying to brush super-fine kids' hair with lots of tangles, it may pass over a spot or two without handling all the little knots. If you don't address them, these tangles will just get worse over time.
So at least once a week, we do a big comb out.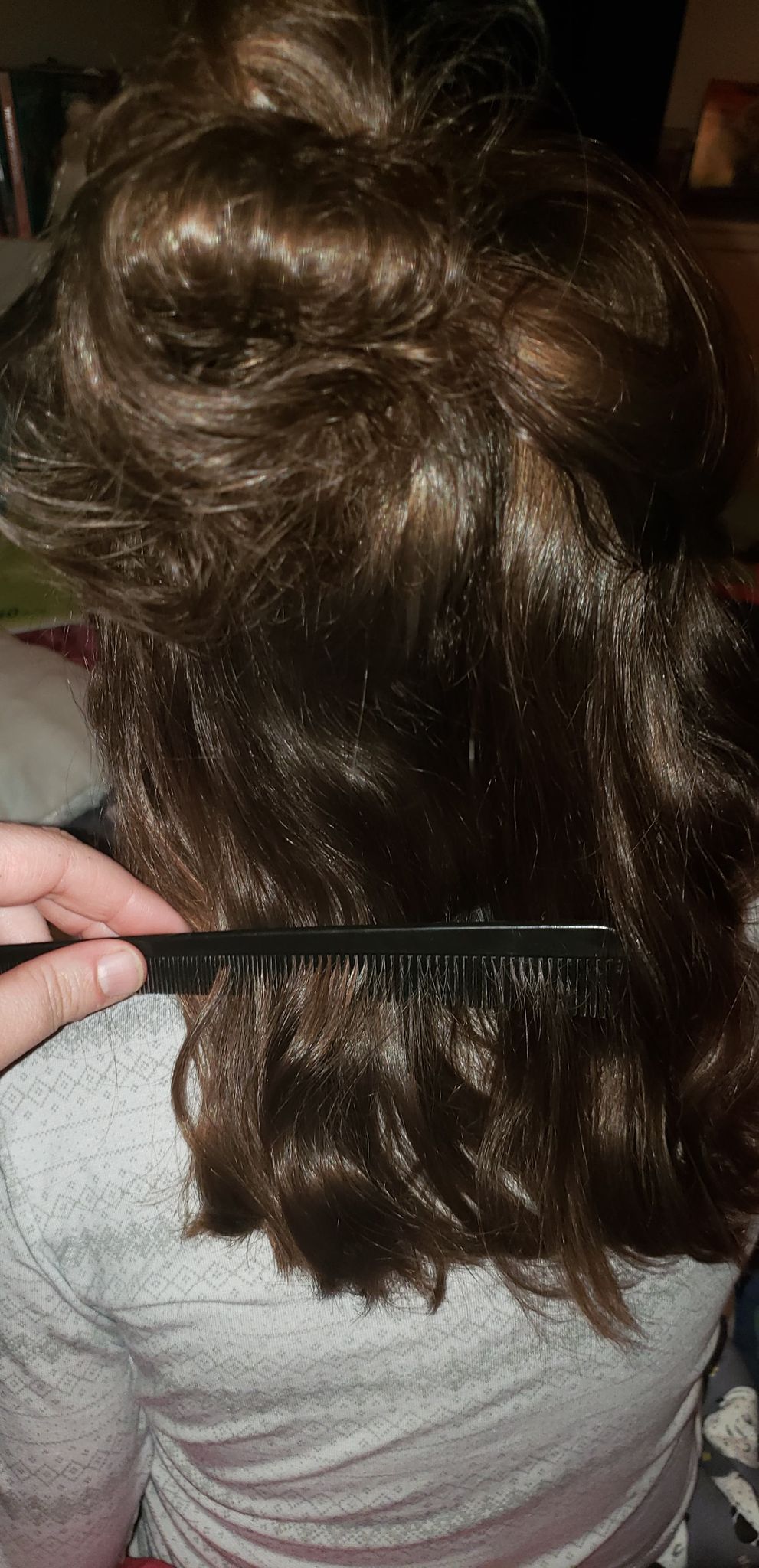 I am shameless in my use of snacks and YouTube videos during our big combing session, as this can be a less than comfortable experience. But if you don't do it, you'll only be creating more problems for yourself later down the line.
First, divide the hair into sections (above, I put half up so I can work on the tangles underneath first). Tackle the bottom first, then let down the hair on top and comb the tangles out of it, too.
And since most days consist of a quick session with the Wet Brush on the way out of the door, you don't have to feel too bad. It's worth it to save time- and tears!- during the week.
Step 6- Protect Their Hair
If your child's hair tangles easily, take steps to prevent tangles as much as possible. Immediately after combing, I put Lila's hair into braids so her hair won't get into knots as she sleeps.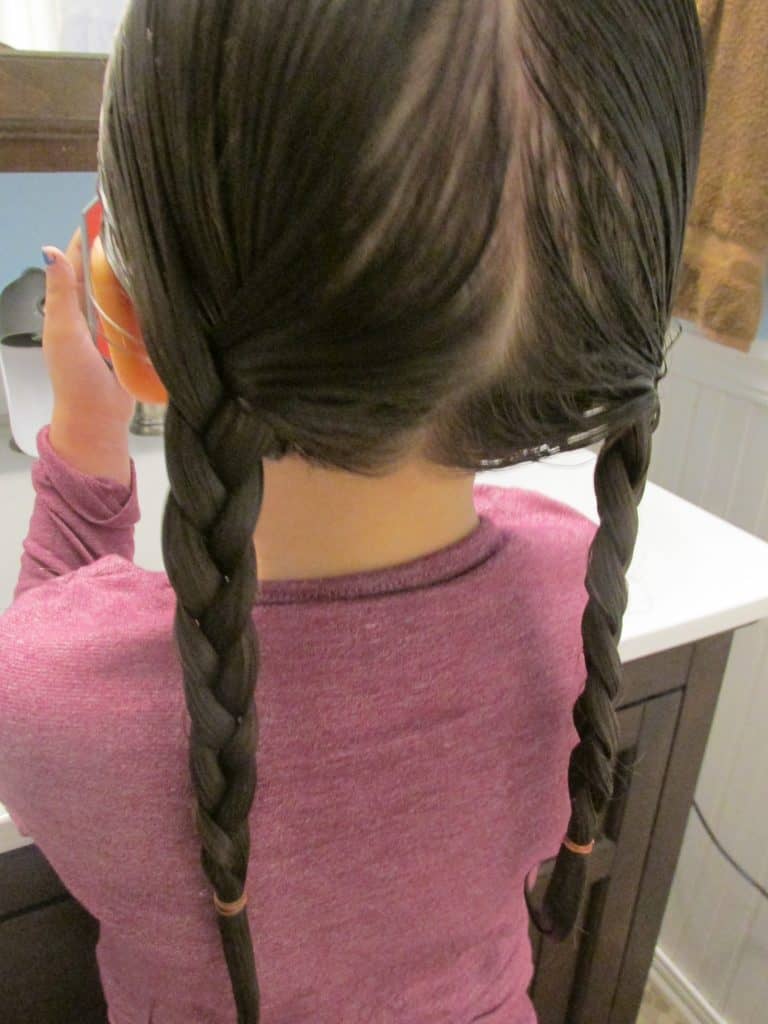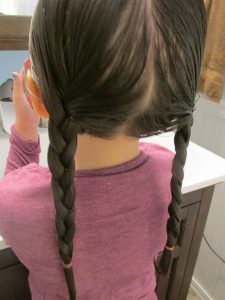 Avoid putting your child's hair in messy buns, as the hair is likely to tangle as you put it up or take it down. And if you're heading to the beach or pool, treat your child's hair with Rock Your Hair detangler before they go, and wear a swim cap when you can. Prevention is the first step in keeping your child's hair healthy and strong!
*******
These six steps will make brushing tangled hair so much easier- both for your kids and, if we're being honest, for you.
What's your hair care routine like for your kids? We'd love to hear any of your hair brushing tips for kids below!
Looking for more posts to make parenting a little easier? Head here next-