Looking for a fun summer art project for toddlers, preschoolers, or even older kids? Try painting with water balloons, a fun twist on classic fun. Scroll to the end for our FREE ice cream cone templates!
There are a few activities we try to do every day during the summer: time outside, water play, and a creative project.
This little number takes care of all three!
If you're busting out the water balloons this year, we suggest getting a little art into the mix before you do! You can take a process art approach and let the kids paint on their own.
OR set up this sweet little ice cream cone template for them to use to get the hang of things!
Scroll on for directions on how to do water balloon painting with toddlers (without a HUGE mess) and to get that sweet little ice cream cone template!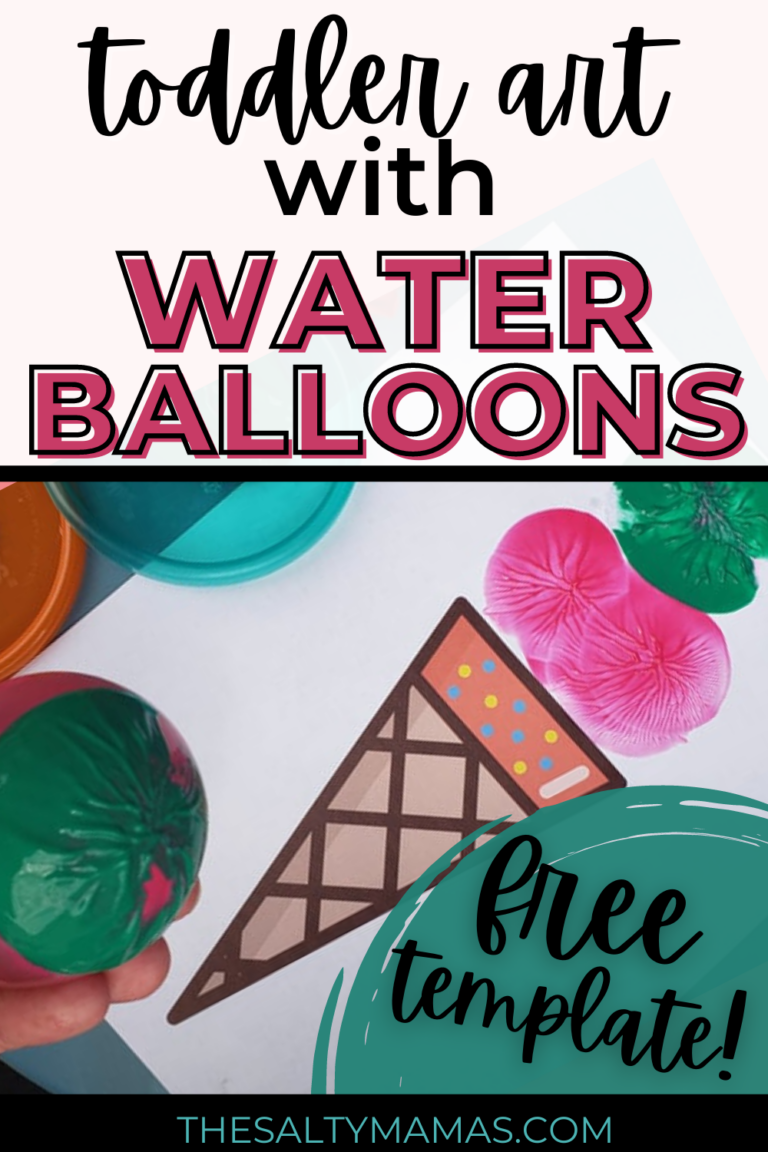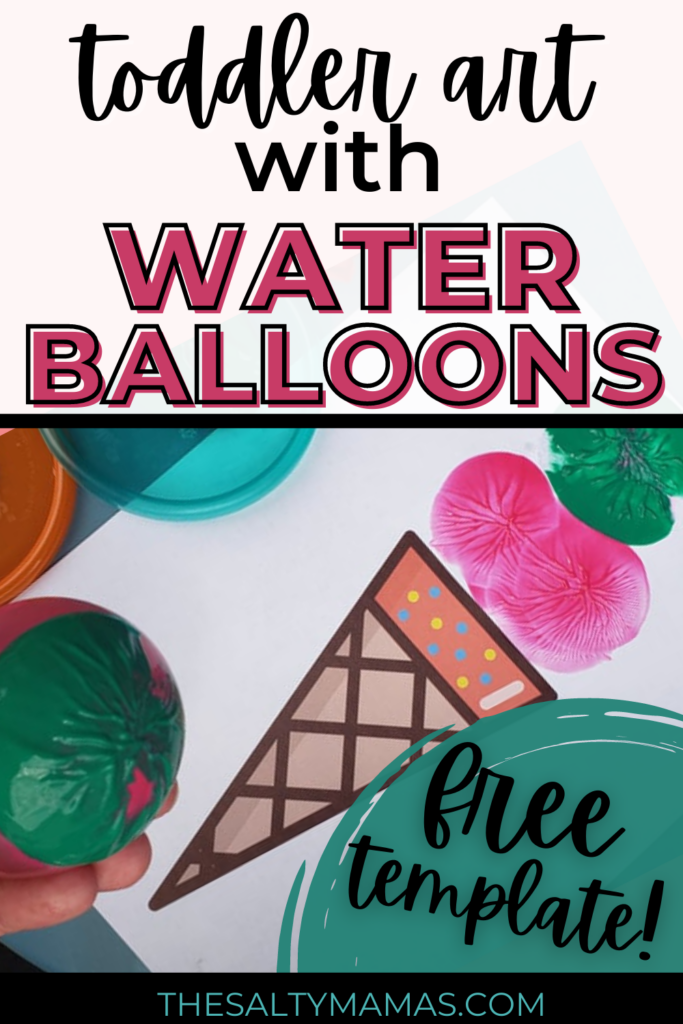 This post contains affiliate links. As Amazon Associates, we earn from qualifying purchases. You can read more at our disclosures page. Thanks!
Where to Get Water Balloons for Cheap
We're suckers for Bunch O Balloons. We love how quickly they fill up, and we love how you can recycle them. We get them on Amazon, or sometimes can grab them in bulk at Costco.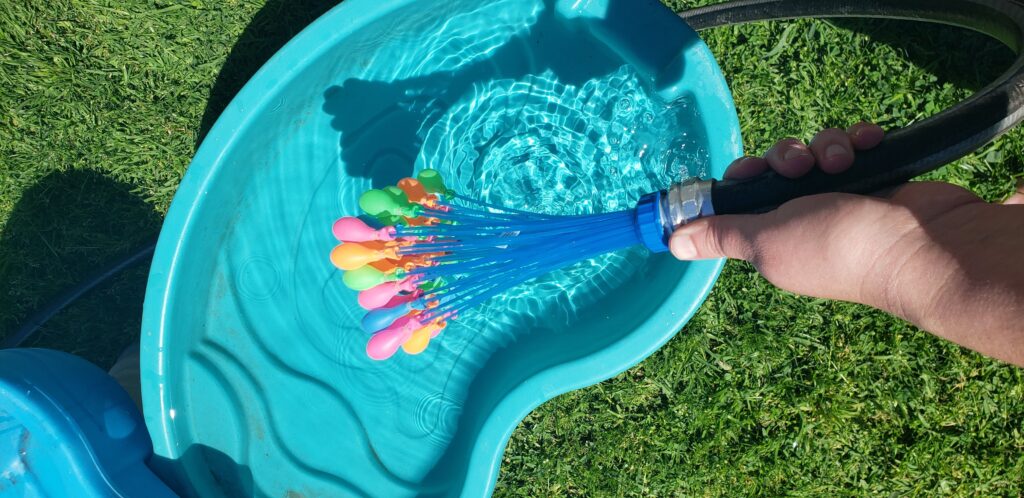 BUT we recently found out there is a cheaper (knock off) version on Amazon! The survival rate of the water balloons is slightly lower (we lose maybe 5-8 balloons per bunch).
But since you can buy them in bulk at a much lower price, it still feels worth it to us!
Can Toddlers Use Water Balloons?
Water balloons can be a choking hazard for young children. Always supervise children around water balloons, as the small balloon pieces can pose a serious danger to kids when they pop.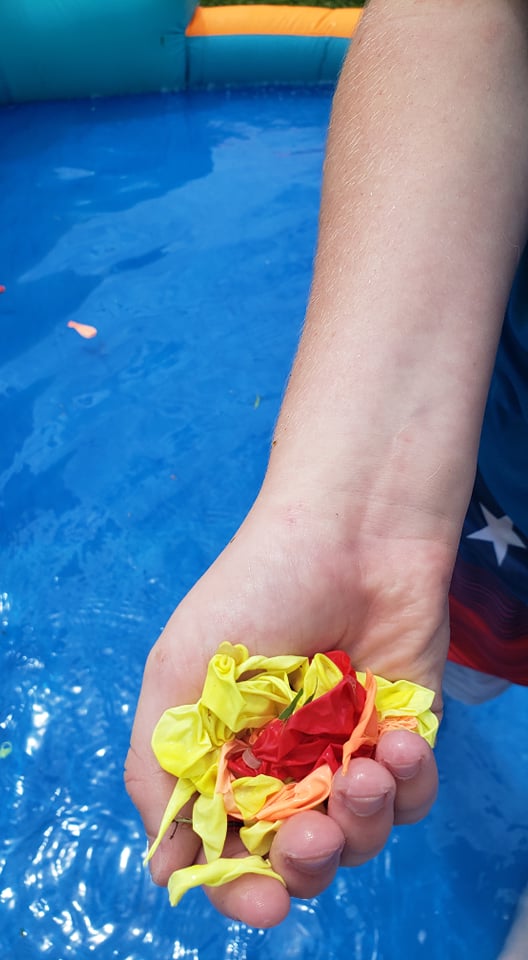 A few other ways to keep your kids safe:
Start with a small amount of water balloons, so you know where they are at all times.
Do not do this activity around infants or children who mouth items.
Watch your child with one or two balloons, and see how they behave before bringing out more.
Pick up all pieces immediately after they break. (It's a rule at our house that you pick them all up the pieces before you go back in the water, both for safety and environmental purposes)
Keep Your Water Balloon Paint from Getting Too Messy
This activity is best done outside, with kids in swimsuits and ready to get wet. Make sure to choose washable paint, and set up in an area you can hose down afterwards.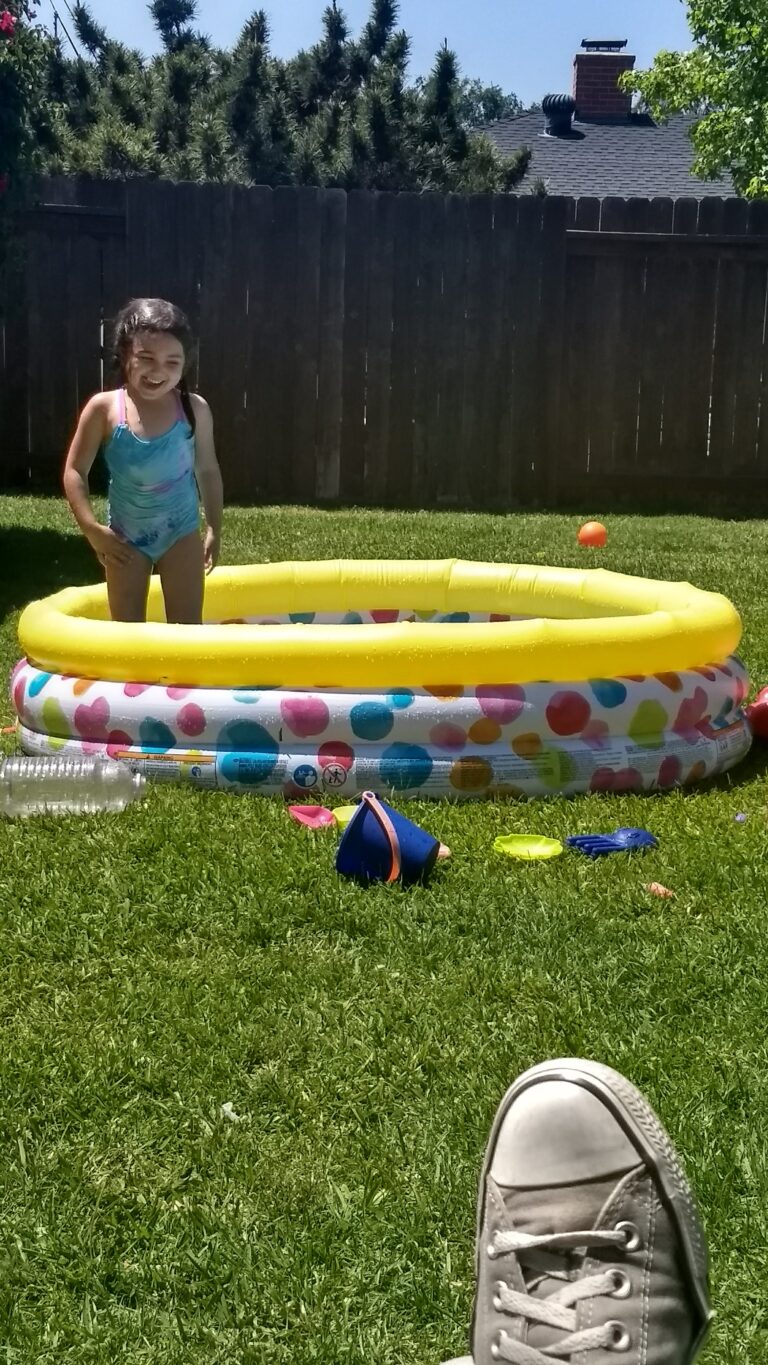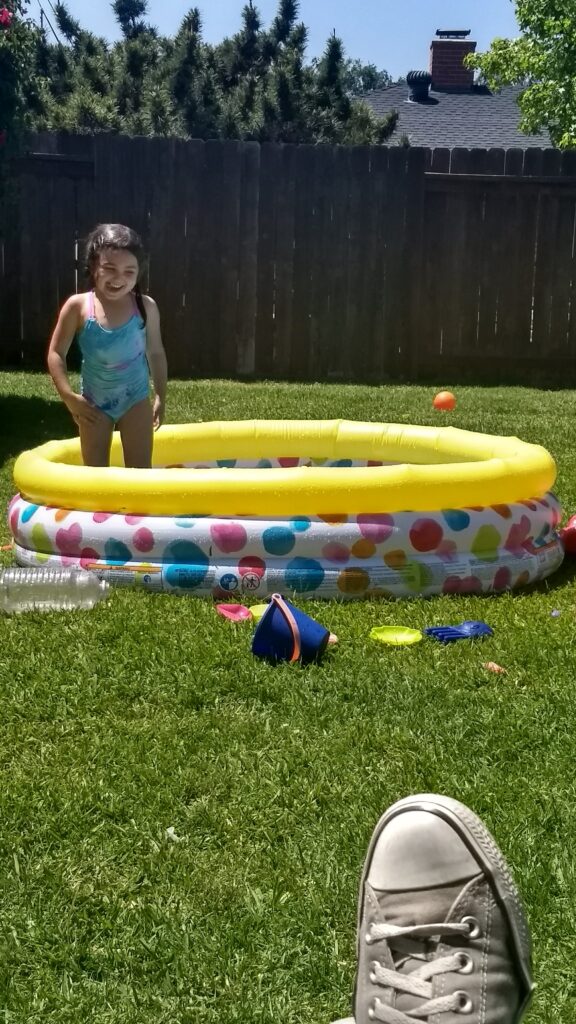 It's best to go over some ground rules with your toddlers or preschoolers before starting any art project, but especially this one! Here are the rules we gave our kids:
Paint stays at the table.
Only use the water balloons mom gives you for painting.
Use gentle hands with the balloons, or they will pop.
Paint can go on the water balloon and on the paper- no where else!
Tell mom when you are done so she can clean off the balloons.
Setting Up Your Water Balloon Painting for Toddlers (Or Older Kids!)
I usually set up the water balloons in an ice chest filled with a bit of water outside to avoid them popping too soon.This also really helps with the mess!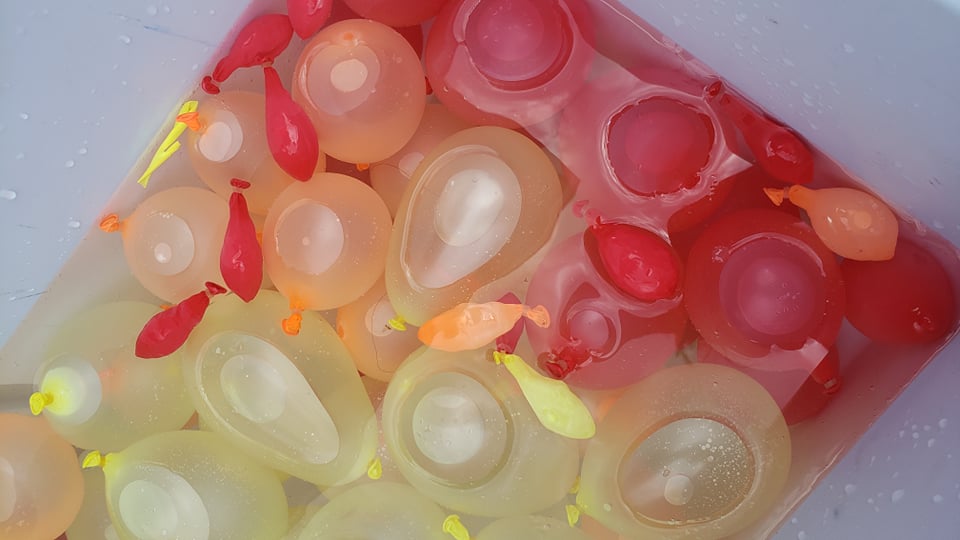 If you're going to use some for art, make sure the outside of the balloon is dry and that you choose non-leaky balloons for this project.
Set up a small amount of paint in a shallow dish or plate. We use the lids from Take and Toss bowls for pretty much all of our art projects- they're the perfect size!
Water Balloon Process Art
Now, we're ready to practice making water balloon process art with the kids. Dip a water balloon in paint, using gentle hands. Squeeze too hard, and they may pop!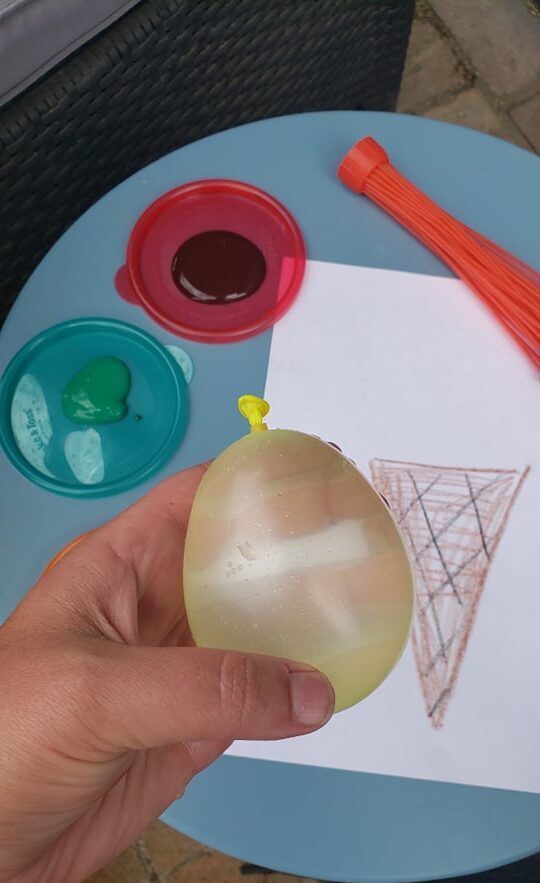 Use the water balloon like a stamp to make circles all over the paper. Don't worry about if they mix colors or if the outcome looks "messy." That's part of the learning process, and also a BIG part of the fun!
Get Your Printable Ice Cream Cone Templates
Once your toddler has gotten the hang of the water balloon process art, you can encourage them to make a cute little product too.
First, grab our printable ice cream cone templates, available only for our subscribes. They're super cute, and can be used for other art projects, or even as playdough mats.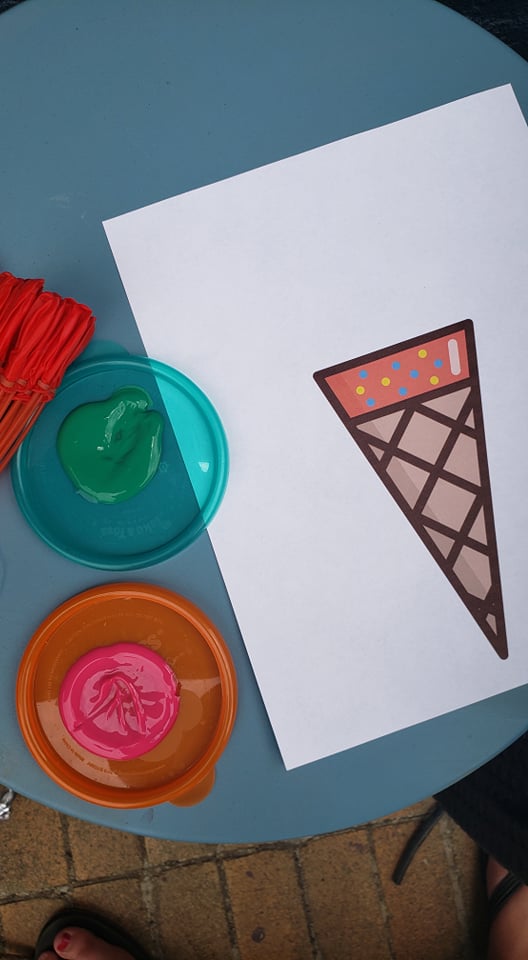 Print off the ones you'd like. It's available in half or full size versions.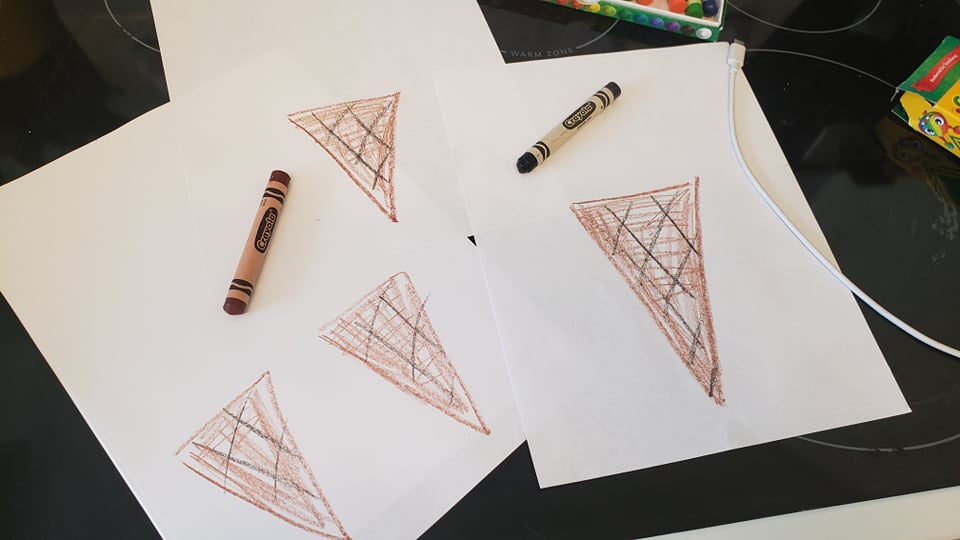 If you don't have a printer, you can draw some ice cream cones on paper, or have your kiddos do it. The triangles are pretty easy to pull off, even if you're not an artist!
Paint the Ice Cream Cones
Now it's time to make those yummy looking "ice cream cone" paintings!
Repeat the process of dipping the water balloons and gently using them as a stamp.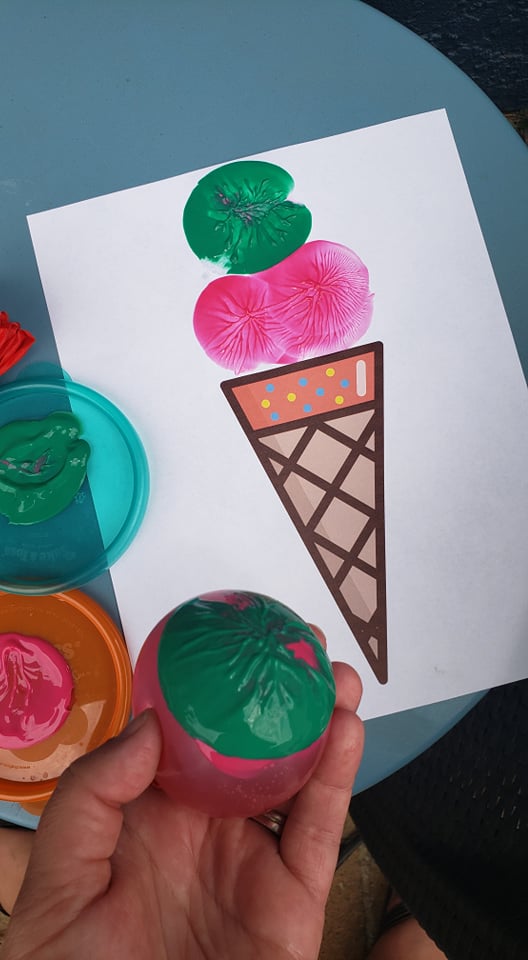 As they work, talk about what "flavors" the paints might be based on the colors. (but make sure to remind them not to taste them, as they'll just taste like…well…paint!)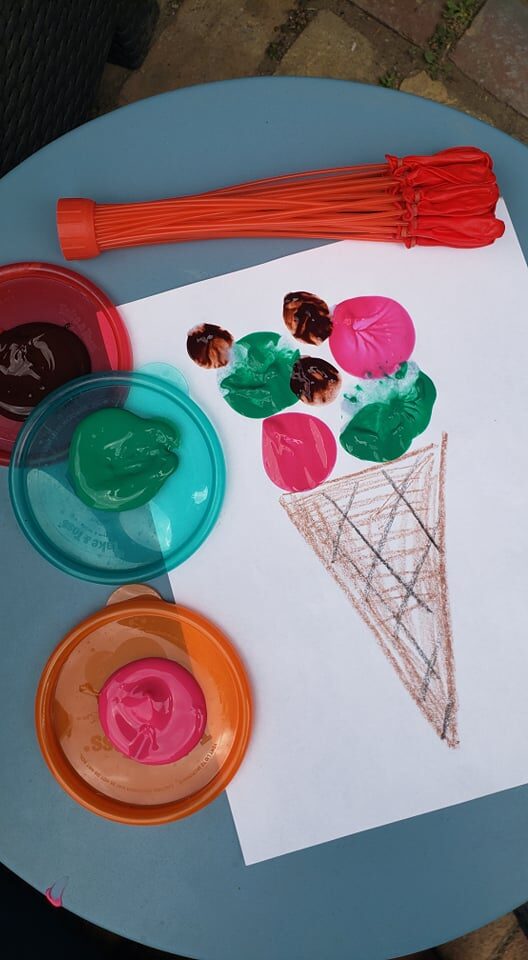 Encourage your toddlers to add scoops to their ice cream cone. You can let them make the ice cream cone of their dreams, or use the mats with numbers on the cones to have kids put a certain number of "scoops" on each cone.
Add Sprinkles to Your Printable Ice Cream Template Paintings
No ice cream cone is complete without sprinkles! And you can easily add some sprinkles with the water balloon filler.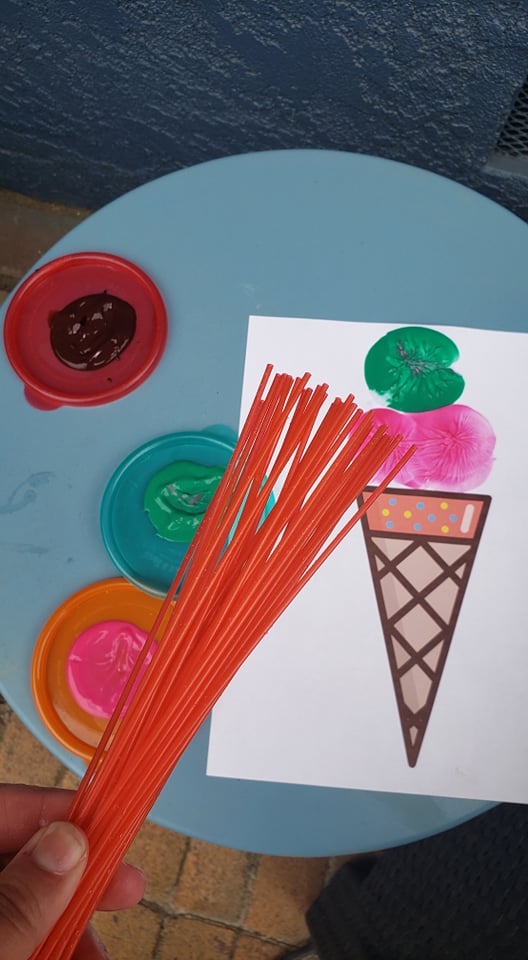 Dip the bottom of the water balloon filler in some paint. We used brown for chocolate sprinkles.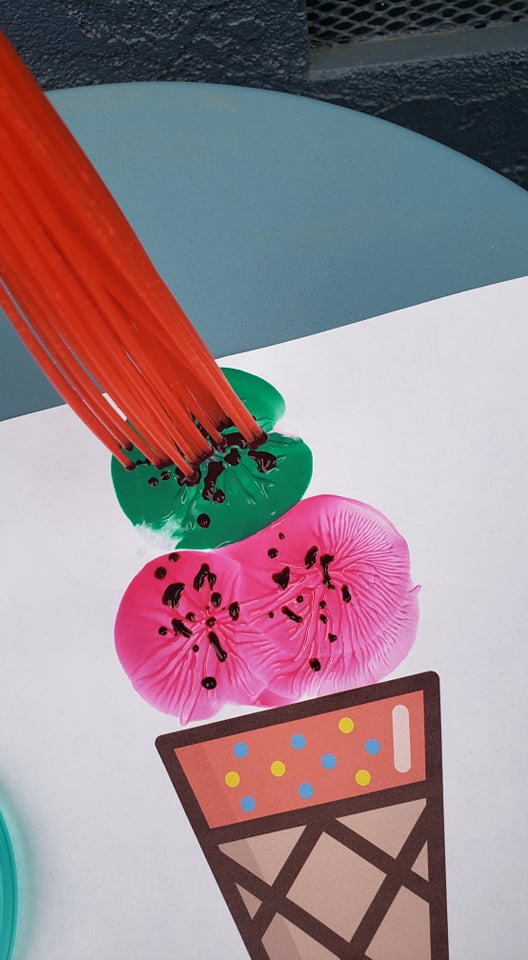 Gently press the water balloon filler to the ice cream scoops you've already made. Voila! Now your ice cream painting has sprinkles.
Cleaning Up Your Water Balloon Art
Hopefully, your kids are already in their suits and ready to get wet. Send them into the kiddie pool, down the slip and slide, or through the sprinklers to clean off their hands (or bodies, if needed!)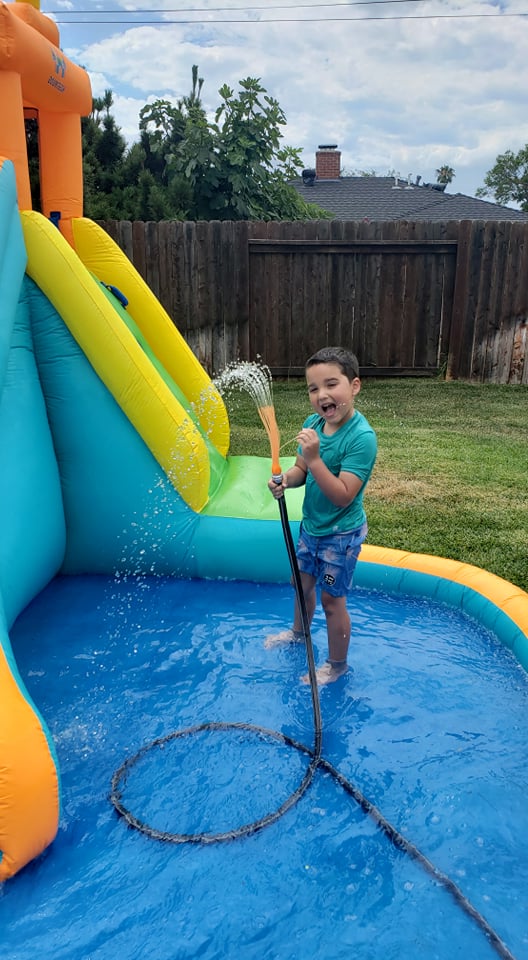 Use a hose to clean off the Take and Toss Lids, and the area they used for painting. Toss out the painted water balloons, or use the hose to rinse them clean.
Allow everything to dry, and then suprise your kids by throwing the first water balloon from your (clean!) stash. Let the war begin!
Other Things to Do With Your Water Balloons
There's more than one way to play with water balloons!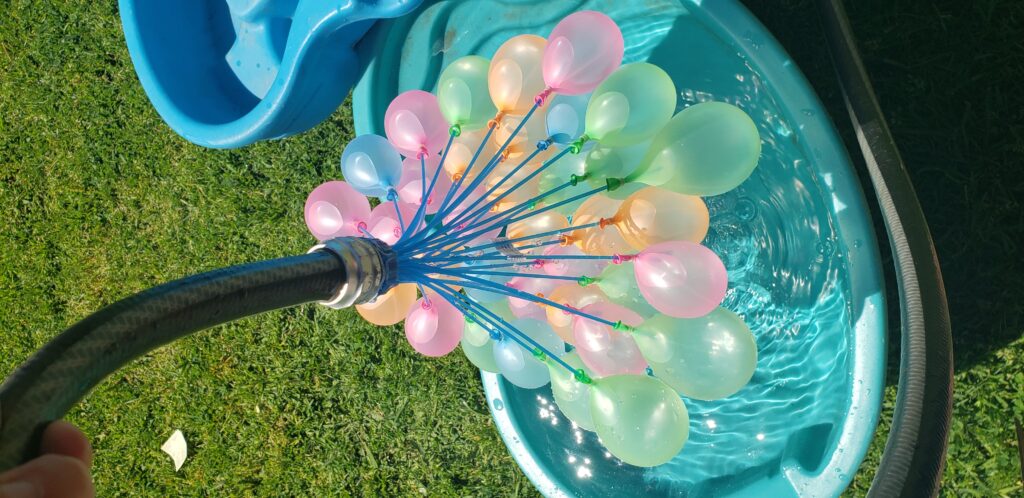 Use the water balloon fillers for process art paintings, as we did in this process art activity.
Have a water balloon fight!
Have a water balloon toss. See how far apart you can successfully throw (and catch!) the balloons without them breaking.
Use the water balloons like water guns! Point the end with the rubber band towards your victim, and squeeze the balloon. Water will squirt out the end!
*******
Sometimes, the simpler the better with kids, and painting with water balloons for toddlers is no exception. They'll get in a little art time while having BIG fun. This is the stuff summer memories are made of, after all!
Grab your water balloons here, and sign up for your ice cream cone printable templates!
Looking for more ways to play with your kids this summer? Head here next-