Road trips are always a huge endeavor, especially when you're traveling with a bunch of little ones. You spend more time prepping for the trip than you'll probably spend at your final destination, making sure you have everything you could possibly need for every possible scenario: illness, peed pants, owies of all shapes and sizes, snacks – OH GOD THE SNACKS.
Every possible book that will be required to get the kids to sleep at the end of the night and every toy that might be needed to get someone to stop crying/fighting/fussing/etc. I started getting ready on a Friday and a year and a half later we were packed, loaded and on the road.
Later that day, we found ourselves in the middle of what we thought was a seven hour drive – which ended up being over eleven hours – and were all in pretty good spirits. My husband and Dad were in the front row, chatting away, seemingly oblivious to the chaos of the back two rows. The kids were mostly singing songs from the major motion picture Moana and playing games they made up like "Guess the Animal," where Evie gave charming clues like, "The animal I'm thinking of is a mouse." It was cute, but freaking A man, was it LOUD. We had strategically positioned the carseats so that no one could touch each other, so at least there was that. But even cute wears off after a few hours.
Then something happens and cute is a distant memory.
And when you're trapped in the third row of a Ford Explorer with your very talkative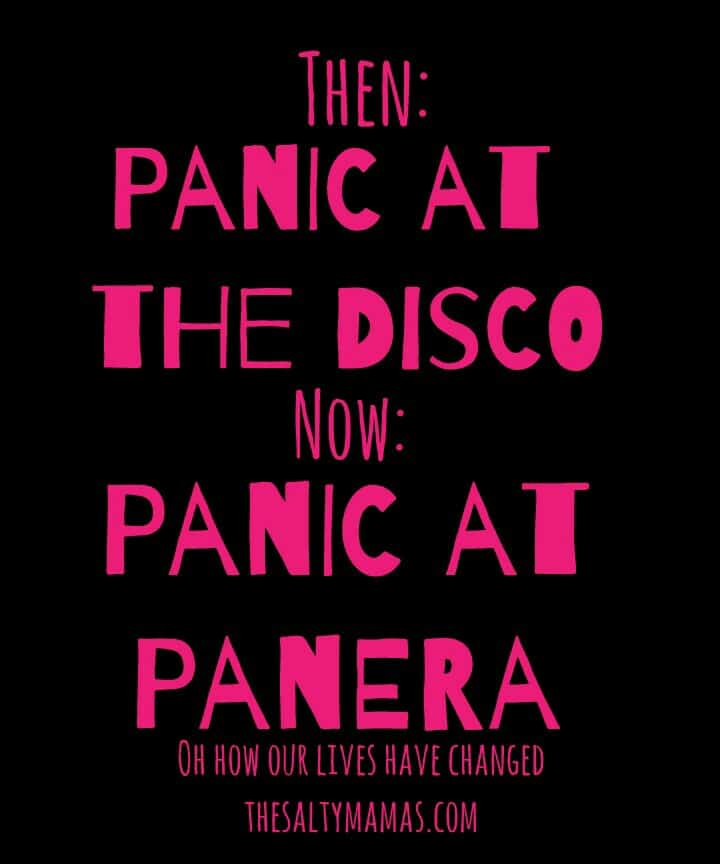 three year old sitting right next to you and your very hungry 7 month old screaming as she stares you down from her second row spot, the Panera off the highway might just look a little like heaven.
The second we parked the car I started yelling to the Daddies in the front row, "Please, please get the kids out so I can get out of the car, PLEASE!!" I scrambled over seats and literally fell into the parking lot, the black pavement scalding hot, but I was on LAND. And there was going to be food.
We went in, ordered and that's when the fun began.
If you know anything about eating with kids, it's that seat selection can make or break your meal. When in doubt DO NOT SIT NEXT TO THE NICE LOOKING OLD LADIES IN PANERA. This may have been a one off, but just in case. Heed this warning.
We all sat down and started to eat. The baby – a staunch refuser of all things pureed – was sitting in her high chair enjoying one of a baby's major food groups: the Mum Mum. Yes, it looks like I'm feeding my baby a bird treat but she loves it, so I'll keep ripping open package after package as long as she likes. Being a baby though, she drops food. All the time. In quick succession she dropped not one, but TWO of the coveted Mum Mums. I chastised her playfully saying, "Silly baby, you've got to stop dropping your food!"
It was at this point that Lil Biddy #1 decided to mumble, "Of course she's dropping it, it's WAY too big for a baby….how can she possibly eat it….ugh….grumble grumble." Uh, excuse me? I shot over a look, equal parts, "I'm sure I just heard you wrong" and "Nosy bitch says what??" Okay, maybe not quite equal parts.
Resume meal.
At some point, Izzie ran out of Mum Mums and it was time to bust out the canister of Puffs. Both food AND fine motor skill enhancer, Puffs are pretty much the perfect food for a baby on the go. Sure, she can spill them EVERYWHERE, but the cleanup is pretty easy. What could someone not like about PUFFS????
Enter Lil Biddy stage left! This pushed her straight over the edge. "That's it. I can't stay here and watch this anymore. Those are too small! That baby is going to choke and die and it's all that Mother's fault!!!"
She, no joke, STORMED OUT OF PANERA. Lil Biddy #2 chased behind her crying, "I mean, I think those are actually made for babies…." but it was too late. She was dust.
In the moment, I actually thought it was funny. Me, feeding my baby food, that was made for a baby, was such terrible parenting that it drove two ladies from a restaurant. Are we in the twilight zone? It was honest to God laughable. In fact, my whole table laughed. But the more I thought about it, the more it chapped my ass. Who do these people think they are that it's okay to just comment on every parent that comes in their wake? Because make no mistake. This was not unique to that day, to that Panera. Chad thought it was funny as well, and commented on how random it was which is when I realized that it doesn't happen to him. It happens to the Moms. Our jobs are open to feedback and criticism and judgement, from anyone, anywhere.
Whether you're in the grocery store, or an amusement park, or Panera.
And it's BS.
So we won't even get started on what happened at the next rest stop where….but Evie looked like this. So use your imagination…