The Salty Mamas send each other a LOT of texts, because we value our sanity and sometimes you just HAVE to share your day with someone else that's in the trenches. Then at some point you need to go look for something and when you see it all together like that you think, "Dear God, my life is a shit show! Literally!"
But the best way to feel better about the weird stuff you're texting about is to send it out there in the world and see what comes back to you. (Or at least that's what we're hoping…) So here, dear friends, are our 25 Texts You Should Never Have to Send from July. Please make us feel better by adding yours.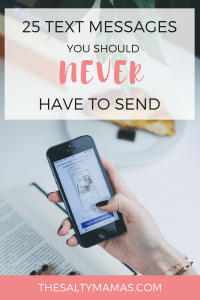 Best case scenario it's food poisoning
There's a pursuit headed your way!
No vomit yet, but the day is still young. I'll keep you posted.
Are we still friends or is it all over?
URGENT: Corny (the stuffed corn) has gone missing. Do you know where it is??? This might be a matter of life and death.
I'm listing my mom as my life partner on my membership.
Eff. Oh, EFF. We can pay the extra $150 if we have to.
She hasn't had the firmest of poops…
I almost dropped Abram putting him in the Ergo. People legit screamed. Out loud. I am the shame of Pretend City.
Dude, your baby has the leakiest butt.
Hey, so I'm getting a red light camera ticket.
We took a ride on the hot mess express today. Keep your expectations for this evening low.
Guess which of your children had a massive blowout. You'll be wrong.
She's watching TV half naked, surround by books, eating stolen sugar.
My son stole food from a homeless person today, so I'm pretty sure you're a better Mom than me.
Sorry, typing slow. Booger fingers.
There's a bird in our yard that sounds like bells jingling and I'm gonna murder it.
He came home with a man cold. FML.
He was like, "Why am I peeing out of my butt????"
We survived. Ish.
It's better than a brain tumor, which is what Google told me it was.
Jk regarding naps. Everyone suddenly awake. Three hours to go ?
I just drove through McDonald's with my boob out.
How many times do you think your kid has to throw up at Souplantation before you're banned?
We are COMPLETELY out of coffee.
I definitely hope I don't have to send any of those again. Now it's your turn! GO!