One of my favorite things to do at Christmas is to help the kids with handmade ornaments kids can make. We are big fans of process art around here, but it is SO easy to turn some of these beautiful process-based Christmas art projects into beautiful products. If you set it up right, you'll end up with some DIY kids' ornaments for your tree.
Some of my very favorite ornaments are the ones that Lila and Abram have made over the years. When we first started making them, I thought we were just trying to fill up some time.
But as each year passes, I start to love those little handprint ornaments, the messily-glued popsicle stick reindeer, and the pom-pom filled ornaments more and more.
If you're looking for handmade ornaments for kids to make, BOY have you come to the right place. Read on for some crazy-simple ideas that kids of all ages can try.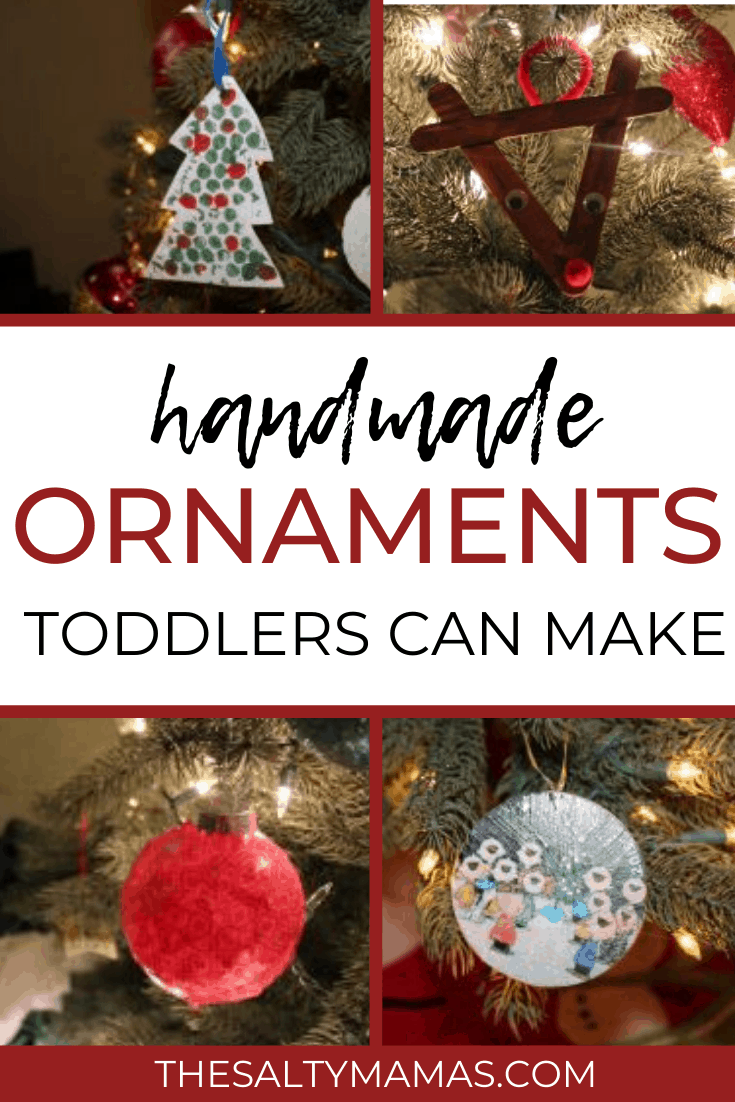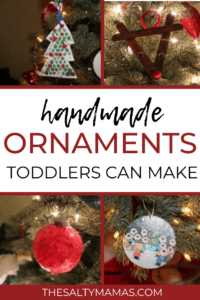 This post contains affiliate links. You can read more at our legal page. Thanks for supporting The Salty Mamas!

DIY Popsicle Stick Ornament
This simple popsicle stick Christmas tree couldn't get any simpler (or cuter!). With just a few steps (and lots of fun) it's the perfect Christmas decor for toddlers to make on their own.
Simply paint three popsicle sticks green. Once they're dry, hot glue them into a triangle shape, and then hot glue a loop of ribbon or string on the back.
Toddlers and preschoolers can decorate them with foam stickers (as seen here), while older kids can use a little additional paint or glitter glue.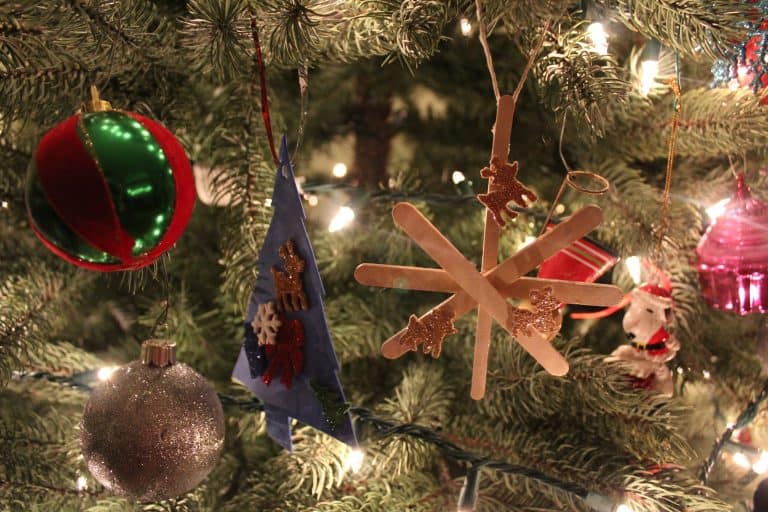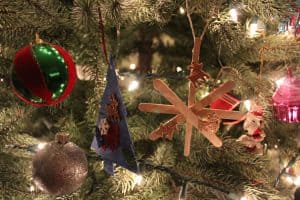 Popsicle Stick Star
Yep, pretty much the same thing- but now in a fancy STAR shape. You can decide whether you want to build the stars ahead of time or let your kids build them themselves. (I guarantee you the results will be both more frustrating and more hilarious if you let them try it on their own.)
Kids can paint these, squeeze a little glitter glue onto them, or decorate with more stickers. So simple, but kids really enjoy making them and hanging their finished products on the tree.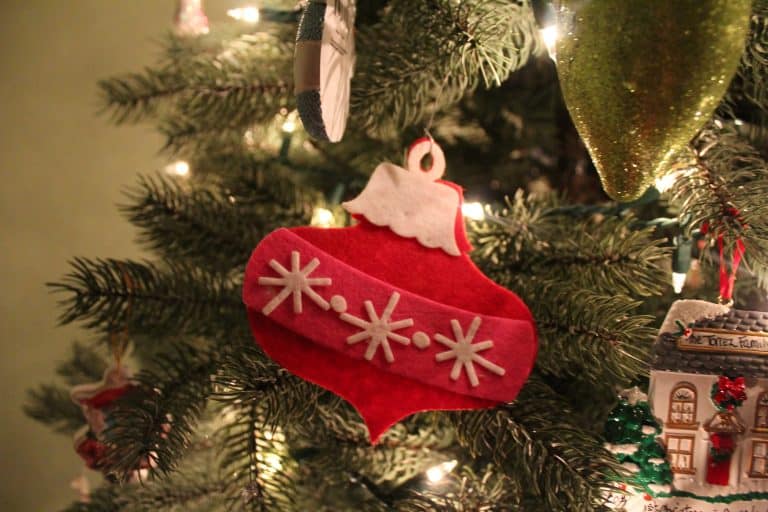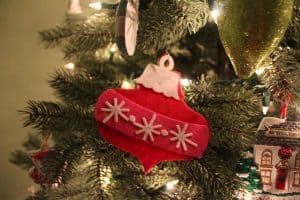 Felt Sticker Ornaments
I purchased a set of felt sticker ornaments in preparation for a road trip I was going to be taking with the kids. It was actually the PERFECT road trip craft. If you've got a holiday trip coming up, throw these ornament craft kits into your activity bag and have the kids make them on the way. How cute would that be as a hostess gift for grandma??
Want to get a little sillier with it? Snatch up this ugly sweater ornament kit instead!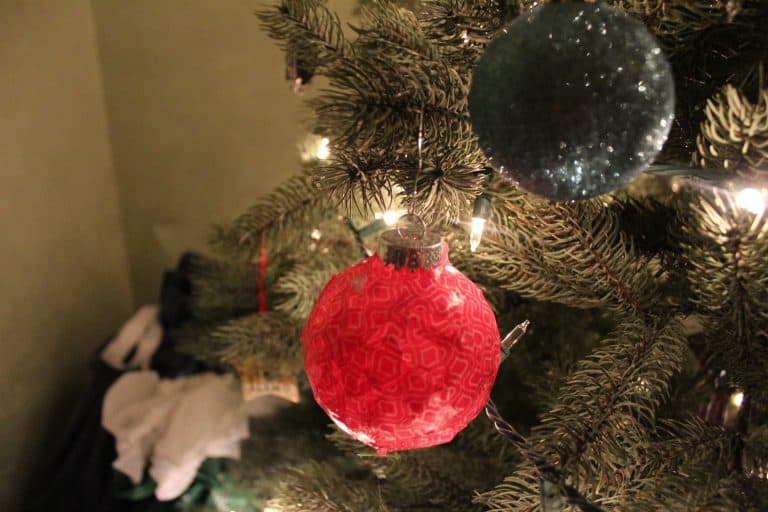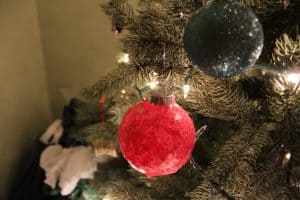 Tape Ornaments
To make this easy peasy DIY toddler ornament, all you'll need is clear ornaments (make sure they're plastic, especially if you've got toddlers or preschoolers!) and some cute Christmas washi tape.
My mother in law helped all the cousins craft these super cute tape-covered ornaments when Lila was just one and a half. She cut some Washi tape into little rectangles and the kids spent WAY longer than one might expect decorating their ornaments with tape.
If you want to keep it simple, just buy your tape in a single pattern and let the kids cover the ornaments completely, like Lila did here. If they're older, consider buying a few colors and encouraging kids to make patterns and designs of their own.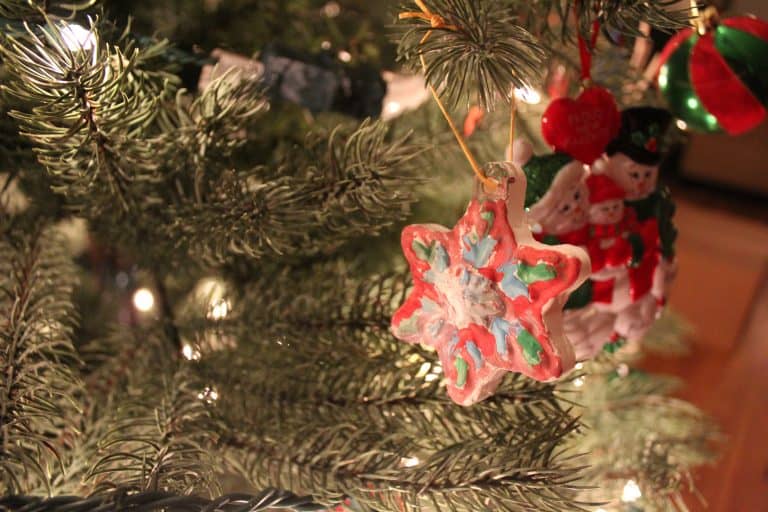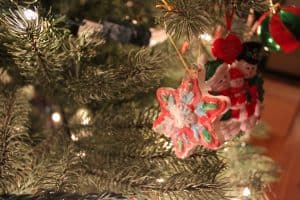 Dollar Store Ceramic Ornaments
Did you know they sell these adorable little ceramic ornaments at the Dollar Store- and they even come with paint! I buy some of these little ornament painting kits every year and let the kids paint them however they choose. When they're dry, I write their name and the year on the back before we hang them on the tree.
My favorite thing is that when we're going through the ornaments at the beginning of the year, I line up the kids' ornaments in chronological order. It's incredible to see their creativity and growth over the years.
Can't stomach another trip to the store this season? Our old friend Amazon comes through with some adorable DIY ceramic ornament kits, too.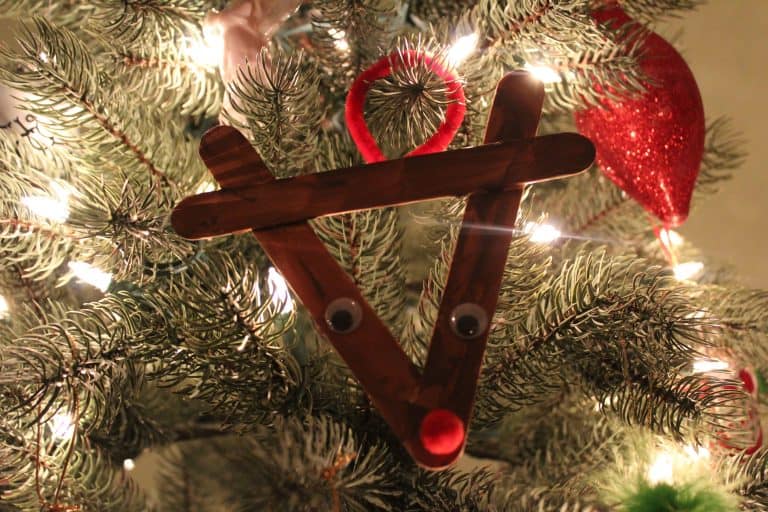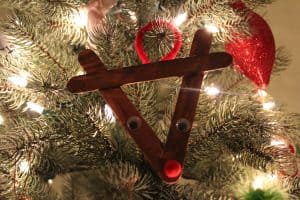 Popsicle Stick Reindeer Ornament
Oh, you thought we were out of popsicle stick ornaments, did you? That'll teach you to underestimate The Salty Mamas.
Have the kids paint the popsicle sticks brown (you can actually color them with washable Crayola markers too, if that feels easier). Then you or the kids can use either Elmer's or hot glue to form the triangle shape. Make sure to leave some overhang for the antlers! We glued a pipe cleaner loop to the back to make it easier to place on the tree.
Two googly eyes and a red pom-pom nose later, you'll have an adorable kids' DIY handmade ornament hanging on your tree.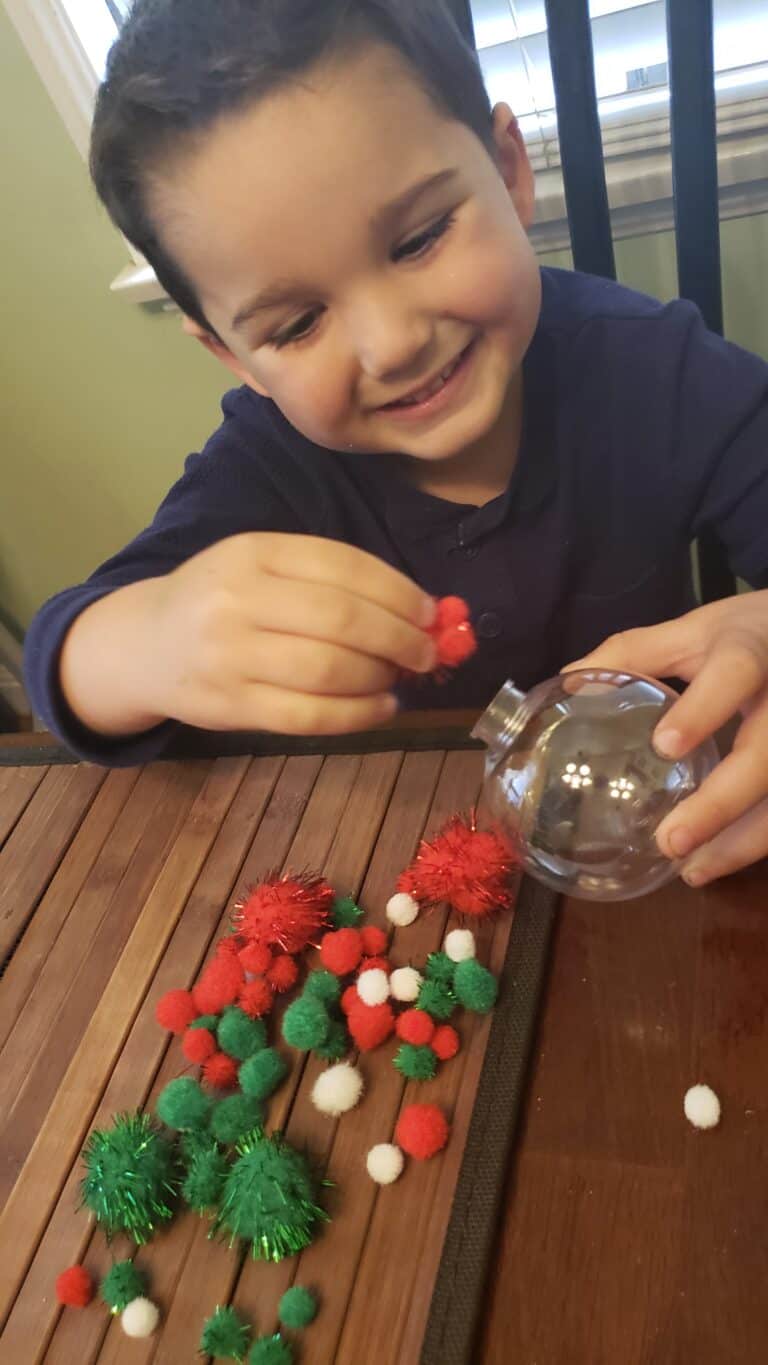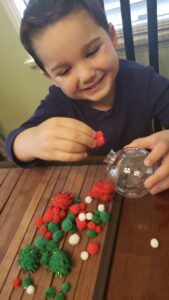 DIY Toddler Christmas Tree Ornament Using Pom Poms
Got leftover pom poms from Rudolph and plastic ornaments from your washi tape craft? Take the ornament hanger off and let your toddler or preschooler push pom poms into the clear ornament. It's a remarkably adorable little ornament (that kids can make on their own!).
When they're done, write the year on it with a sparkly gold pen for a little extra pizzazz. It would also make a super cute DIY grandparent gift!
Decoupage Ornament
Okay, I'm cheating a little here- we didn't ACTUALLY make this one. But WE COULD HAVE, so I'm counting it.
All you need is a little chipboard ornament. Print a picture or find an image you like in a magazine. Using the ornament as a guide, trace a circle shape onto the picture and cut it out.
Now you'll use ModPodge to secure the image to the ornament. Afterwards, add a coat or two of Mod Podge over the image to seal it. This will help it last longer over the years.
I love the idea of this one for a few reasons. You can either use the kids' leftover wallet-size school photos to create an adorable memento of the school year (we NEED Cole's school picture to be memorialized on our tree forever. I mean, have you seen it yet? It's EPIC).
But I also love the idea of letting kids choose what goes on their ornament each year. Wouldn't that be a sweet reminder of what they were into that year? What an adorable collection to pass on to them when they're grown.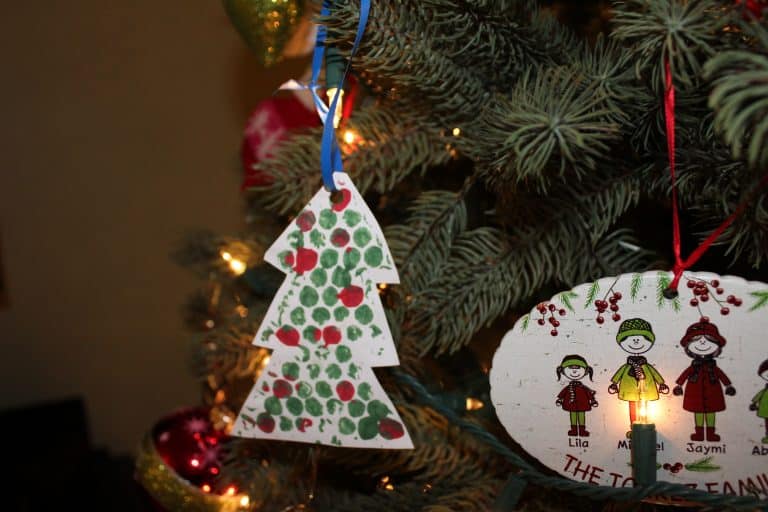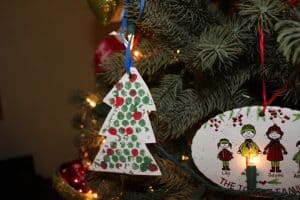 Bubble Wrap Print Christmas Trees
Two year old Abe proudly made this Christmas tree ornament all by himself this year. We painted bubble wrap and then laid a paper over the top to create Christmas tree prints. It's super simple, but you can read our full Bubble Wrap Christmas Tree instructions to make it go more smoothly (and create a better product).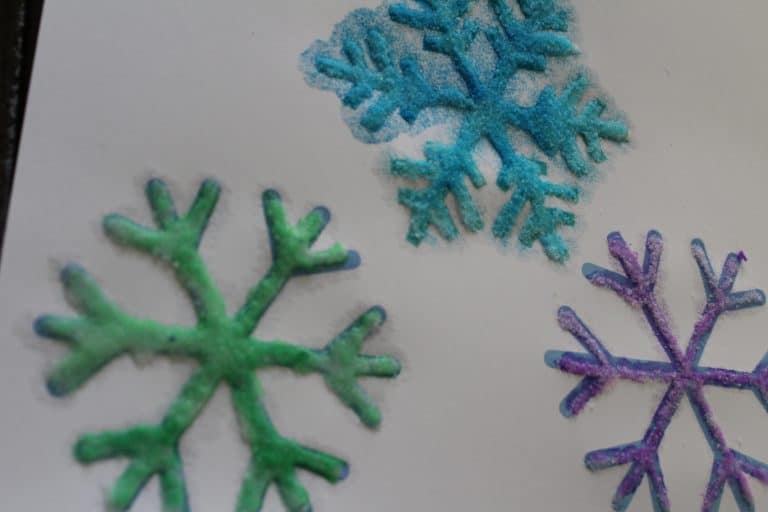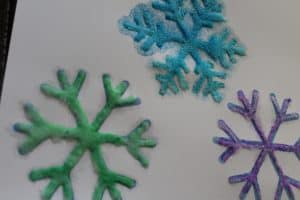 Salt Ornament Snowflakes
My daughter is SUPER into Glue, Salt, and watercolor art. I usually take a process-based approach and let her create designs on her own, but this time I created a printable she could use to guide her. (Which, to my pleasant surprise, turned into a super good fine motor skills activity).
Read more about our Salt Painting Ornaments (and get your free printable, too!).
*******
We think these DIY handmade ornaments for kids to make are an excellent way to get your kids into the Christmas spirit, and keep them busy at the same time. Hang them on your own tree, give them to family and friends, or even use them as gift tags for wrapped gifts.
However you use them, you and your kids are likely to have lots of fun making them together.
Looking for more ways to celebrate the season with your kids? Head here next-