Looking for baby boy nursery décor that is still on the neutral side? Check out this gorgeous blue and grey boy nursery/guest room combo, featuring DIY baby boy nursery wall art and lots of unique touches.
I'm not gonna lie- maybe my favorite thing about having a baby (besides getting the baby, obviously) is decorating that sweet baby's new room.
Is it necessary for an eight pound person to have a space of their own? Of course not. But when you're a creative person, there's something magical about prepping for your baby by getting a space ready that's just for them.
When Abram was born, we knew he'd be sharing a space with our guest room (and my crafting space- yeah, there was a lot going on in there), so we decided to go for a feel that wasn't too "babyish." We chose to make a blue and gray boy nursery for him that used lots of letters and sweet, homemade touches.  We finished the space just in time for his newborn photo shoot, and were lucky to have Biancca Wallace Photography capture them for us.
So if you're looking for a nursery/guest room combo that suits your baby boy (without being too babyish), we've got the perfect blue and gray nursery decor to make your room perfect for your new arrival.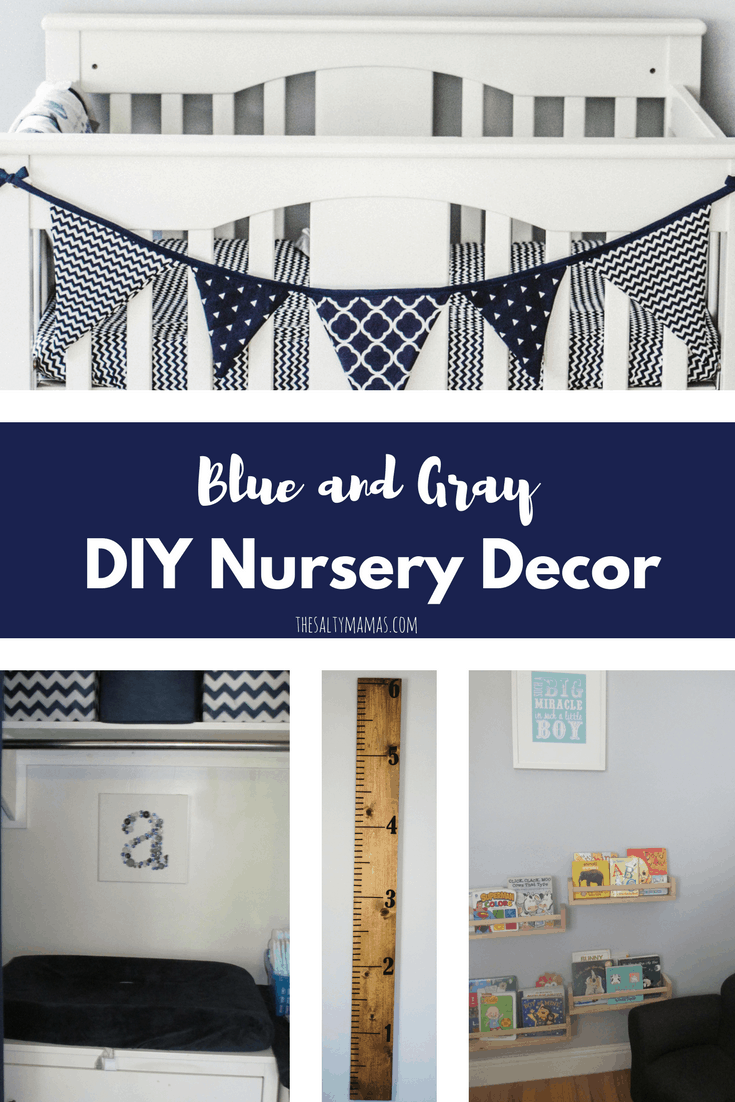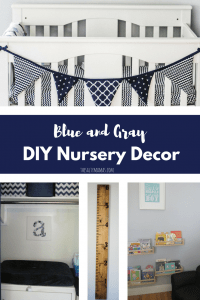 This post contains affiliate links. You can read more at our disclosures page. Thank you for supporting The Salty Mamas!
How to Make a Nursery/Guest Room Combo
In our neighbordhood, the homes are small, and the bedrooms are even smaller. We knew the baby's room would need to share space with a Queen size bed for our guests. Add in a dresser and my craft cabinet, and there certainly wasn't enough room for a full size crib.
We opted for the Dream on Me Mini Crib. It's roughly the size of a pack and play, has a wide variety of bedding available, and has a MUCH smaller footprint than a typical crib. We used the mini crib with both of my kids, so I can gladly reassure you- the kids both used this crib for the first two years of their lives, with plenty of room to spare.
Bonus: they are WAY cheaper than a typical crib, leaving more wiggle room in your budget for nursery décor.
Above the Crib Blue and Gray Nursery Décor
Since we live in Earthquake-prone Southern California, I am careful not to hang anything too heavy above any of the beds. If it would give you a cut or concussion when it falls, it's not going there.
But I still wanted something cutesy as the focal point, so I covered a piece of foam board with navy blue fabric and used my Cricut to cut out Abram's name in gray cardstock. I glued it on with plain old Elmer's glue and was done- easy peasy!
DIY Nursery Banner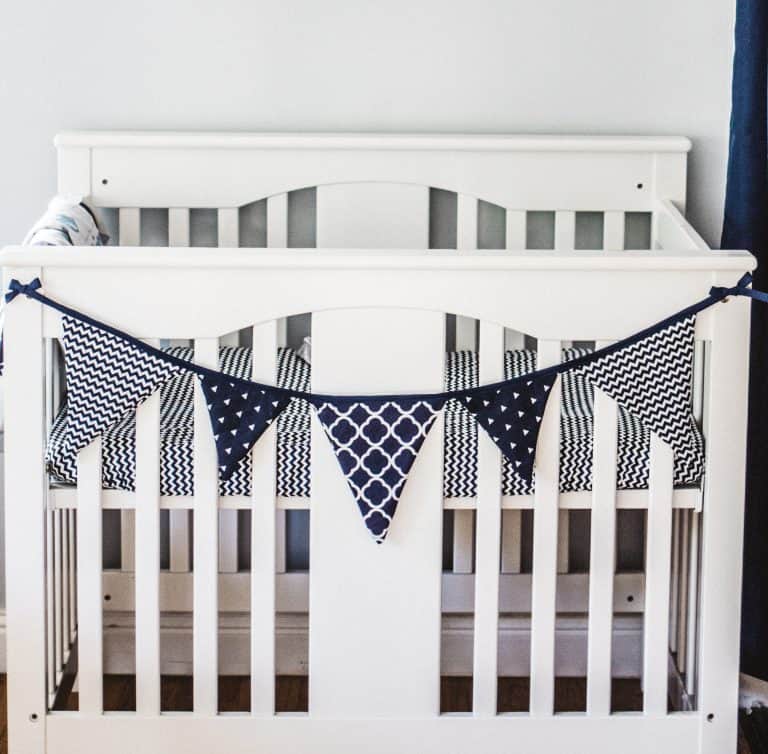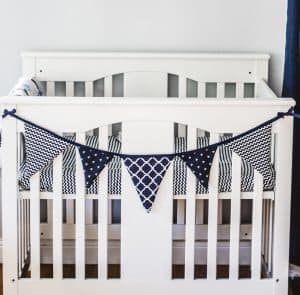 Abe's room is at the end of the hallway, so his mini crib is the first thing you see when you walk down the hallway.  I wanted it to set the tone for the rest of the room. I made all of Abe's bedding to match the blue and gray nursery theme, mixing patterns to create interest.
When I was done, I made this pennant with scraps from my other projects to tie it all together, and attached it with command strips. (We took it down as soon as he was big enough to reach out and grab it for safety reasons.) 
DIY Gray and Blue Nursery Wall Art
We needed a large piece of art above the guest bed, but I struggled a bit to come up with a frugal, DIY version.  After stumbling upon this pin on Pinterest, I knew we had found it.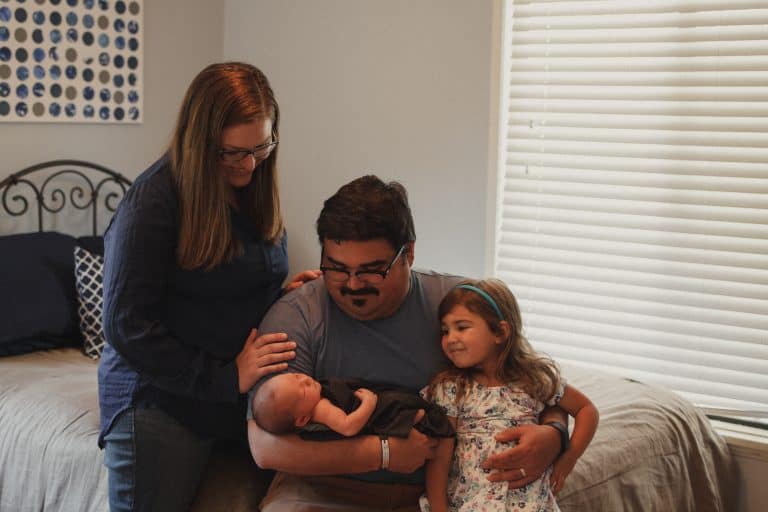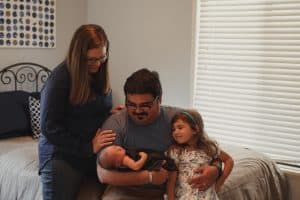 Lila and I had a super fun afternoon getting ready for her little brother by painting several sheets of cardstock in varying shades of blue and gray (I think we ended up using six letter-size sheets). When they were dry, I used my Cricut to cut them into circles and glued them onto a large, 24×36 inch canvas. The whole thing cost less than $10 to make (and I even sold it when we were done with it for a tidy profit).
Creating a Library Nook in a Nursery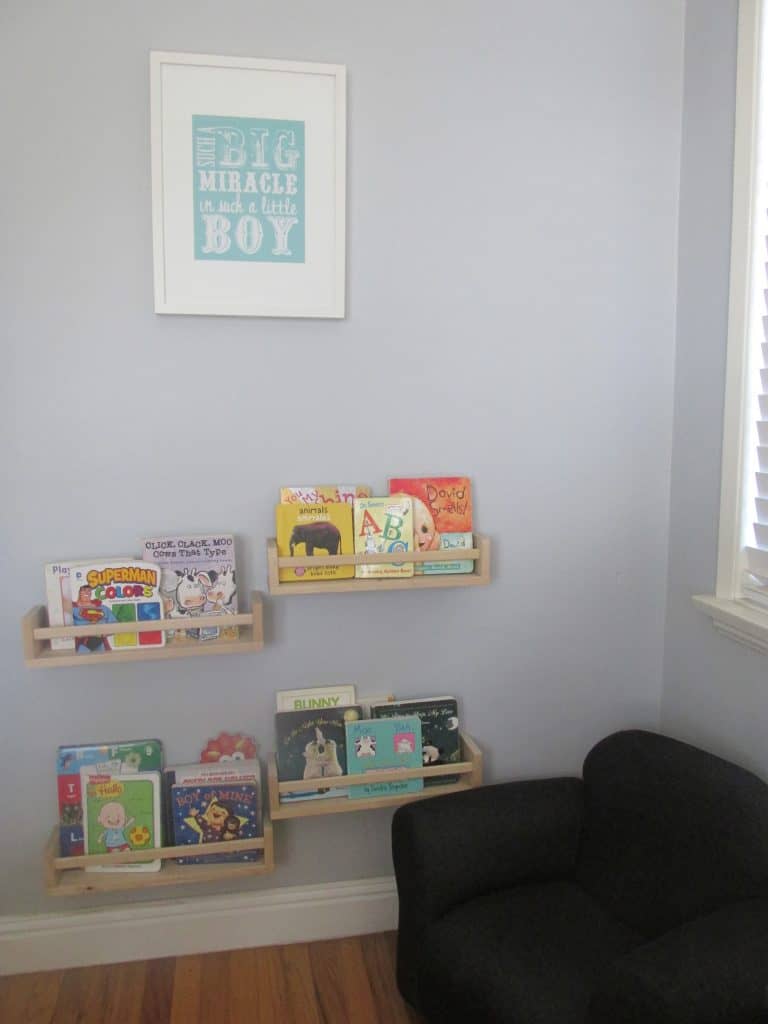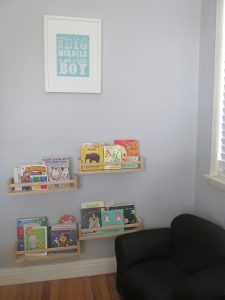 Books are very important to our family, so I wanted to give my littlest one a place for books, too.  It also turned out to be the sweetest space for Lila to connect with her brother– we'd place him in his bouncer or rock and play, and Lila would sit in the little armchair and read to him.  We didn't have space for a full bookshelf, so we used these Ikea spice racks that attach directly the wall.
More DIY Gray and Blue Wall Art
This room also doubles as my craft room, since I have a ScrapBox from orignalscrapbox.com. (Have you guys seen these? They are seriously amazing and worth a post on their own! They don't make mine anymore, but this one comes the closest. It looks just like a cabinet until you open it and then…whoa.)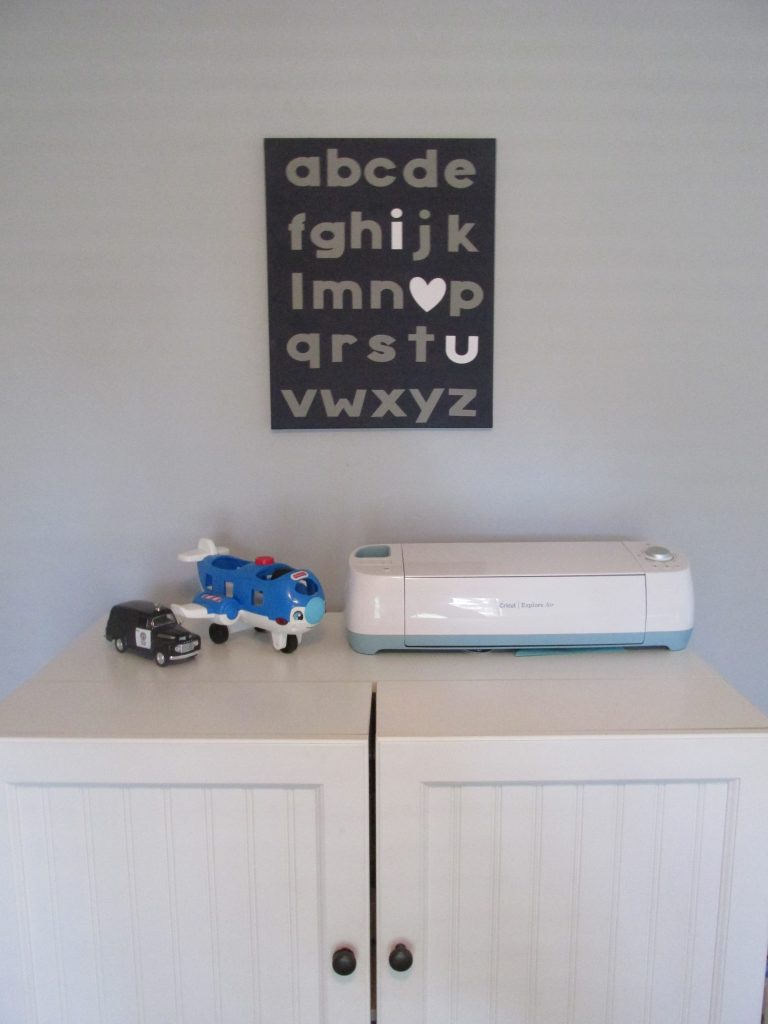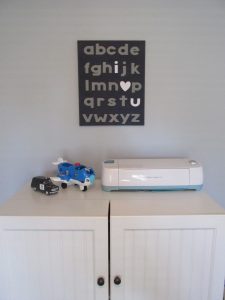 To create this wall décor and stay on our blue and gray nursery theme, I painted a canvas navy blue and cut out letters on the Cricut, highlighting certain letters in white.  So easy and inexpensive!
Space Saving Nursery Hack: Put the Dresser in the Closet!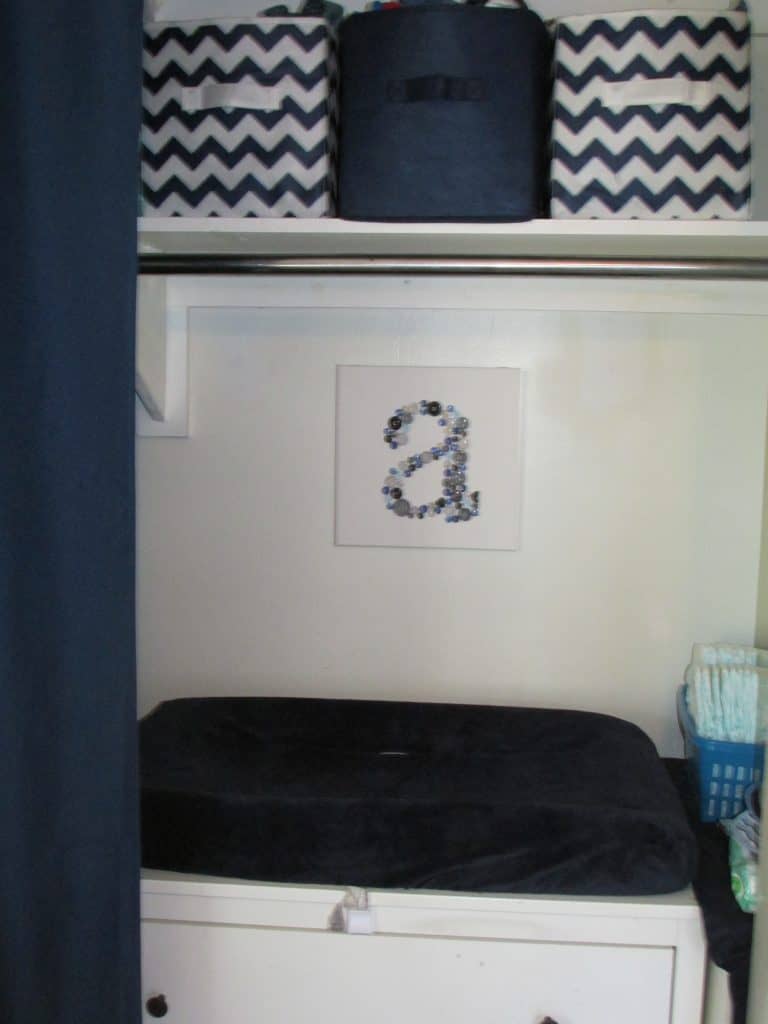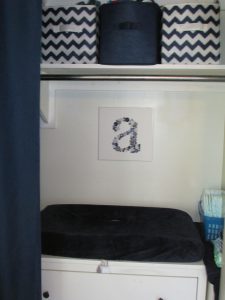 We have a small house with small bedrooms, but are fortunate to have big closets. So we save wall space by putting our dressers into the closets. We topped the dresser/changing table with this sweet button initial art from a friend. She gave it to me as a shower gift with no idea of our nursery theme, and it simply could not have been more perfect.
DIY Growth Ruler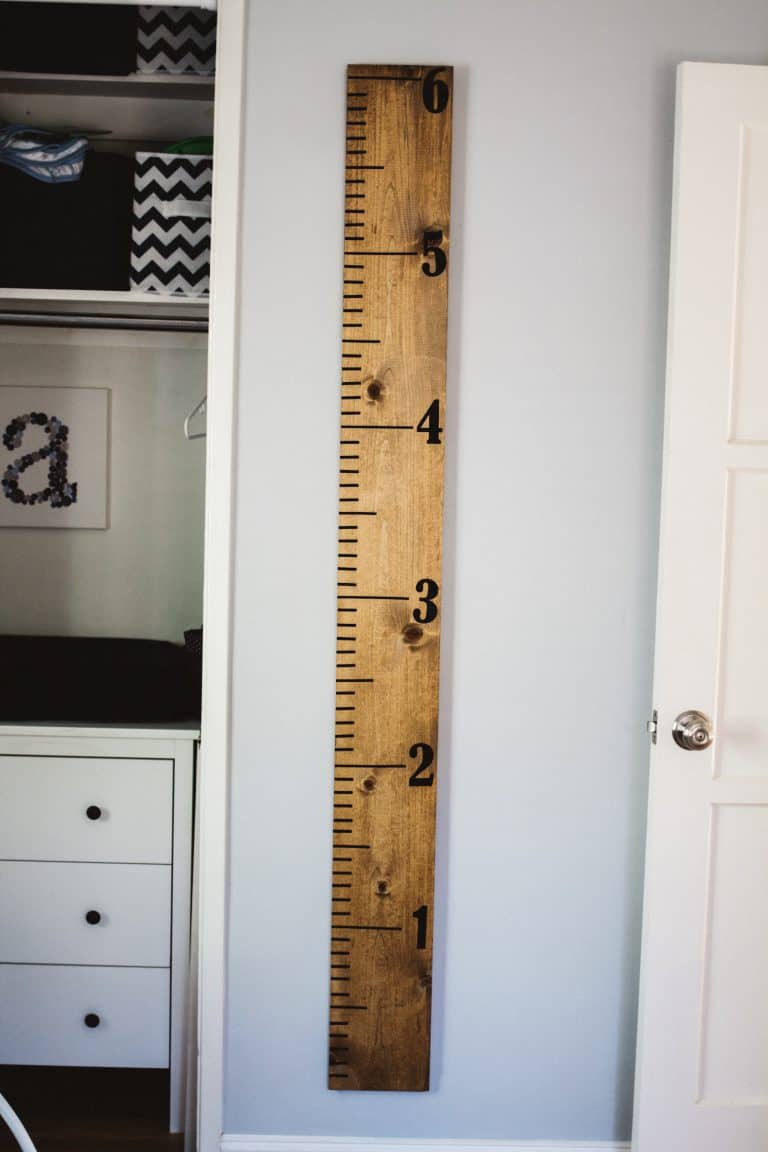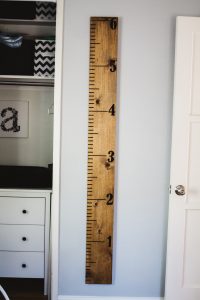 My mom and I made this growth ruler to place on a long, skinny wall space.  It is a fence board from Lowe's that we stained and placed vinyl stickers to mark the length.  We measure the kids on their birthdays and half birthdays, and my favorite thing about it is that if we ever move, we'll be able to take it along with us.
It's also the perfect touch for our nursery/guest room combo- definitely appropriate for both a kids' room and a guest room.
*******
With a little elbow grease and creativity, you can make a DIY blue and gray nursery for your baby boy on the cheap. This entire nursery cost me just under $100 to design, something that was easy enough to work into our pre-baby budget. And with lots of DIY nursery wall art, our entire family got to play a part in making a sweet space to welcome our new addition.
Did your little ones have nurseries? We'd love to hear your nursery theme in the comment section!
Looking for more at-home inspiration? Head here next-