When we first heard there was going to be a new Chick Fil A opening near us, we immediately began praying that they would have a playplace. And free WiFi.  When we found out they would have both, we were way more excited than we should be.
But then we found out there was going to be a Chick Fil A First 100 campout, according to Chick Fil A company tradition. The day before a new Chick-fil-A opens, there is a twenty-four-hour celebratory campout. There are tons of giveaways, activities, free food…oh, and sleeping in a parking lot. But when we realized that in the end, the Chick-fil-A First 100 campout guests would get free Chick-fil-A for a YEAR (Read: One #1 combo a week for the next 52 weeks)? Well, there aren't enough words for all the feelings.  Needless to say, we went.
So how did it go? Well, we slept a little, ate a little, and laughed til we snorted. And because we KNOW you're dying to know, here's a play by play of our overnight campout at the Chick Fil A First 100 campout event.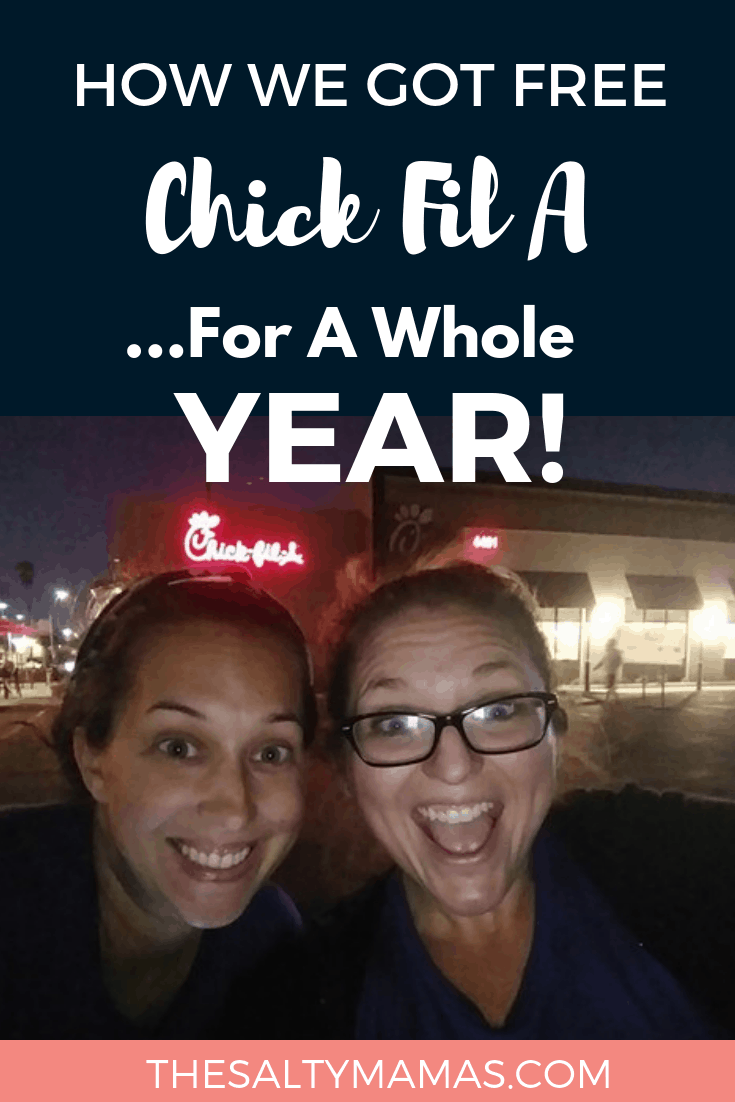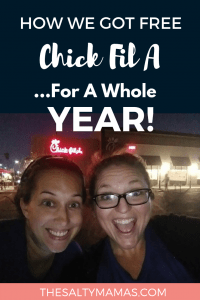 The Anticipation Builds…
8:00am We knew we wouldn't be able to head over until the Daddies arrived home from work, so we spent the day anxiously driving by the location trying to judge the crowds. We'd heard that many Chick fil A first 100 campout events fill up FAST, but that didn't seem to be the case for our campout. The first drive-by scope-out reveals about thirty people already in the Chick Fil A parking lot. In tents. Jaymi's optimism declines.
12:00 The second scope-out reveals the same thirty-ish people. Hope returns!
5:15 Daddy #1 arrives home, and Jaymi rushes over to the new Chick-fil-A opening restaurant to settle in for the night. She is given a wristband and becomes #60.
The check in process is somewhat intense- there are forms to fill out, and her driver's license is checked to ensure that she lives in one of the surrounding zip codes. The event staff explains the Chick Fil A First 100 campout rules– you cannot leave the premises. You must be present for all roll calls/line ups. And you have to behave in an appropriate manner. If you follow all the rules, and are still present when the new Chick Fil A store opens at 5:30 the next morning, you'll receive your voucher for free meals.
Finally, she's all checked in and ready to start the long wait through the night. She stresses for the next 75 minutes, hoping Christine makes it in time. She gets her first free chicken (a standard breakfast, lunch, and dinner are provided throughout the event) and she is NOT disappointed.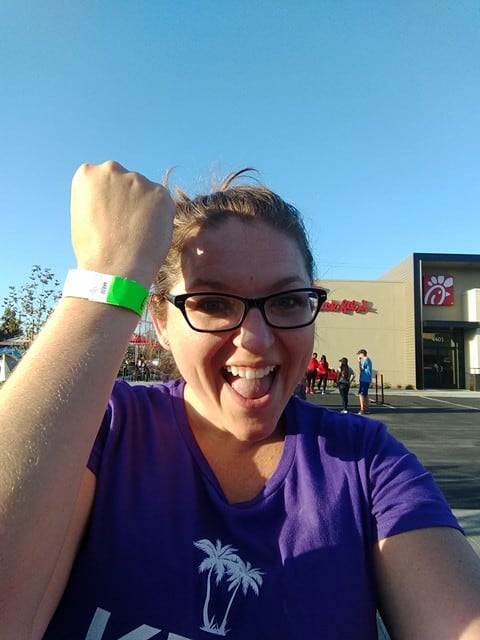 6:45 Christine arrives after a four mile trek, because CFA decided to open on street sweeping day, coming in at #80. On the plus side, she gets in all of her steps to meet her Fitbit goal for the day.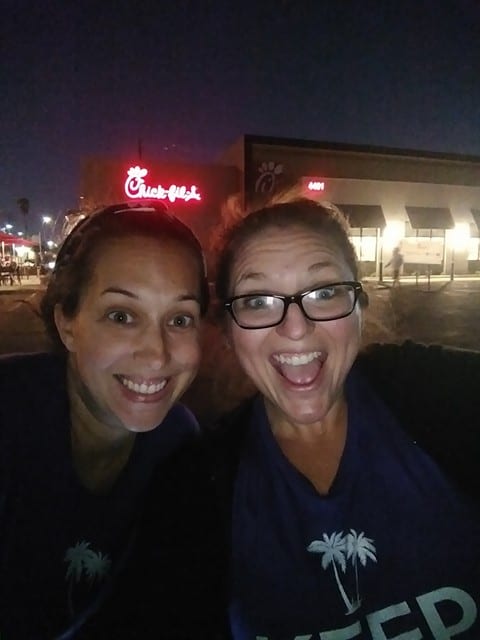 7:15 Jaymi gives Christine a tour of our luxurious parking spot. We set up our VERY MEAGER camp. We realize we are woefully unprepared for a night under the stars. Luckily, the Chick-fil-A has opened up their bathrooms for use, so we've at least got that covered.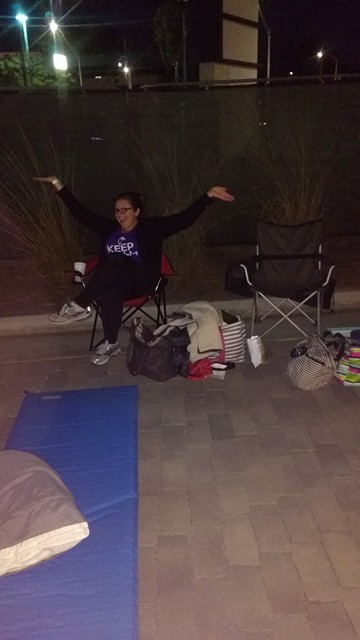 7:30 Our Chick Fil A First 100 campout host leads us in some games, not unlike what you'd play at a lock-in or sleepover as a kid. We try to move an Oreo from our forehead to our mouth. And we fail. So much failing. We are occasionally called to line up in numerical order to make sure everyone is still present, and that no one has broken the "no leaving the parking lot" rule.
8:45 Christine (who missed the free dinner provided) has DoorDash deliver Thai food to the CVS parking lot next door, and the lady who has to deliver it isn't even angry, but thinks Christine is a genius.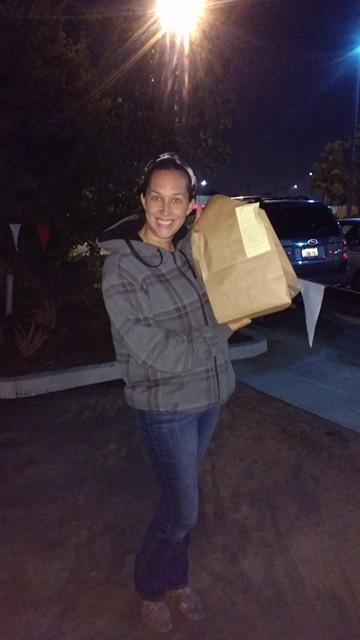 9:15 #76 scolds kids to "keep it down, she's trying to sleep." Apparently she is okay with sleeping on concrete, but not the sound of four square at a completely reasonable time.
9:45 We line up for our roll-call and receive cookies, sing and dance to "cookie time" from Troop Beverly Hills, and befriend college students who we quickly realize are the same age as the fifth graders Jaymi taught ten years ago. So we defriend them.
9:47 We enjoy a warm, delicious chocolate chip cookie that does NOT HAVE raisins in it, which we don't even believe you're allergic to, #65.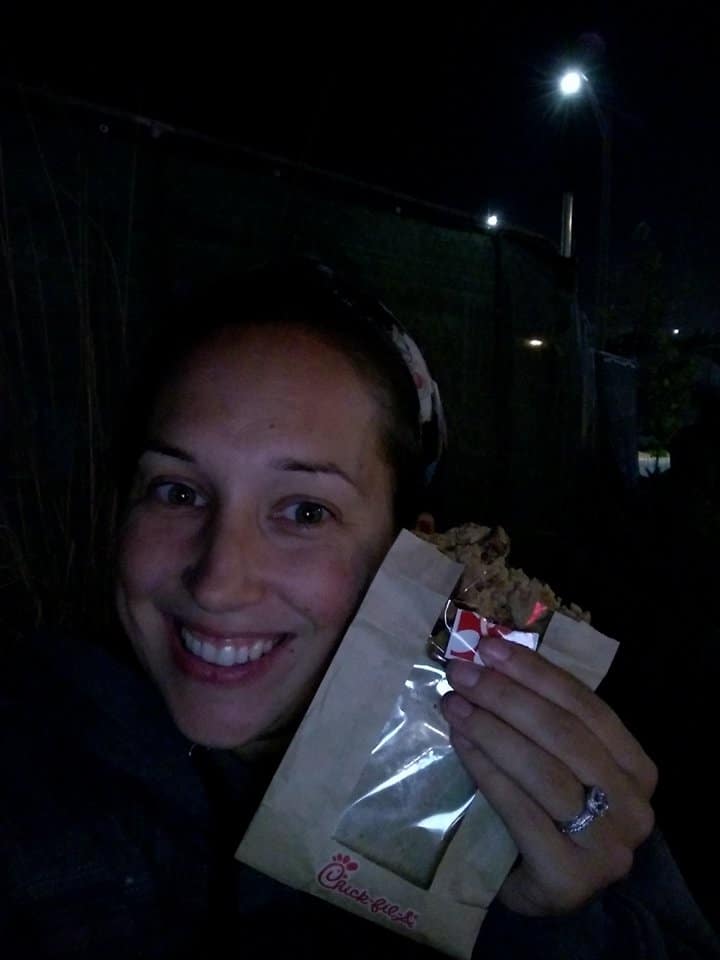 10:17 Christine watches heckles #103 and #104's (alternates, none the less!) casual game of cornhole, turning a simple game into a high stakes nightmare for them. And me, but mostly #103. They are probably even more grateful than we are that Chick Fil A has hired a security guard to keep things safe and respectable throughout the night.
10:30 We laugh until we snort, we go live on Facebook, and we enjoy the celebratory mood in camp before things start to quiet down as people try to get some sleep. Christine talks a lot about how she's not going to be able to sleep.
11:15 Christine is fast asleep, sitting up in a chair, with a blanket over her head.
12:15 Jaymi falls asleep in a toddler beach tent.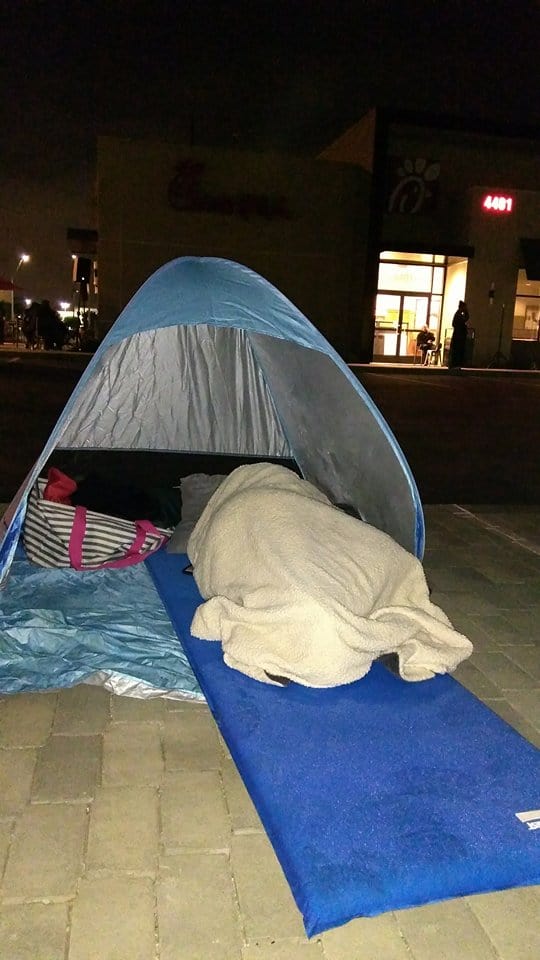 1:50 A head on collision on the busy street nearby wakes up everyone in camp. Except Christine. Everyone is okay, but there's a new sense of unity in camp.  We've been  through things together.
2:00-5:00 Jaymi and Christine both enjoy three hour stretches of sleep,  which barely even happens at home, so we're pretty stoked.
5:00 The Chick fil A first 100 campout event staff wakes us up and tells us to start packing up. We realize we slept in fitful stretches in uncomfortable positions, meaning it's no different than any other night. We decide to call it a success.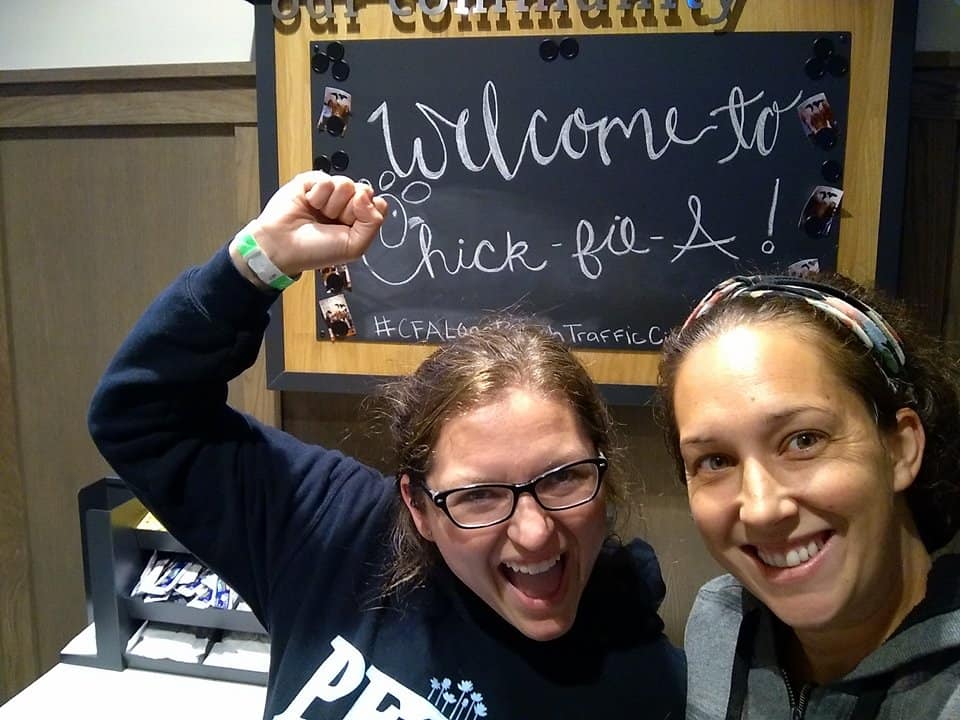 5:30 They start lining us up to receive our reward. You must show your bracelet, and then you'll be given a paper ticket that you will soon exchange for a Chick Fil A First 100 award meal card. Not everyone has stuck around, but as a result, we joyfully discover that our best friend alternate #103 has secured a spot to receive his free Chick Fil A, too! We cheer. Because obviously.
5:55 As if we didn't feel ridiculous enough for having slept outside in exchange for chicken, we are asked to put on paper hats for a picture for the newspaper. Jaymi hides behind the tall gentleman standing in front of her.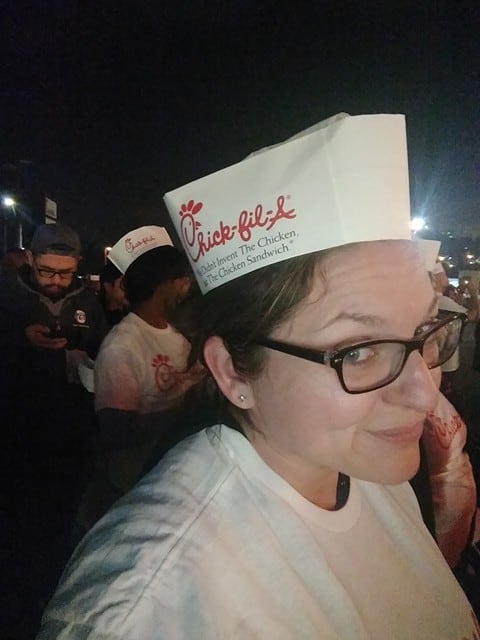 6:00 Christine saves Jaymi's ticket from blowing away in the wind. She receives hero status from our fellow campers, but mostly from Jaymi.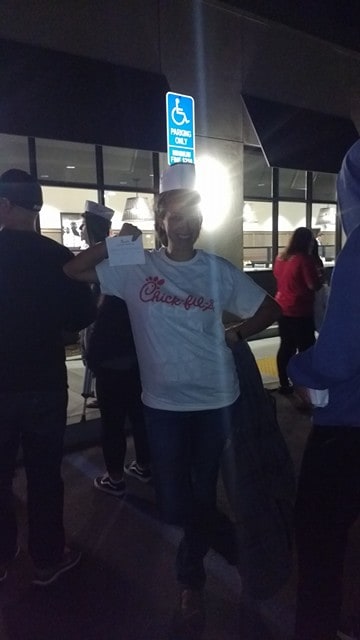 6:10 We enter the Chick Fil A to drumrolls and applause from the newly trained Chick-fil-A staff. We are more embarrassed than we expected, but the owner is super nice and seems genuinely grateful that we attended. We like her already and are crazy excited to support this woman-owned business.
Also, free chicken. We exchange our paper tickets for plastic First 100 award meal cards, loaded with 52 #1 combo meals. WORTH IT.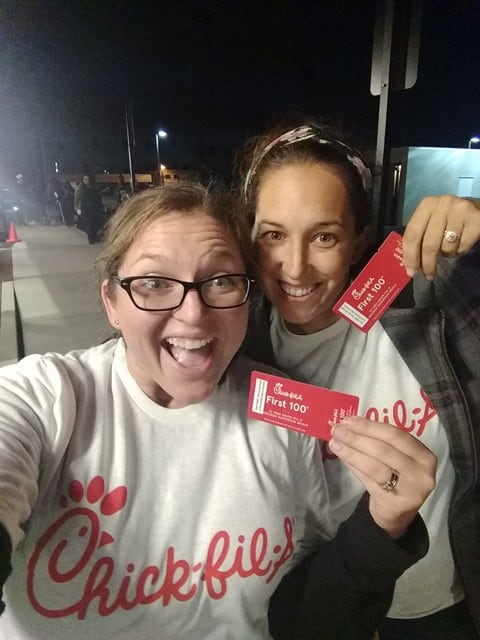 6:15 We're on our way home for a full day of momming, school drop-offs, and coffee. So much coffee.  But we have a free trip to Chick Fil A on the horizon- no actually, MANY free trips to Chick Fil A on the horizon, so we'll take our bleary-eyed selves home and call this day a win.
*******
Have YOU ever participated in a Chick Fil A First 100 campout event? We'd love to hear about your experience in the comments!
(And in case you're wondering- yes we DID eat all 52 of those meals that year. Because of COURSE we did.)
Looking for more ways to cheapskate your way to some freebies? Check out these posts next-