As many of us prepare for a year of hybrid learning, distance learning, or even – what is happening this year???? – learning, we're dealing with a lot of unknowns. Personally? We have the kind of anxiety that finds comfort in all the preparation, so we're figuring out how to get organized for distance learning and making ALL the contingency plans! Check out our list of everything you need to nail distance learning – or at least survive it – this year.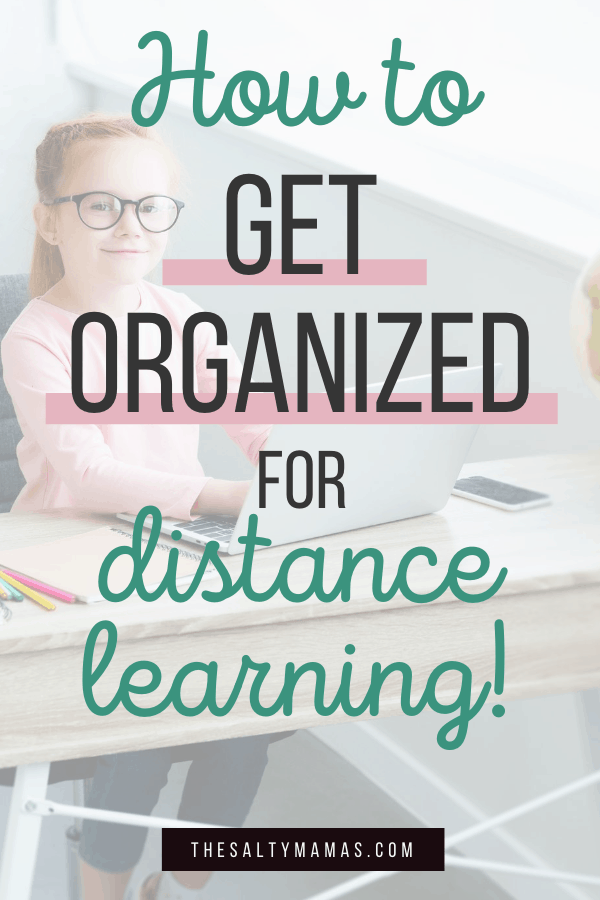 This is a sponsored post. We received compensation from Paracable in exchange for an honest review. You can read more about what that means at our disclosures page. Thanks for supporting The Salty Mamas!
Organize Electronics
Chrome books and iPads and "can I use your phone Mommy???" OH MY! If we weren't fully immersed in all the screens before, we are now! We are living in a very digital world, even when it comes to our littlest learners. Between our phones, our husband's phones, our kids school screens and the iPads to keep the toddlers busy while we try to facilitate distance learning with the big kids – there are a lot of electronics to manage. And it's a LOT of electronics to keep charged!
Our house was always engaged in a fight for an available charger, until we stocked up on a family supply of Paracable. One of our favorite things about Paracable is that these cords are incredibly sturdy! Created and designed to solve the problem of cats chewing through charging cords, Paracable's advanced technology is no joke and stands up to the rowdiest cats – or kids. And if the cord breaks or malfunctions in the first two years, they'll replace it for free! Which is music to this Mom's ears!
The other thing we LOVE is the wide variety of colors available. Because if you have a kid – or have ever met one – you know how incredibly picky they are about what color everything is! From cups to plates and now to charging cords for their tablets! Thanks to Paracable, everyone has their own cord – in their favorite color – help keeping my kids happy and sure of which device is theirs.
Grab some of your own cables using our special referral code THESALTYMAMAS, saving you 10% on your purchase!
Personalized Supply Kits
If you've got multiple kids, you're no stranger to the wails of, "THAT'S MINE!" Now that we've got that fight settled with electronics, it's time to move onto, well, everything else. The more organized we can be heading into distance learning, the fewer fights we can hope to have. One easy way to overcome this is to keep the kids supplies separated. On a day where you just need the kids to get to work, you don't want to be fighting over crayons, glue sticks and favorite pencils.
We love using a Double Duty Caddy from Thirty-One. It's the perfect size for everything your little one will need, has handy pockets on the sides and an easy handle so they can grab their caddy and take it to their workspace. We recommend you use something mobile and versatile so you can make that workspace outdoors on a lovely day, in their bedroom when they need a little solo focus, or on the kitchen table when you're all working together.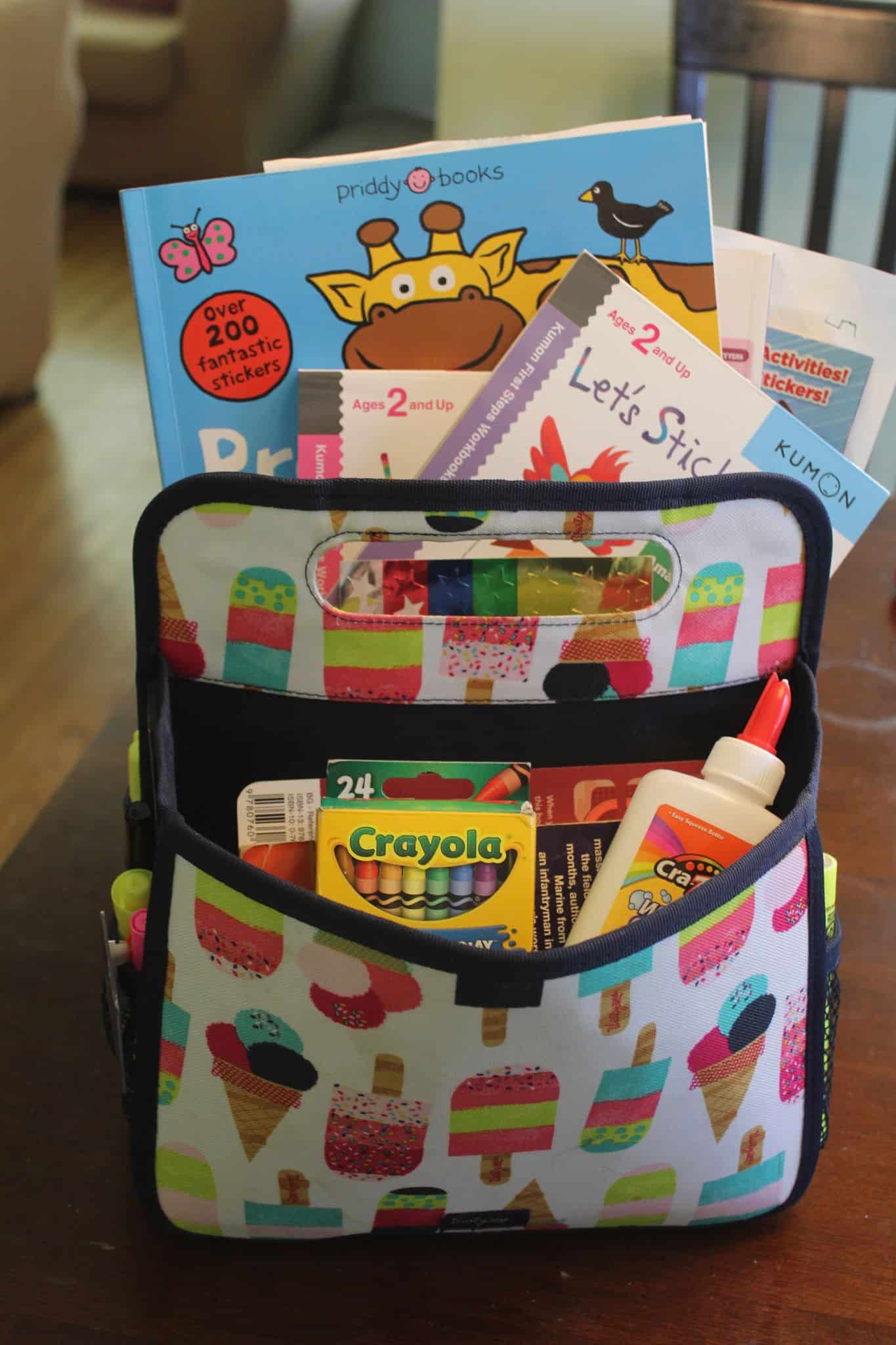 Think of this like their supply kit at school that would be on their desk. Work with your child asking them what would normally be in their desks and let this be a fun project for them to help with. Also ask their teacher for what supplies they recommend they have easy – and personal – access!
Major Projects Organization
While you want your kids to have easy access to the things they'll use the whole day, you may also want to invest in some storage for bigger things. Reams of paper, schoolbooks and workbooks, and art supplies for the bigger projects will all need a home in your distance learning workspace as well. We love this rolling, color-coded organizer because you can again use colors to sort by child for easy access to supplies.
We set our Double Duty Caddy right on top and everything is in one convenient location!
Binder for Schoolwork
If there's one thing we learned during Spring Distance Learning it's that there's a LOT of paper. And it piles up FAST. Our kitchen table quickly became piles of "wait – have we finished this assignment?" and "when is this one due??" So this time around we're all kinds of organized. Assignments can be organized by kid, by due date, by subject – whatever system works best for YOU!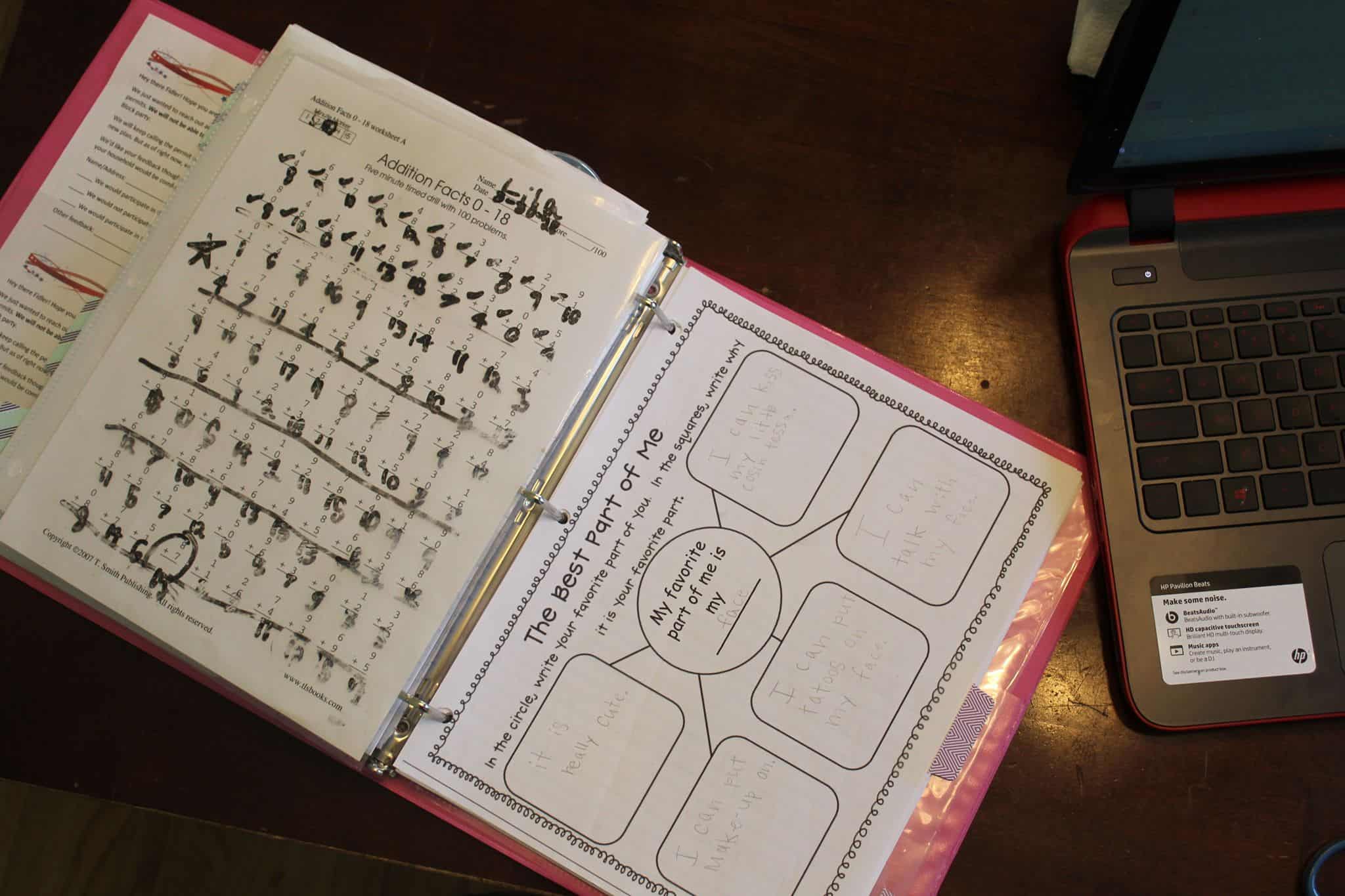 We recommend you use clear plastic sheet protectors to keep schoolwork in so you can flip through easily without having to hole punch. Bonus points – kids can grab some dry erase markers and do work more than once for practice!
Daily Checklist
So what if you need your kids to be a little more independent during distance learning? Daily checklists are a great way to help keep kids organized, and to help them to become a little more self sufficient.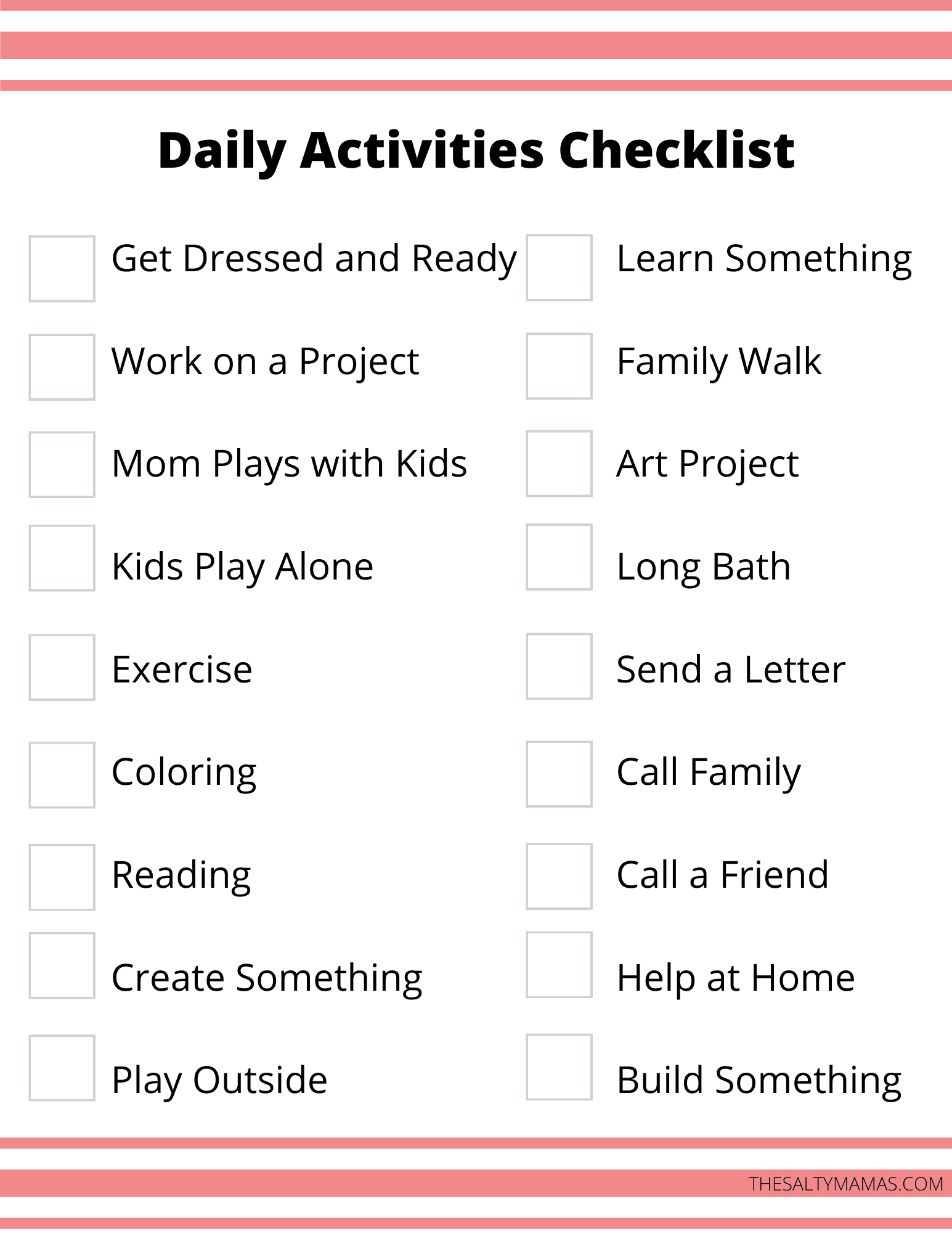 Make a checklist (similar to the checklist we made to help keep kids entertained during quarantine) with the activities your child will do each day. Place the checklist in a page protector and let them use a dry erase marker to check off activities as they complete them.
Examples of things to include on a daily checklist:
Google Meets or Zoom meetings with the teacher
Independent assignments for math
Independent assignments for language arts
Math facts practice
Read for 20 minutes
Write a journal entry
20 minutes of physical activity
20 minutes of creativity or art activities
Blank space for you to write in activities for the day
Weekly Calendar
While it can definitely feel like we need to take things one day at a time, it's helpful to be able to see your whole week in one glance. We're not sure how we would have survived spring distance learning without our family wall weekly calendar. Whether you choose something like a magnetic white board for your fridge or a more decorative chalkboard calendar for your wall, you'll want something handy and easy to update!

Track Zoom classes, assignments, and virtual playdates for everyone in one easy location.
Related Post: Epic Working Mom Organization Tip- The Working Mom Command Center
Don't Forget the Treats!
My little ones really enjoy school – but they also enjoy the little rewards. The scholar dollars for being good, the pizza parties for class attendance, and their favorite is their trips to their teachers' treasure chest for a special reward. While it will never be as fun as it is at school, we're planning some special pizza day lunches at home to celebrate little milestones. We've also got a fully stocked bin of little trinkets (the kind I usually hate in things like party favor bags) for rewards. Find ways to incorporate incentives into your home learning environment. You'd be surprised how much a little toy, temporary tattoo, or slap bracelet can motivate and excite your student!
We love some of these options:
Look, in a perfect world, treats would involve a lot less plastic to be strewn about the house. Unfortunately, suddenly being thrust into distance learning is not anyone's idea of a perfect world. And it just so happens that my kids are incredibly motivated by little pieces of plastic they can have fun with for a few days before forgetting about forever.

Small Plush Stuffed Animals
My kids are also OBSESSED with tiny stuffed animals. While they might drive me a little crazy, they're not plastic and don't take up too much space. So if a tiny stuffed frog will motivate my kid to do his reading or work his way through his math book, then it's worth it!

Edible Treats
While we're not recommending you get your kids all jacked up on sugary sweets every day, some kids can be very motivated by the promise of a lollipop! Use a star chart to track days that kids complete their work without whining or make big achievements. If we can celebrate our success with a glass of wine or a slice of cake, our kids might just be pretty happy to celebrate with a little something sweet as well! Grab a bag of your kids' favorite piñata candy so you'll always have a secret stash on hand!

Work Towards Something BIG
If you're not into knick knacks and candy, you are not alone!! Big rewards are definitely a favorite around here. For my 7 year old son, Lego is the world's greatest motivator. ( I especially love to grab a 3 in 1 Lego Creator kit like this so that there are more ways to build!) So I keep an eye out when I get a gift card to Amazon or Target and always watch for sales. Then I store my finds in a secret spot in my closet to use as a gift or reward later. At any given time, my gift closet may have some new Play Doh sets, a creative craft kit like this Make Your Own Soap Craft and Science Kit or an awesome STEM project like this solar robot!
The best part of these big rewards is that it's easy to make them something educational as well! Just don't tell the kids that – it can be our secret!
***********
With a little planning, and grabbing everything you need to get organized, we know you can totally nail this whole distance learning thing. It won't always be easy, and tears may be shed (by us and our kids) but by getting organized, we've got our best chance at making it through the year. And if you're feeling alone and lost, don't forget to join us over on Facebook where we're always keeping it real as we struggle right alongside you!
Looking for more home organization posts from The Salty Mamas? Check these out next!