You think Halloween is scary? KIDS are scary. So the combination of the two can be downright terrifying. But also hilarious. Take comfort in the fact that you are not alone in dealing with the terror of the sugar rush. So sit back, relax, and scroll through some hilarious Halloween parenting Tweet roundup!
For more funny Tweets, make sure to follow us @saltymamas on Twitter!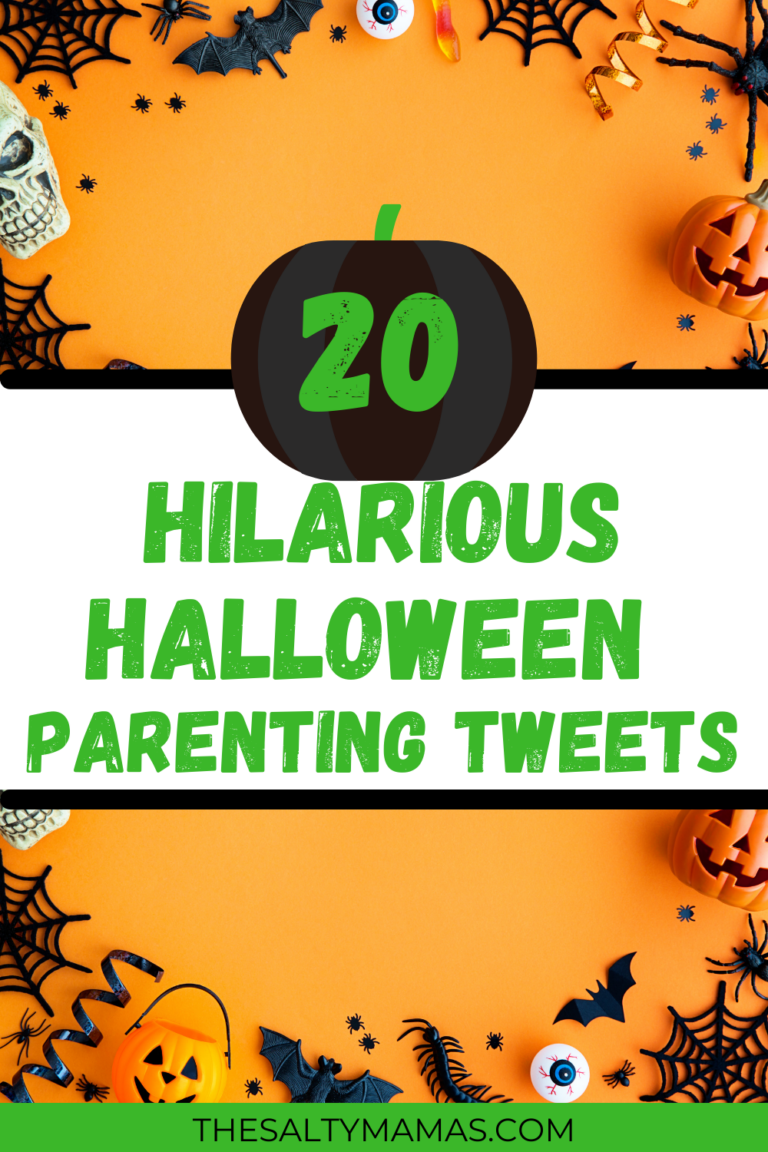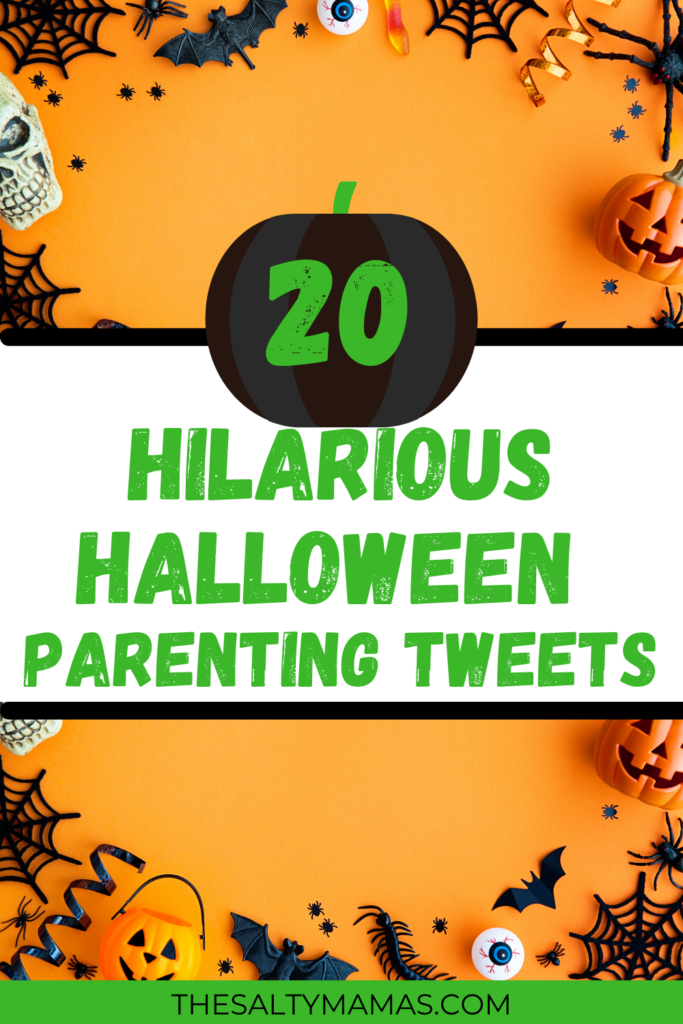 Does this place have workman's comp?
Halloween activities with kids can be so fun like for instance earlier I dislocated my shoulder carving 3 pumpkins on my own while they watched Netflix and ate chocolate skeletons

— MumInBits (@MumInBits) October 26, 2021
Earmuffs!!
October PSA to elementary parents not looking to have the birds and bees conversation: the word "virgin" is said in Hocus Pocus approximately eleventy-billion times.

— thewildwest3 (@thewildwest3) October 11, 2020
Are you new here?
Husband bought a bag of candy today, October, 25 and implied it was for trick or treaters.

I've literally never seen candy last so long, what is he thinking!?

— Heather #BLM🏳️‍🌈 (@dishs_up) October 26, 2018
I can't cast the first stone here….
Oh right, like You've never let your kids stay lost in the pumpkin patch corn maze just a little longer

— OyVeyLady (@OyVeyLady) October 28, 2021
Just this once!
364 days a year: Kids, don't take candy or rides from strangers.

1 day a year: Go trick or treat in that rich neighborhood. Take an Über.

— Rick Aaron (@RickAaron) October 29, 2015
Team Sanderson Sisters. Fight me.
The older you get the more you identify with the Sanderson Sisters sucking the vital energy and youth out of the children on Hocus Pocus.

— kimpossible (@LifePitts) October 21, 2021
Mom, we need to talk.
Now that I am a parent I am confident that the reason my parents had to "check my Halloween candy" was NOT because of razor blades and drugs.

— The REAL Messy Mom (@TheREALMessyMom) October 28, 2021
Total domination
Might established dominance with my neighbors by putting up massive illuminated Christmas decorations around my house prior to Halloween.

— 🎃🌘Dad Moon Rising🌘🎃 (@raoulvilla) September 11, 2021
*Chef's kiss*
[carving pumpkins]

Me: Need help buddy?

5: No, I do it myself

5's pumpkin: pic.twitter.com/EEmdu1vs3u

— Richard Dean (@dad_on_my_feet) October 27, 2021
I don't know the rest of these Marvel guys…..
The problem with family Halloween costumes is it is harder to pretend your children are not yours. #Halloween

— Momkward (@ImaAwkwardMom) October 28, 2021
TERRIFYING.
*Goes as a School Lice Outbreak Notice for Halloween*

— OyVeyLady (@OyVeyLady) October 12, 2021
2 More days…2. More. Days.
Hey parents only about 4,000 "Is it Halloween yet?"s to go we got this.

— Daddy Go Fish (@daddygofish) October 23, 2021
#TeamPizza
For Halloween my wife wants us to be kangaroos with a joey, but I want to be stay at home parents with a sleeping baby.

She bought the costumes but I countered by buying a bottle of wine & frozen pizza, so I think the jury's still out…

— A Dad & His Jokes (@ADadAndHisJokes) October 3, 2021
Now that's some home economics I can get behind!
Halloween is a wonderful holiday. I just threatened to throw away a piece of candy every time the kids misbehave.
Parenting currency.

— Ohio mom of two #BLM 🏳️‍🌈 (@OhioMomoftwo) October 28, 2019
YEET!
Me, trying to connect with the teenage trick or treaters: you look on fleek

Teens:….

Me: you're really flexing on this candy

Teens:….

Me: YEET!

*wake up tomorrow and house is TP'd*

— Marissa S. Pumpkins 🎃💚🍃💛 (@michimama75) October 31, 2019
Everything you need to know about parenting
Do we have a stash of candy in our master bath? Yes

— Nate the (mediocre) Great (@mediocre_Nate) October 25, 2021
Behold!
"Look at this pumpkin! It's the biggest one I could find and now my mum has to carry it all the way to the car!" 🙄 pic.twitter.com/muXRw3KCqU

— Lauren Nolan (@Moonfacemum) October 26, 2021
Is this a trick? Or a treat?
My husband complained that we lack the cardboard boxes he needs to make our Halloween costumes because I haven't been online shopping enough. Let that sink in because I am gonna ride this high for a while

— mean things I say to myself (@meantomyself) October 23, 2021
Goodbye Halloween, Hello CHRISTMAS!
It's a big day.

Today is the day we switch from threatening to cancel Halloween, to threatening to cancel Christmas.

Game faces on people.

— The Salty Mamas (@saltymamas) November 1, 2019
For more hilarious parenting tweets, head here next!