Looking for some warm sensory fun on a cold wintry day? Check out this Hot Chocolate Winter Sensory Bin for Preschoolers (with taste safe options!)
We LOVE all things sensory around here. Not only are there incredible benefits to sensory play for kids, but let's be honest- sensory bins keep kids occupied for SUCH a long time.
Our kids love sensory bins, but it can be difficult to keep things fresh and exciting. After we exhausted all the holiday fun in our sensory bin, we still had a WHOLE lot of winter left and no more ideas.
So we looked beyond the Christmas, Hannukah, and Snow sensory bins our kids loved so much. Instead, we brought in some warm cocoa themed comfort!
And the best part? Setting up a hot chocolate winter sensory bin for preschoolers was SO easy!
Read on for the full details on how to set up a hot cocoa sensory bin of your own.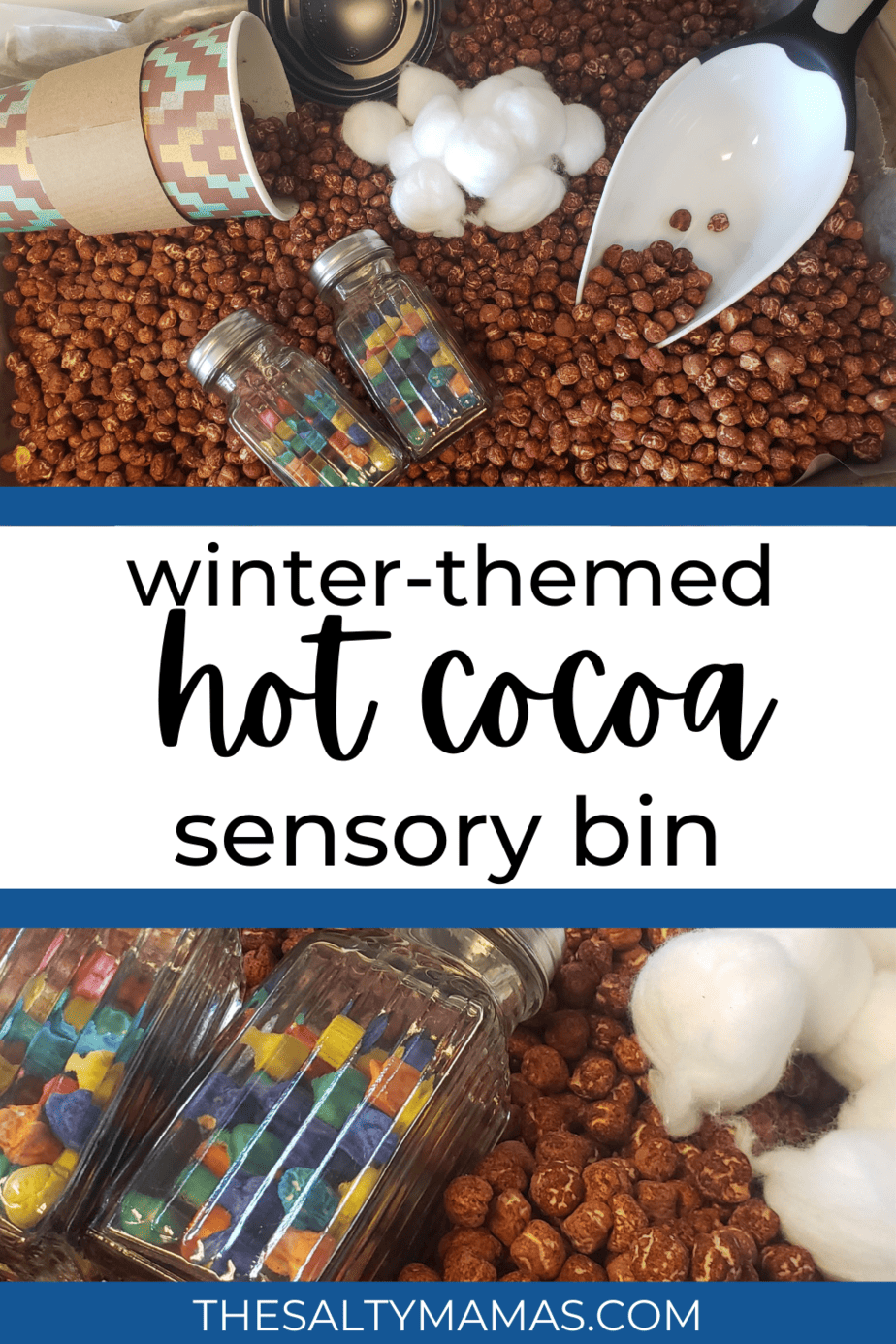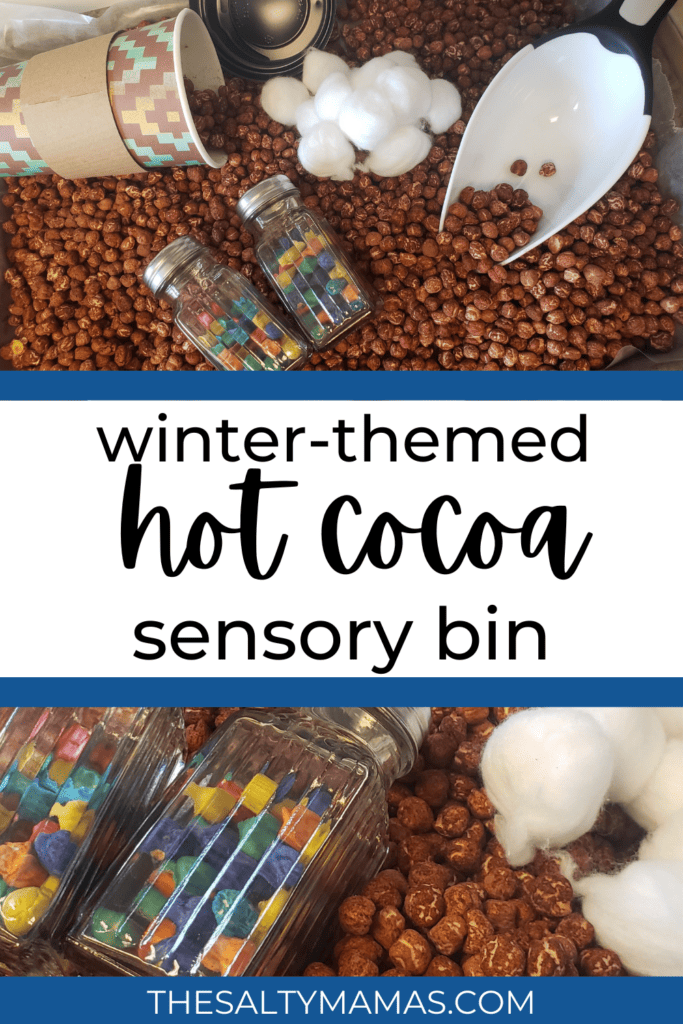 This post contains affiliate links. As Amazon affiliate, we may earn from qualifying purchases. You can read more at our disclosures page. Thanks!
The Benefits of Sensory Bins for Preschoolers
Sensory bins are becoming more popular, and there are some really exciting examples out there. Just remember, it doesn't have to be over the top to be beneficial to your kids! Simple bins work just as well as fancy ones.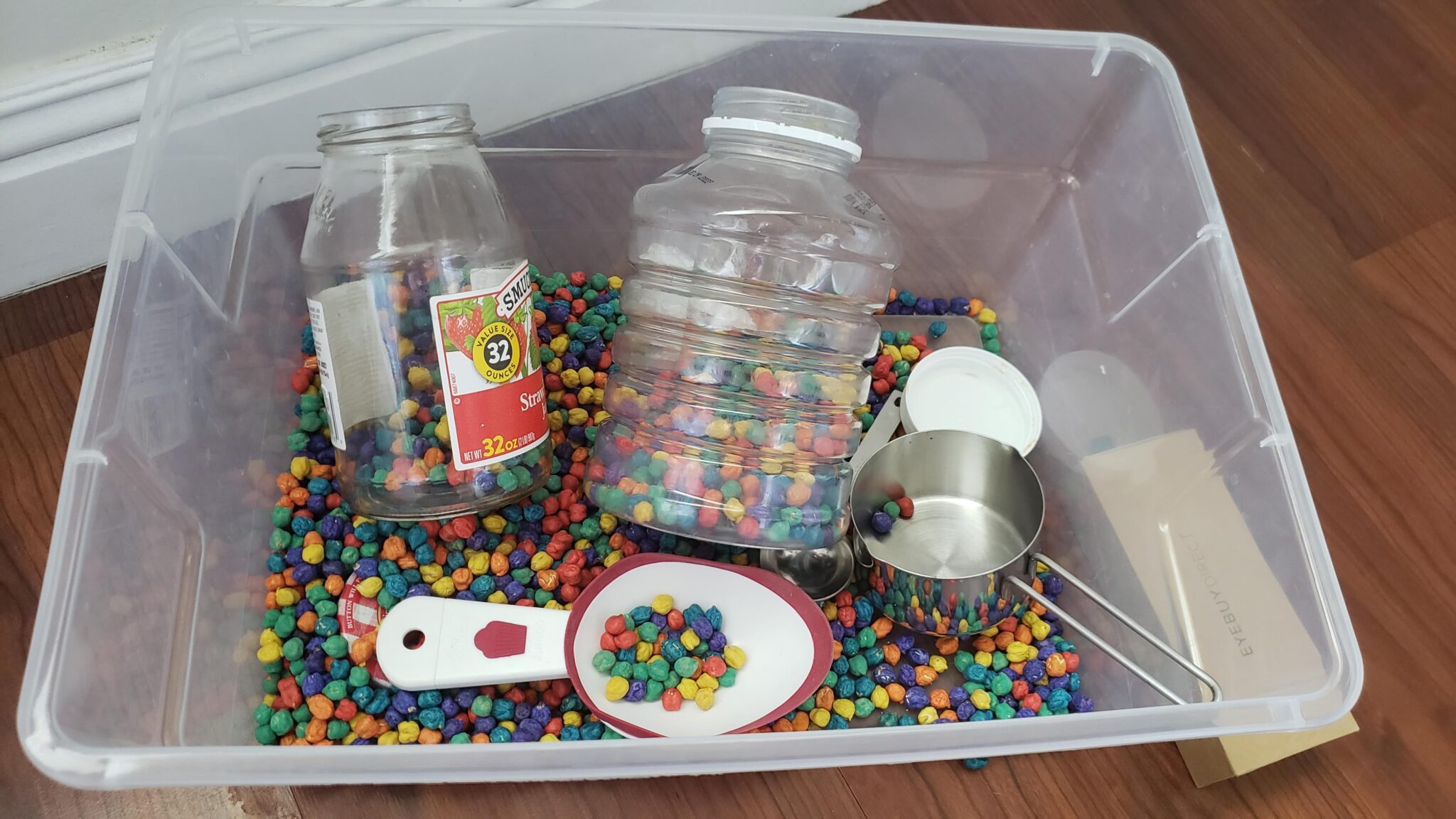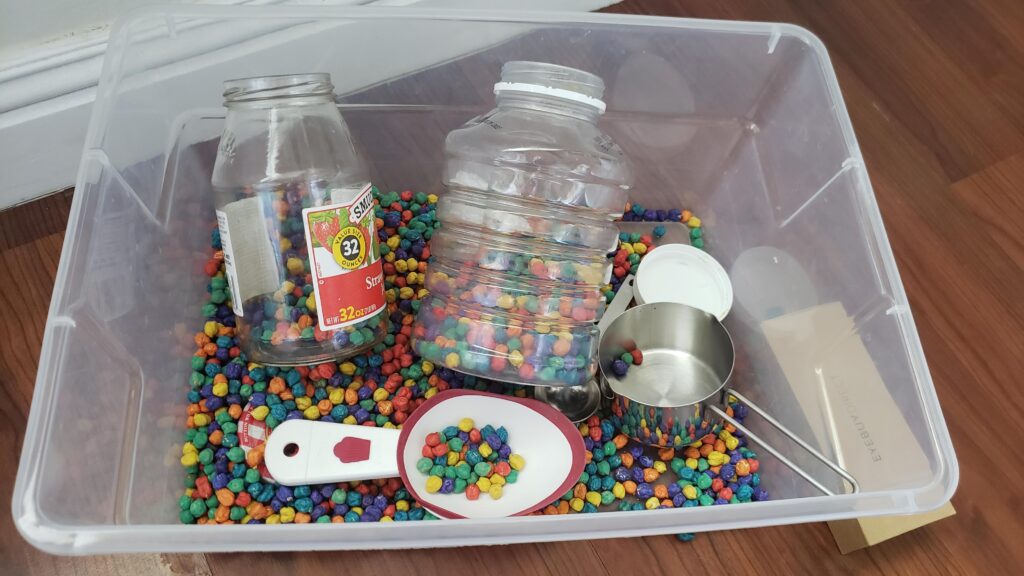 Sensory bins provide a lot of benefits for kids. Here's why this hot chocolate sensory bin is SO good for your preschoolers:
Exposure to different textures
Helps calm and soothe busy bodies and brains
Provides sensory input to strengthen proprioceptive and vestibular senses
Improves hand strength
Improves fine motor skills
Allows low-stress practice with hand eye coordination
Allows kids to practice measurement and capacity
Provides opportunity for language development
Imaginative play opportunities
How to Minimize Sensory Bin Messes
The number one thing that makes moms nervous about sensory bins? The mess! But sensory bins don't have to make a huge mess in your house.
You can cut down on the mess by giving your kids rules before you begin playing with your sensory bin. Here are ours:
Sensory bins (and their contents!) stay in the area they start in.
Keep materials in the bin as best you can.
Keep objects out of your mouth.
Tell mom when you're done so we can clean up together.
We also set up our sensory bins on a big towel on the floor of our kitchen (which is the easiest to clean floor in our house!). Doing sensory bins on the floor keeps objects from scattering if they fall from the height of, say, a table. It also helps prevent a bin tip-over.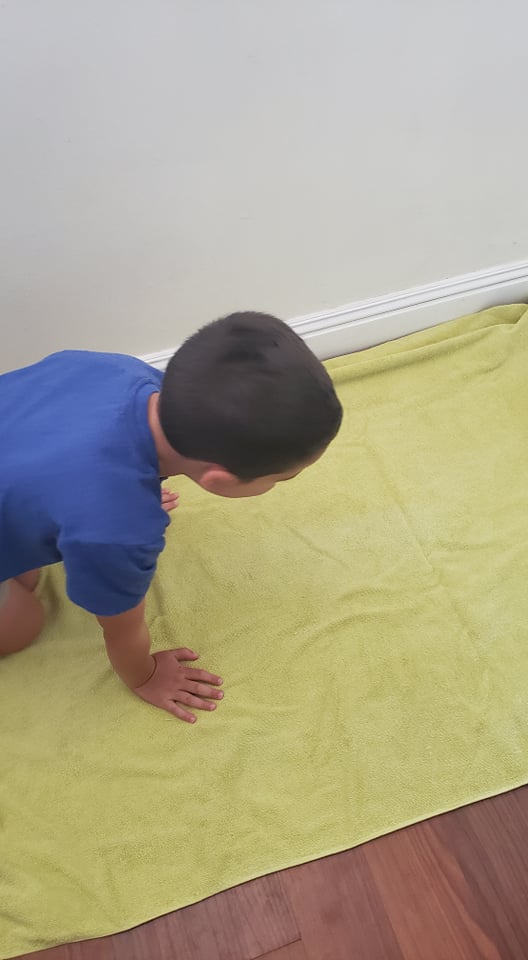 The first few times you do sensory bins, be prepared to play mean mom. The sensory bin comes out, and goes away if the rules aren't followed.
This helps show kids that mom means business and that the rules must be followed. Try again after a quick break.
Gather Your Hot Chocolate Winter Sensory Bin Materials
This one is actually pretty simple, and almost all of the materials can be gathered from the grocery store!
Here's what you'll need:
Hot Cocoa Sensory Bin Filler (See Below for Options)
Disposable coffee cups with lids
Cotton Balls
Scoops or measuring cups
Salt Shakers (Optional)
Rainbow Dyed Chick Peas, Rainbow Sprinkles or Rainbow Dyed Rice (Optional)
What to Use for Hot Chocolate Sensory Bin Filler
You have several good options to choose from for your hot chocolate winter sensory bin filler. What you choose depends on the age of your kids, what you have on hand, and how much effort you want to go to.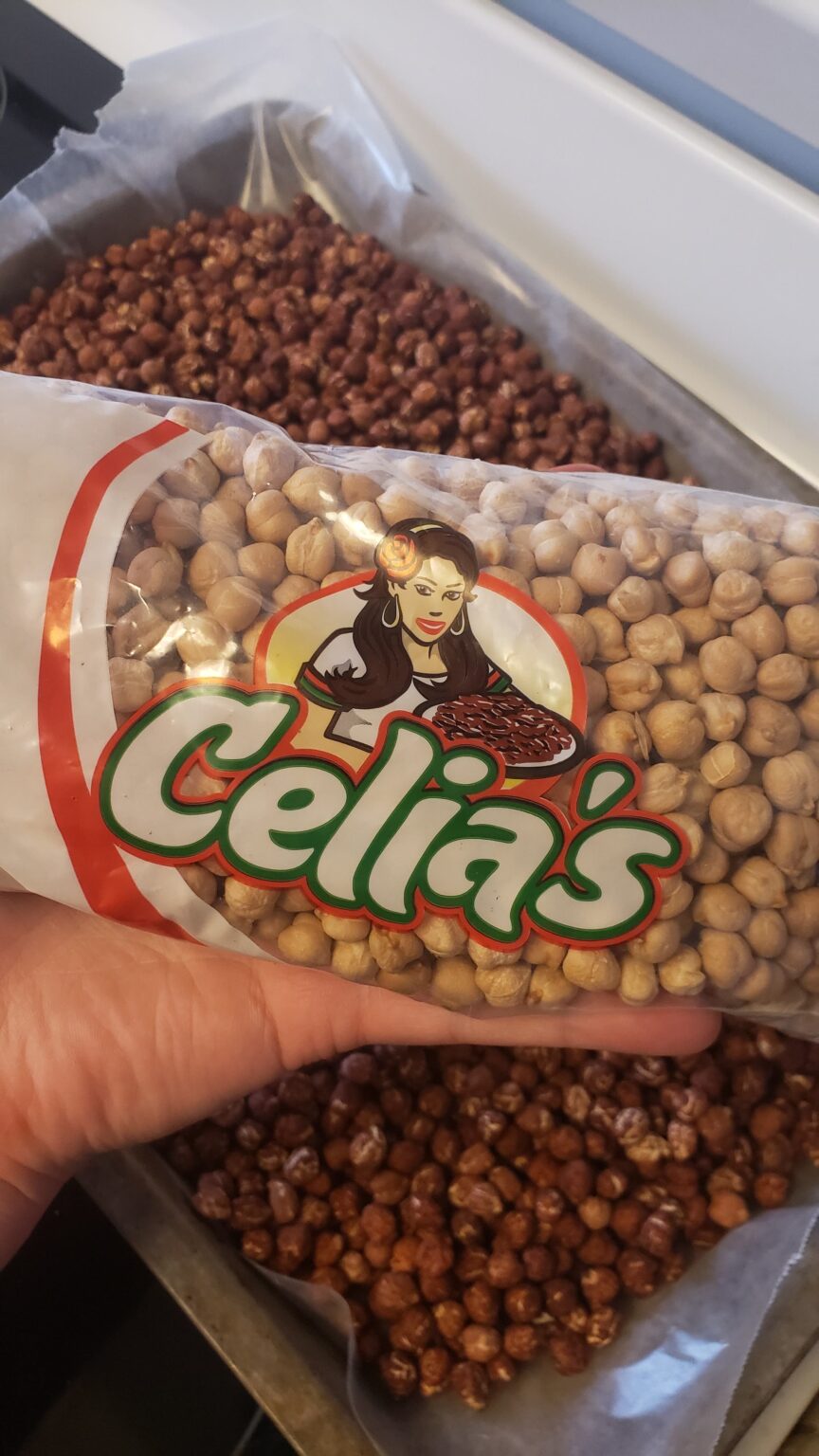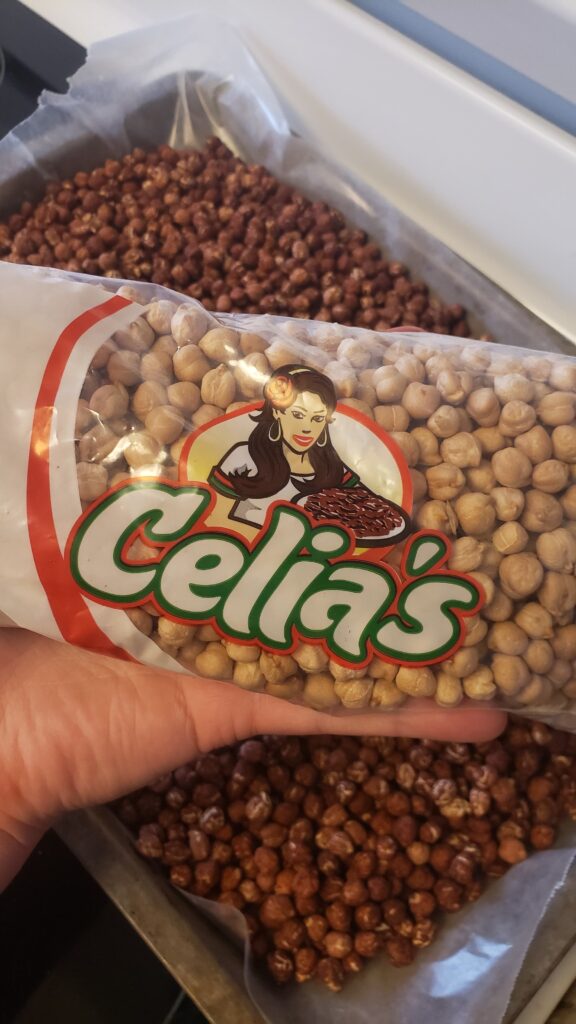 With all of these options (even the taste safe ones!) kids should be monitored to prevent choking or putting these objects up their nose. (Ask us how we know.) Children should never be left unattended with a sensory bin.
Taste Safe Option (Best for Toddlers): Cocoa Puffs
Easiest Option: Bags of dried pinto beans
Non-food Option: Shredded Paper
Longest Lasting Option: Chickpeas, dyed brown (See below)
How to Make Chocolate Scented Sensory Bin Filler
If you're looking to step up your hot cocoa sensory bin game, take an extra step or two to make chocolate scented sensory bin filler!
First, add two bags of dried chickpeas to a gallon size bag.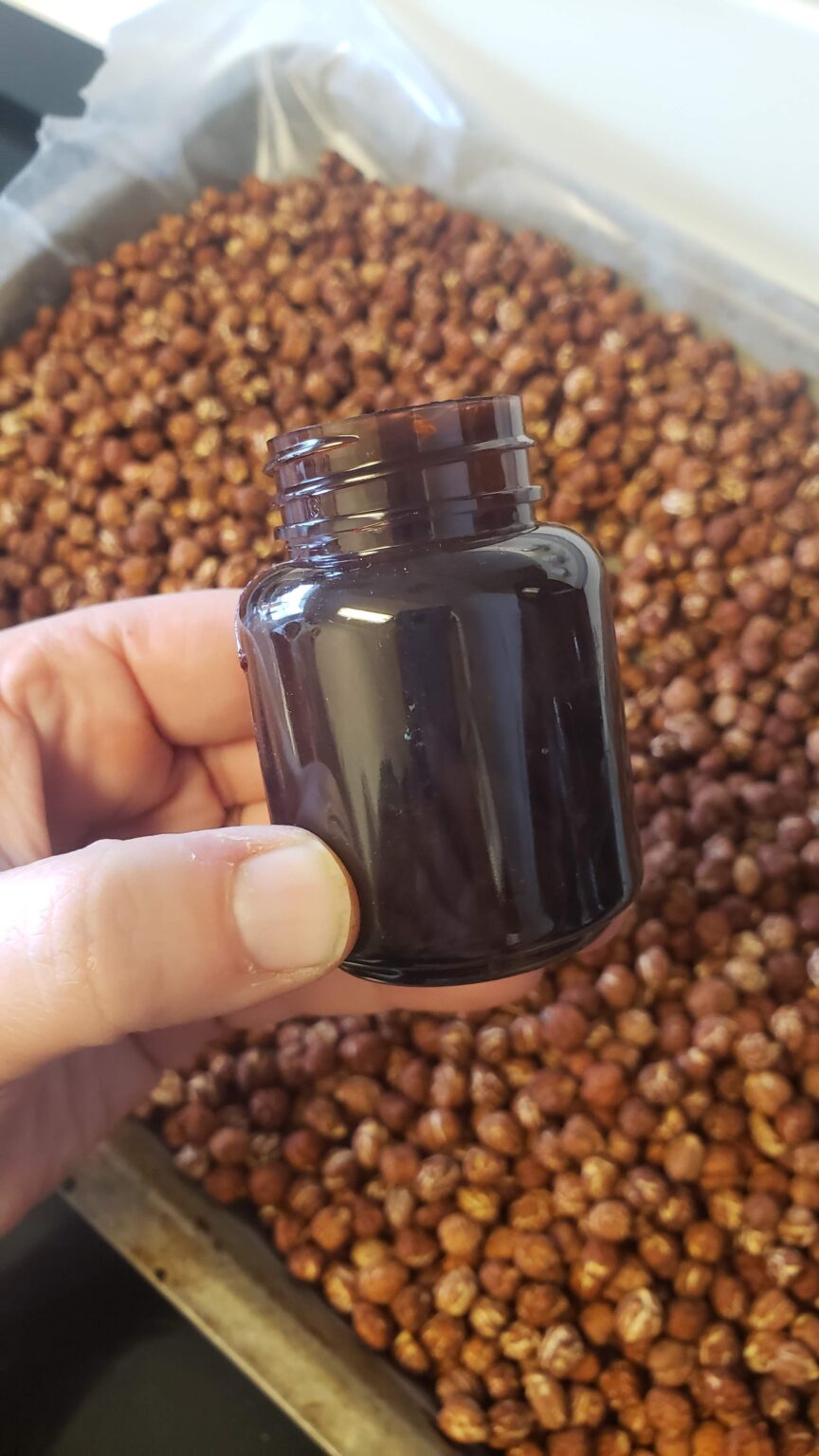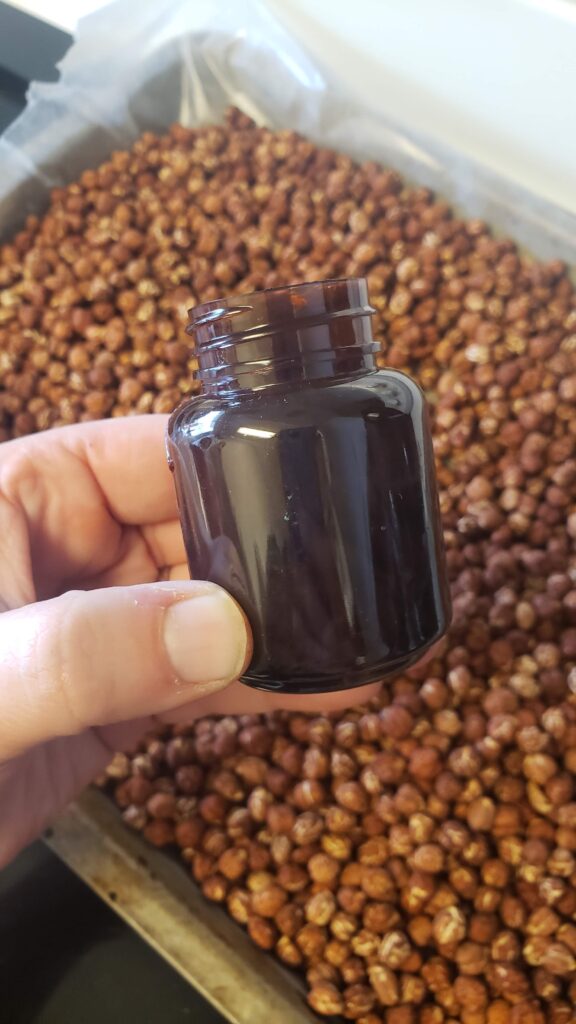 Add in a dollop or two of brown paint. You can always add more if you don't get enough the first time!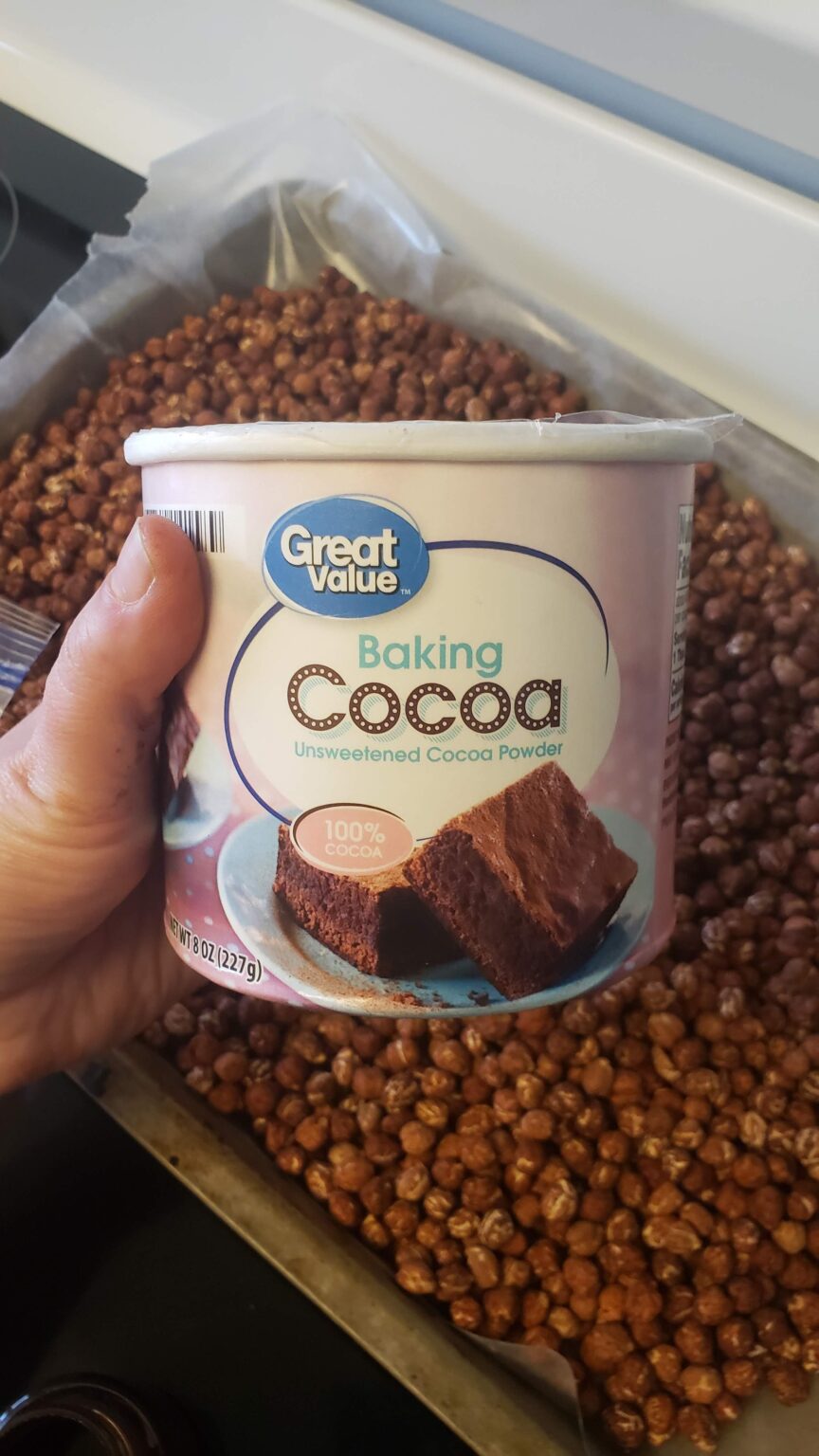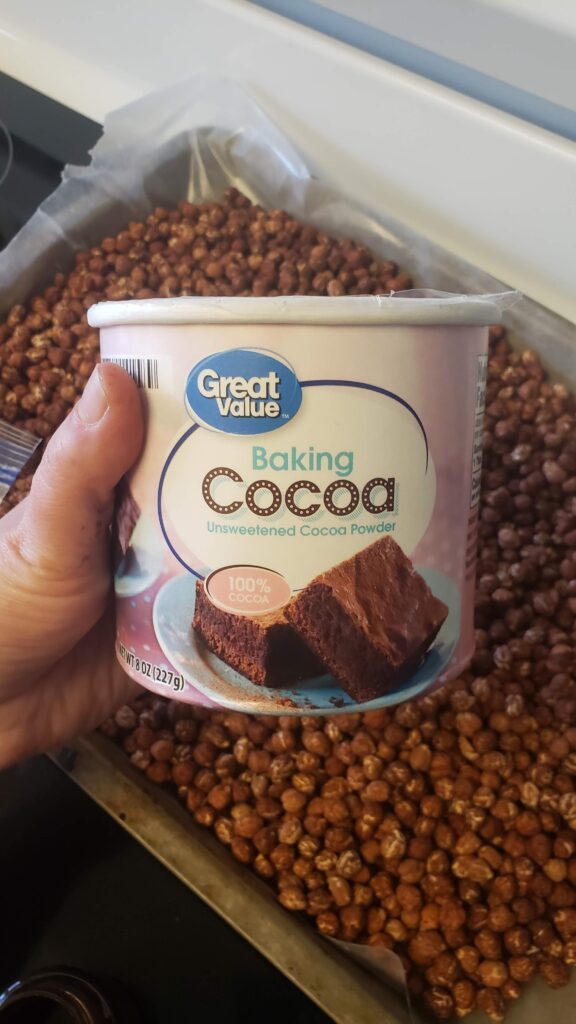 Add a quarter cup of cocoa powder for scent.
Shake the bag. Kids love to help with this step!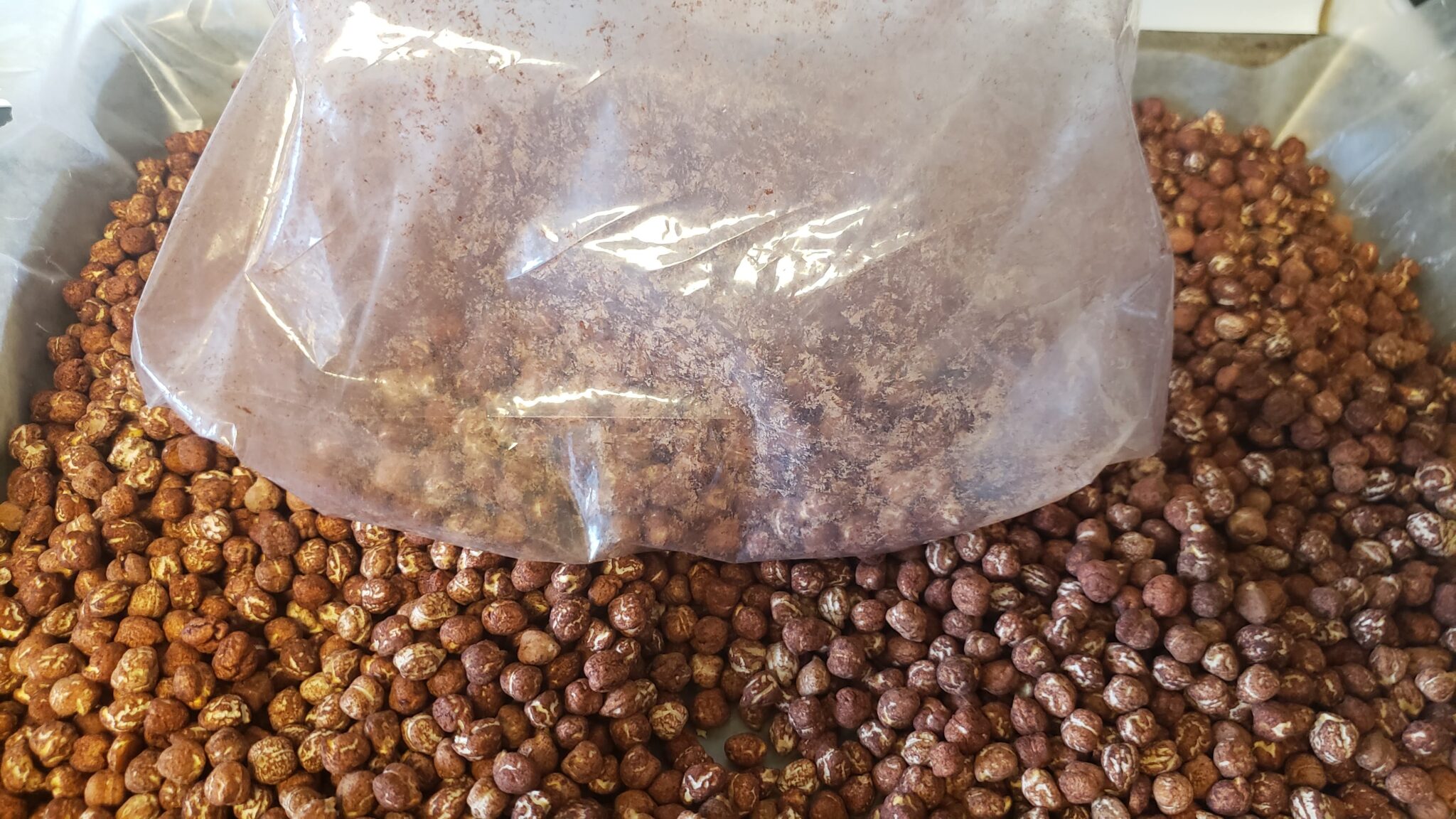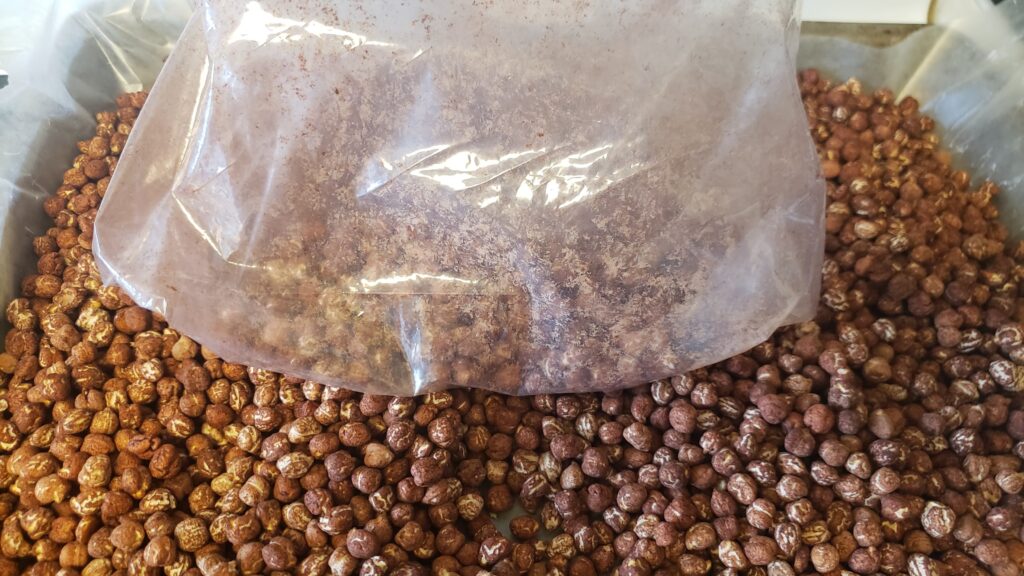 Spread your chickpeas out on a wax-paper covered cookie sheet to dry. This is actually pretty quick- about an hour or so!
How to Set Up Your Hot Chocolate Sensory Bin for Preschoolers
First up, choose your bin. We use a plain old 16 qt Sterilite container, but you can also purchase a sensory table for your kids if you plan to have sensory bins in rotation at your house.
Dump in your sensory bin filler (I used dyed chickpeas in our sensory bin, as I brought it into my preschool class. I wanted it to be fun, but not encourage them to taste it!) and add in your measuring scoops and cups.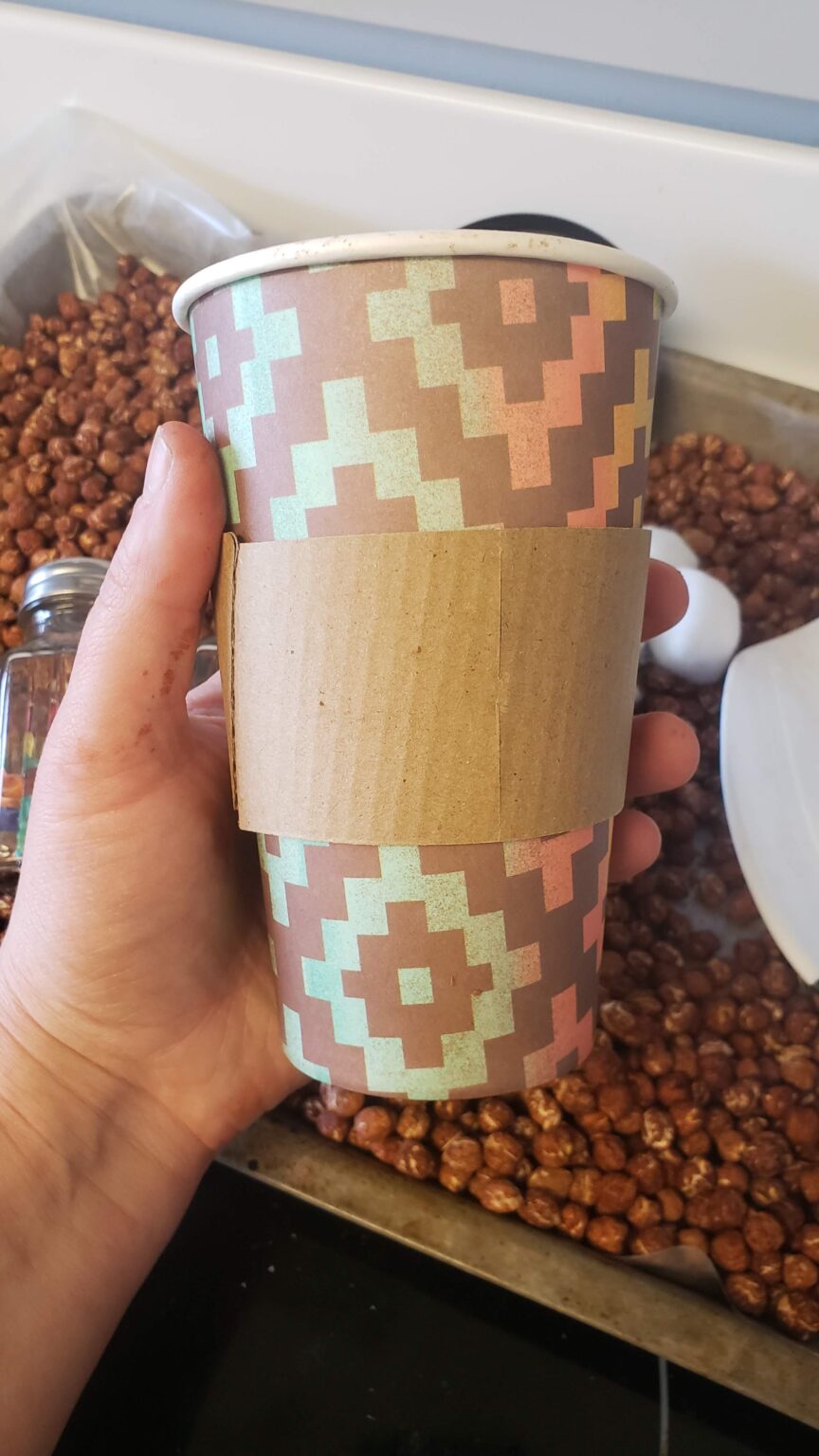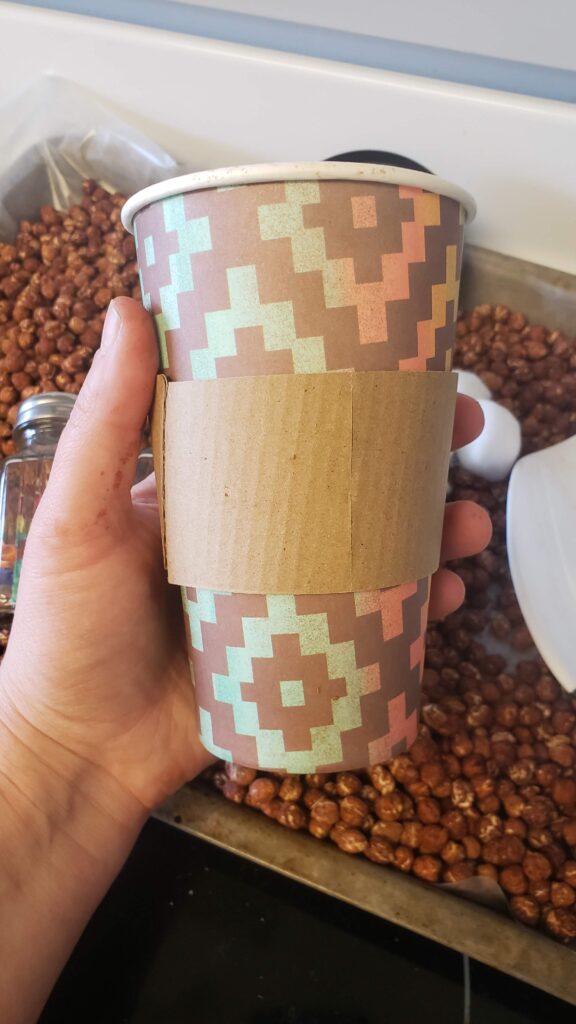 Bring out your disposable cups, lids, and sleeves. You can decide whether you want to put these inside your bin or next to.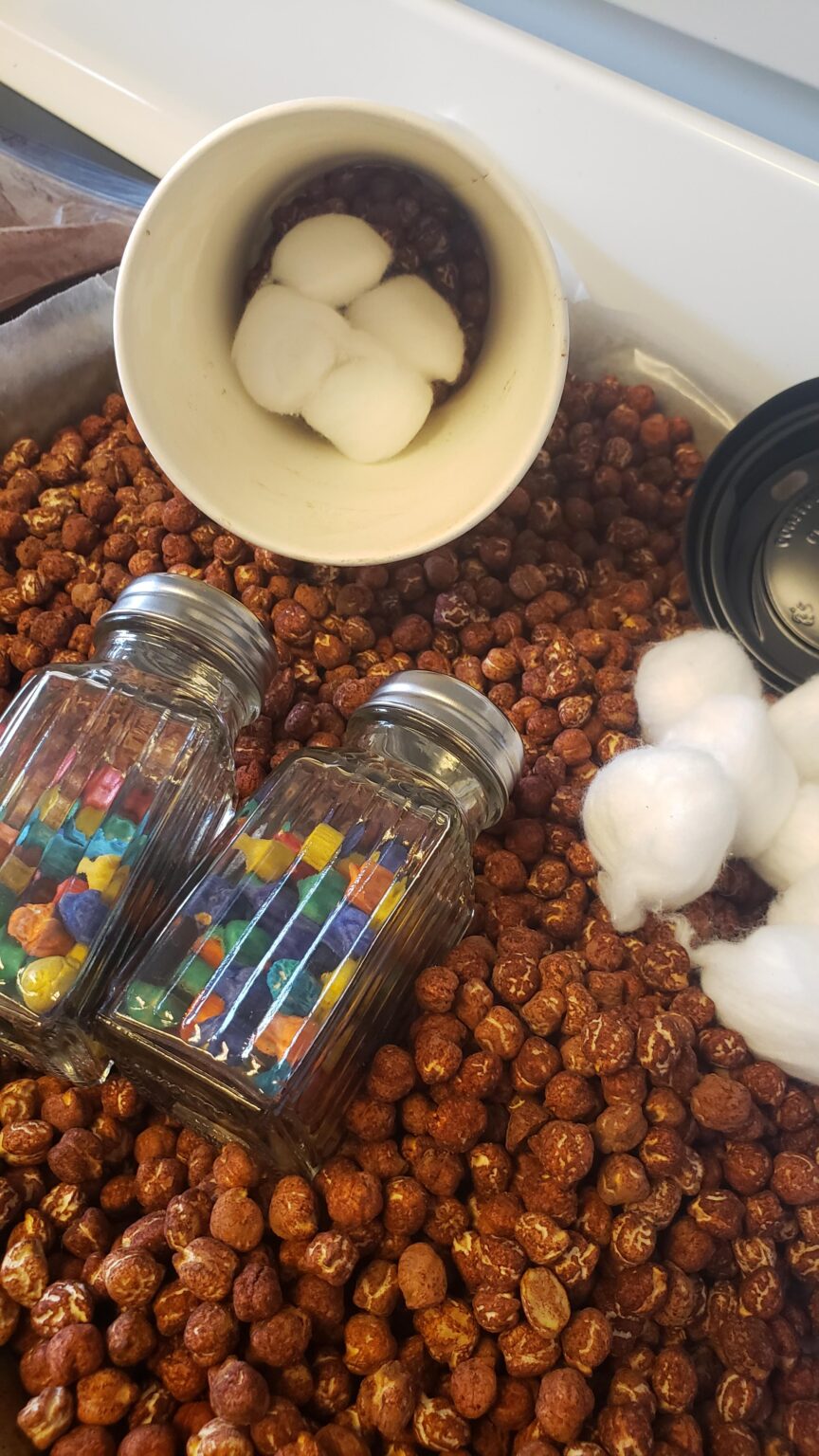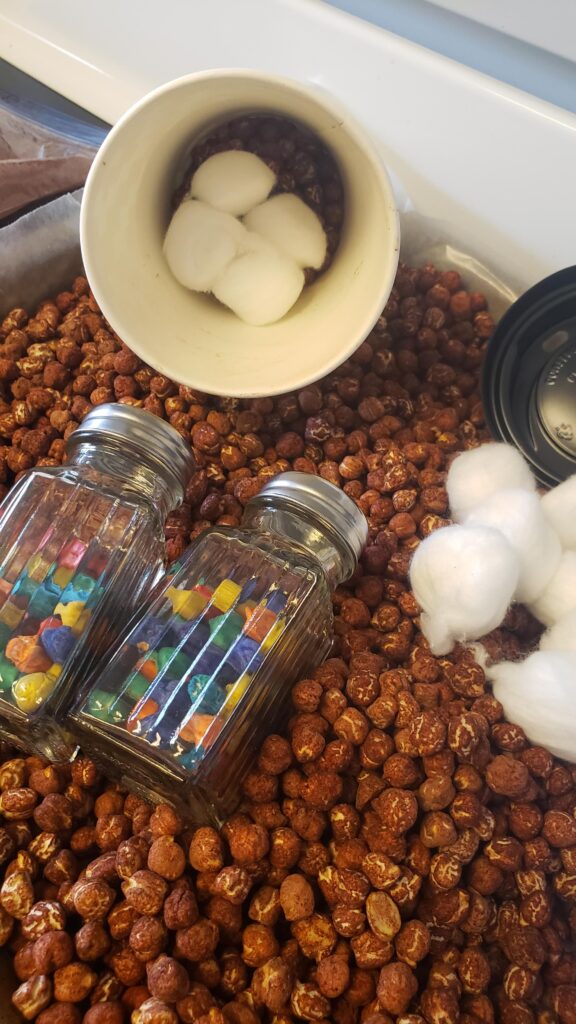 If you're aiming to keep things simple, this is more than enough to keep your kids going! If you'd like to extend their play, read on for more ideas on what to add to your hot chocolate sensory bin to encourage more imaginative play.
Optional Add Ins for Your Hot Chocolate Sensory Bin
Looking to add a little more fun to your hot chocolate sensory bin? Encourage your kiddos to get into deeper pretend play by dropping in items that allow them to customize your hot cocoa to order.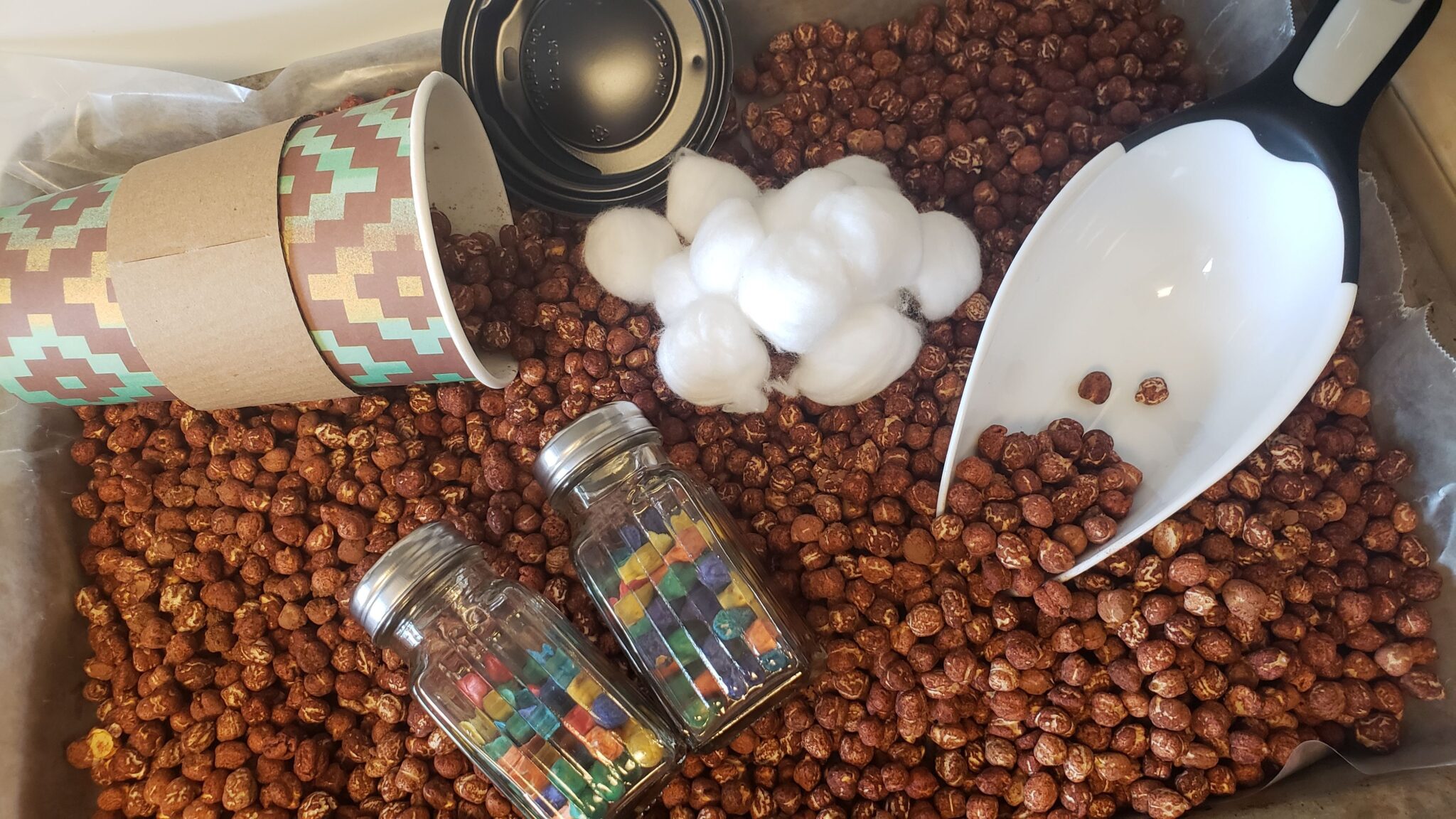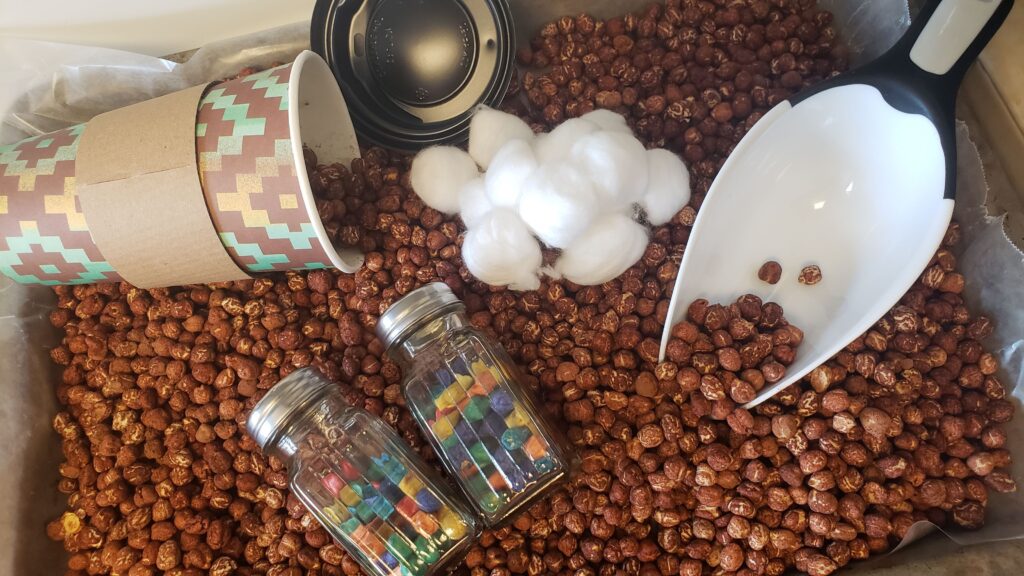 Here are some ideas to spice up your sensory bin:
Cotton balls (for whipped cream!)
Marshmallows (real, or chickpeas dyed white)
Sprinkles! Fill salt shakers filled with real sprinkles, rainbow dyed chickpeas, or rainbow dyed rice.
Printable hot cocoa order form
Straws, spoons, or stir sticks
---
We hope your kids love this hot chocolate sensory bin as much as my kids (and my preschool class!) do. With low prep time and the potential for hours of play, it's the perfect way to welcome winter in a sensory-friendly way.
Looking for more winter fun? Head here next-