It's winter- glorious, chilly, wholesome winter. Time for scarves and boots and, most importantly- soup. I don't know about you, but I only have about three really good soup recipes. And while they are REALLY GOOD (especially this Minestrone Soup Recipe!), you can only eat the same soups so many times before you get sick and tired of the same old thing.
So when one of our friends suggested we hold a soup exchange, we eagerly hopped on board. The idea is simple: you and a few friends each agree to make four meal-sized servings of soup. You keep one, and exchange the rest with the others.  Everyone leaves the day with four soups- a family favorite, and three new recipes to try.
In our case, we decided to meet at the park.  We executed our soup swap quickly, stowed our meals away in freezer bags, and let the kids run around together for an hour or so. While we chose to include the kids, you could easily arrange a wine night or girls' night in that would serve the same purpose. Whatever works for you!
And just in case you find yourself without soup-swappin' friends, don't worry. The Salty Mamas (as always) have your back. Try this Minestrone soup recipe that has been in my family for generations my mom swindled from a favorite restaurant before it closed. It's simple enough for everyday, hearty enough for a meal, and even tasty enough to serve to company.  A single batch typically renders enough for two meals for my family of four with some leftovers. We keep half to eat that week, and I freeze half for another time (the pasta and zucchini are slightly affected by freezing, but we still think it's just as good as when it's served fresh. And you can always add the pasta and zucchini after thawing instead if you're bothered by small texture changes).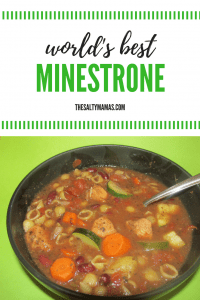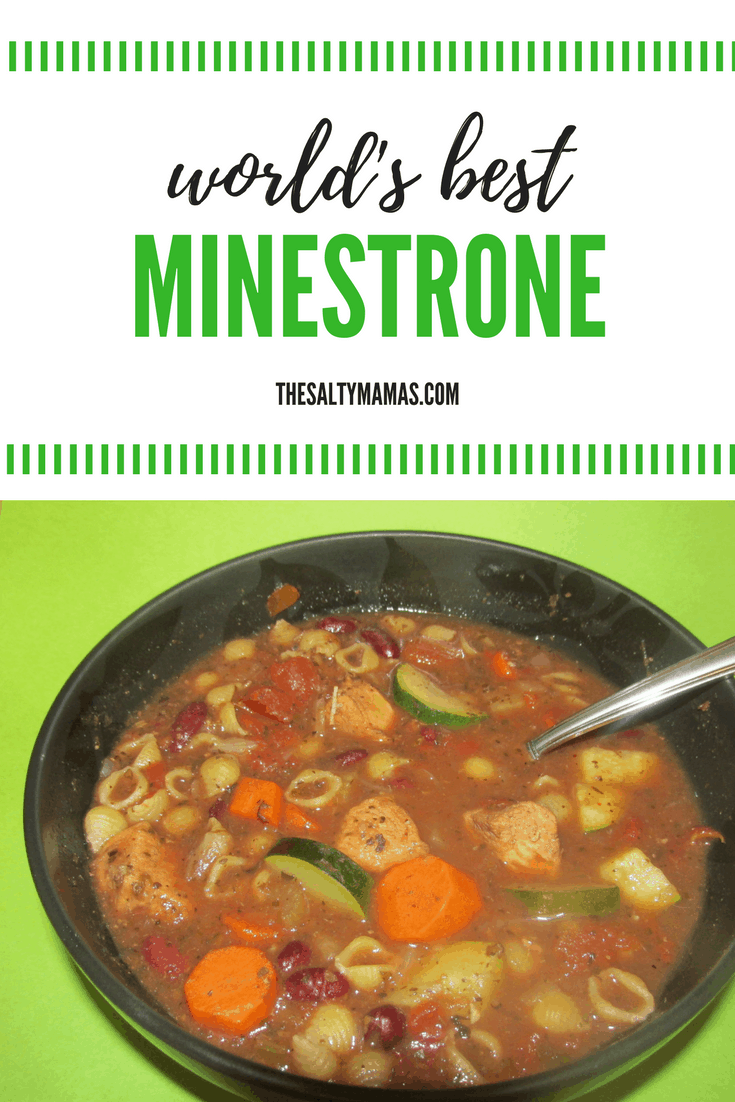 To Get Your Minestrone Soup Recipe Started…
First, heat your olive oil over medium-high heat in a stockpot. Saute onions for about a minute. Watch Real Housewives in the background for extra Salty-Mama-Flavor.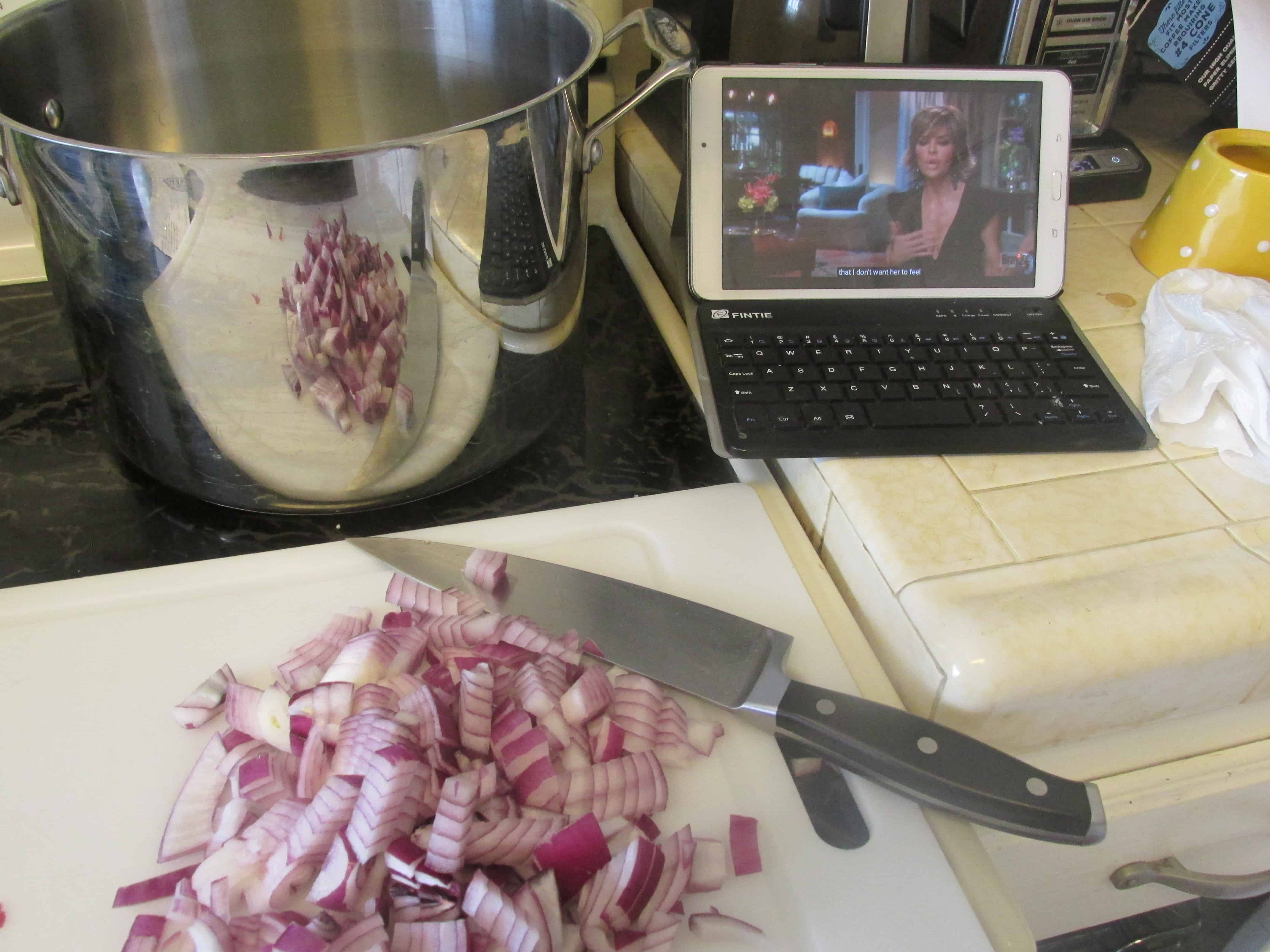 Add in your cut up chicken, and coat with Cajun powder (it's hard to over-season here!) Brown for 5-10 minutes, stirring frequently.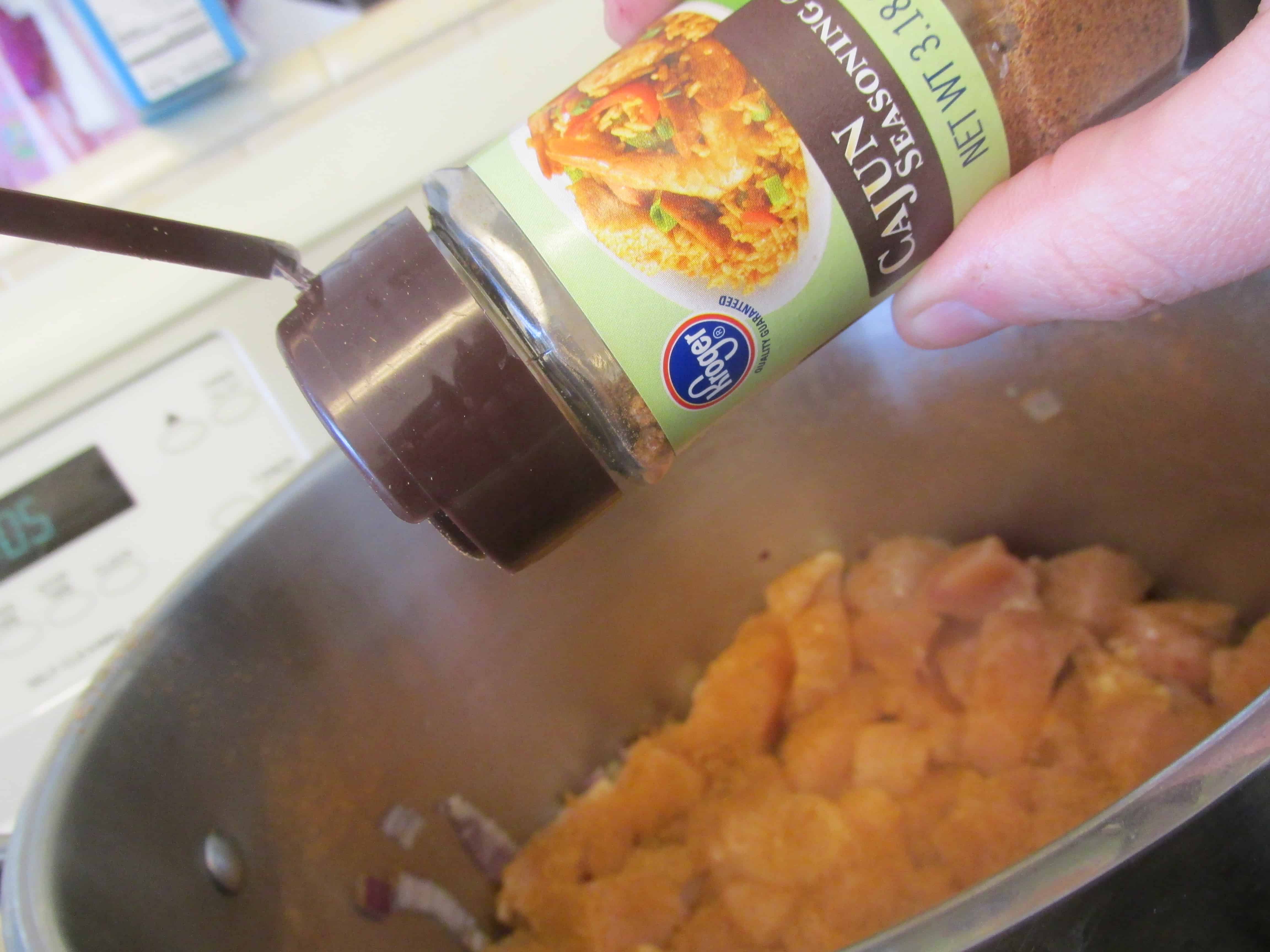 Next, you'll add in your chopped veggies and canned ingredients.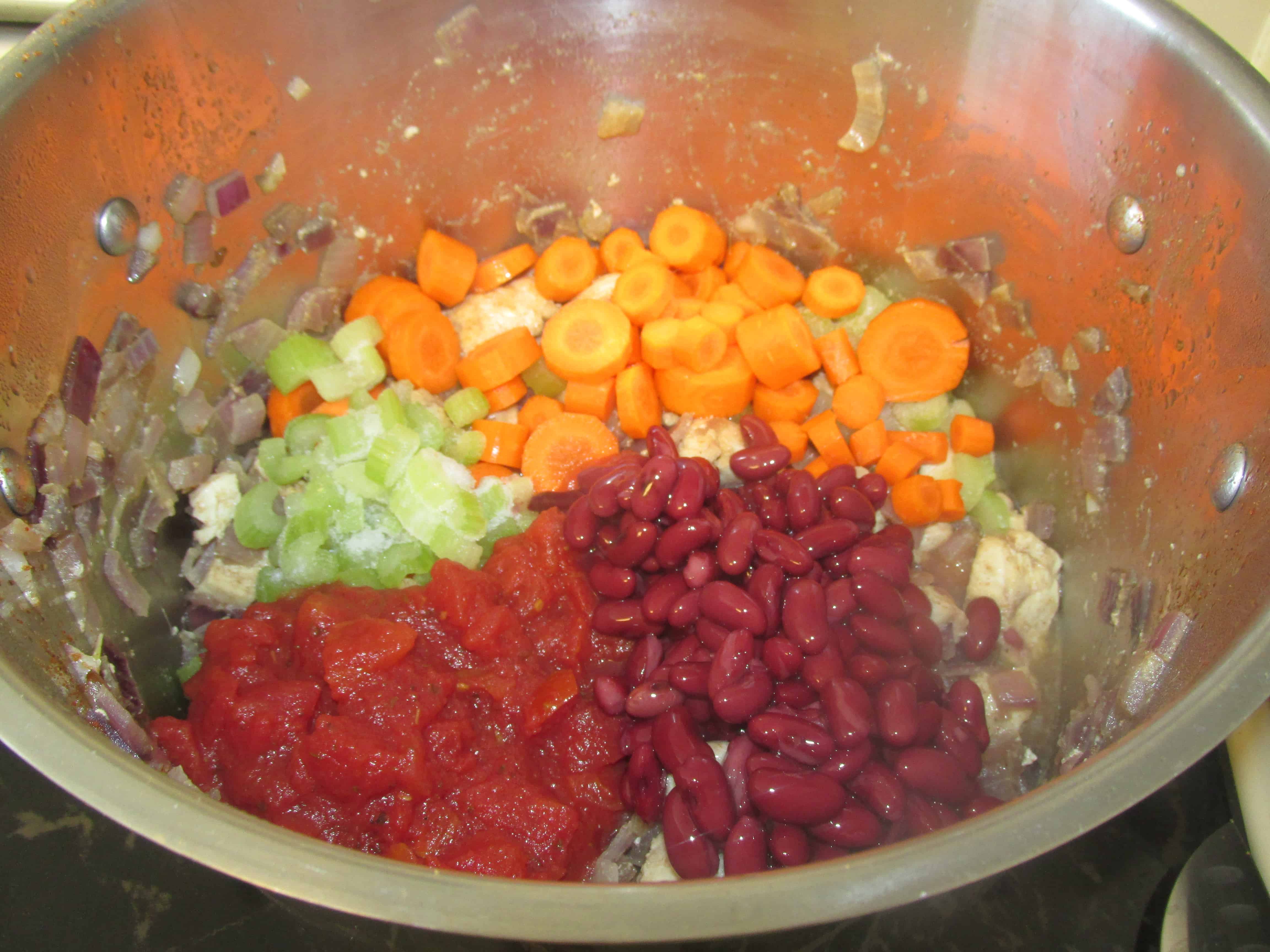 Side Note: If your EZ Open Can is not easy to open, do not try to pry it open with a kitchen mallet and a knife sharpener. You know, just in case you were gonna do that. Don't.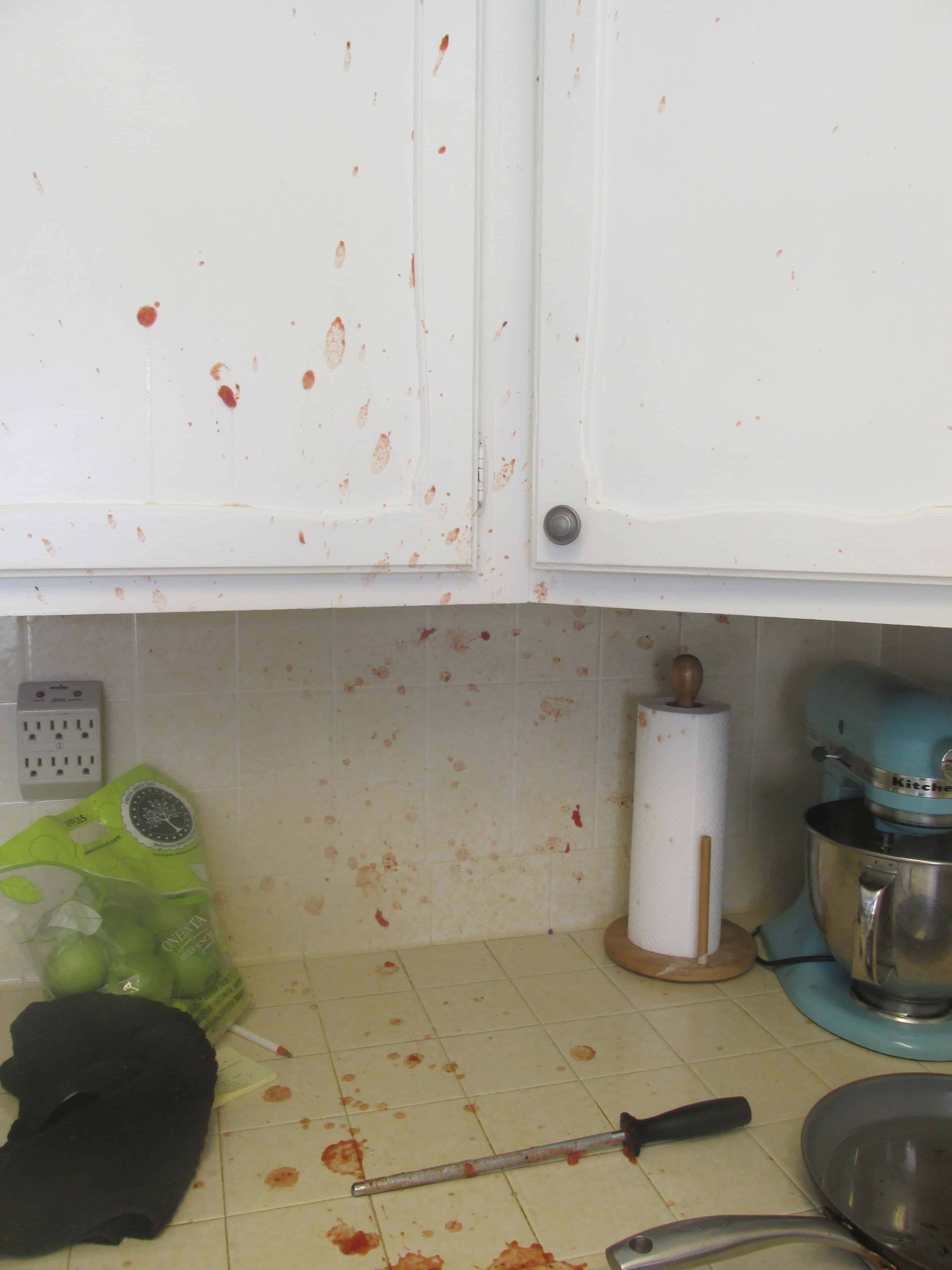 Add in your basil, oregano, and bay leaves, as well as salt and pepper to taste. This is going to look like a LOT of seasoning- especially since it all tends to float on the top at the beginning. It's true that it's aggressively seasoned, but trust me- it's gonna work out.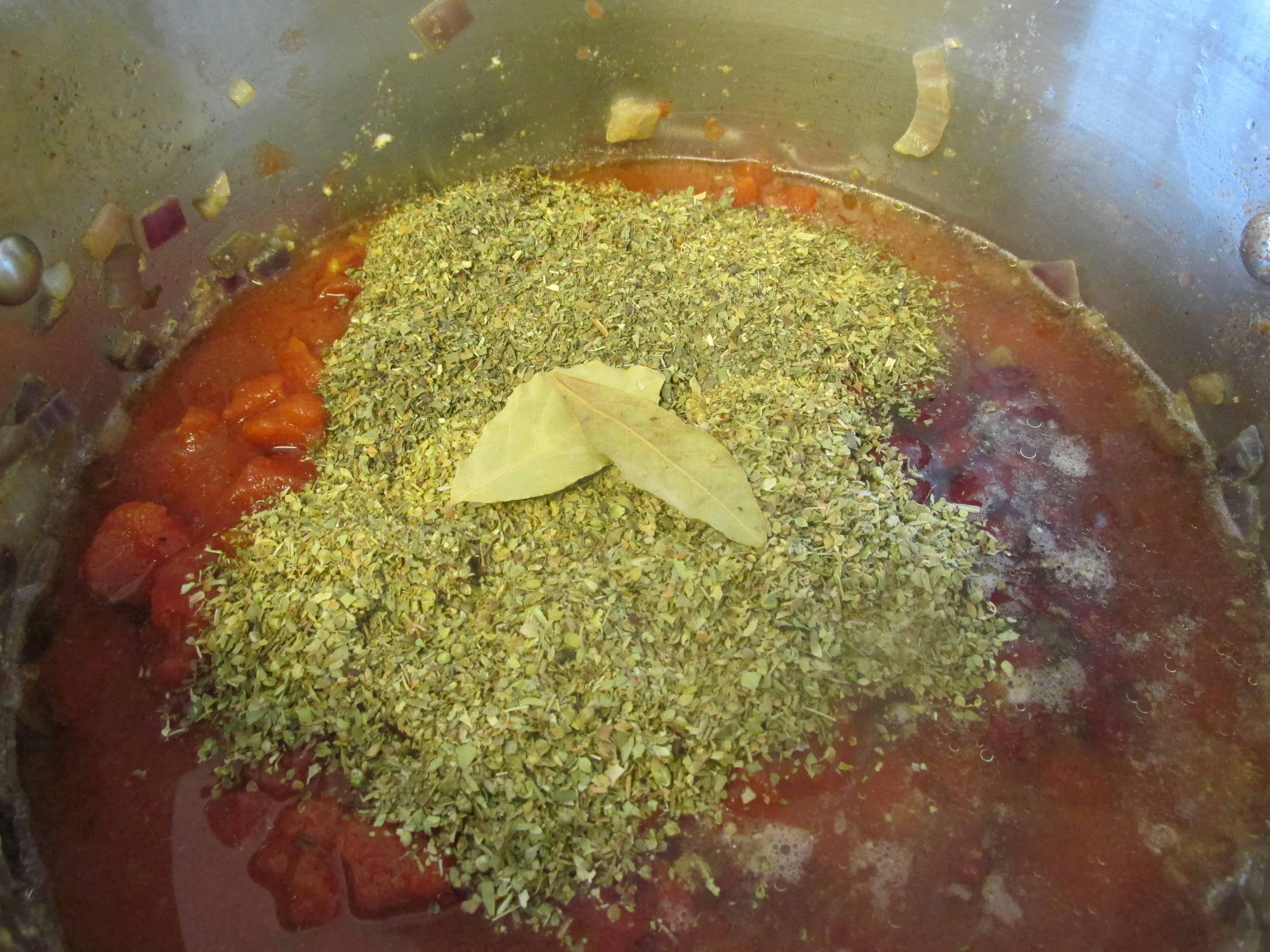 Now allow it to simmer for 1 1/2 hours, covered. Give it a stir once in a while to keep things mixed up.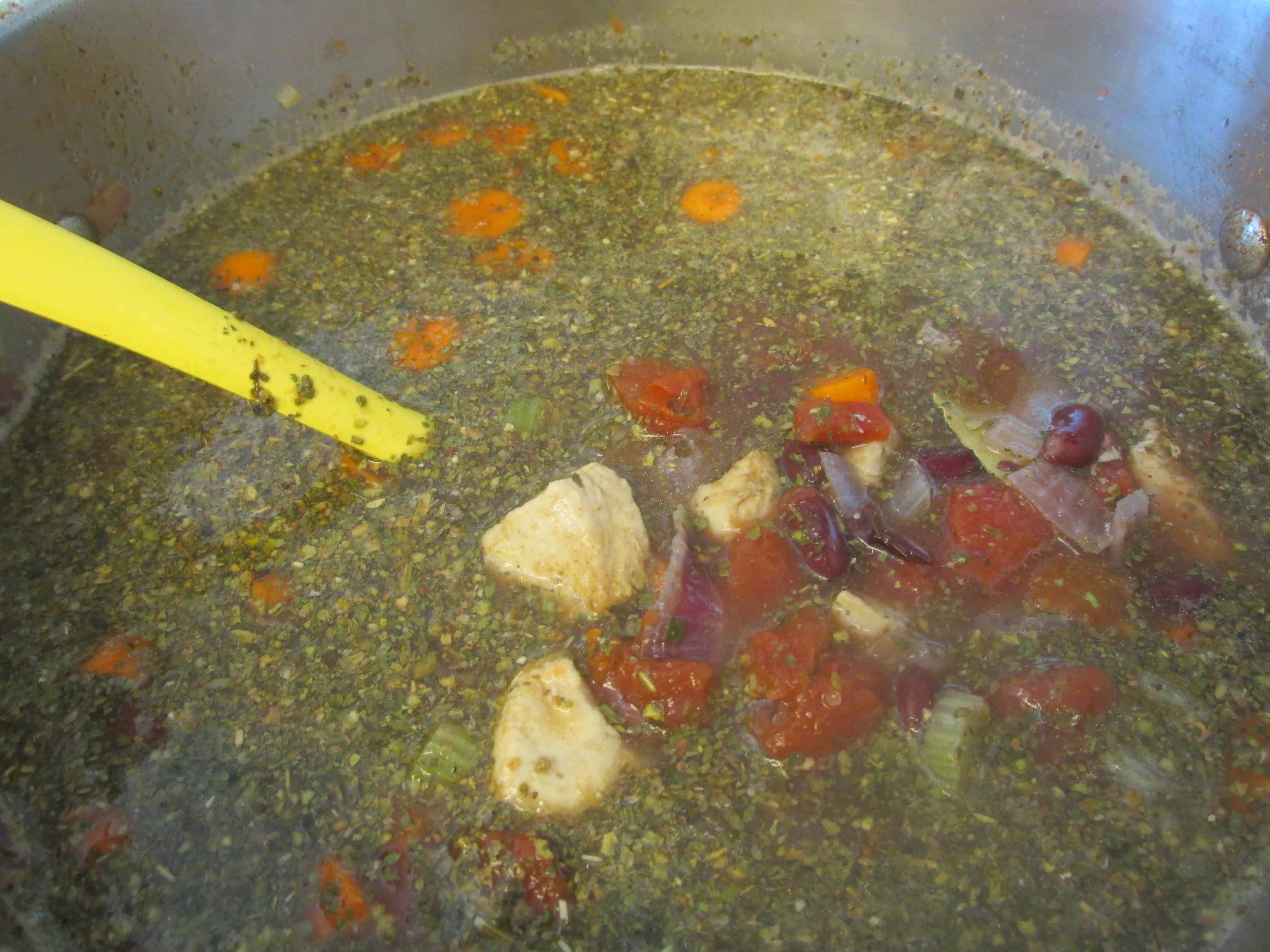 Finally, you'll add in zucchini cubes and pasta. Turn up the heat and cook for another 10 minutes.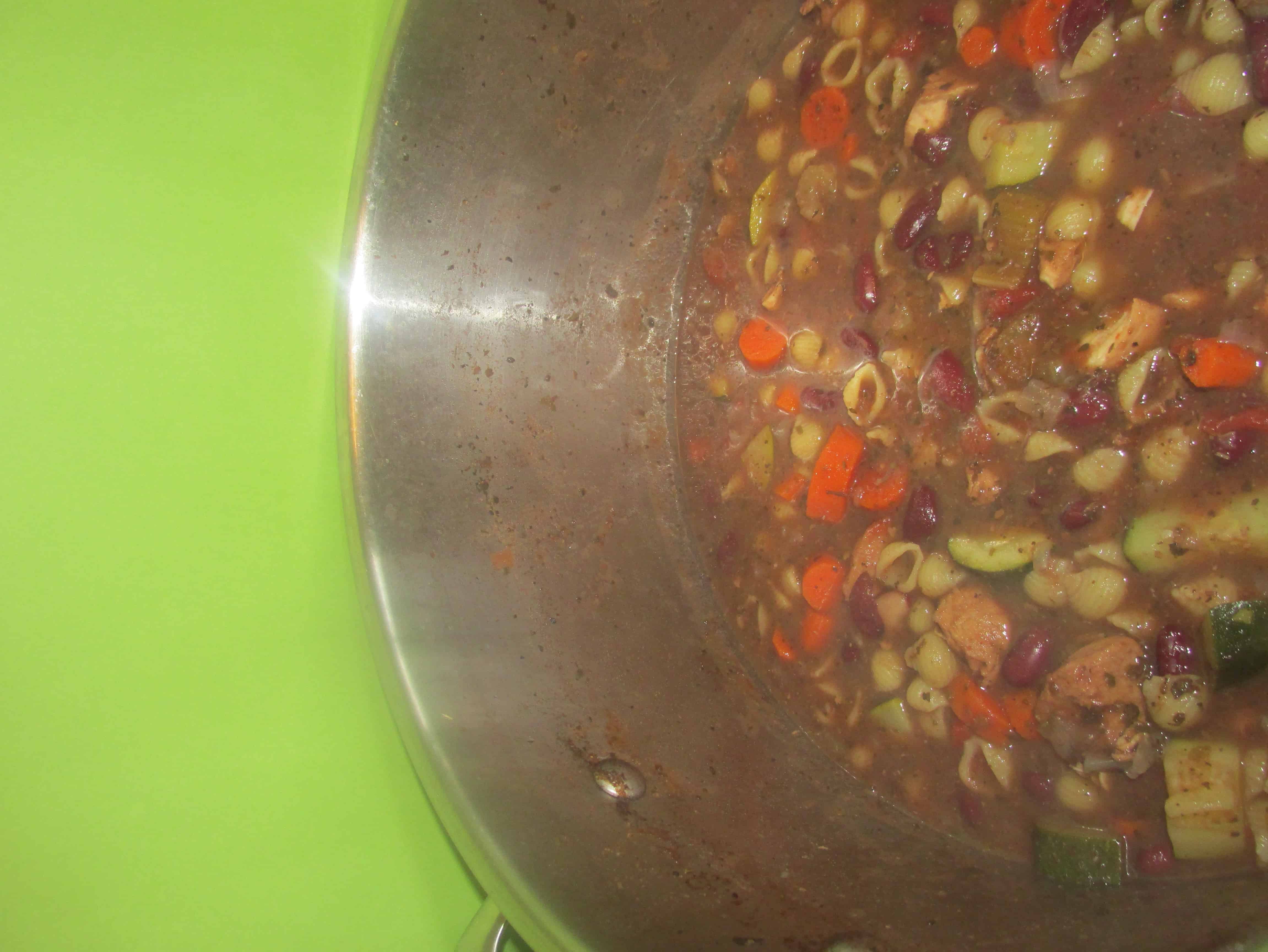 Serve it up! I like to drain off the liquid and serve it to my toddler as a finger food (pasta! veggies! protein!), with these garlic parmesan knots on the side. Bon Appetit!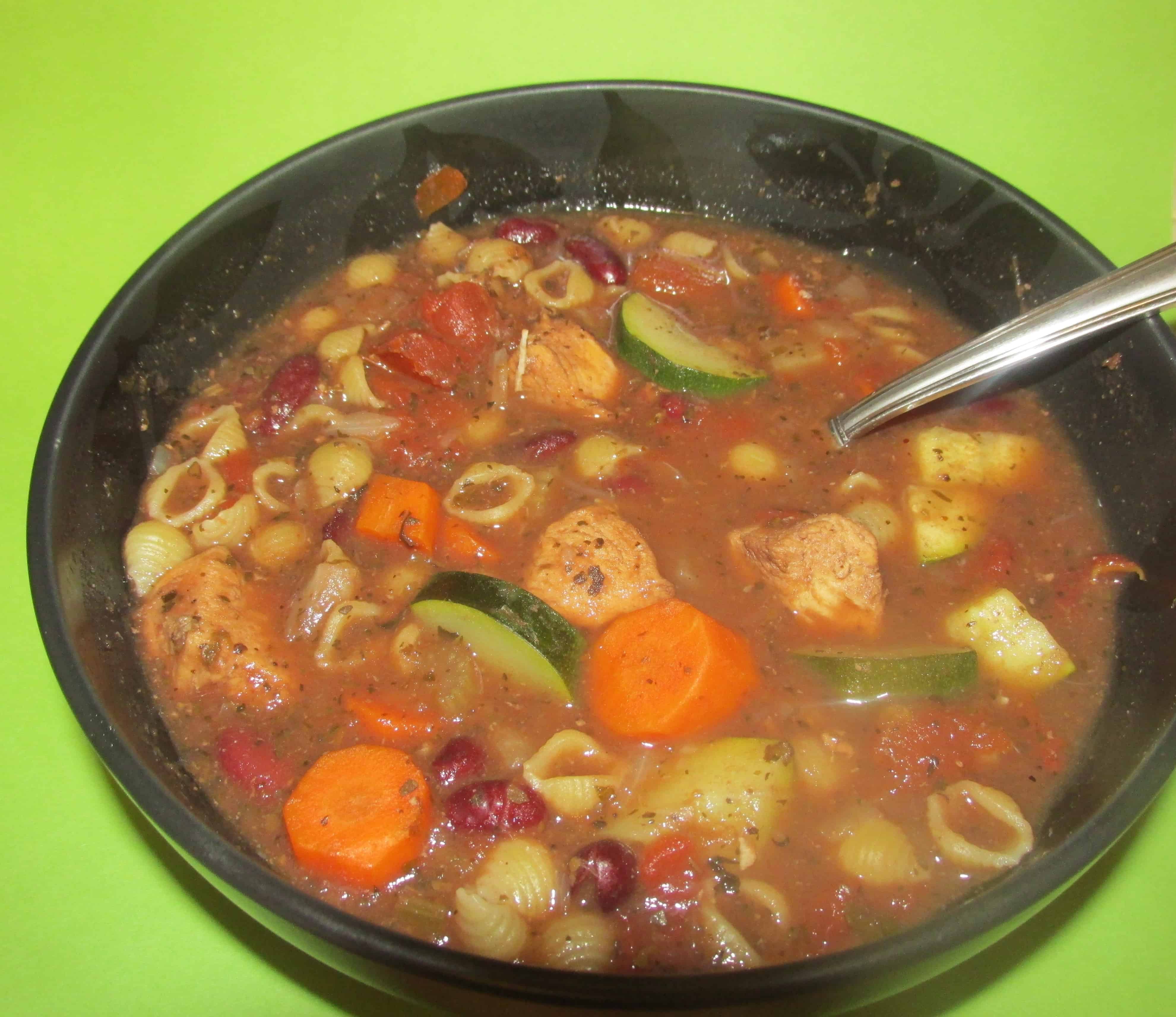 *******
Minestrone Soup Recipe
3 Tablespoons Olive Oil
1 Red Onion
3 Chicken Breasts
Cajun Powder
3 Carrots, Peeled and Cut into Rounds
3 Stalks Celery, Diced
2 Cans Chicken Broth
3 cups of water
2 Cans Italian Tomatoes
1 Can Kidney Beans, Drained
2-3 Tbs Basil
2-3 Tbs Oregano
1 Bay Leaf
Salt & Pepper, to Taste
3 Zucchini, Quartered and Sliced
8 oz Small Shell Pasta
1. Heat 1-2 tablespoons of oil in a stockpot over medium-high heat.
2. Saute the chopped onions in the olive oil, about 1 minute.
3. Cut chicken into bite-sized pieces. Place in the pot on top of the onions and thoroughly coat with Cajun powder. Mix with onions and brown for 5-10 minutes.
4. Add broth, water, carrot rounds, celery, drained beans, tomatoes, basil, oregano, and 1 bay leaf. Be warned- this is going to look like a LOT of seasoning, especially since the herbs float on the surface of the water. I promise this will normalize as it cooks and this is not some crazy typo! Season with salt and pepper to taste (you can add more later if needed). Bring to a low boil.
5. Reduce heat and simmer for 1 1/2 hours, covered. Stir occasionally.
6. Add in zucchini cubes and 1/2 pound of pasta.  Return heat to medium high and cook for 10 minutes.
Get the printable version of this recipe
here
.