Lost in a sea of tiny toilets? Trying to figure out which portable toilet seat REALLY works? We've got you covered with this handy list of resources from moms who have been there (times five!)
Look, everyone loves to have options. But when it comes to potty training supplies, there are just TOO MANY CHOICES. Which potty will actually work best? What is the best portable toilet seat? And what amount of Clorox wipes will see you through this phase of life?
Well, you may have guessed that last one already- it's approximately one million.
As for the other things, we've compiled a list of our favorite potties, step stools, travel accessories, and diaper bag essentials to get you through.
Click through for our favorite finds from Amazon, and check "Get Prepared" off your potty training to-do list today.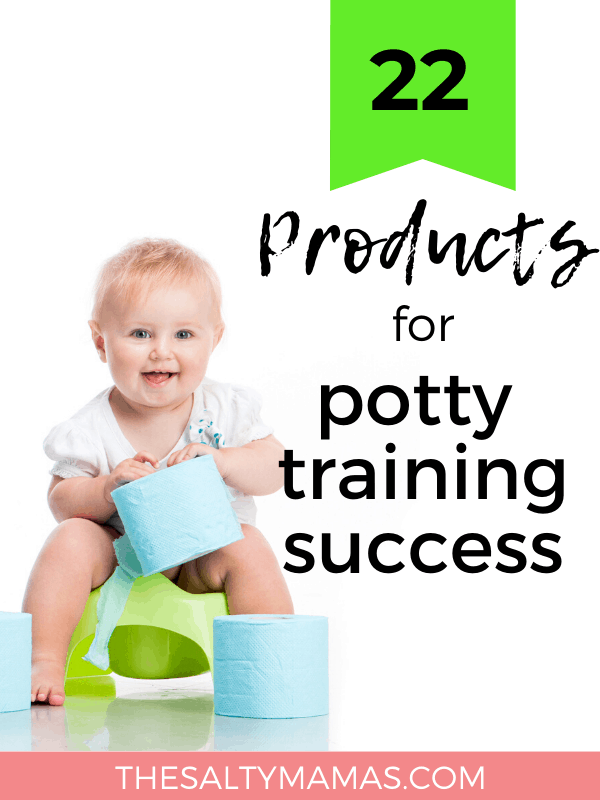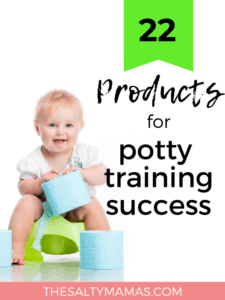 The Salty Mamas are an Amazon Associate. As such, we earn from qualifying purchases. You can read more details at our disclosures page. Thank you!
Potty Training at Home
Listen, the less stuff you add to your home, the better, right? But what about when your three year old suddenly decides that the grown-up sized toilet is absolutely terrifying, thus bringing an abrupt halt to your potty training journey?
You're gonna need to bring in a few more supplies to keep the ball rolling.
Might we humbly suggest the following few items to make potty training, hand washing, and (let's be honest) clean up a little easier.
Potty Training on the Go
You're gonna have to leave the house sometime, and if you're not properly prepared- well, it might not be pretty. A few simple tools can make a BIG difference in how your first outings with a potty trained-ish kid go.
Check out these genius tools to toss into your potty training diaper bag. From a toilet seat that folds up to little bags to contain messes, these are the tools you'll either buy now, or wish you had bought when your first on-the-go mess occurs.
Potty Training Books for Parents
Unfortunately, there's no fool-proof potty training method. But if you're as clueless as we were in the first go round, you're going to want to do a little information gathering before you start.
There are tons of different methods. We wish we could tell you which one will work best for you, but you know your family WAY better than we do.
First up, grab our Potty Training Planner. At just $12 for 60+ trackers, checklists, and tips, it's a no brainer:

Next up, pick a method that sounds appealing, read up on it, and go forth with confidence.
And if that doesn't work? Well, there's always another method to try.
*******
Looking for more on how to get you through potty training? Head here next-
Get your printable planner here (just $12!)