If you have a baby, you know that leaving the house to run an errand is like packing for an international vacation. So if you've chosen to sign your baby up for swim lessons? Well packing that bag is like preparing for a space shuttle launch. There are just so many things you need to remember to bring to baby swim lessons.
From bags to diapers to towels and everything in between we've got you covered! So check out the ultimate baby swim lesson checklist so you won't for anything!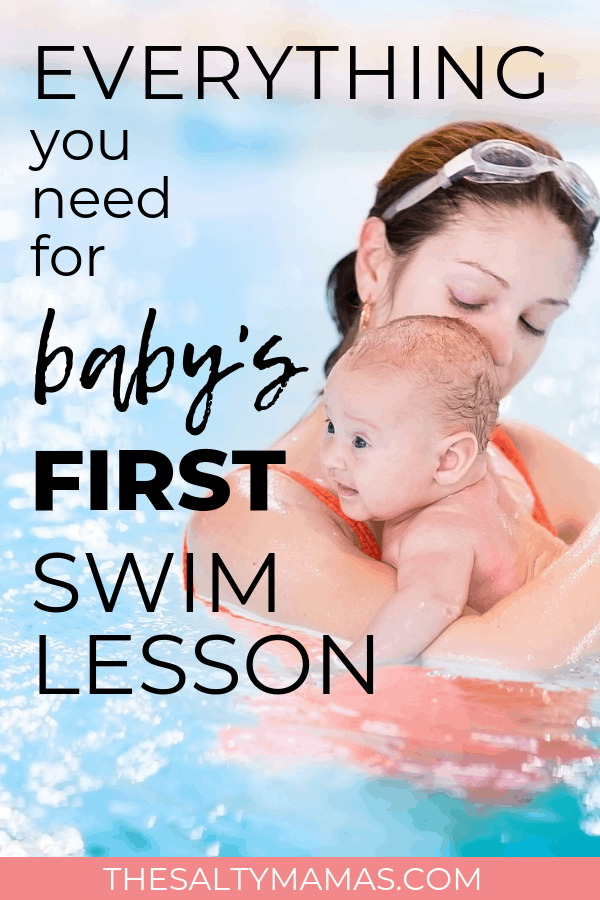 This post contains affiliate links. You can read more at our
disclosures page
. Thanks for supporting The Salty Mamas!
Beautiful Swim Bag to Carry it All
We realize that between a diaper bag and a purse, the last thing you probably want to carry is ANOTHER bag. But you won't be sorry if you get a wet/dry bag that will keep everything else you own dry. Plus, then you can keep your swim bag ready instead of constantly having to remember if you put the goggles, swim diapers, etc. into your everyday bag.
Disposable Swim Diapers
Your first defense against the ever embarrassing possibility of your kid pooping in the pool is going to be a disposable swim diaper. We are a big fan of Huggies Little Swimmers, and love to get them on Subscribe and Save through Amazon. Depending on where you live, it may be hard to find these year-round in your local stores. Also, I would always forget to buy another pack when they were running out. So figure out how often your little one will be in the pool, and have them delivered so your Mom Brain doesn't forget!
Reusable Swim Diapers
Disposable swim diapers are cool, but the real poop trap is going to be a SNUG reusable swim diaper. Your baby's swim school may require a specific brand of reusable swim diapers, so make sure to check with them first! Our swim school requires Happy Nappy Swim Diapers and I have to say, we love them! They're snug around baby's waist and thighs and won't let anything out! Plus, they've got UPF50+ protection, so they're beach ready as well! They're also made of neoprene (think wetsuit material) so you can ring them out, wrap them in a towel, and they should be ready again for immediate
use!

Also adorable are the i.play swim diapers. I loved the ruffle butts on my daughters' swimsuits and they have an awesome side snap feature which made them SUPER easy to take off!
Bathing Suit to Go Over Swim Diapers
Confession: I was the heathen that let my kid JUST swim in the double diapers for a while. This was fine with our instructor and swim school, but I definitely felt a little shade from some of the other parents. Which, isn't the worlds best reason to buy a bathing suit, but still. It was the push I needed to justify the real reason to get a bathing suit: THEY ARE SO ADORABLE.
For girls, I love a one piece suit that doesn't have a lot of "extras." Two piece suits are adorable, but may ride up and distract your child from the lesson. Same thing goes for adorable tassels, fringe, bows, etc. Grab those for fun time in the pool with you, and leave the simple for swim lessons!

Boys are notoriously easier, as any swim trunk will do! But this is a great opportunity to have your child help pick one out! This is especially helpful if your little boy is fearful of lessons. He can find suits with sharks, crocodiles, or even superheros on them to help him be brave and have fun!

The BEST Kids Goggles
If your baby is one or so, they're probably ready to wear goggles. We've tried lots of different brands but we have to say that Finis Goggles are HANDS DOWN the best fit for little faces. They have double straps to keep them placed comfortably on their heads. And the kids are so stinking cute in them. Plus, the Finis Fruit Basket goggles are SCENTED and come in a ton of yummy flavors!

Baby Swim Cap
You may think this one is overboard – and if your baby is on the bald side like my youngest, you might be right! But if your child has a head full of hair, you might want to consider a swim cap. A swim cap can serve a dual purpose of both keeping their hair out of their face during their lesson, and helping their goggles stay on. Goggles are more likely to slip off of their slick little baby hair than a rubber swim cap. It can also help longer hair from getting tangled and allow for easier brushing after class.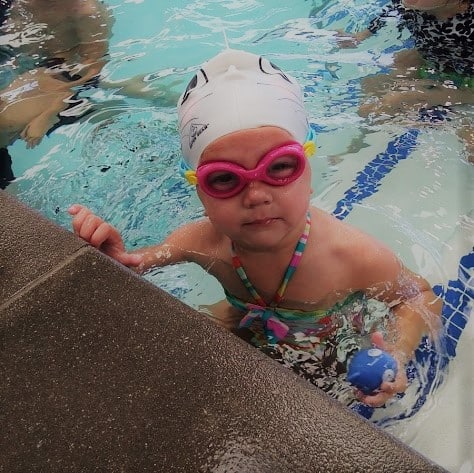 Cozy Hooded Towel
The first thing you'll want to do when your baby gets out of the pool is wrap them up in a big, cozy, hooded towel to keep their little heads warm. We love these hooded poncho towels. They're very cute and will stay on your toddler easily so they can walk and not trip all over their towel. There are lots of adorable designs from mermaid to ballerina, shark to astronaut!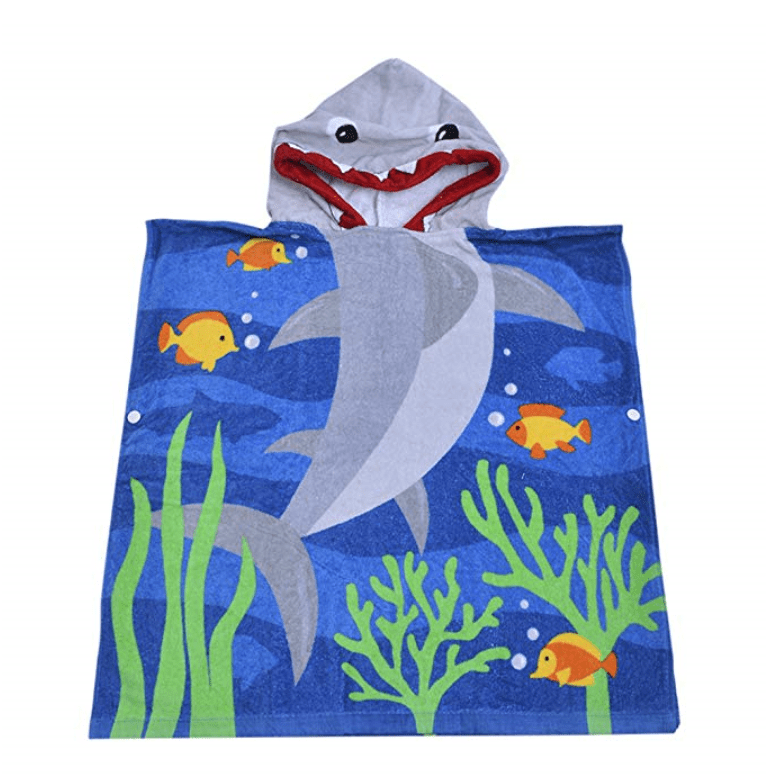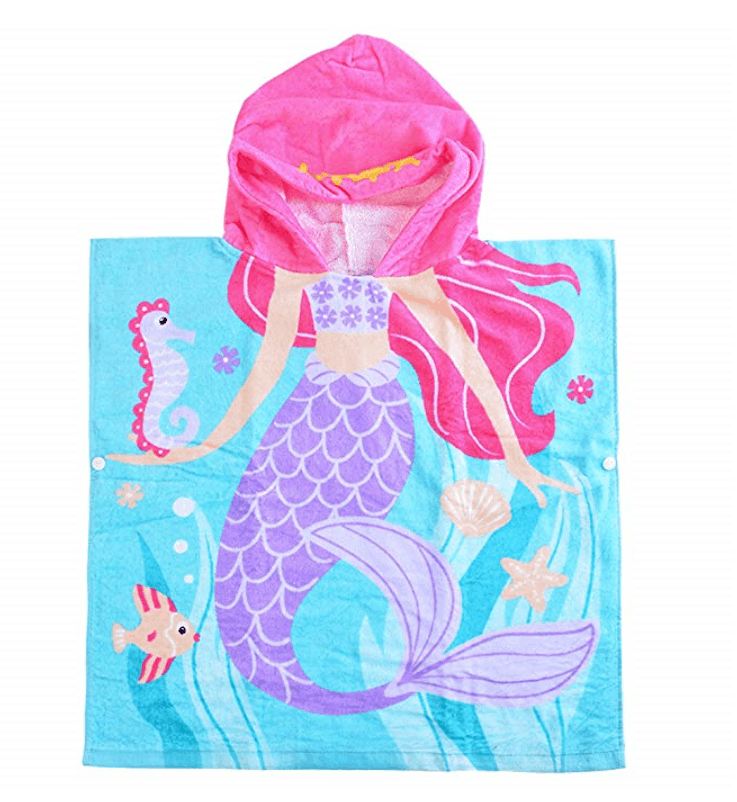 Baby Body Wash
Once your baby is out of the pool, you'll want to wash off their soft little skin. We love Babyganics Baby Shampoo and Body Wash because it's free of parabens, sulfates, artificial fragrances or dyes. And after swimming in a chlorinated swim lesson bool, you want to make sure baby is squeaky clean! Bonus points for baby getting back to their delicious smell!
Wet Brush
My girls have super curly hair that loves to tangle. They also have super sensitive heads that HATE to have their hair brushed. So we LOVE Wet Brush because it's like MAGIC on their wet heads. It made the end of swim lessons MUCH more bearable, and we didn't have to deal with nasty tangles later in the day.

Don't forget the diapers, clothes, change of clothes and everything you need for wherever you're off to after lessons! It may feel like a lot of stuff, but you'll feel better – and more confident – knowing you have everything you need for baby's swim lessons. And once they can swim safely on their own, you'll know that every single stressful moment of getting ready was well worth it!
Looking for more helpful swimming tips? Check out these posts next!