One of our absolutely favorite summer toys for kids is a water table. A water table is perfect for kids of almost any age. But is a water table worth it if you can only use it in the summer? Definitely! Plus, there are some super fun ways to play with a water table all year long!
When my first was a baby, we got him his first water table. He was barely toddling around the backyard but would cling to the side of his water table and splash. The whole summer was spent with the water table as the centerpiece of backyard summer fun.
Water tables are a great way to get off screens and outside. It's that old school kind of fun, with a modern update!
Plus, the kids can get wet and messy, while we stay dry and they stay safe. It's really the perfect outdoor activity for kids!
Today, that first baby of mine is nine years old. And he STILL plays at a water table! However rather than hang on and splash for hours, he's reinvented play a dozen times. Here are all the fun ways to play with a water table.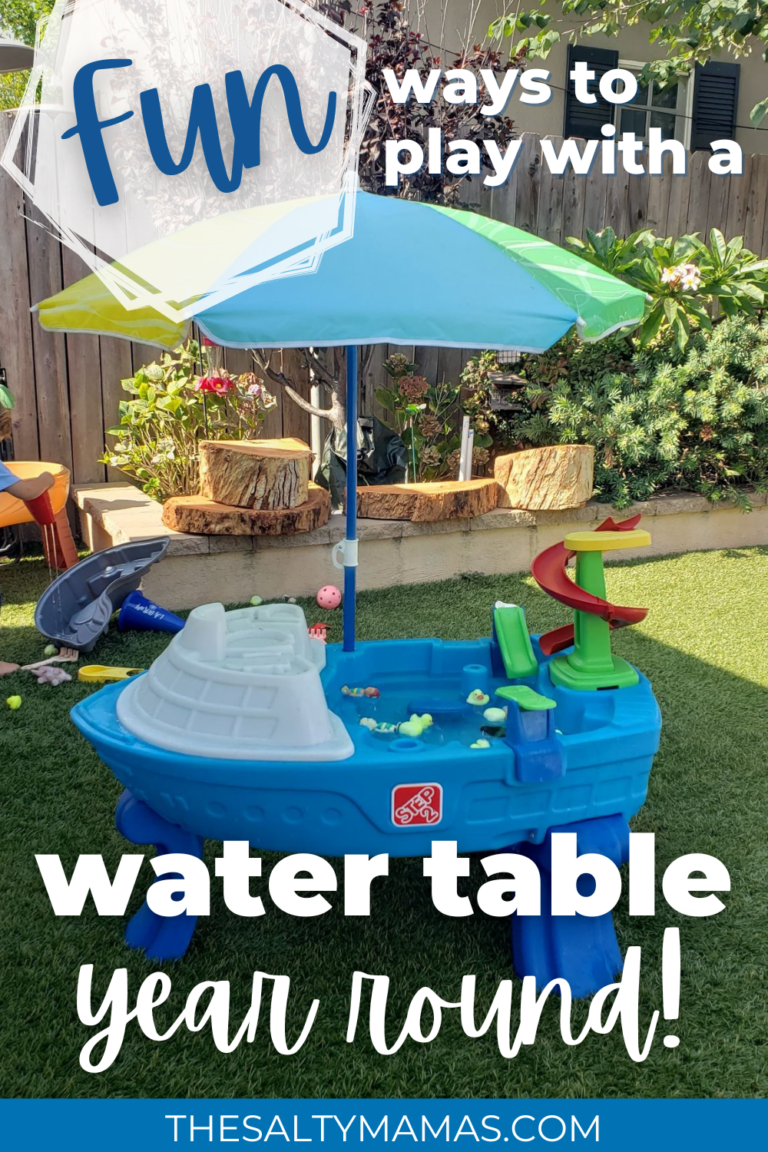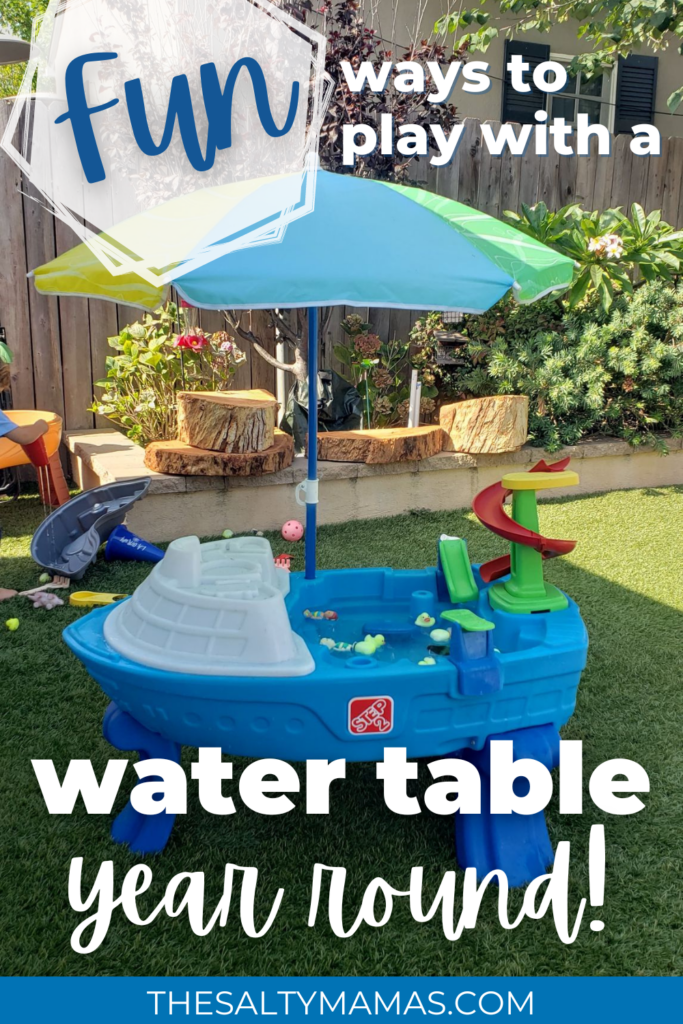 This post contains affiliate links. As Amazon affiliate, we may earn from qualifying purchases. You can read more at our disclosures page. Thanks!
Water Table
First, you gotta grab the perfect water table. You can get a simple water table with a large basin for lots of open play. There are also some great water tables that have split sections so you can play with water AND sand, dirt, mud at the same time. You can also look for fun water tables with a theme!
Here are some of the water tables we love:
Don't want to commit to a full water table? Grab a plastic bin like this, add water, and you've got an instant water table you can use for any of the fun ways to play with a water table.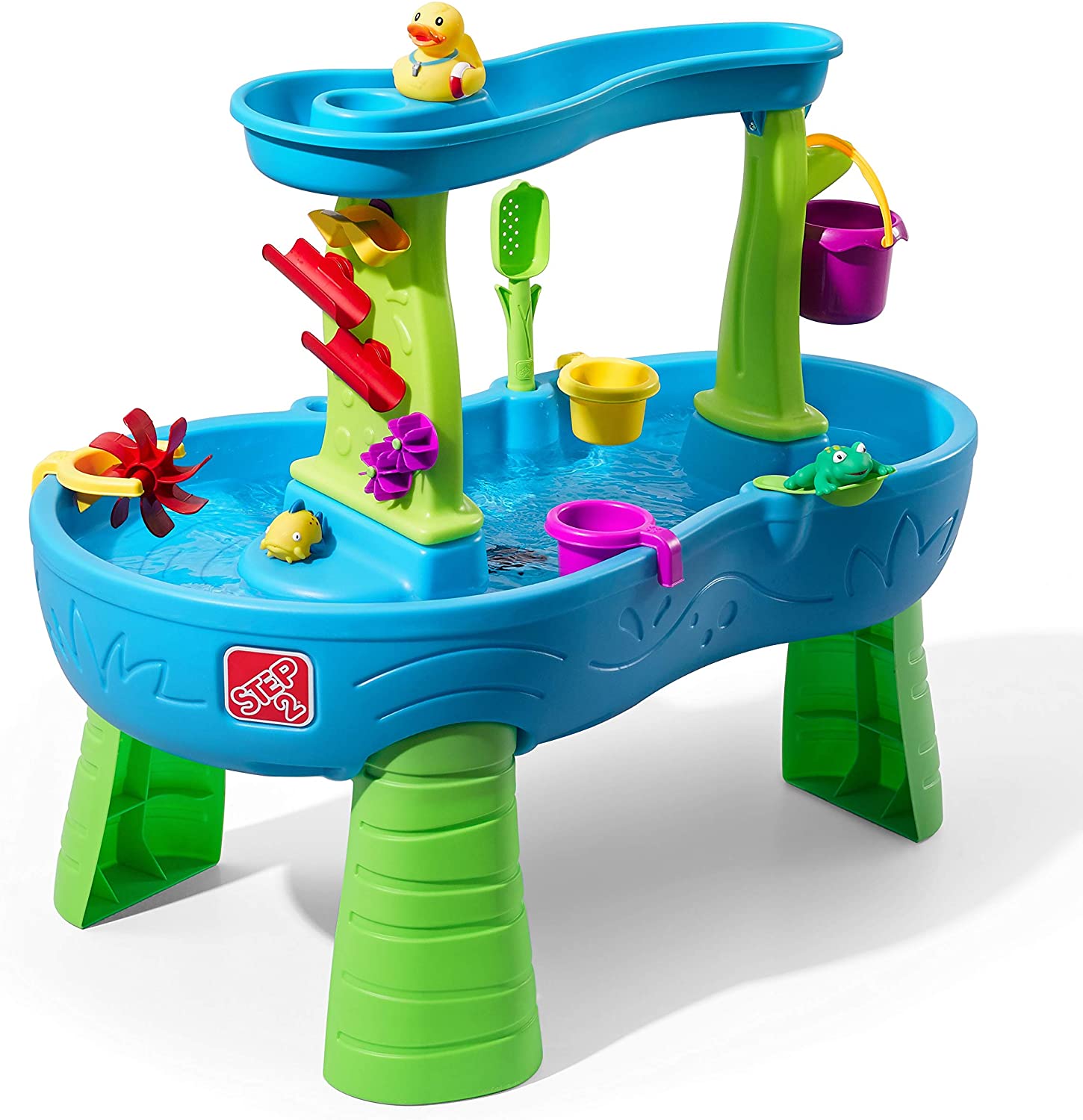 Ice
While still something you'll want to explore during the hotter months, adding ice to your water table play is a great way to level up this outdoor activity. You can add ice to leftover water that's already in the table.
If the water is warm from a day in the sun, use this as an opportunity to have some STEM conversations about why the ice is melting. Include a pack of arctic animal toys and you've got a full day of glacier pretend play ahead of you!
If your kids love painting, put some ice in an empty water table. Use paintbrushes and watercolors to paint the ice. It's really pretty and our kids have a great time painting on this unconventional item. Bonus points: My kids feel like they had a great paint experience, and it made almost NO MESS.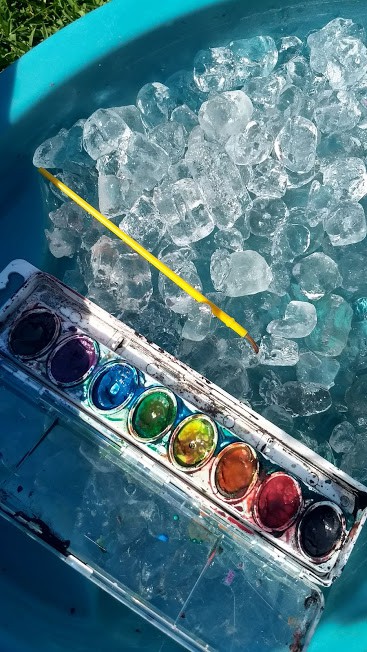 Sand
We are typically unapologetically anti sand. We even worked our way through our whole city looking for parks that were sand free. But when it comes to water table play? We were totally cool with sand.
Sand in a water table is so much more manageable than sand EVERYWHERE. Despite our generally negative feelings about sand, we admit that sand play is a great sensory activity for kids. There are also lots of fun teachable moments with sand, like how to use measuring cups, expand vocabulary and play around with different textures by adding varying amounts of water.
Plus, it makes our kids really happy. And that makes it worth it (and easier than a full trip to the beach).
Dirt and Mud
If you thought sand was scary, meet his even messier friend dirt. Add water and you get the big guy: MUD. Interestingly enough, while sand makes us shudder, mud is our naughty BFF. We are always encouraging our kids to kick off their shoes (and socks!) and dig their toes into some fresh mud. It's another fantastic sensory experience for little hands and feet.
It can also get everywhere. So we get why you might not be super into mud play. Keep mud play contained with a water table. They'll still get all that wonderful sensory fun and you can be less overwhelmed by mess.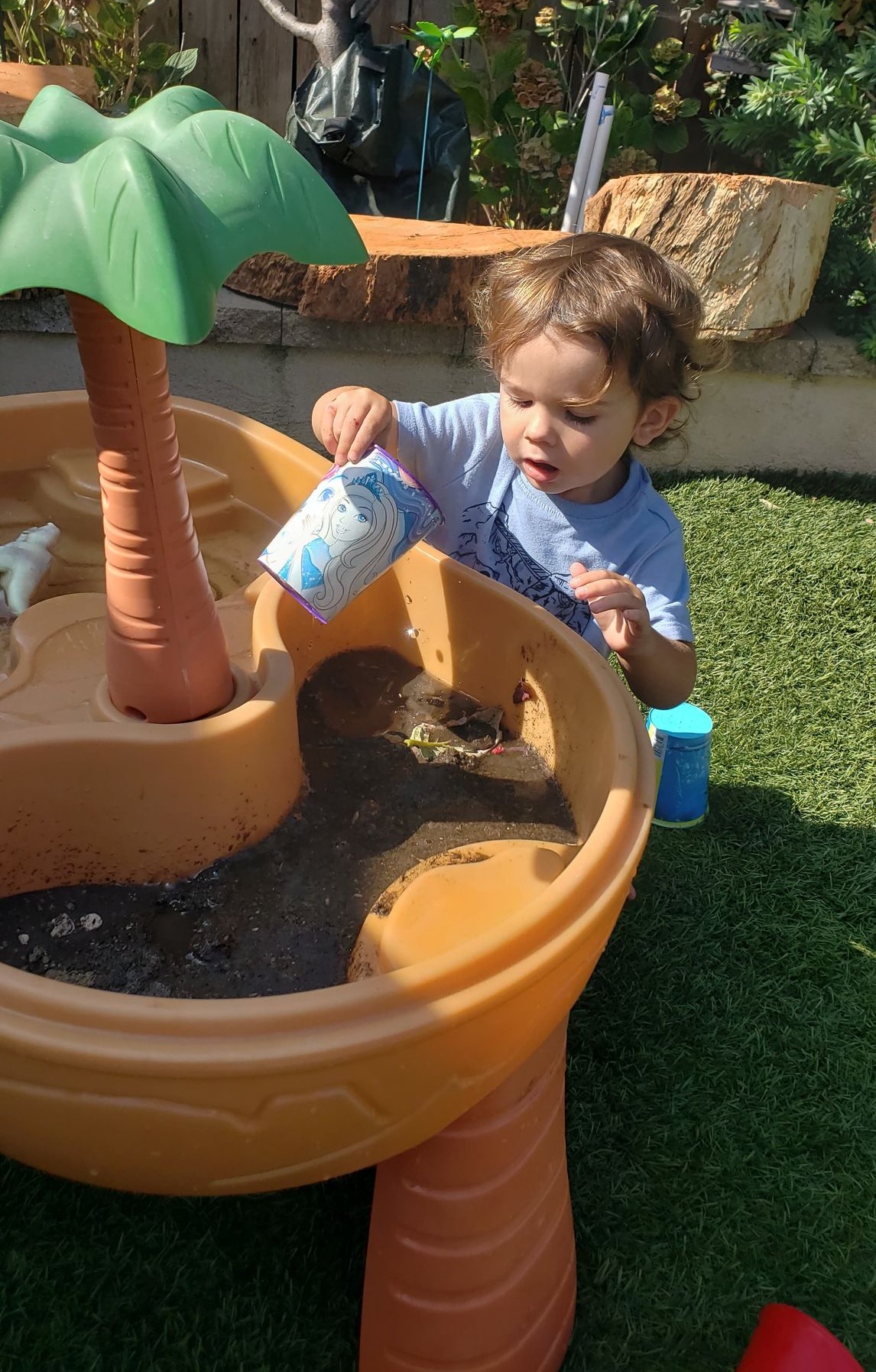 Not afraid of mud? Look for a fun nearby mud playground! If you're in Southern California, check out Adventure Playground in Irvine!
Shaving Cream
Shaving cream is a great sensory experience for kids and water tables are the perfect container to make a mess. Hand your kids a can (or two) of shaving cream and some paint brushes and let them explore the texture of the shaving cream.
For even more fun, add food coloring to your play! Try putting a few drops of different colors in different sections. Encourage your kids to use the paint brushes or their hands to mix the colors to see what other colors they can make.
This activity is a little messy, but thankfully the water table is perfect for hosing off when you're done!
Water Beads
My kids LOVE some Magic Water Beads, but I'm always very overwhelmed that they're going to get just EVERYWHERE. So for a more manageable way to play with water beads, take them outside and straight into the water table.
Playing with magic water beads in a water table keeps this fun activity for kids more contained. Your kids will love playing with the beads using the cups, boats, slides and whatever other accessories your water table has.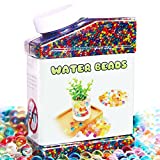 Bath Toys
My kids LOVE to play with something in a new and different place. So when I brought bath toys outside to the water table? Their minds were BLOWN. Yes, these are toys they already play with in the water, but the change of scenery made them exciting again!
Rubber ducks, Barbies (not technically a bath toy, but who doesn't have a bathtub Barbie or 6?), and boats led to some really fun water table pretend play.
Just don't let them get any ideas that they get to swap and bring sand and dirt to the bathtub!
Need to jazz up your bath toy game too? Check out this list of everything you need!
Whether getting your first water table or wondering how to update your water table fun, we hope that this list helps you out! Have another way that your kids love playing with water tables? Drop your ideas in the comments below and we'll add them to our list!
---
Looking to have more fun with water? Head here next!