It's the time of year – where everyone decides to be grateful and share one thing a day for which they give thanks. And yes, we're thankful for our health and our kids and our husbands. But let's face it, there is a whole world of very specific things moms are thankful for. 
Sometimes, it's hard to see the "big picture" when you're in the middle of yet another load of laundry (and six missing socks). Which makes it even more important for moms to find the little things in life that make them smile.
And while we could go on and on about the tiny joys that make our lives exciting, we've narrowed it down to our top thirty things moms are thankful for (well, these two moms, anyways).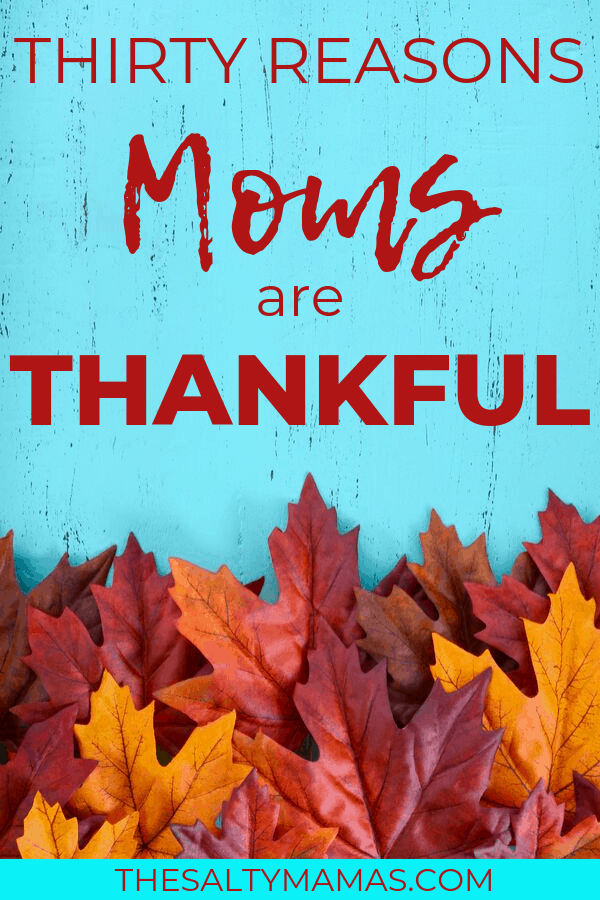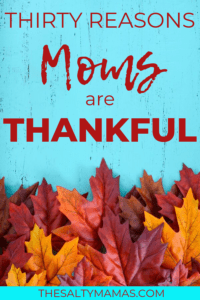 This post contains affiliate links. You can read more at our disclosures page. Thanks for supporting The Salty Mamas!
Drinking an entire cup of hot coffee without interruption.
Husbands that think our softer (read: jellier) bodies are beautiful.
Having a solid #Momsquad to be there for us through the good, the bad and the ugly.
When people spell ask if my kids can have things like d-e-s-s-e-r-t or a b-a-l-l-o-o-n before asking my kid.
Amazon Prime. No explanation needed.
An understanding nod or a smile from a stranger when my kids are having complete and total meltdowns in public.
Getting ONE picture for holiday cards where everyone is looking in the same direction. Extra thankful for smiles.
When our kids are kind to each other.
Slow cookers, so we can walk away and not worry about burning the food.
Instant Pots, for when we forgot to cook the food in the first place and need something asap!
Side hustles, flexible work arrangements, and family-friendly businesses that prevent having a career from being incompatible with parenting.
Babysitters who are available on short notice.
Teachers who you trust completely with your kids.
The sweet lady at the grocery store bakery who gives away free sugar cookies to keep our kids quiet and happy for 15 minutes.
Books that are written so both kids AND adults enjoy them. Ditto for movies.
Nights where no one wets the bed, has a bad dream, or throws up.
Nyquil and Day Quil. We didn't appreciate them until we went through pregnancies and nursing without them!
Headphones, strollers, fresh air and true crime podcasts. All at once.
Etsy. For when you need something homemade, yet you have neither the time nor the talent.
Restaurants that have unique or interesting activities on the kids menu. Bonus points if you just straight up keep games in your restaurant.
Rothys. Because we love shoes that are super functional, you can toss in the washing machine, but still make you feel cute AF.
Anyone that will volunteer out of nowhere to take the kids for a bit, so you can have a break.
The internet. Because Momlife can be super isolating and lonely. But thanks to Instagram and Twitter and blogs we're never more than a few clicks away from people that have become our very best friends.
Swim teachers that patiently spend weeks/months/YEARS of your kid crying/screaming/fighting until they finally – and HAPPILY – can swim.
Delicious and easy premade dinners or meal delivery kits for when we want to FEEL like we cooked but can't bother with being completely paralyzed in the grocery store with all that meal planning. 
Drive through everything. Coffee, donuts, dry cleaners, French fries, car wash – if I can keep all my kids in my car and get what I need done, that's a good day.
Facebook memories. For when I need to see a picture of my kids doing something adorable or remember something that I probably should have put in a baby book, but put on FB instead.
Bathroom door locks.
Lazy Saturday mornings full of family cuddles and cartoons.
*******
We could go on and on telling you about all the things moms are thankful for, but we want to give YOU a turn. Tell us what you're thankful for in the comments.
Who knows- you just may see it in the next list!
Looking for more humor in the parenting trenches? Head here next-