Want to send a uniqure valentine with your preschool boy this year? Check out these Construction Themed Valentines for preschool boys to give out. Complete with free "I Dig You" printable Valentines!
If you've been following the blog for a while, you'll know that our preschool aged boy is BIG into construction themes.
His very favorite sensory bin is our Construction Themed Sensory Bin, where he can use tiny construction toys to move around rice, beans, or chickpeas.
So when Valentine's Day rolled around, it was no surprise that he requested construction themed Valentines to hand out to his class!
Since he loved his little construction truck toys so much, I decided to create printable "I Dig You" construction themed valentines for him to give out, along with a tiny construction truck.
They were a HUGE hit- and, to my delight, super easy to pull off!
If you have a preschool boy, here's how to make these printable construction themed Valentines.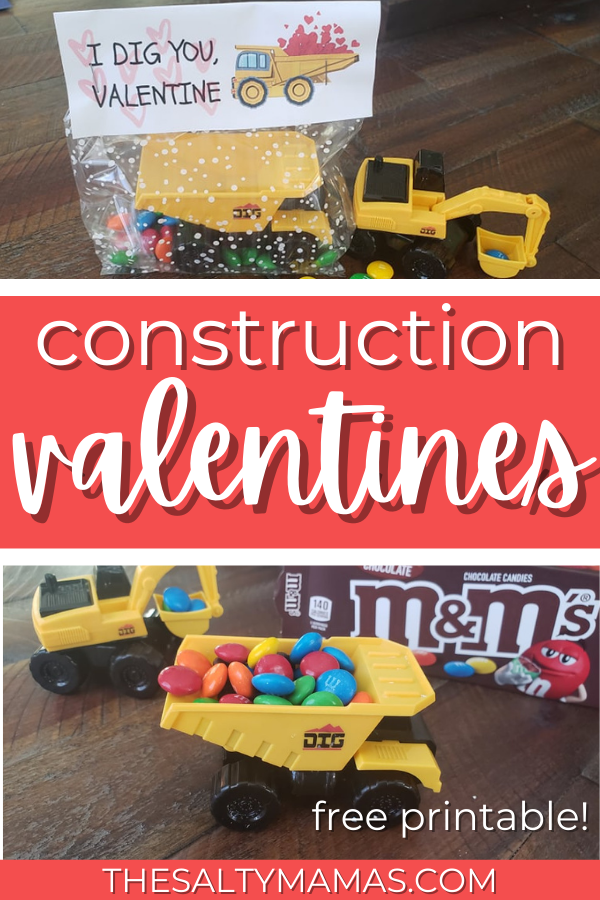 This post contains affiliate links. As Amazon affiliate, we may earn from qualifying purchases. You can read more at our disclosures page. Thanks!
Gather Your Materials for Your Construction Theme Valentines
These little construction truck valentines are SO easy to assemble.
And the best part? Everything is available on Amazon!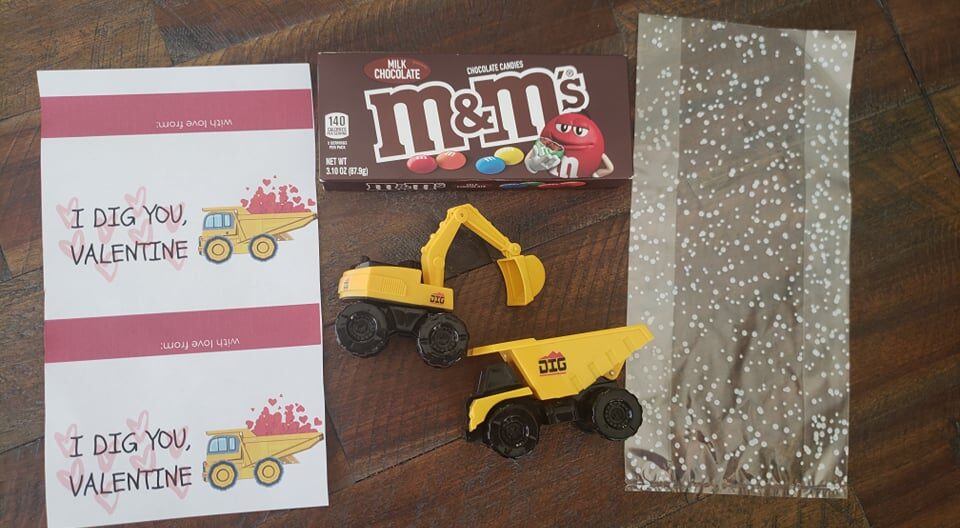 Note: You may be able to find some of the items, like the bags, at a dollar store. We've included links to the items on Amazon for your convenience, but it may not be the most cost-effective option.
Here's what you'll need:
Get Your Free "I Dig You" Printable Valentines
We've created this sweet little free printable to make your bag assembly easier!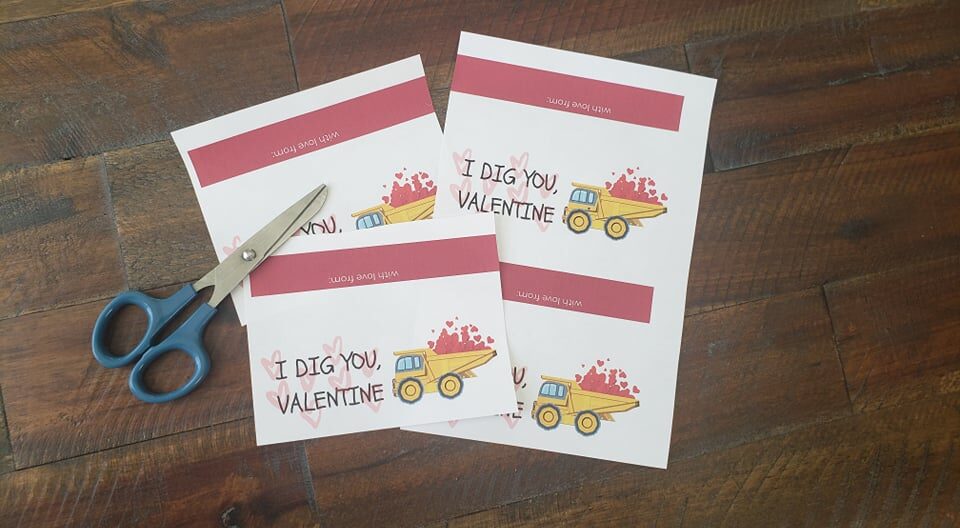 Grab your printable "I Dig You" Label. They are designed to fit bags with an opening of 4 3/4 inches. You may be able to enlarge them or shrink them before printing as needed.
We've also included multiple labels per page, so that you can get the whole class done at once.
Filler for Your Construction Truck Valentines Bags
You can choose to include just the construction toy in your preschool Valentines, but we recommend adding a little filler for extra fun.
Our preferred choice? Valentine's colored M&Ms. Kids can scoop the M&Ms with the truck before eating, so it offers a little play. (We recommend washing and drying the trucks first if you're going with this option.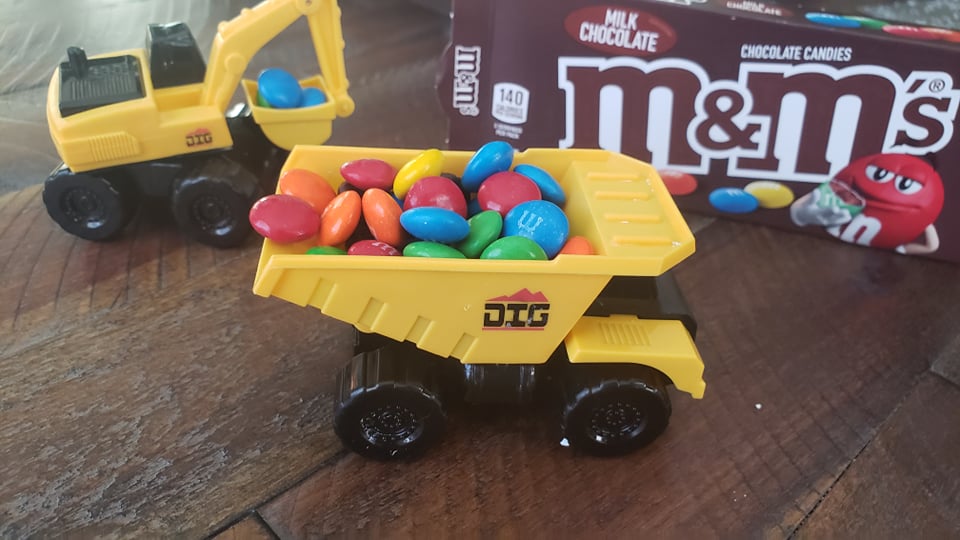 You can also add some sensory filler instead, if you're going for a non-food construction Valentine. It can be tricky, as kids are getting candy, so you want to avoid anything that may look like candy (such as our rainbow dyed chickpeas).
Here are some other ideas for filler:
Assemble Your Construction Truck Valentines
Now's the fun part- assembling your construction truck valentines!
We recommend getting your preschool boy in on the fun for this. Kids generally love these kinds of tasks!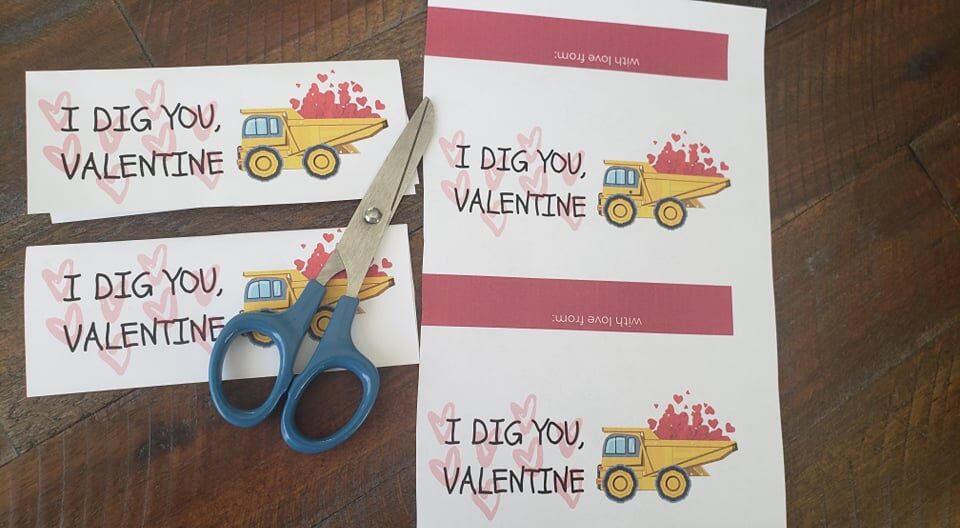 First up, cut and fold your printable construction themed Valentine labels. You'll want to fold them in half, covering both sides of the bag.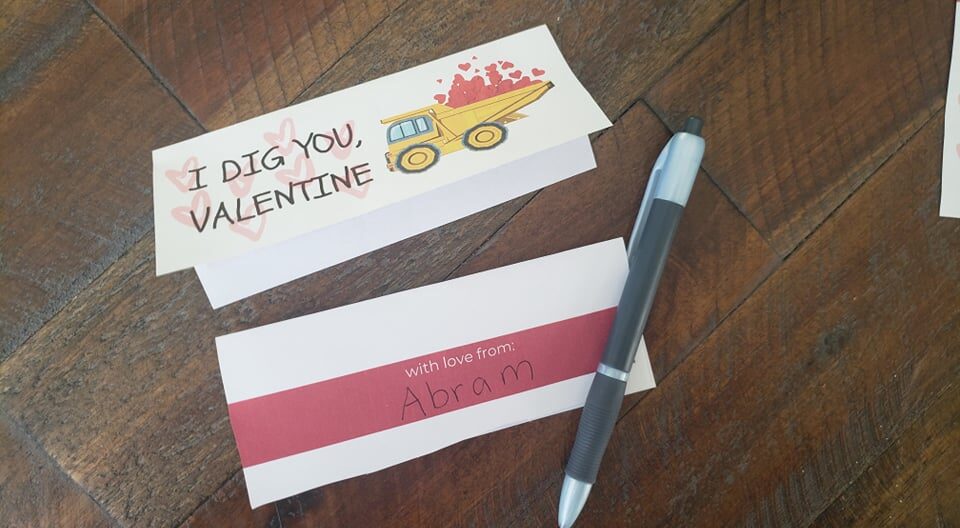 Write your child's name on the back, or have them do it themselves. (It's a great way to help your preschooler learn to write their name!)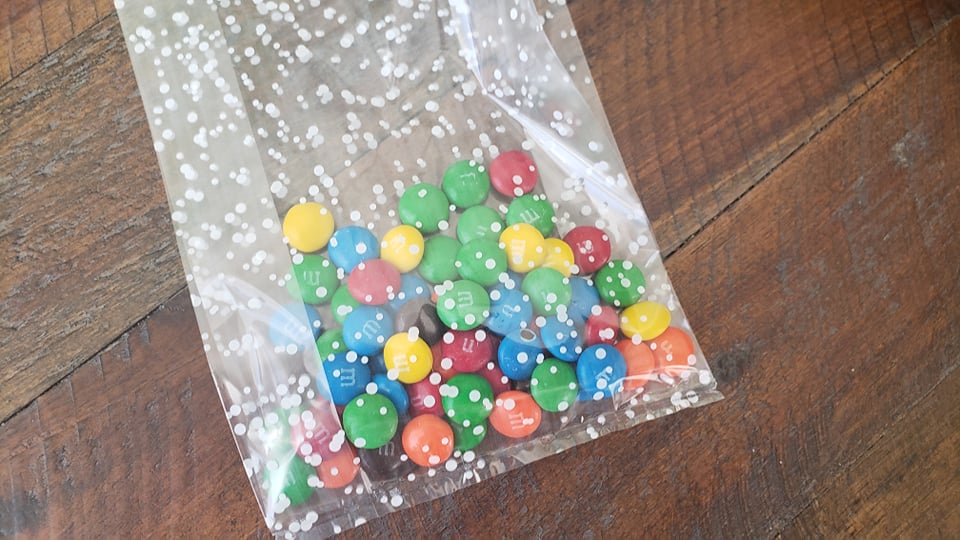 Next, add some filler to the construction truck valentine bag.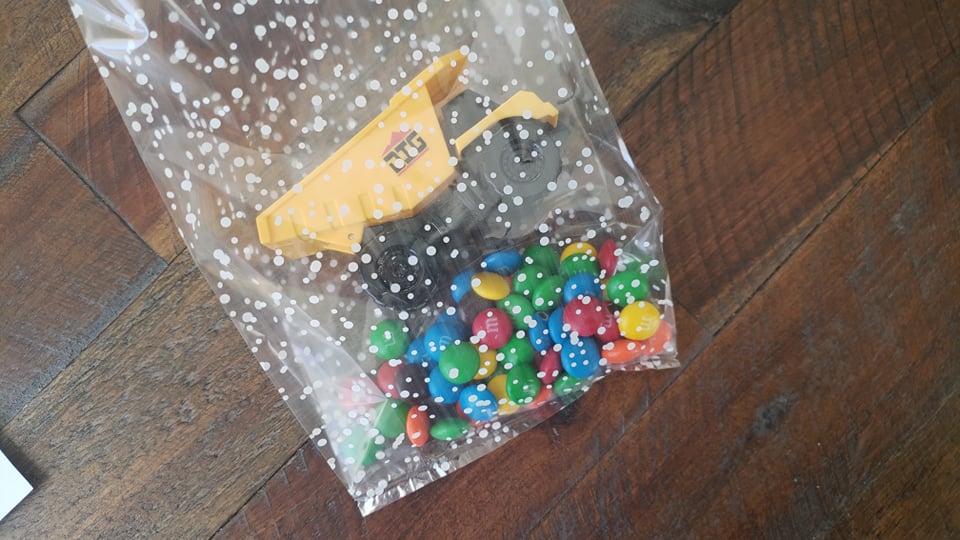 Now, you'll add in your way-too-cute construction truck!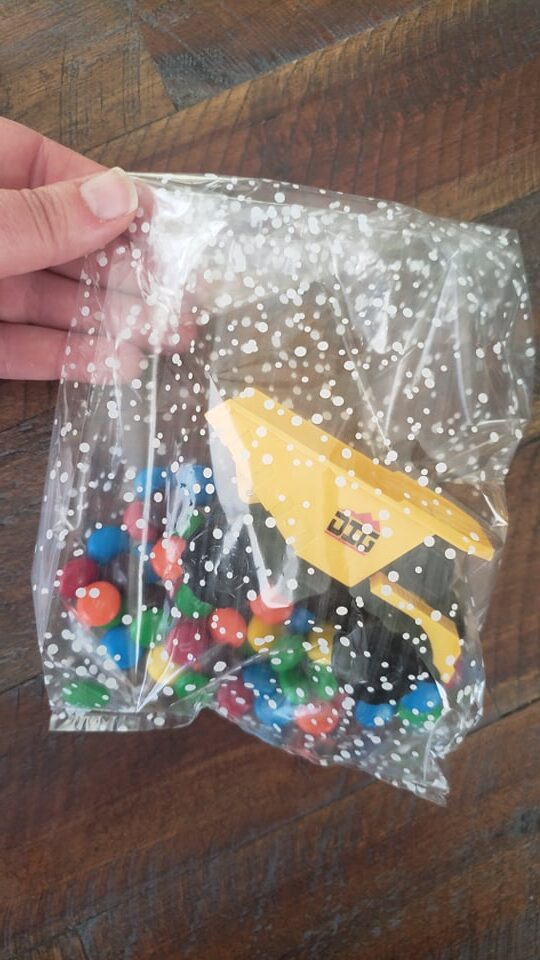 Fold the bag over as needed. You'll want about two inches of clear bag to accommodate the label, without covering up the truck.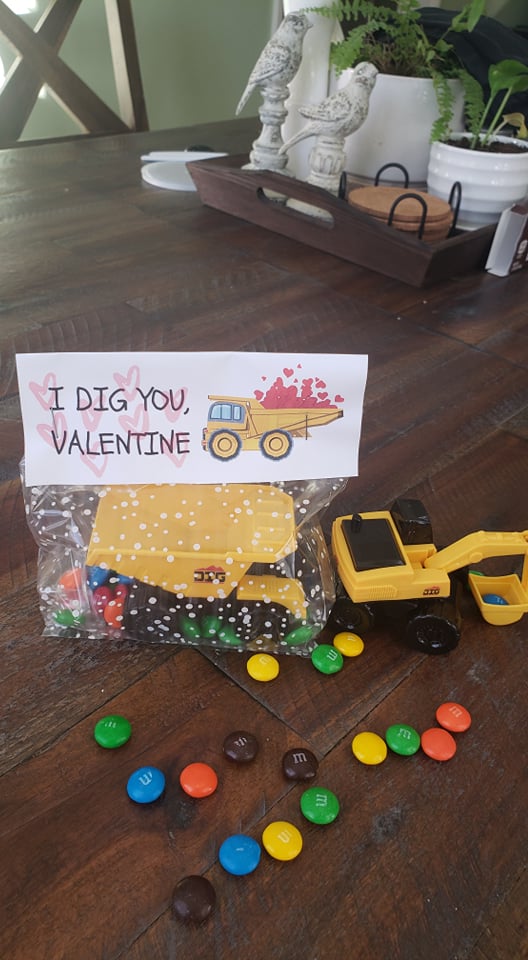 Add the label to the top, and secure with a staple.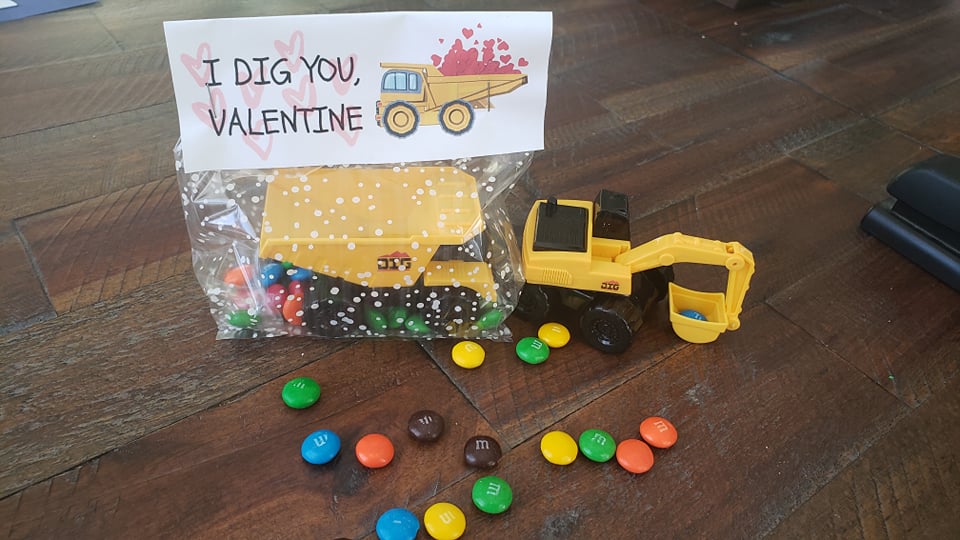 That's it! Your Construction Truck Valentines for Preschool are all ready to go!
And seriously- how cute are they??
---
We just know these construction truck valentines for preschool are going to be a HUGE hit with your kid, and with their classmates!
And you'll get all the credit for being a Pinteresty mom (without putting out a TON of effort).
Tried it? We'd love to hear how they turned out for you in the comments!
Looking for more Valentine's Day fun? Head here next-