Not all survey sites were created equally. So is SurveySavvy legitimate? Will you really make money doing their surveys? And is there a way to make even more? Read on for our honest SurveySavvy review- including the best way to make extra money from their surveys.
Ahhh, the survey. The MicroHustle many of us love to hate/hate to love. This is probably the MicroHustle I've taken the most heat over in recent years, because from a short-game stand point, it just doesn't make sense.
Sometimes I spend twenty minutes on a 50 cent survey, and those numbers just don't seem to add up. But the survey is the tortoise of the MicroHustle Universe. You earn money in very small increments sometimes, it's true. But eventually, you can win whole races- and pay for whole cruises– using these little guys.
I'm going to start by introducing you to the survey site that seems to have the most potential to make big money. It's called SurveySavvy, and it works like most survey sites do- they send you surveys, you take them, and you make a little money.
So is SurveySavvy legitimate? Read on for our full SurveySavvy review- including the easy way to make $60+ a month!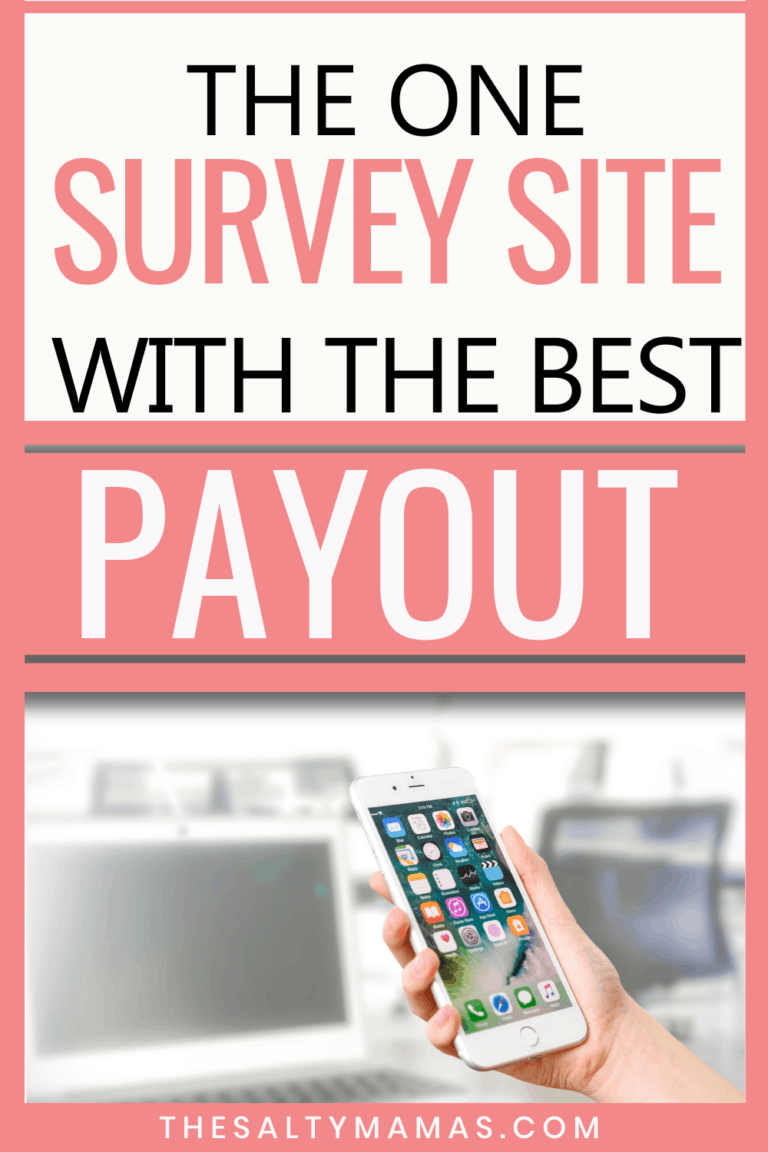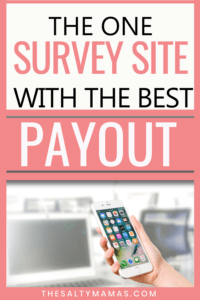 This post contains referral links. We cannot guarantee that your results and outcomes will be similar to our own. Thanks for helping to support The Salty Mamas!
Is SurveySavvy Legitimate?
First of all, not all survey sites are created equally. It's hard to know which survey site you should trust.
SurveySavvy has been around for over twenty years. That's a LONG time in the survey world! This is one survey site with serious staying power.
Secondly, I personally have been a part of SurveySavvy for close to ten years. I have gotten legitimate payouts from them, and so have many of my friends. So my honest SurveySavvy review is that yes, it really does work.
SurveySavvy Referral Credit
SurveySavvy is unique in that it allows you to get referral credits when someone signs up using your link. (If you're just getting started, you can use mine here.)
While many companies (like Rakuten or OhmConnect) give you one time rewards for recruiting new users, SurveySavvy continues to pay you out for surveys your referrals complete. Everytime someone you send their way does a survey, you'll get a small kick back to your account.
The beauty of this system means that even if life gets busy and you can't complete any surveys yourself, you still have potential to earn based on your referrals' participation.
The Surveys
The surveys on SurveySavvy are very similar to those you'll find on other sites. You'll participate in a small screener survey, for which you won't be paid.
If you qualify for a survey, you'll be paid a modest amount for your time, usually a dollar or two.
How Do You Get Paid with SurveySavvy?
Unfortunately, SurveySavvy takes a long time to get you paid. There is no minimum payout amount, but they issue payments by through the US Mail.
It can take a whopping three months to receive a check once you request it, which is probably the biggest downside of SurveySavvy.
How to Earn More Money with SurveySavvy
The reason SurveySavvy ranks number one on my list of sites is that SurveySavvy is a screening site for CSpace, a company that businesses and brands hire to conduct panels. And that, my friends, is how you make the big bucks.
I'm not on any panels right now, but when I was, I would make about $60 a month per panel, and I was on two. They would ask me to do things like participate in discussion groups, or visit a store and take pictures of certain sections, or post a video of me discussing why I liked (or didn't like) their brand.
It is very much like a focus group, except you participate from the comfort of your home and on your own time. I found the activities to be kind of fun, and it was neat to see products that I had weighed in on showing up in stores a few months later.
And, of course, the money wasn't too bad.
Is SavvyConnect Legitimate?
SurveySavvy also has an app, called SurveyConnect, that you can download. This app will give the company some access to your phone usage and browsing history and, for what it's worth, significantly more money than you'd make doing their surveys.
As for me? I don't use it. The idea of having someone tracking my phone just gives me the ick factor. If you don't have the same reservations, feel free to try it out, but I can't personally speak for, or recommend, a service I've never used.
*******
So there you have it, my honest review of SurveySavvy Do you do surveys at home? We'd love to hear about it in the comments section!
Looking for more ways to bring in a little extra money? Head here next-