Need to make a little extra cash without the hassle of Craigslist or Ebay? Find out how Facebook Buy Sell Trade groups can help you declutter (and bring in some green). So how do buy sell trade groups work? And how do you find find buy and sell groups on Facebook? Read on to find out!
When I was growing up, every so often my Mom would hit a breaking point where we had TOO MUCH STUFF. Stuff in our rooms, stuff in the garage, stuff we did. Not. Need.
We'd pick the hottest Saturday of the year, wake up at dawn and pull everything we ever owned onto the front lawn. My sister and I would post signs around the neighborhood and we'd inevitably spend the entire day sitting in the yard explaining to people that we weren't selling our bikes that were still in the garage, but visible to all the gawkers.
At the end of the day, we'd box everything up and just donate it any way. It was such an inefficient system, but what else were you supposed to do with all your stuff?
Fast forward many years to today. And the internet. God. Bless. The internet.
Because now, whenever I need to purge stuff from my house and/or need a few bucks, I head to the Facebook buy sell trade groups and make some cash WITHOUT sweating outside for hours.
So instead of hosting a yard sale or heading to Craigslist, make use of local Facebook buy and sell groups. With less clutter for you (and more money in your pocket!), it's the ultimate way to clean house. Here's how buy sell trade groups work for us (and how they will work for you, too).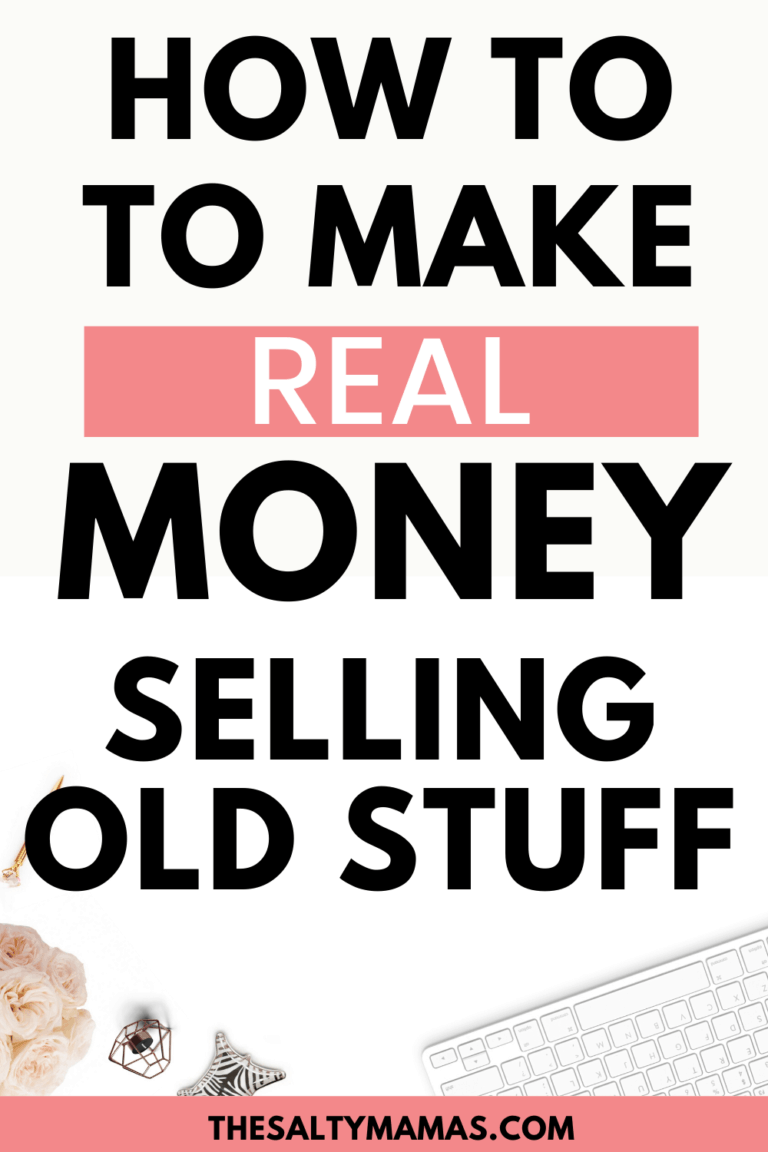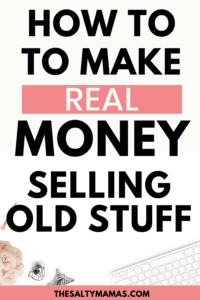 Find the Best Facebook Buy Sell Trade Groups Near You
I'm in several "Trash and Treasure" Groups on Facebook. They may be called something else near you, but these are great buy/sell/trade sites where you can sell your stuff in a super easy virtual garage sale.
To find local buy sell trade groups, run a basic search on Facebook. They're known by many names- BST, Trash and Treasure, Buy Sell Trade, Swap, or Buy Nothing. To find groups near you, search the name of your city along with some of these terms in Facebook's search bar.
It's local so you don't have to worry about shipping anything. You can either choose to meet at a central location or your home. Or my favorite – the porch pickup. God bless the porch pickup! I leave whatever I'm selling on the porch and the buyer drops the money in my mailbox. So easy!
Take High Quality Pictures
I want to make my items look as attractive as possible to potential buyers – but also be realistic about the item. You don't want to think that your item sold only to have someone change their mind when they come see it. That takes more of your time – and time is money!
Use a high quality cell phone or a digital camera to snap a few pics of the item you're trying to sell. Make sure to include close ups of any damage (ie scratches, tears, or the like).
Take your images in an uncluttered, clean location. People are more likely to buy your item if they think it's coming from a clean home.
The Key for BST Groups: Price to Sell
My husbands grandmother once gave us some art that she said was worth $1,000. But something is only actually WORTH what someone else is willing to pay for it.
So when I want to unload, I price to SELL. I might think the item is "worth" more, I may have paid a WHOLE lot more, but if I'm not using the item and it's just sitting in my garage or taking up space in my closet? Well that's not making me any money either, is it?
I'd rather have the item GONE with a few bucks in my pocket. So have I significantly undervalued some items? Maybe, but at least they're not taking up space in my house anymore! Find the balance that works for you, but know that if you price to high you may not get the return you're hoping for.
How to Post in Facebook Buy Sell Trade Groups
You've found your group, picked your price, taken your pictures and now it's time to post! Usually all you need to do is post a description of the item, plus the picture and the price, and maybe your cross-streets if you're in a larger area where that could make a difference to potential buyers.
Keep in mind how buy and sell groups work. Some people may scroll through and find your item, but others may search for items they want. Make sure to use good, descriptive words that tell exactly what your product is. For example, if you're selling a nightstand, use the words "furniture," "bedroom," and "bedside table" as well as night stand in your product description.
Make sure you follow the rules of your group. For instance, some don't allow cross-posting (attempting to sell an item in more than one group at a time) or have very specific rules of how to connect with folks interested in purchasing your items.
Sit. Wait. SELL!
Remember when you used to sit in the blazing sun waiting for someone to come by and make an offer? Well now you can do that inside your house. Or at the movies. Or at Disneyland. Or wherever you want to be.
Make sure your notifications are on and wait for a bite! Most sites have rules about how to make the sale – like accepting offers in the order they are received, no cross-posting (meaning posting the same item on multiple sale sites), no sale via PM (where you could be cutting off people that made offers through the comments). Make sure you follow the rules – you don't want to lose out on potential sales, or worse, get banned!
Get your offer, put your loot on the porch, collect and you're done! All you have to do is decide how you're going to spend your new green!
*******
Looking for more ways to earn a little extra cash? Head here next-